So here we are, another year, another Gatsby picnic 🙂
After last years win we decided to do things 'easy' this year. And for us that means we don't have to load everything into a truck, get up super early to finish loading and food, race to the Dunsmuir house, get in line early, unpack, race to set up, get dressed and collapse in a heap for a while before we get BACK in line after the event is over, load the surviving stuff up and head home to unpack before it gets dark and you're supersuperexhausted. Ack!
In a moment of blissful "we don't have to race around this year" I forgot to buy an early entry pass. By the time I remembered they were sold out 🙁  The upside of that is it FORCED us to be super economical with all plans because we would have to get in line with the masses and walk everything in. Lest you think I exaggerate the 'stroll' in let me just say it's a little over a quarter of mile once you're on the grounds, but getting TO the gate is an adventure. See the pic above? We're standing on a hill, about halfway down, waiting. We had two wagons that should have won some sort of prize for our expert level tetris packing skills 🙂
Now picture this – we dressed at home, we had our makeup on as well as our party shoes. Now imagine unloading two cars worth of stuff, packing it into wagons (and we're talking a table, four chairs, an umbrella WITH stand, the food and drink and flowers AND all the things that make picnicking fun…) NOW imagine that those wagons probably have 40-50 pounds of stuff in each and you're trying to pull them UP a hill while wearing cha-cha shoes…
The linens, the china, yep, all worth it. We broke NOTHING!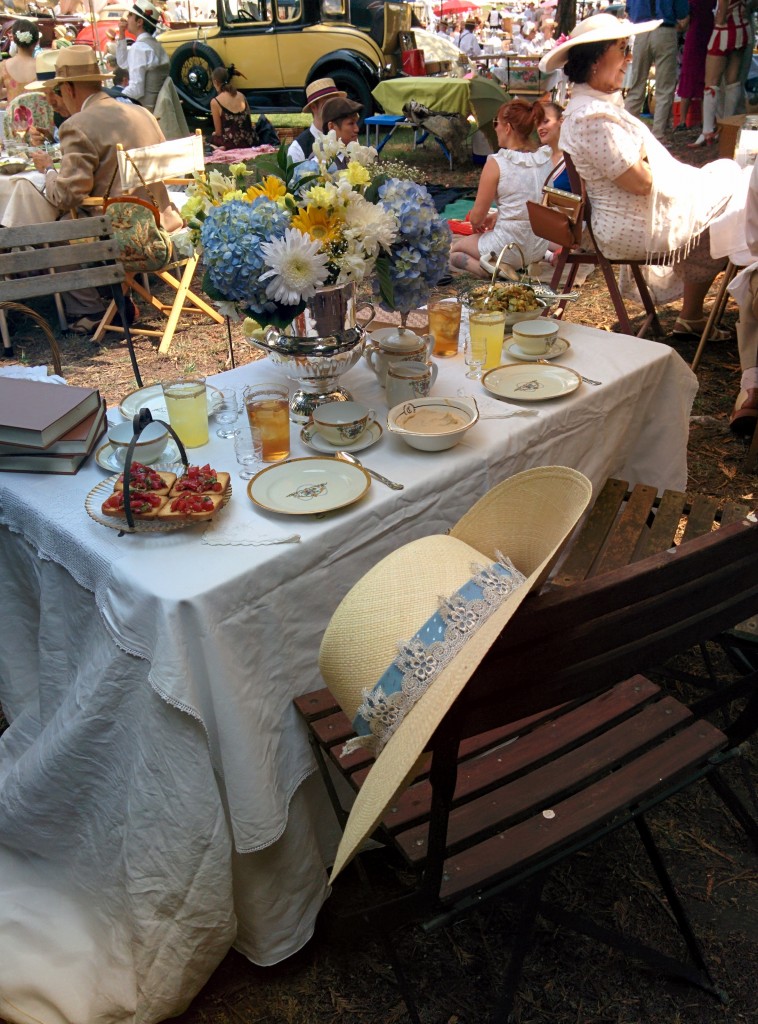 If you look at the silver thing the flowers are in you'll note that it is the prize from last years win. Because flaunt it if you got it 🙂
And just because nothing is as easy as it should be….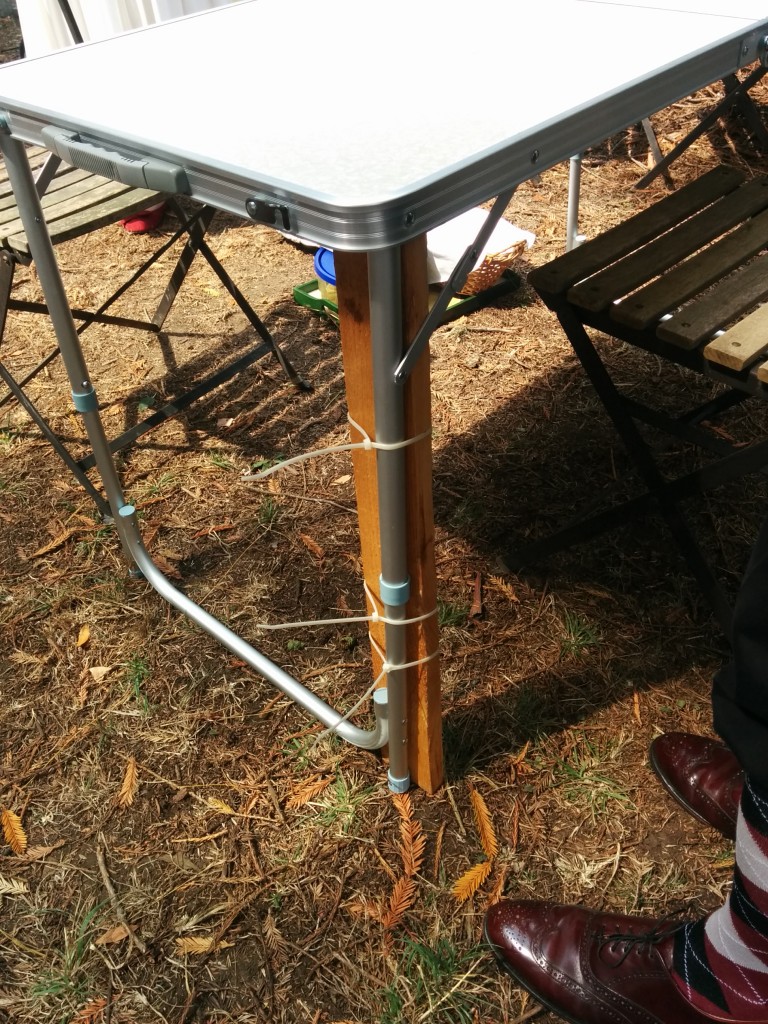 Angie went to a great deal of trouble (ha!) ordering a camping table so that we'd have something lightweight and easily transportable. It came with a leg that would NOT click into place, and therefore wanted to dump all picnic supplies on the ground, so we improvised with a board and cable ties. I mean, really, can't things just go right?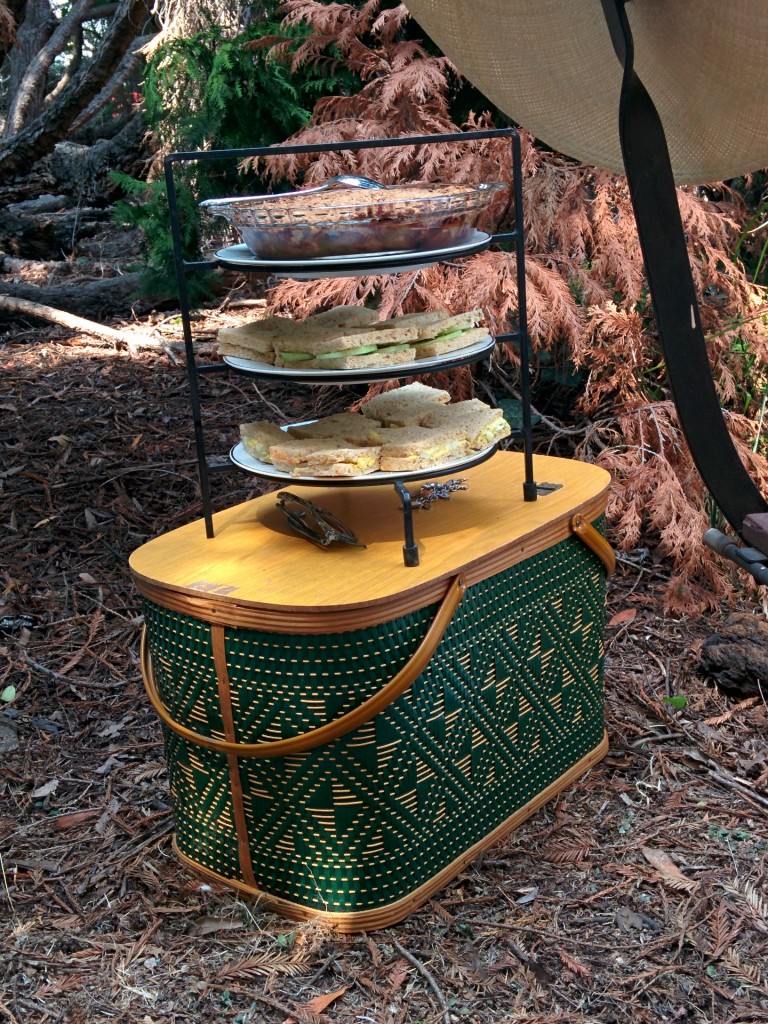 We packed most of the food and all of the dishes needed into my lovely vintage picnic basket and then used the basket for a 'sideboard' for tea sandwiches.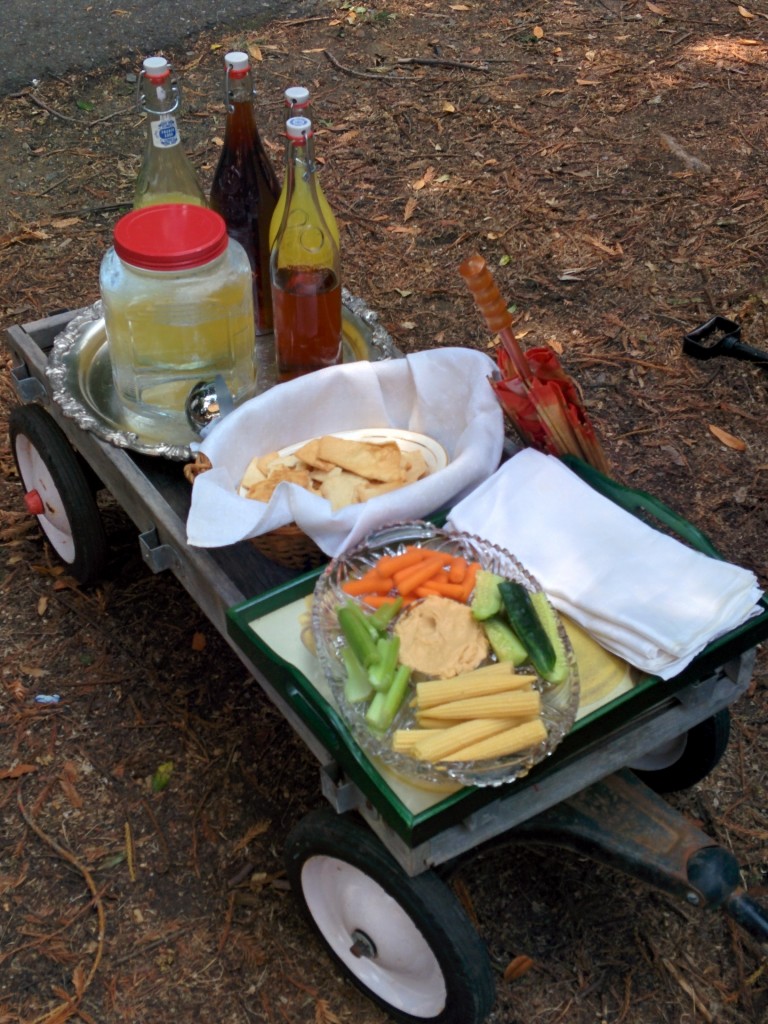 One of the wagons became another spot for food set-up and held our bar supplies etc. We were truly picnicking this year!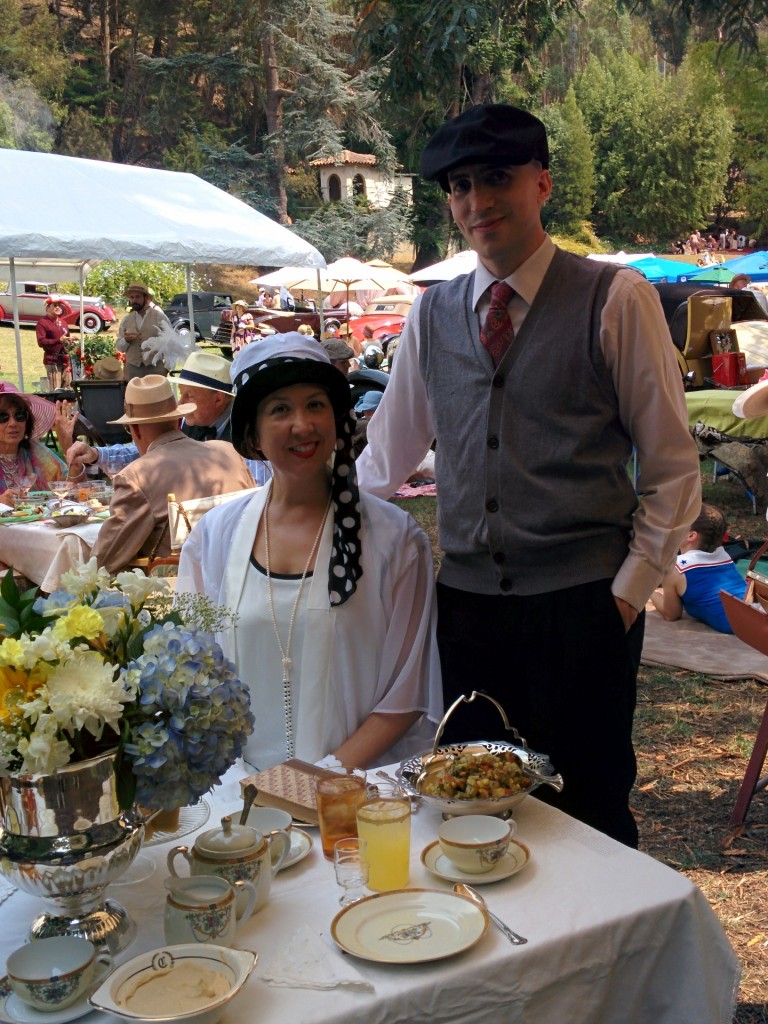 This is Leslie and her delightful boyfriend. She re-worked her dress from last year, changing all the blue bits to black and accessorizing in her own unique way 🙂 For instance, you can see all of us reading books: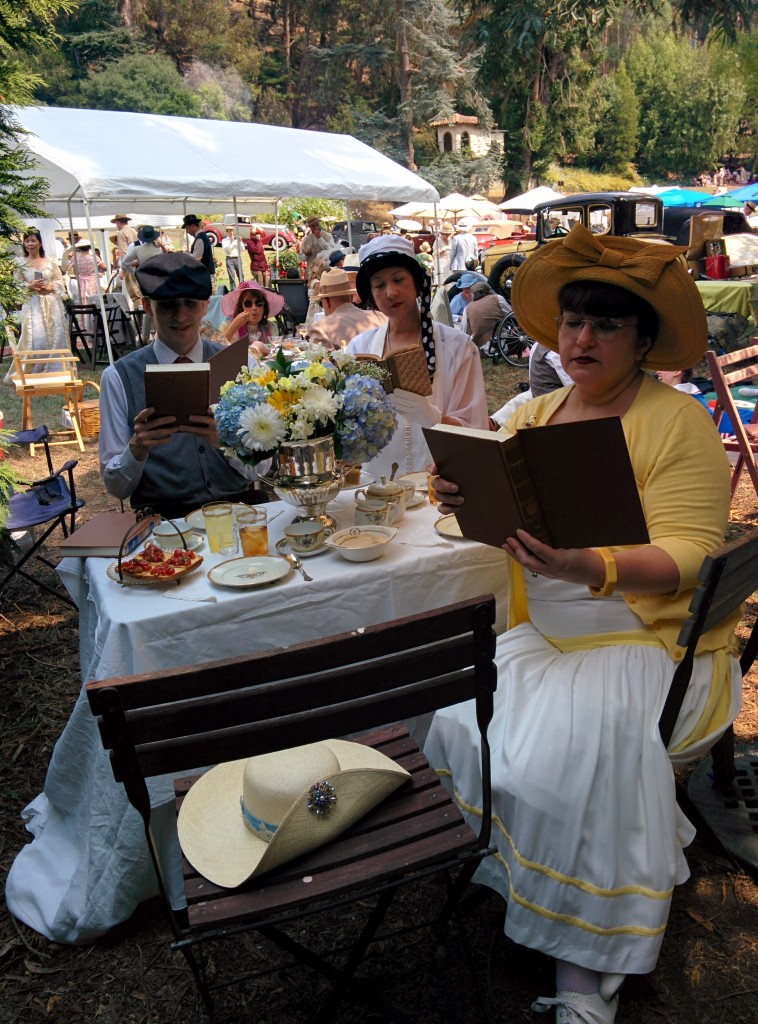 But are we REALLY reading?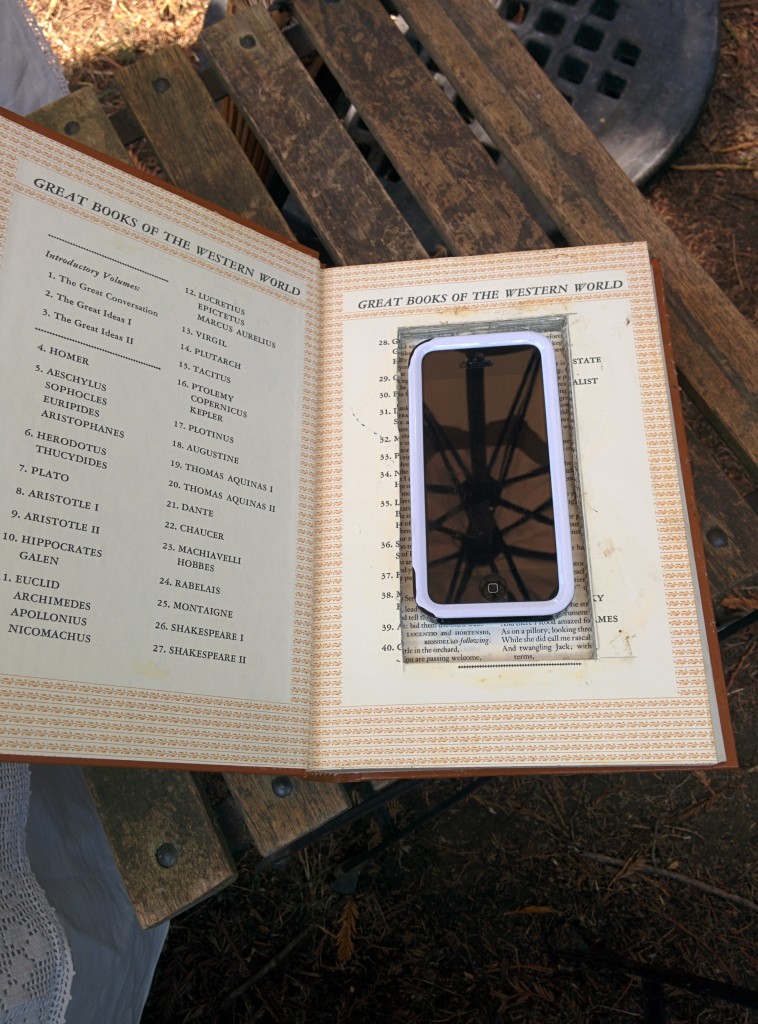 Yep. But not the book…
Can't have anachronisms lying about, now can we? So to keep up with what others were posting and doing our own Instagram posts she hollowed out a book for each of us. Even the judges thought it was brilliant. And speaking of judges, did we win? No. Were we trying to? Not even close. But they did spend a good amount of time asking me about the chairs AGAIN (what is it with those chairs? I bought them at TARGET a few years ago!), the china (sorry, not a family heirloom of mine but stuff I bought at the flea market) and food (almost all vegan).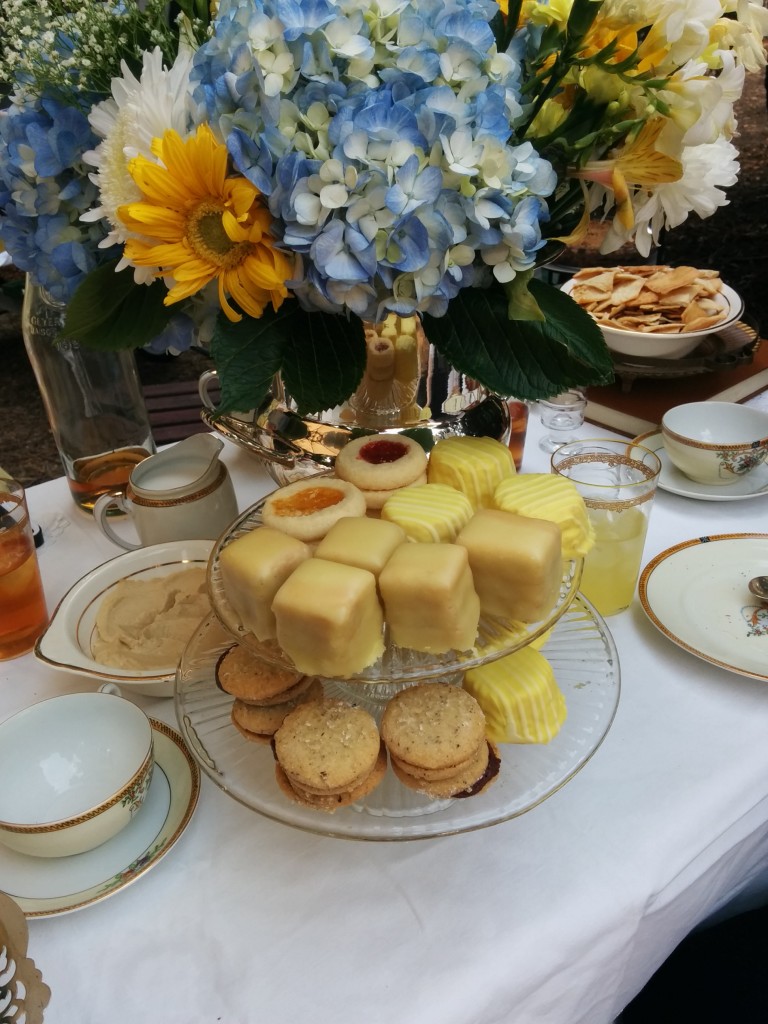 Leslie even made 'traditional' petitefours, coated with a lemon icing. We really kept things simple compared to previous years and for once we sat, we ate, we walked around and relaxed. Because we weren't constrained by the rules of an early entry pass we could leave early enough to miss the mass exodus and late enough to feel like we had a truly lovely day.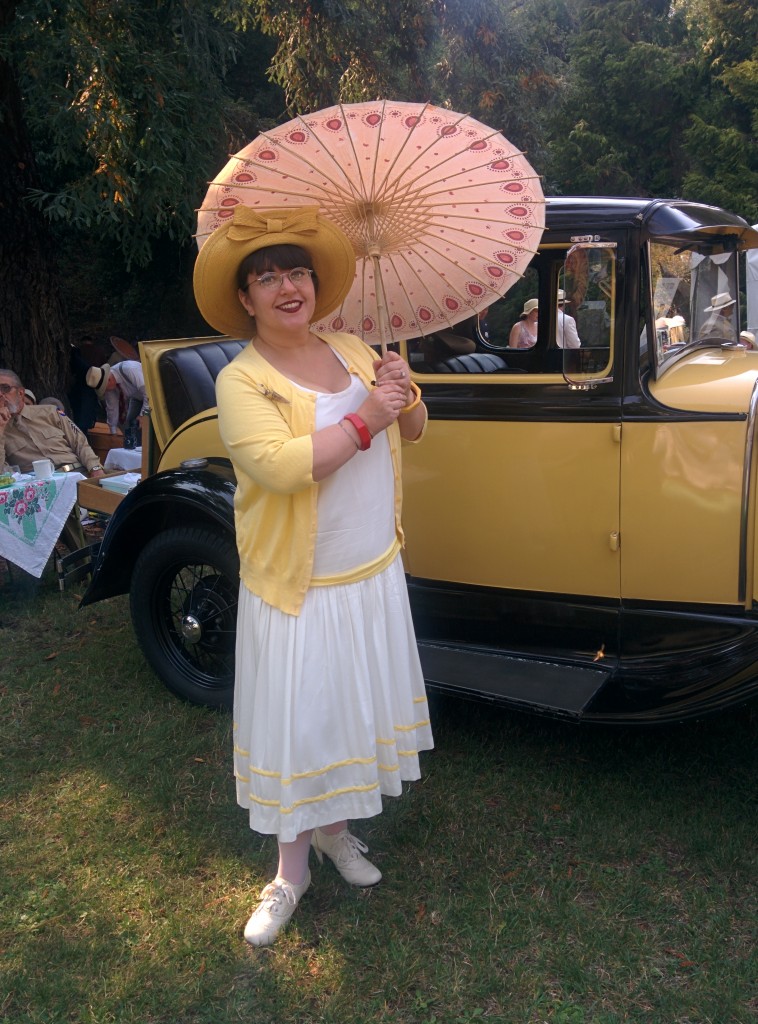 Finally, Angie got to wear the dress she made last year, the yellow representing the yellow ring in the Olympic symbol. It was cooler too, so she didn't die wearing a sweater 🙂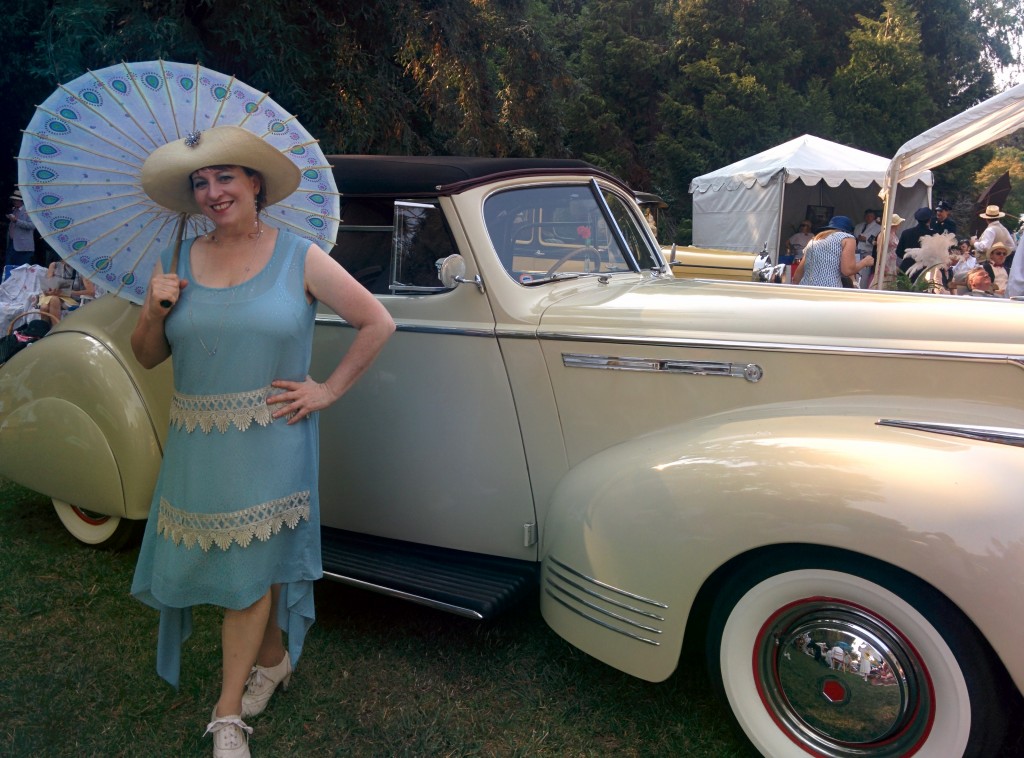 I hated my dress up until I got dressed. Then it was ok. Angie wanted me to wear something in the blue/yellow theme, she decided to decorate around the idea that we were a book club reading "The Great Gatsby" and the cover is blue and gold. I know, I know…could also be the Warriors or UC Berkeley so we kept it subtle. My dress is essentially a tank top elongated and then side insert panels and some fancy lace. Up close it was pretty but it's one of my least favorite makes in a really long time. I'll either recycle it or sell it. Sigh.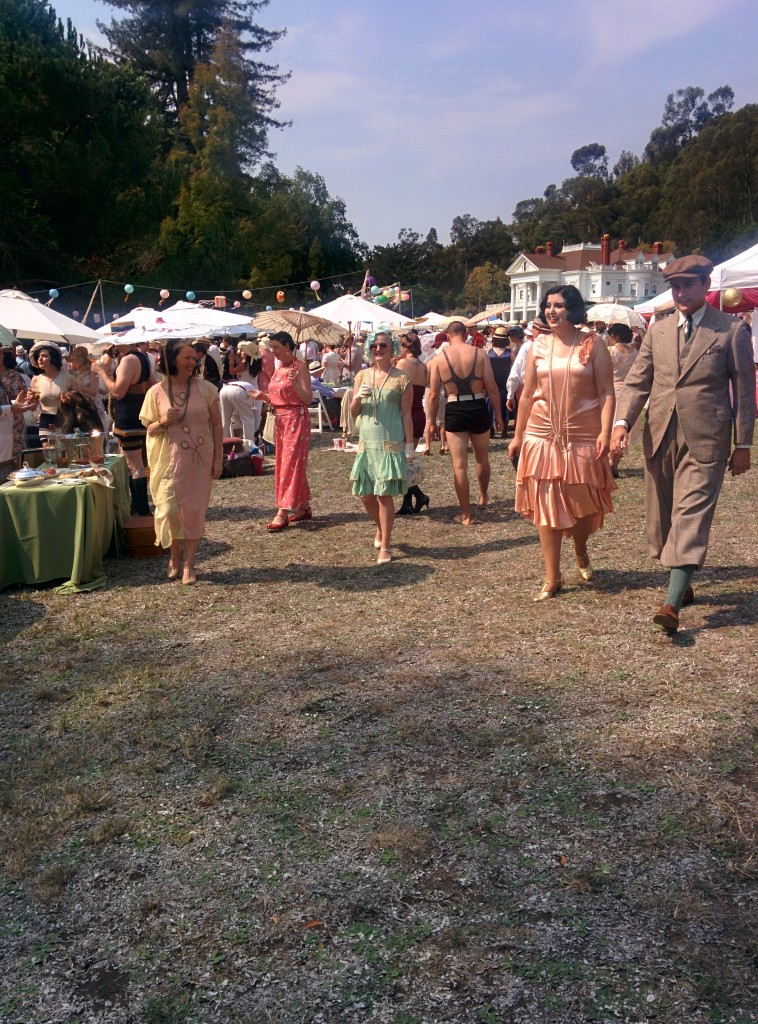 It's always amazing to just walk around and be surrounded by EVERYONE dressed up! Notice the guy in the swimming togs…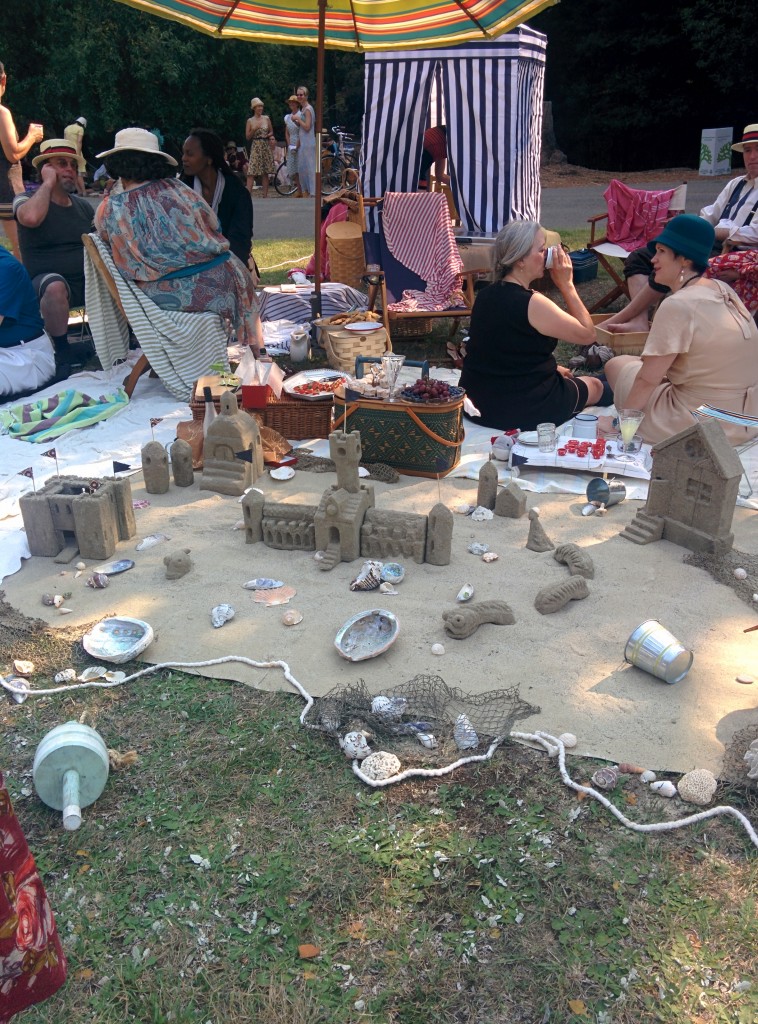 One group not only came in swimming gear but brought the whole beach with them!
Aren't they adorable??!!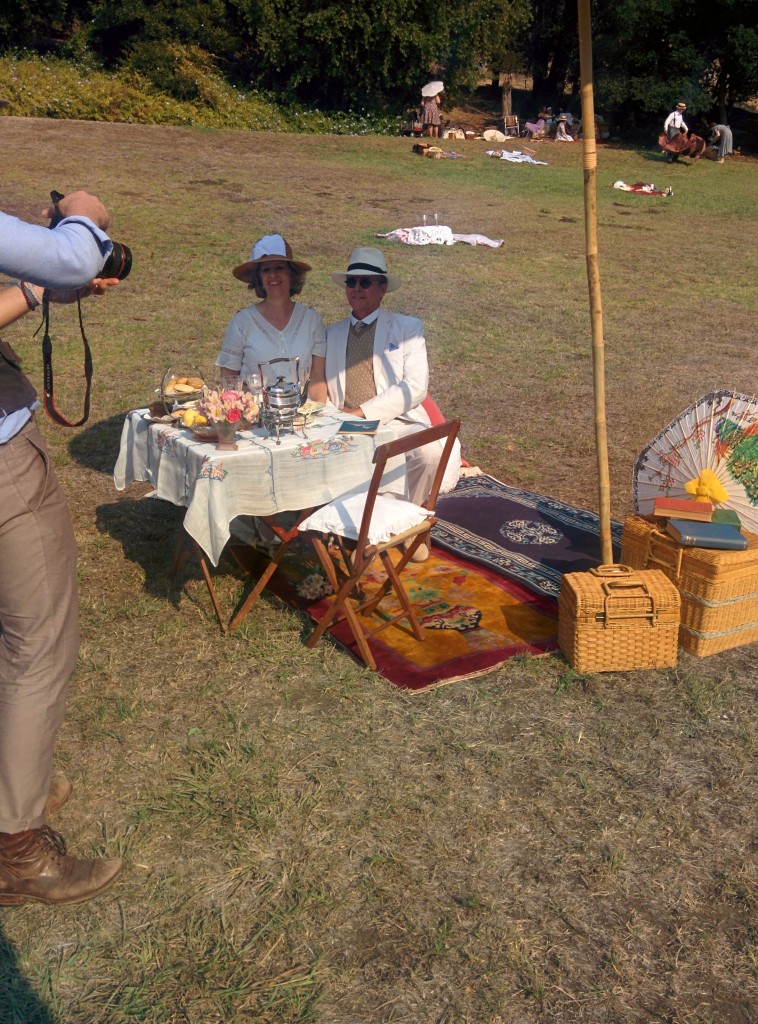 This was the winning "Small Picnic" set up. Small meaning a table for up to 4 people. The judges raved about (can you guess??)…the CHAIRS!
I was finally able to meet Tanya and her husband (she of the Mrs. Hughes blog) and you can see her entire write-up here of the picnic. We didn't get any pics of us together, because by that part of the day we were all a little tired and a little disheveled 🙂 I did snap a pic of a thrift store find of hers that made me wish I could get back to Australia soon: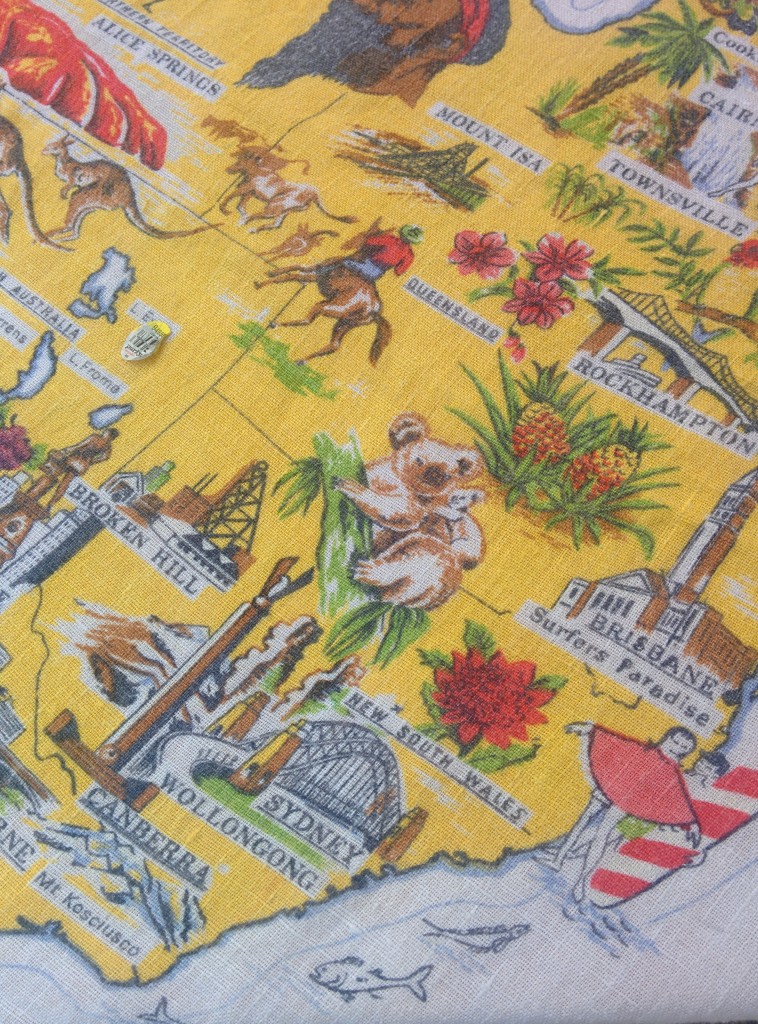 I'm not sure if I'm going to make it to the next picnic or not, it really IS like giving birth and some years we need a break. We'll see. I'm thinking I may need to go just to wear a different dress so I can forget about this one…