Me : )
Vicki sent me shwe shwe (a printed cotton from Africa). But Vicki sent me ONE meter of shwe shwe, 35″ wide AND a border print no less. Challenge ON! So what to do with one meter of fabulous border print fabric that even she says isn't enough to make a skirt since it won't clear the hips? Enter Laurel, the latest pattern by Colette.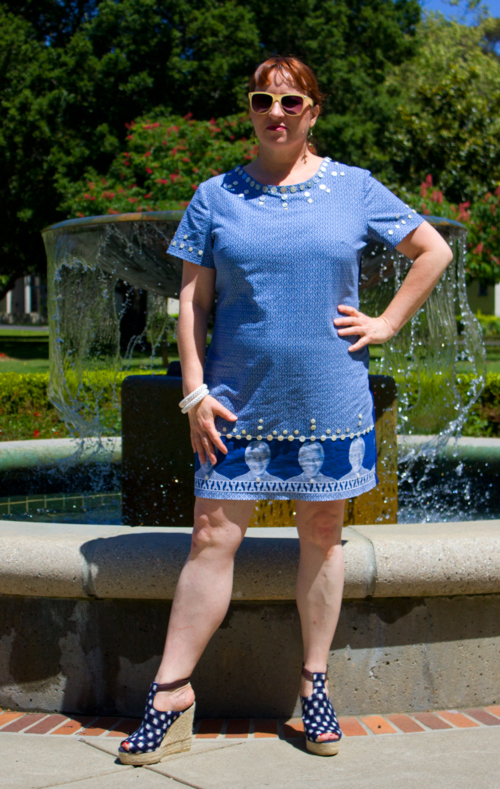 The Facts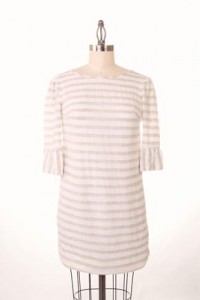 Fabric: Mandela border print from Vicki,  1 yd. navy cotton from JoAnn
Pattern: Laurel by Colette
Notions: 102 vintage buttons from stash
Year: Modern
Time to complete: 4 hours (half of that was sewing buttons on!)
First worn: April 2013
Wear again? Yes
Cost – $3.00 + $14 for pattern so $17 all together
So this is what I decided to do – use this VERY simple shift dress pattern for the front and pray that I could get a small sleeve out of the rest. I made a muslin (!?!) and am pleased to report this pattern runs either true to size or even a little big, depending on how you like dresses of this style to fit. I cut the 16, trimmed it down to the 14 from my muslin fitting and have decided to taper it a little more through the waist and upper hip area. What you can't see in the photos are the big safety pins down my back, bringing in the excess : ) How close did I cut things? This close: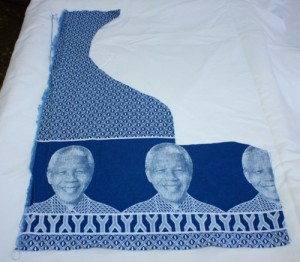 You can see the 2 1/2 Mandela faces I have left and the curve where I cut the one sleeve. Everything else was tiny scraps. Now you know why the sleeves aren't longer : )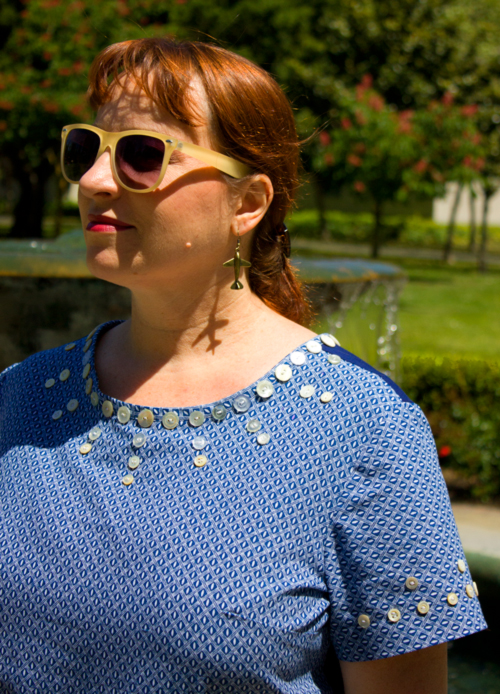 Because this challenge is dedicated to Vicki I wore my plane earrings since she travels a lot, or at least more than I do : )
The other Vicki-inspired part of this dress are the button decorations. Last summer she took a basic linen skirt and decorated it with bias tape and buttons in the African Mfengu style. I liked it so much I filed the idea away to use "someday". I have jars and boxes of buttons so it seemed a natural thing to incorporate. There was only minimal cat involvement and after I sorted the buttons to use I covered up the whole project with an upside-down cookie sheet. Not a single button was eaten/lost/broken !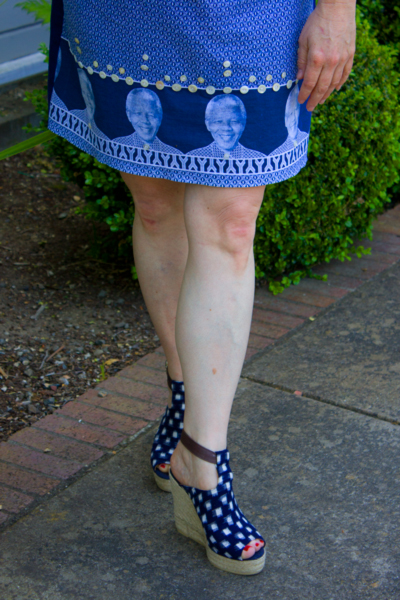 I didn't think the fabric needed any more trim, you can see the nifty border here. Those buttons add a surprising amount of weight to an otherwise medium weight fabric. I have to say I REALLY like the shwe shwe, it washes well and feels really good to the touch. Vicki had a funny story about buying the fabric:
"When the lady was cutting it, she accidentally cut through Mandela's left ear, and then she stopped and cried, "Sorry sir!  Sorry sir!", while rubbing the cut portion!"
I tried not to cut through any Mandela's but I'm afraid I couldn't help it, I did say a quiet "sorry sir".
You can see her original post on the fabric here. Here is the side of the dress where you can see the plain back: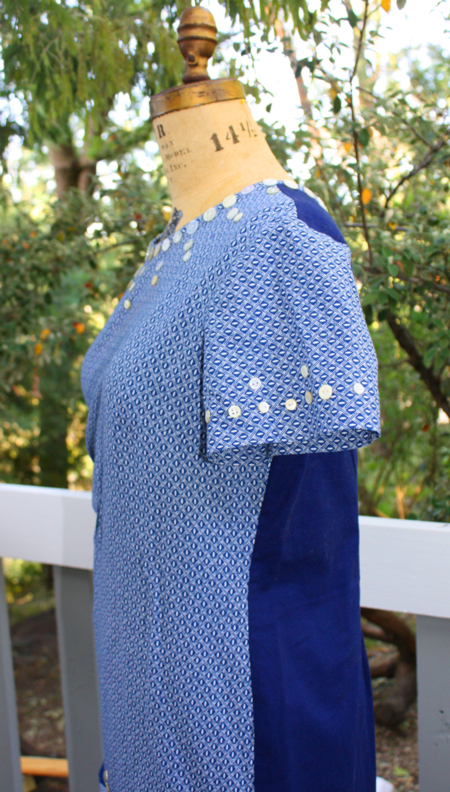 Oh, and my shoes? Kazz inspired : ) I found them at a small, upscale shoe store in town when they were going out of business. I have a couple pieces of Ikat fabric to make other items to go with them since shoes this awesome need to be worn : )
And for Vicki, an outtake photo:
I have one more Laurel project that I'll post tomorrow. I decided to combine a Laurel top with an historic challenge of Leimomi's : ) It may not be strictly period but it was fun. More soon!