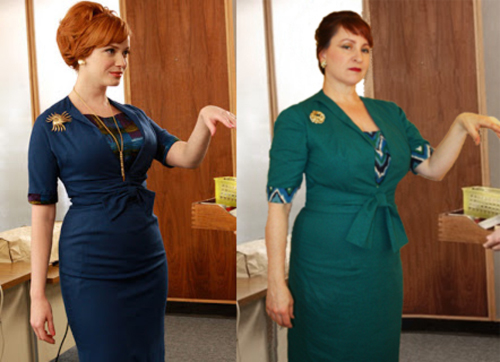 When Julia Bobbin posted this years Mad Men challenge I was excited, I wanted to make another Joan dress or two and loved this one last year. I didn't procrastinate, it only looks like I did : )
I used a combination of the pattern I used for last years green Joan dress and my own drafted top pattern. I know most of the talk around the interwebs right now is saying the patterned part of the dress is a dickie but I also know that dickies and my chest don't work well together so it is literally a second top (front only). And the green top is completely self lined so I set myself up to make a top with 20 darts in it. Craziness.
Let's talk about fabrics for a minute. Wool was out, not only because of the cost but I couldn't find the right color. My jade fabric is linen which explains the wrinkles but it feels pretty good on and I can, technically, ride a bike in it : ) That print? Can we say "settled for"? That was one ridiculous hunt, one I didn't have the time or patience for. I have a gorgeous piece of vintage silk organza, printed with swirls of turquoise and greens I thought it would be perfect. Until I got the linen next to it and the linen became washed out and sad. THREE stores later and the best I came up with was what you see here and that was a fluke remnant! I do have a dress that is close to the Joan print but the dress is in good shape and I just can't cut up vintage unless it has some serious issues and it didn't. So we have a piece of cotton that reminds me of a version of a couch my mother once had, back in the late 80's. No one else knows and I can always change those parts out if and when I find something different. The important thing here is "Done is Beautiful"!
So I posed in my bedroom by myself with a cat greek chorus looking on as the timer feature clicked away. Then I spent a couple hours with photoshop and inserted myself into Joan's world.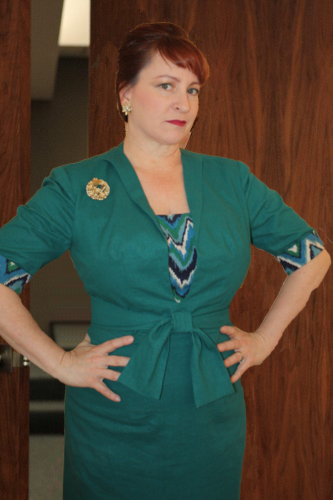 There were two other Mad Men-inspired outfits I made last fall, both were quite successful: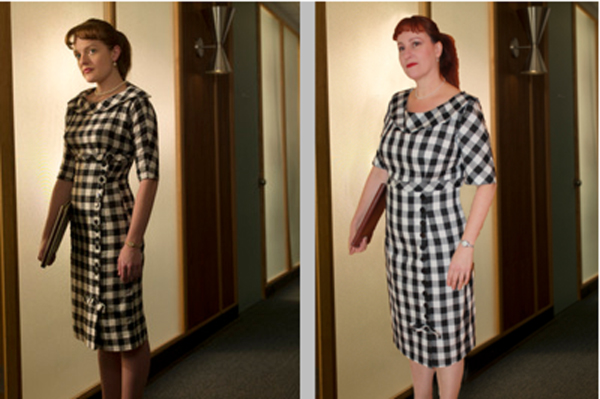 My Peggy remake is a lot of fun to wear, I wore it to our Christmas party here at work but did NOT ride my bike in it! You can read about the construction details here. I look forward to wearing it this spring especially because I know where it is. Which leads to…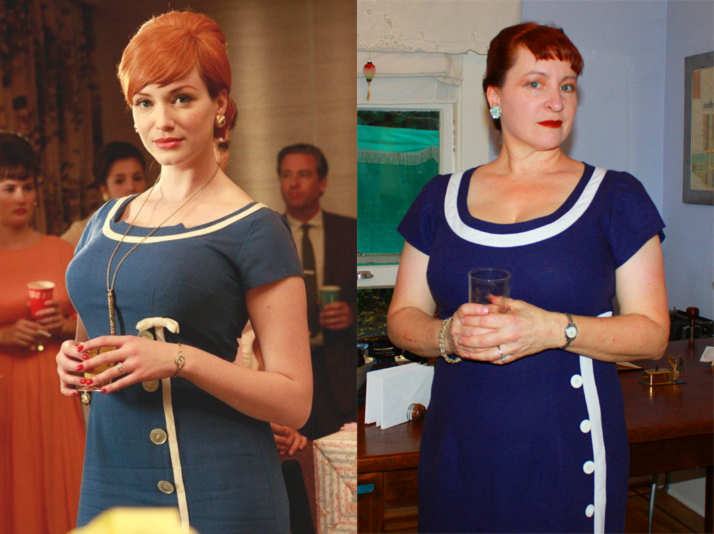 Here is my other Joan dress, which I REALLY like but have managed to LOSE. How on earth can you lose an entire dress? I mean, seriously, I can understand misplacing a sweater or a blouse but an entire DRESS?? And not just lose but LOSE. Since Joan's hair isn't exaclty a fast 'do I thought it might be fun to re-do the shots from last fall since I did those pics after a long day of building a fence and playing with puppies and my arms have the scratches to prove it : )
I spent an HOUR looking through closets ( there are a total of four in my house and they were all built in 1925 so they're not large!), looking through fabric piles…nothing…I was all dressed up with no dress, so to speak. Did I loan it to someone? Did it get mixed up in a pile of fabric? I don't know. I even just cleaned out one closet for the swap so things are moderately organized. It's a mystery and I'm a little sad. There is the possibility that it got caught in the middle of something like a coat and I have to un-load the closet in the dining room…the one that has the vintage dresses and odd-bits-I-can't-get-rid-of-but-don't-know where-else-to-hang-it closet. You know you have somewhere like that : ) I have purposely put off closet organization first telling myself I wasn't allowed to do it until the taxes were filed and now because the weather is so fabulous I've got stuff to do outside. Once the garden is "mostly" planted I'll get to them.
So there we are, a trio of Mad Men inspired outfits. There are a couple Betty re-makes that I'd like to get to as long as I haven't LOST anything else!
I have also accepted the Me-Made-May challenge this year, what the heck, didn't have much else going on! Here's my pledge:
 'I, Loran of Loransworld, sign up as a participant of Me-Made-May '13. I endeavour to wear at least one handmade item each day Monday thru Friday  for the duration of May 2013'
You'll notice I was fairly specific here with the Monday through Friday thing. That's because I wear funky boxer shorts and crappy t-shirts on the weekends to work in the yard or take the dogs for a walk. If anyone wants to nominate me for "What Not To Wear" tell them to get footage on the weekends : ) Yes, I suppose I could use this challenge to make some yard wear, and I just might. But why make funky boxer shorts when you can make cute crop jeans or a polka dotted blouse? Seriously, this is what I've got on my sewing table as soon as I finish up my vintage-style swimsuit for Leimomi's sewalong and my Vicki dress…and let me tell you, both are super cute!