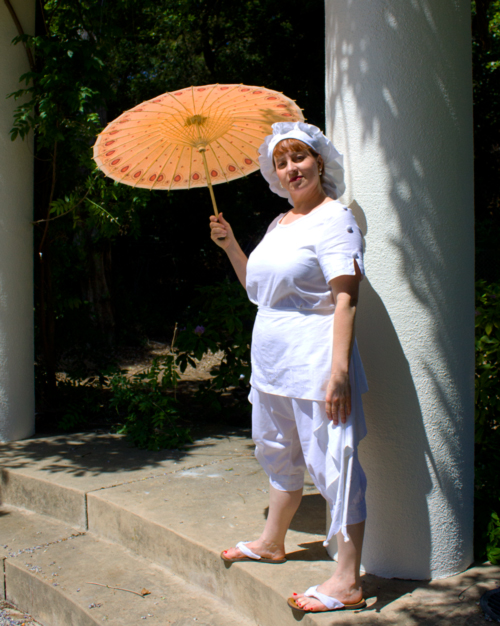 The Challenge: By the Sea
Fabric: Cotton/Linen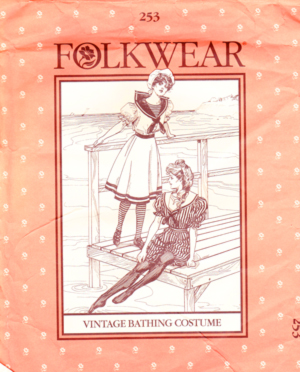 Pattern: Laurel top by Colette, Folkwear 253 for knickers and self-drafted overskirt
Year: 1870
Notions: 12 self-covered buttons, 6 dingle balls, 30 yards of twill tape, an entire spool of thread
How historically accurate is it? Sort of, maybe a 5 or 6 out of 10.
Hours to complete: 20 give or take
First worn: April 28, 2013
Total cost: $34.00-ish
Leimomi Oakes, aka The Dreamstress, is hosting The Historical Sew Fortnightly. Every two weeks a new themed challenge, things like period undergarments, embellishments and acessories. You can read more here. I chose to work on the "By the Sea" challenge after seeing this alluring photo on her blog: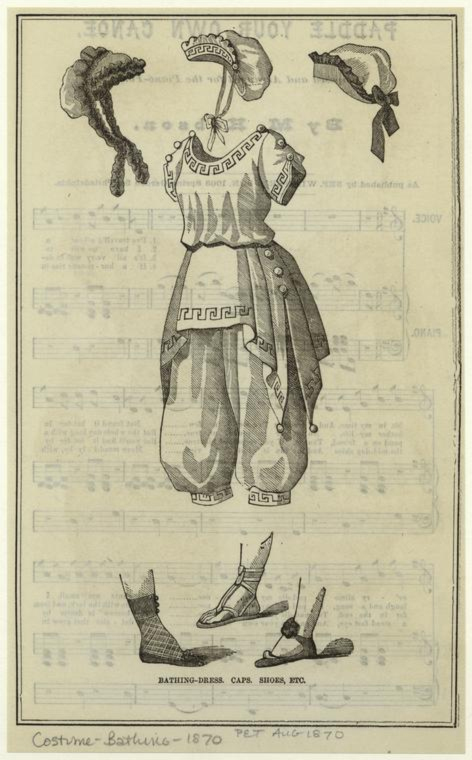 I've been staring at this image so long it feels like a friend. I thought the whole outfit was adorable, sort of a period-within-a-period. What the heck, why not?
Here's where my reality collided with my fantasy – I found out about this challenge in the middle of the Mad Men nuttiness AND the Laurel challenge. Look carefully at the lines of the top. It's a scoop neck, short sleeve shirt. Timeless right? So why not combine the challenges? I know, it's not "period" but it will have to do : ) Laurel meets the 1870's bathing beauty!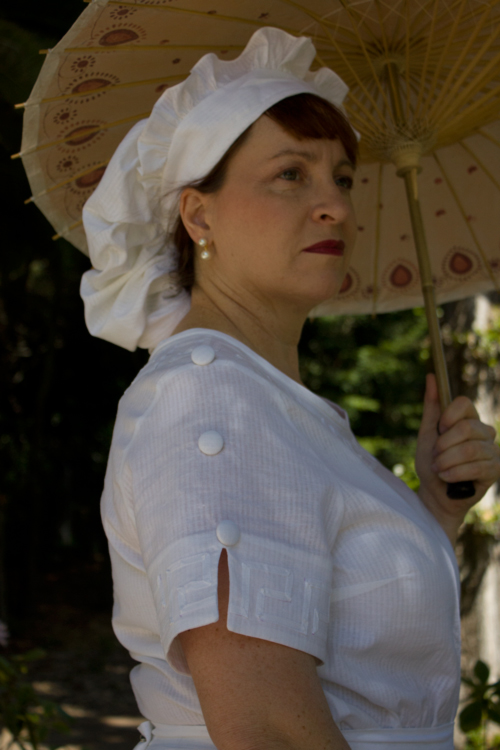 Let me break down the elements for you. If you look at the drawing you see the shirt, scoop neck, blousy at the waist. You can definitley see set-in sleeves so they didn't go so far as to cut it like a traditional Chiton. The greek key trim follows the scoop of the neckline and the sleeves are edged in it as well. I traced the neck edge onto a piece of gridded pattern paper and sat and drew the key design during lunch at work : )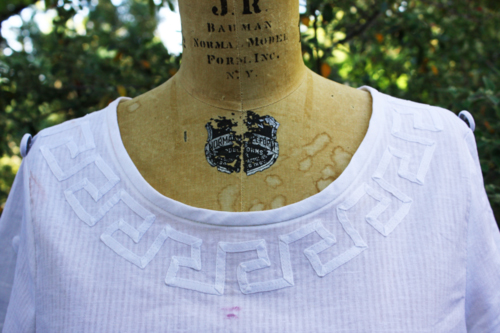 Can you see the center front? That pink stuff? Lipstick. When I put the shirt on for photos I managed to kiss it accidently : ) Doh!
The next element was the easiest, the knickers. I like the Folkwear swimsuit pattern, hadn't used it in years but I remember good results.  The pattern was drafted from a swim costume from 1890 and is pretty basic. I don't know if people remember but Folkwear started out as a little independently owned pattern company in the mid-70's in San Rafael, CA, just a bridge away from me. It was owned by three women who did EVERYTHING themselves. The original patterns were hand drawn, with hand written instructions! They used actual vintage clothing for their patterns a la Janet Arnold, stuff they collected in their travels and that people loaned them. They started with ethnic patterns, then evolved into vintage. At one time I owned almost every single one of their patterns partly due to winning 12 of them at the Marin County Fair when I entered the Vintage Clothing Recreation contest. The most intricate one I ever made was the Edwardian wedding dress with 90 yards of insertion lace, 300 yards of flat lace and a panel of 1/4 pleats that took 10 hours to do by hand. Do I still have the dress? No. I lent it to a dance company for a photoshoot and they refused to return it. I'm guessing they ripped it and weren't smart enough to say "sorry". Ah well.
Folkwear still exists and has reverted, after many buy-outs, to it's original form! You can find out more about them here.
The third element is that over-skirt. That I draped and drafted by hand. The cut is simple, the beauty of it is the trim. Here was my conundrum: I had a couple weeks to make this (no big deal really), and needed at least 20 yards of trim. My first choice would have been something of a natural fiber like a cotton twill tape. Any such luck? No. Then I thought of ribbon. Grosgrain or something not shiny…but no. The stores around me were OUT. Then I thought I might do something cute like red or blue trim on the white. NO! Can we say CLEANED OUT??? I'm not sure what prom or other event was going on but I could find NOTHING in the yardage that I needed.
In desperation I looked at the packaged trims and found poly twill tape, 5 packages at one store and 3 at another so I had 32 yards total. Fingers crossed.
The fabric I chose is a linen-cotton blend with a 1/4″ stripe woven in. I decided not to wash it so it would keep it's "hand". I used a purple "disappering ink" pen to draw on the key designs. I did change the pattern a bit, if you look at the detail on the skirt you can see an extra "dip" in the "P". I tried doing one key with that tiny dip and it nearly made me cry. I deleted that dip and then the design was manageable. It still took me 3 hours to sew the twill on the skirt pieces, an hour and a half for the shirt and another 1 1/2 hours for the kincker cuffs.
Then I ran into an issue. The purple disappearing ink? It didn't disappear. No worries, you can rinse it out so I did. And then, in a disconnected genius moment I decided to iron the pieces when they were damp. What happens when you apply heat to damp fabic? It shrinks. No big deal for the knicker cuffs and skirt but a semi-big deal for the shirt and only the top of the shirt.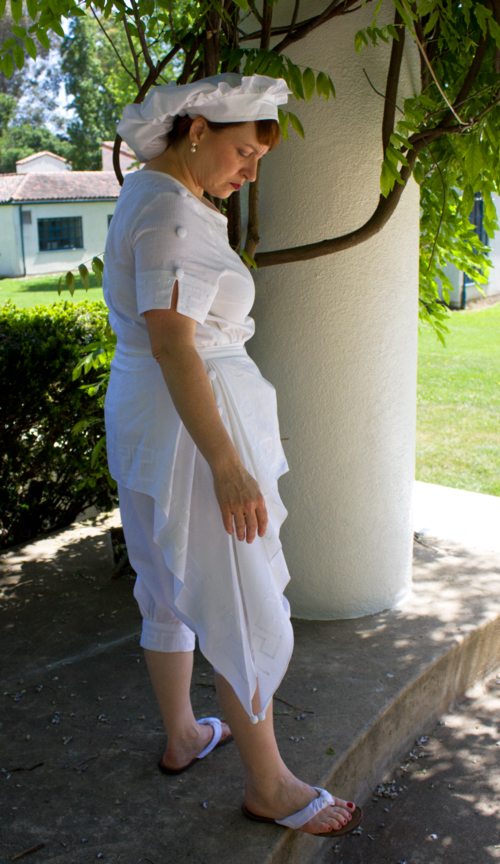 See how the top pulls a little? I was actually really excited making this thinking I could wear a lovely linen blouse with a black skirt to work and look so cool. Now I have two choices (and no, banging my head on the desk isn't one of them although it was considered) – I can either wait to lose 15 more pounds or so OR make another shirt and cut the key design out and use it as a yoke or applique.
The second issue occured when I went to pleat the skirt and get a waistband on it, you know, an hour before I'm supposed to leave to take pictures : ) It was too big. The picture is very specific of two pleats and then the center with the buttons. It was a "crap!" kind of moment so I made each pleat a little bigger and it worked out ok.
Now for the accessories – the hat. No, I'm not channeling one of the chefs from "In the Night Kitchen". I got carried away when I cut out the circle for the hat, again, about 45 minutes before I was supposed to leave. I gathered that sucker down, threw some ties on it and looked in the mirror. Sigh….
I can fix it later. No, there is no Greek key design on it, see the above statement about leaving in 45 minutes : ) Besides, I was already running a week behind, my daughter was taking 30 minutes out of her day one week before classes ended so I just had to Make It Work.
The shoes in the sketch are a farily easy sandal. I was going to add the straps and ties to re-create the sketch but by now we're down to 10 minutes before we need to leave. I could feel the sweat trickling down my back and it was starting to feel like tech week so I called it quits. I had a pair of sandals that I covered with my white fabric and called it Done is Beautiful.
Belive it or not everything was pressed thoroughly and thank goodness Leimomi just wrote a very articulate article on why garments don't always look perfectly pressed. The other observation I'd like to make on this outfit is this – it's a good thing I'm wearing my standard modern underwear! Would the original wearer have worn her standard underpinings? Maybe, probably, depending on the social situation. Then again, if she were on a holiday with very good friends and had total privacy, and she was sufficently fiesty of nature she might have worn the outfit as is. It is pretty comfy but quite sheer and will only be more revealing when wet!
I just need to fix that top somehow and then it'll be a wonderful addition to my wardrobe. And then figure out somewhere to wear the whole outfit : )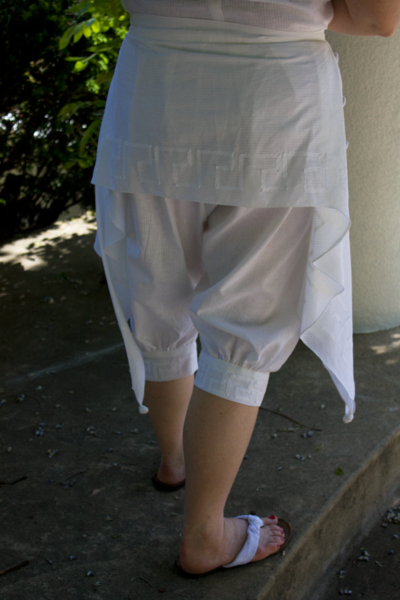 The parasol? Because I needed one : )
Phew… Makes Me Made May look tame in comparison!