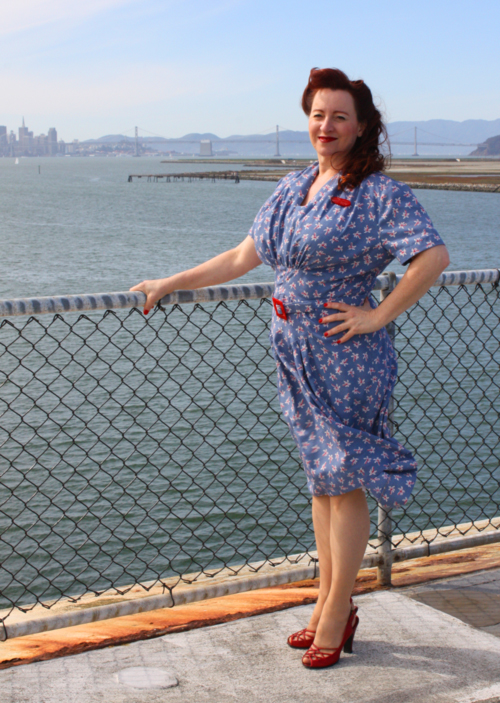 Fabric: Vintage Rayon from Bruce at the Alameda Flea market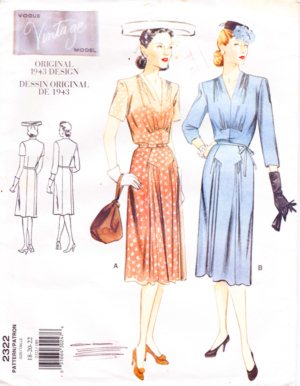 Pattern: Vogue 2322
Year: 1943
Notions: Interfacing, 1 bakelite belt buckle and 1 yard belting, zipper from stash
Time to complete: 4 hours
First worn: March 2013
Wear again? Yes
Cost: $25.00
Grab a cup of tea or coffee, this is going to be a long one… : )
First the pattern – easy peasy! The only change I made to it is putting the zipper up the center back since I have a well know dislike of those side zips. Someone asked why they used short zippers on the side and sometimes another short zipper at the top of the back, why not one long zip like they do now. Trust! My grandmother says they just didn't trust them yet, it wasn't until the 50's that the center back and longer zippers came into fashion. It wasn't until the 60's that nylon or plastic zippers were produced making them lighter weight and less prone to breaking. I do distinctly remember they were touted as being "heal-able" so if you popped it you had a decent chance of being able to unzip and re-zip.
So just because I can the zipper is up the center back. I don't have to dislocate my arm to get my dress on : )
Next was trying to find somewhere period-appropriate to photograph this dress in. A short trip to Alameda, on the opposite side of the island from where we go to the flea market, was our destination…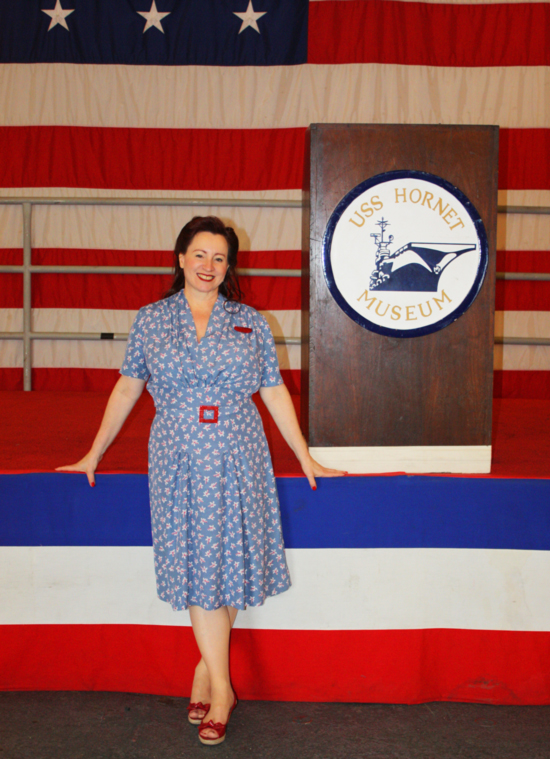 The USS Hornet!
 It only took 16 months to build her in Newport News, Virginia in 1942/43 and a quarter of the construction crew were women. Although she was attacked 59 times she was never hit by a torpedo, kamikaze or or exploding bomb. She served 15 months straight in the front areas of the Pacific as WELL as picked up the astronauts of Apollo 11 (yes, THOSE astronauts!) and Apollo 12. She was a busy lady : )
Now she is a floating museum and National Historic Landmark. What a perfect place for a 40's challenge, don't you think?
I wanted to be as authentic as possible so I had a local hairdresser style my hair first thing. Thank you Jill : ) She did beautiful Victory rolls and the key was spraying the living CRAP out of them!! Which was a really good thing since I picked up my daughter afterwards, we went to lunch and then she got her hair cut before we headed to the Hornet. Once there the wind picked up as you can see by the first picture – I was trying to angle myself so I could still see and not look like I was flashing the world : )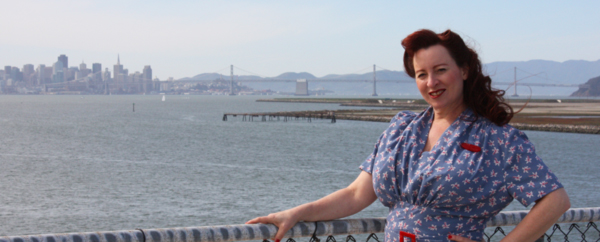 You can see the entire skyline of San Francisco off the end of the ship : ) That's the Bay bridge over my shoulders with the city on the left side.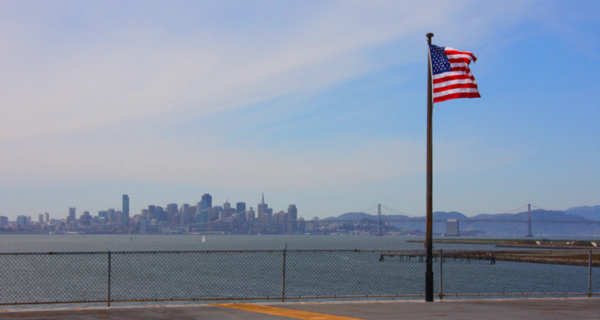 The flag was pretty much straight out, so it was brisk : )
We took these photos on the landing area. The overall length of the ship is 894 feet and the landing area takes up about half that, seems big walking on it but when you think that they land planes there it shrinks quickly.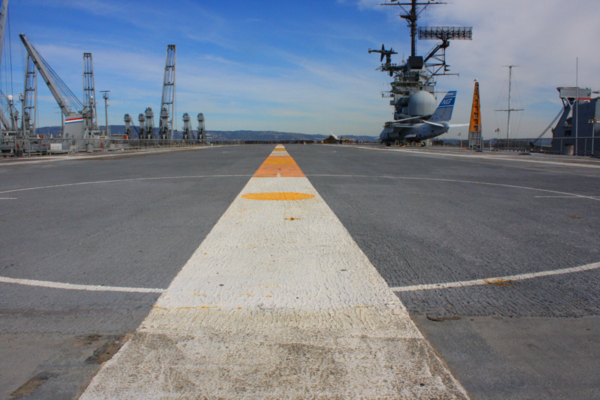 My daughter actually lay down on the ground to get this shot : ) Isn't she a great daughter? You can see a plane on the right just in front of the control tower or "Island". It's pretty big but at this angle it looks small.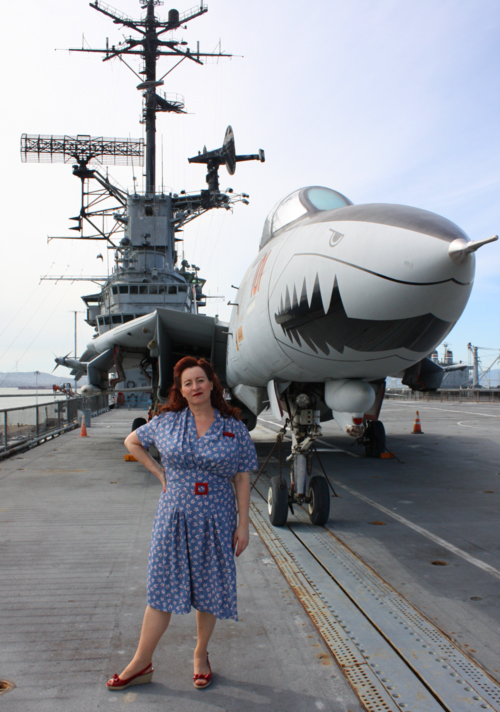 Now we're on the OTHER end of the ship, in front of one of several aircraft on display. I liked the grin painted on it and you can see the Island a little better. The wind had died down a little so the dress wasn't whipping around as wildly. You'll notice I have different shoes on from the first photo. I REALLY wanted to wear the vintage red strappy sandals but something about the placement of the straps had me taking a step, step OUCH, step OUCH…so the ones I wore to board came back out of the bag. I feel a little dowdy for some reason but at least I could move.
Brittany said other people were surreptitiously taking my picture. If they'd asked I would have smiled for and at them : ) There is one dork picture I'll include at the end…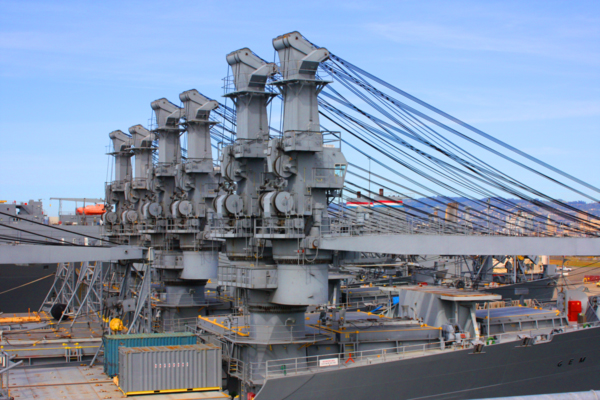 Next to the Hornet, lined up CLOSE, are three more ships. There are actually half a dozen other ships in the immediate area but these three are literally as close as you could possibly get them.
Before we head down a deck I had Brittany get a shot of the shirts and vests: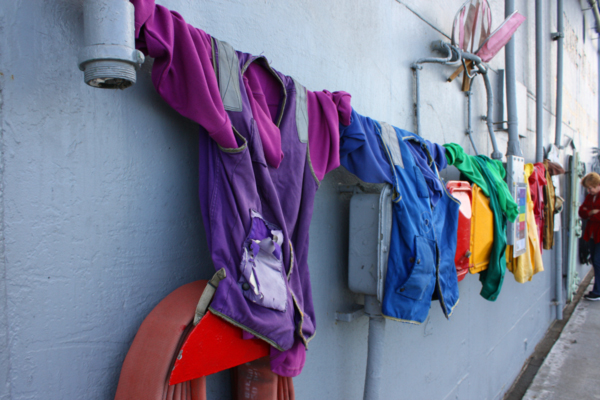 Yes, we started at the purple end : ) When Jim was in the Navy he was a "purple shirt" (fuel) and everytime we watch "Top Gun" I tease him that we see not one purple shirt in the movie. Lots of green (catapult and arresting gear), yellow (aircraft handlers) and red (fire & ammunition guys). Blue are the guys that do the heavy lifting, the grunt work. They work under the yellow guys. It's a pretty rainbow : )
So down we go to the Hanger Deck. They have tons of exhibits from planes to helicopters to Nasa "stuff" including a flight simulator that all the 9-14 year old boys were dying to try. Both Brittany and I knew better : ) "Star Tours" at Disneyland does me in, a flight simulator just might kill me.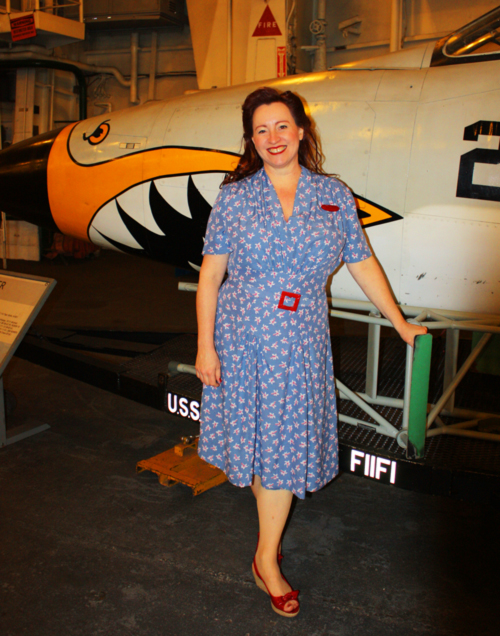 We found another grinning plane and then headed out to the fantail.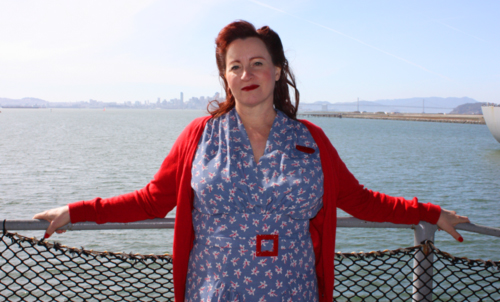 I finally gave in to the wind and put on a sweater. The curl is mostly gone out of the back of my hair but the Victory rolls are holding up like champs!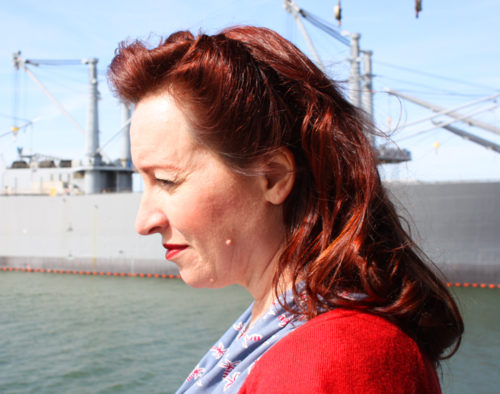 Back inside we had our choice of dozens of exhibits. They had a landing capsule from one of the Apollo missions as well as the Airstream that the astronauts were quarantined in once they returned from space! Complete with 60's gold upholstered seats they only quarantined three Apollo missions, 11, 12 and 13. They figured out the threat of "moon germs" wasn't what they thought and discontinued the practice. As we walked into the Apollo exhibit there was a small group of Boy Scouts watching the footage of the landing on the moon. I walked past them and said to Brittany "I watched that live!" and felt really, really old.
We also poked our heads into the exhibit honoring Japanese Americans and their contribution to the war. It made me incredibly sad. One of my dad's best friends was interred for several years, met his wife in camp. There was a box on display that a gentleman had made from scrap wood as a present to the woman he would marry. This country did a bad, bad thing that I'm still not sure has been rectified.
Just outside the Japanese exhibit is a bike, an unusual bike : )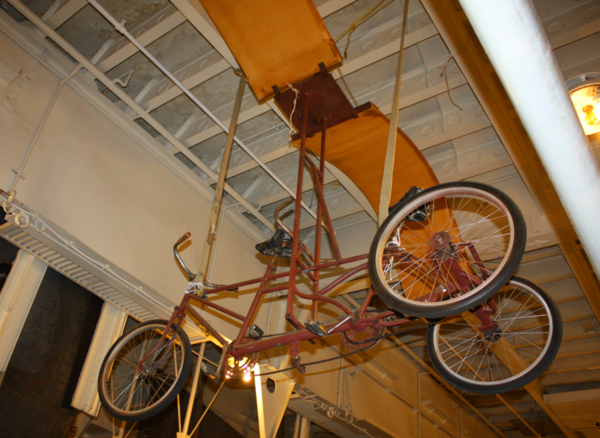 No note, no explanation, just a two seater, three wheeled WINGED bike : ) I'll need to take my dad and find someone who can tell me what this bike was used for!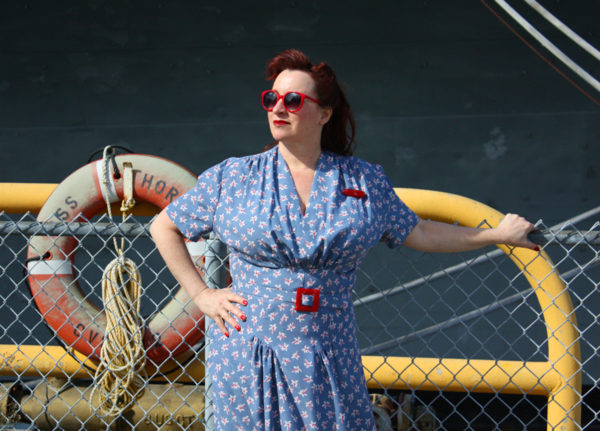 Out front the sun came out and the sweater came off. I borrowed Brittany's red glasses to go with the red of my red accessories!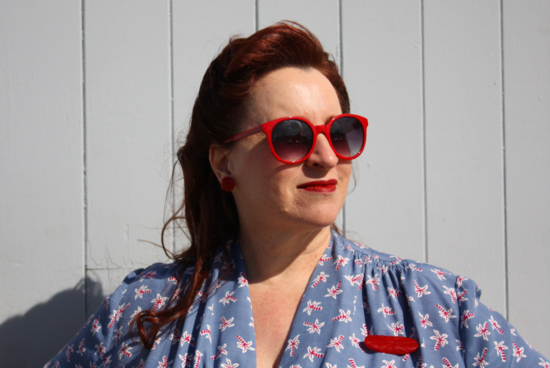 The ONE thing I forgot in the car were the bakelite earrings so we did a couple quick pics before heading back to Oakland.
I also want to point out that I actually had time to do my nails this week : ) I don't use much nail polish anymore trying to get away from toxic chemicals. I found a company that makes "3 free" nailpolish, leaving out the formaldehyde, tuolene and dibutyl phthalate (DBP). The very prettty red I have is called "Wild Rooster" and I have to say as far as wear goes it wears just the same as the toxic stuff! You can't mix brands so if you like a top coat just buy theirs. You can find them here. Yes, they're a little more than the polishes you might pick up at CVS but look at it this way – they weren't tested on bunnies so no one died, they're considered vegan AND they won't add to your worries of "am I going to get cancer from this". Win!!
On our way home I put back on the outfit I had spent most of the day in, my "bonus" outfit for the week: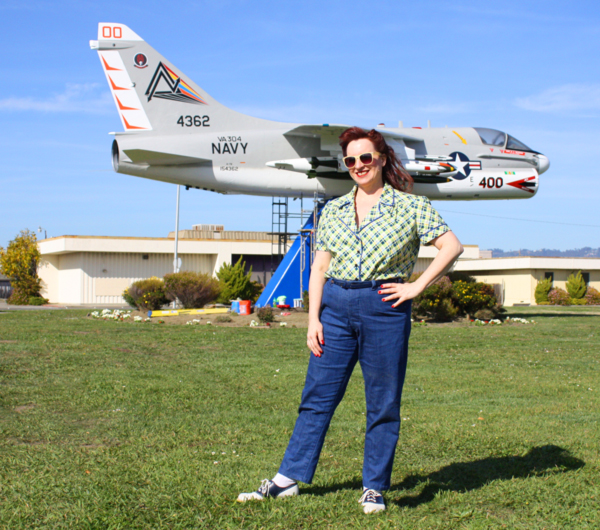 Trying to overcome my it-looks-like-PJ's phobia I made another shirt. I LOVE the fabric –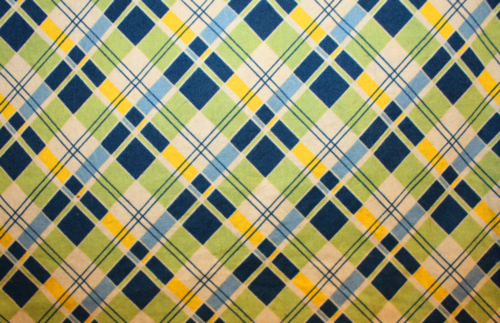 I paired the shirt with my pants from my Rosie the Riveter outfit and my vintage blue & white saddle shoes. I wanted to do some sort of Victory garden photoshoot but honestly we were SO tired after traipsing all over a big ship that it was all I could do just to get Brittany home…after we spent some time looking for gnomes.
Yes, gnomes.
Someone has been painting gnomes and mushrooms on scraps of wood and attaching them to power poles all over Oakland. Because the poles are owned by PG&E they got snippy about artwork on their poles and announced they were "removing the gnomes". Well, that stirred up quite a fuss! Seems the residents of the neighborhoods in which the gnomes now reside LIKED the gnomes so they starting voicing their opinion to those who make decisions at PG&E. Executives backed down and said they'd leave the gnomes alone.
Brittany sees them all the time but I had only read about them. She said there were lots on one street, a street full of artists and galleries so we drove by. We had to park and walk the entire length before we found gnomes! We saw the screws that once held them to the poles but no gnomes : (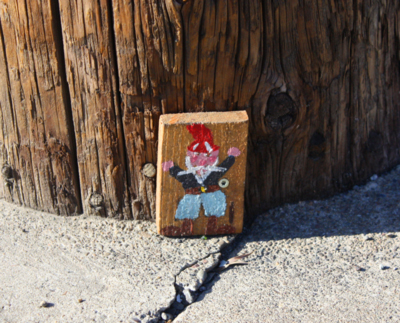 He really is only about 4″ total but has the power to make you smile : )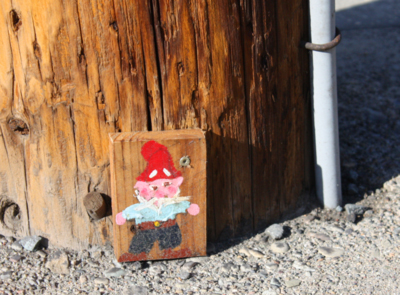 No mushrooms but you get the gist. Cute huh?
Phew. What a day!
As promised (for Vickie), an outtake: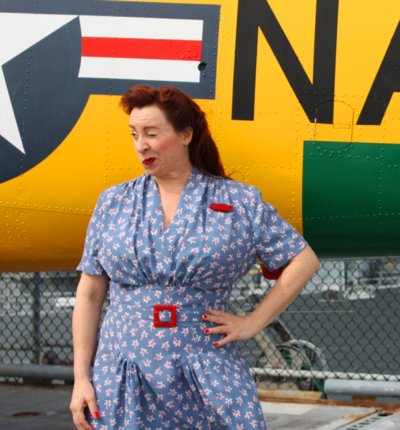 One hair flew across my face and into my eye. Ouch : )
After spending all day Saturday running around I stayed home all day Sunday (except for two trips to the hardware store for wood and dirt!) and dug in the dirt. One of the things I wanted to do this year was try some new stuff in the garden. I finally found my Thai pink tomato seeds on Amazon (as Crystal says they have frickin'  EVERYTHING!) so I've started some of those along with Kirin black tomatos, Batwing pumpkins, Tiger striped melons, Dill's Atlantic giant pumpkins and garbanzo beans. That's the new and different stuff : )
Because we lost Prudence (one of our chickens) and the little hummer guy this week we buried them together and then planted a red climbing rose on top. I planted some garlic cloves around the rose bush and threw some nasturtium seeds in with the poppies Sue gave me a couple months ago. I figure if I keep planting seeds something is bound to grow! I'm hoping for an AWESOME garden in a few months : )
The one project that is dragging on and on is the back deck. We're still replacing boards and painting. I laughed today when I looked at it and said "All the work we've put in and it's going to look just like it did a month ago, without the holes and rot." Such little baby steps forward…
P.S. There are some more photos from the day on my Instagram account : )