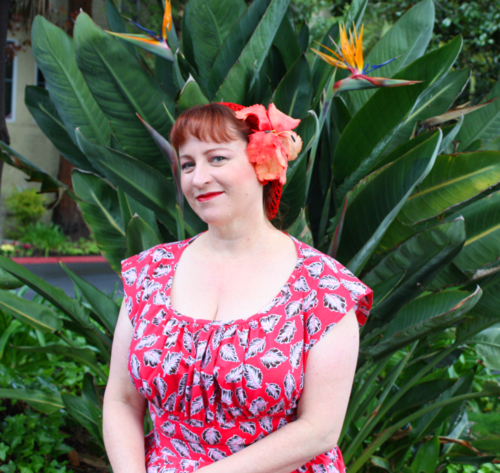 Fabric: Sale cotton from Stone Mountain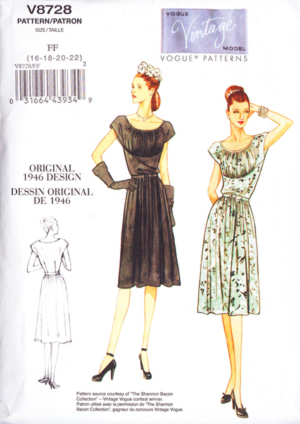 Pattern: Vogue 8728
Year: 1946
Notions: 1 yard belting & zipper from stash
Time to complete: 2 1/2 hours
First worn: March 2013
Wear again? Yes
Cost: $15.00 (?)
I didn't mean to make ONE more outfit..but I did.
The pattern was sitting there, and there was some fabric on another table that was just sitting there, and I really like the fabric so when I saw the pattern I remembered how Barbara had said this was a really easy dress AND it's from 1946 so I figured what the heck!
This dress was even easier than the one I made last week and I'm serious about the 2 hours to make it. That extra half hour was for shoo-ing the cat off the ironing board several times so I could get the thing pressed and ready for photos. It is FIVE pieces with self-made bias binding around the neck edge. I didn't really have time for fancy fitting so I cut the size I was according to the envelope, next time I'll go down a size. Good to note – for those of us with larger-than-standard chests there is PLENTY of ease!
 I wrangled friend Heidi away from her kids for 15 minutes.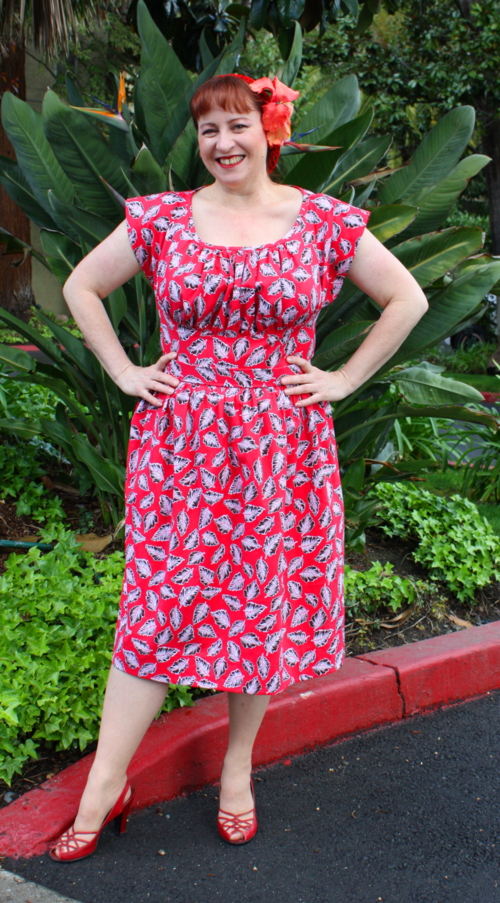 We braved the soggy, dripping world first thing Sunday morning, not initially remembering that it was Easter. We were dodging cars and people just trying to photograph the dress against something "tropical", in reality the plantings at a condo complex down the street : ) I also trotted out the cha-cha shoes-that-hurt-my foot one more time. I think they're going to have to go to a new home.
I wanted to try doing my hair like my grandmother but you'll notice I have a red snood and large silk flower in my hair rather than the "toilet bowl" style my grandma is rocking here: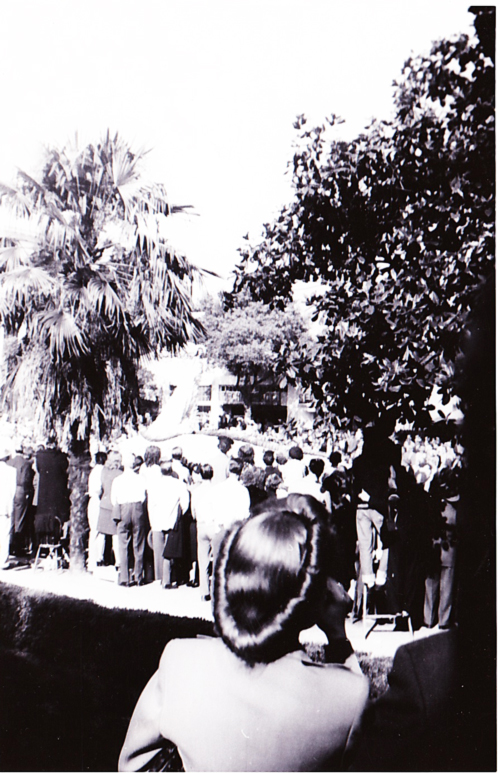 She wrote on the back "Watching the Rose Parade 1945 or 46?". She said my grandfather preferred her hair the 'natural' way, that she was pretty just as she was : ) I'm in awe with how good this looks! We determined that my hair is just too long right now and yes, she used a 'rat' to get this look. I have plans for cutting my hair shorter, not short but enough that we may be able to do this then, we'll have to see.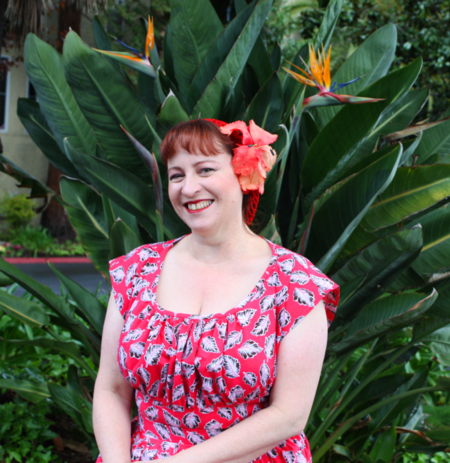 Heidi said "smile" so I smiled : ) Then I turned the tables on Heidi and she smiled: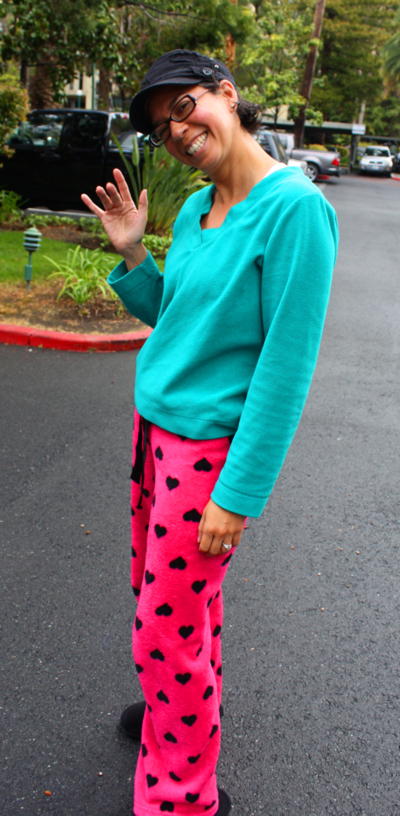 Pj's and slippers. She is awesome : )
So there we are, ladies. In a few weeks I made 3 shirts, 2 dresses and a skirt, all from patterns from the 40's. I can't believe how much FUN this was! Now I'm wanting to find patterns from each year I didn't make something from and fill in, then do the 1930's and 1950's…
But first there is a Bowie challenge to finish (almost done!) and a Colette challenge to plan for AS WELL as the Mad Men challenge. Don't forget to check out Rochelle's AWESOMESAUCE 40's dress where she re-created the fabric shown on the pattern envelope via Spoonflower : ) I may have to buy a couple of yards for a skirt for summer, because a couple dozen skirts is just not enough <g>