Fabric: Turquoise/red cotton from JoAnn's
Pattern: DuBarry 5090
Year: 1940's
Notions: Interfacing, 5 buttons for blouse and 8 for skirt, 1 bakelite belt buckle and 1 yard belting from stash, 2 packages pre-made piping from stash
Time to complete: 6 hours
First worn: March 2013
Wear again? Yes
Cost: $17.97 for fabric + $6.22 for buttons so $24.19 total
Here is my inspiration shot:
This is the lovely Sydney Ballesteros, she of the Golden Girl of the West blog. I've been inspired by her before, most notably last year when we did our Mixed-prints challenge at Sew Weekly. I loved the polka dotted goodness of this dress, along with the piping that made it "pop" and her shoes. I debated for a WEEK about dress vs. separates and finally decided I'd get more wear out of separates.
The blouse part of the DuBarry pattern was missing a few pieces so I ended up using my old standby, New York 1779.  I did try replicating the curve of the collar but honestly, I was still stuck in the "Must Get It All Done This Weekend" mode and didn't have the patience to work piping around those curves. When I got the facings on and put the shirt on the mannequin it reminded me of men's PJ's : ( I kept going because I loved the fabric and hoped that the skirt would tone down the PJ-like feel but I seriously stumbled for a moment.
My daughter and I took these photos at a local monument to War Heroes.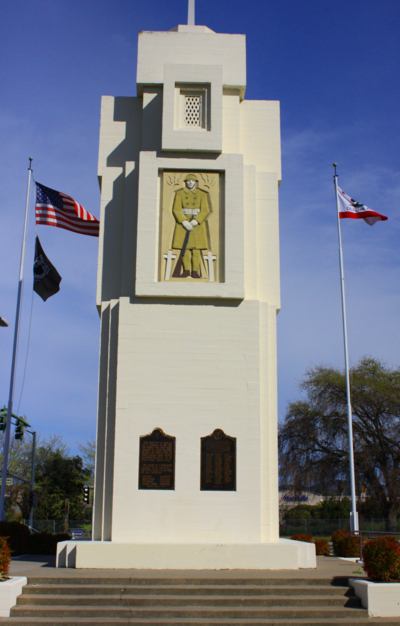 It was originally dedicated to those who died in World War One but in 1954 it was amended to include those in World War Two and the Korean conflict.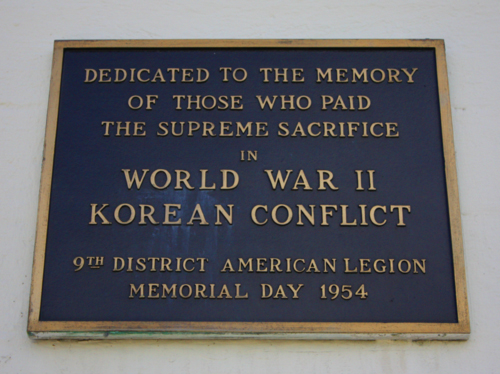 It just seemed fitting.
The plaques behind me are the names of those who died (on the right) and the communities from which they came (on the left).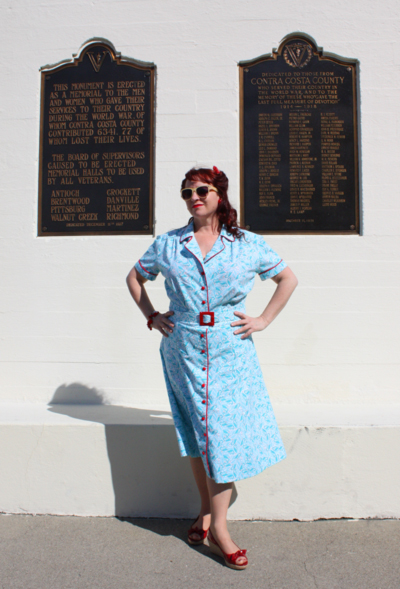 It was a blustery day : ) I had tried to do my hair in a 40's style but the wind wasn't cooperating!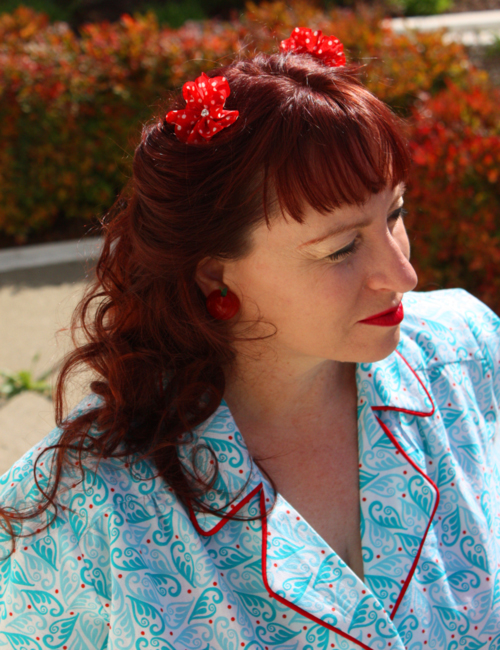 My Victory rolls fell down a little and while I liked the polka dotty clips I felt a little Bette Davis in "Whatever Happened to Baby Jane", my daughter just laughed at me : )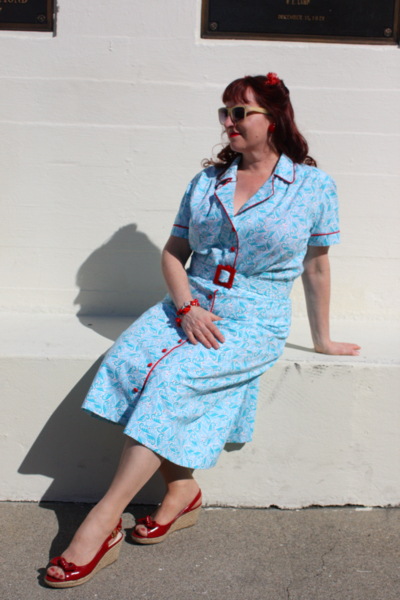 The first two buttons down the front of the skirt are functional, the rest are sewn through all layers. I've tried wearing button-up-the-front skirts and dresses for years and I always rip out the bottom buttons. I didn't even bother making buttonholes for the other 6 buttons! If I were the very precise and remarkable Laura Mae I would do bound buttonholes all around, used or not : ) Seriously, she is amazing.
I pulled out a pair of shiny red shoes I found at Target last year, my button bracelet and a pair of red bakelite cherry earrings to up the red-goodness factor and off we went.
Normally, when we do a photoshoot, we go for about 100 photos to get 4-5 good ones. Sometimes the difference between one I like and one that makes me look like a dork is 2 seconds: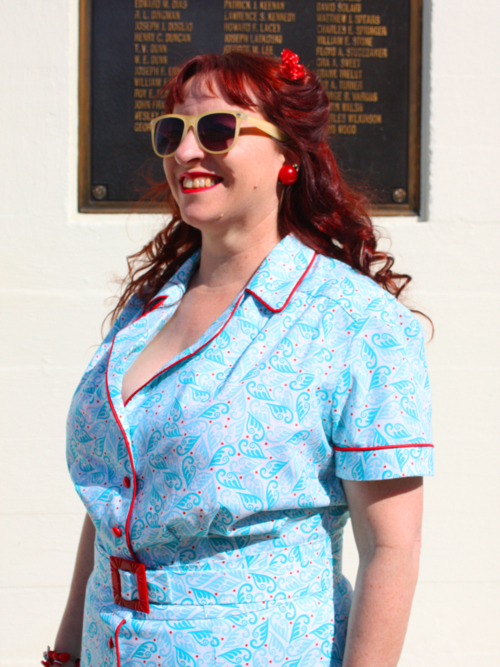 So just for Vickie (because we started including our outtakes last year!), here is the dork one : )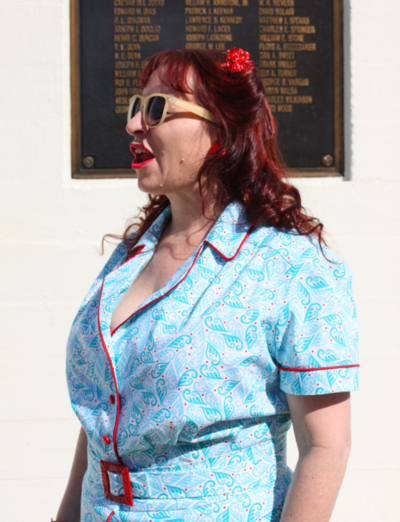 I had every intention of getting this post up last night and had even started it earlier in the day so that when I posted my pics to the 40's Sew Along Flickr site I'd have this all ready to go. Then the real world stepped in and I spent several hours trying to save an Anna's Hummingbird last night: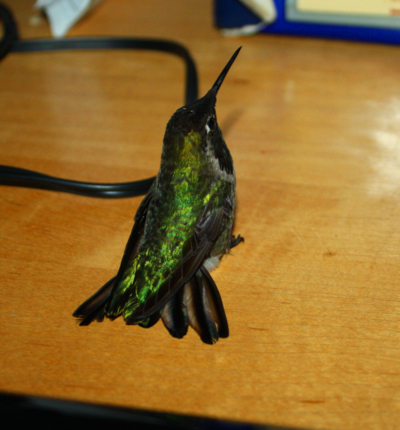 Jim had found him in the street last night, unable to fly. While trying to keep out dog away from it he scooped it up and brought it home. The poor thing was exhausted so we let him rest for a while and then I made sugar water and got him to take 2 mls by small syringe. By 9 pm he was bright and perky, comfortable resting in my hand unless he had to poop. Then he moved quickly away, did his business and came right back : ) He sat on the back of my hand as I typed this, moving when he got too warm to the desk top where I grabbed my camera and took this photo of him. (You can see more photos on my Instagram) I snuggled him for another hour, fed him a bit more and put him in a cage in my sewing room to be safe and warm through the night.
He died before dawn. I've sat at my desk all morning in tears. At least he wasn't stepped on, or a cat toy, or died cold in the rain. Whatever the issue was (injury or illness) he died in comfort. That's the tough part of animal rescue. I know I'll outlive all the animals I help but it doesn't make it any easier. There was no sewing last night so my "extra" week is slipping away but that's ok.