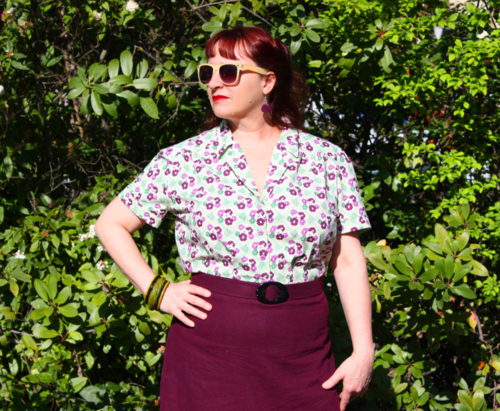 Fabric: Green/purple cotton from Stone Mountain
Patterns: Shirt – New York Pattern 1779
Year: 1940
Notions: Interfacing and 5 buttons for blouse
Time to complete: 2 hours
First worn: For St.Patrick's day
Wear again? Yes
Cost: $14.00

This will be a quickie post, think of it as a warm-up.
Somehow I managed to convince myself that I had one week to get my 40's pieces done AS WELL as my Bowie outfit for Ms. Tempest. All week long I thought I had to have the 40's photos done this weekend so I could get Bowie photographed Friday afternoon and have everything turned in on time.
During a conversation Sunday afternoon I mentioned the I was unavailable next Saturday since we're doing the St. Baldrick's event and Brittany said "No, St. Baldrick's is in two weeks, on the 30th." The lightbulb that went off felt more like an anvil. I took a breath, reconsidered what I was doing and slowed w a y  d o w n…
Needless to say, plans shifted : ) But I really wanted to make this blouse for St. Patrick's day and am VERY pleased it is done!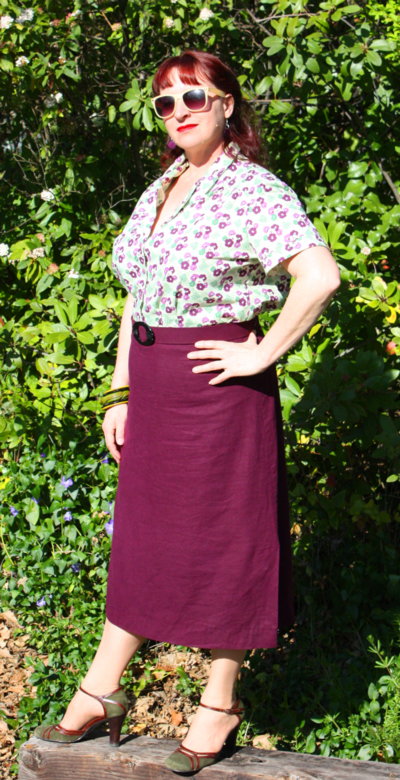 The skirt I'm wearing was part of my "Plums, Pomegranates and Persimmons" outfit last fall. It is a 30's pattern, has no darts in the front and took maybe an hour to make. It is SUPER comfy AND I can ride my bike in it, which means I can wear it to work : )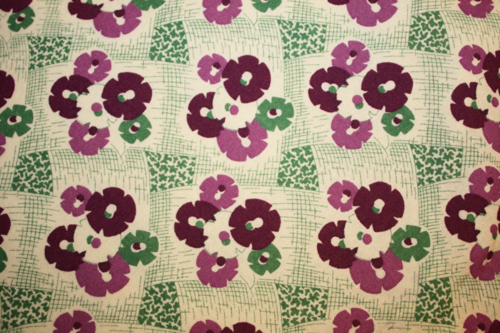 Isn't the print cute? I thought so…twice. Apparently I forgot I fell in love with another color version of it for the Gatsby Picnic. Doh!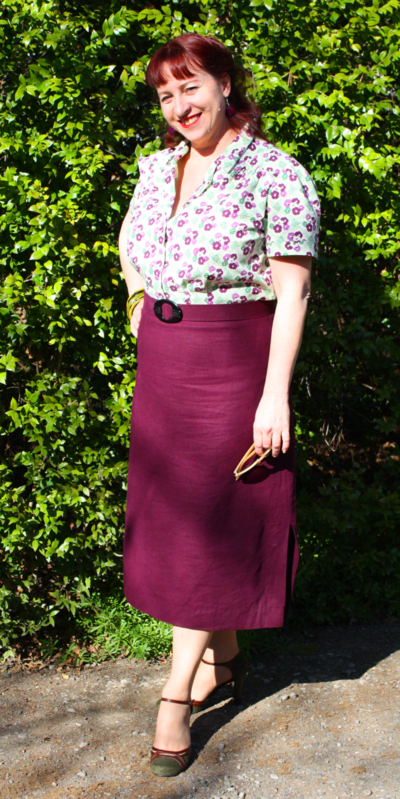 I'd like to point out the shoes – I found them at a thrift store yesterday for $4.50. They are modern but I loved the brown trim on the green suede and the heel was not only a good shape but good height. I feel pretty cha-cha : )
So now that I have an "extra" week I'll be able to finish the other pieces, even the one on my "would be nice to…" list! AND we've got a special photo session planned that is SO appropriate to the era and theme of the 40's Sew Along. Awesome stuff ahead indeed!!