The Facts
Fabric: Four different African prints
Pattern: Simplicity 7082 and Vogue 2128
Notions: Not a one : )
Year: Modern
Time to complete: Literally weeks and weeks
First worn: February & March 2013
Wear again? Yes
Total Cost: $50.00 give or take

Yes, there are three patterns shown here but I only used two. My ORIGINAL idea was to make the shirt on the left, Vogue 2056. I made it when these patterns were brand new, late 80's, and LOVE the origami-like folds and asymmetry, two things that strongly remind me of Kazz.
I had this all planned – go to Stone Mountain and Daughter the first week of February, buy really cool African fabrics as it was the beginning of Black History Month and the selection should be grand and then make really cool stuff : ) I get to Stone Mountain to discover they had 5 pieces of fabric. Five. When I inquired as to the collection the very nice lady apologized profusely and said their shipments had been help up in Mali! Seems that the fabric distribution goes through Mali and the fighting had interrupted little things like fabric export. I went to three other stores with minimal success – I managed to score the purple jacket fabric and red head wrap fabric at Discount Fabrics but they only had 7 or 8 more fabrics than Stone Mountain did.
A couple of weeks later they received their shipment so I ran in, fell in love with the red you see here and cut it out, only to shudder at the outcome.
It started off well and good, there are only three pieces to contend with along with a puzzling set of "match this set of dots to this set". When I finally got it "right" I put it on and the phone rang. The 80's were calling and it was an unpleasant conversation. It might have "looked" ok to an outsider but I felt like I was trying to re-create my youth and that was uncomfortable. I wrestled with the blouse for THREE DAYS and finally called it quits. I didn't want to buy any more fabric since it was tough enough just to get what I have here.
By this time I'm running at least 2 weeks behind and feeling less than good. It's one thing to blow your own timelines but I've got three others coming up fast and feeling overwhelmed : ( Let's just say it was a dark week.
I took a deep breath, dug out the wrap top pattern and just pushed through. I then called my daughter for photo assistance. She found THIS amazing graffiti mural!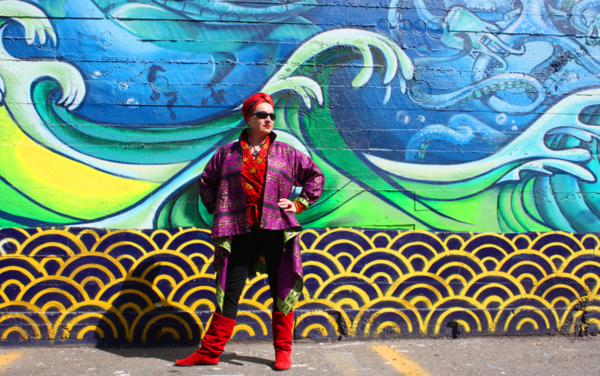 So here we are, on a Sunday morning, in a parking lot in Oakland. I was just in awe of the art behind me!
I wanted something to reflect the artistic spirit that is Kazz. I tied on my headwrap (surprisingly comfy) and posed with pride.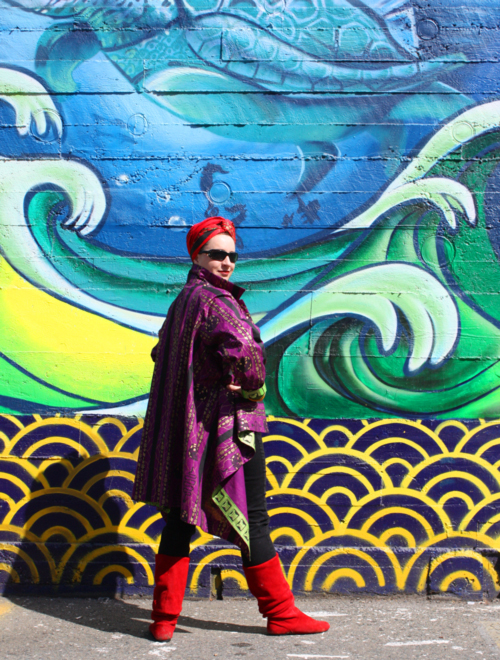 The jacket is really a big rectangle with sleeves. In the last few years I've seen tons of sweaters with this similar cut but in 1989 it was pretty 'cutting' edge. Kazz is sewing a lot of stuff inspired by the 80's right now, go check out her blog : )
The pattern is also for knits but this is clearly not a knit. Instead of bands at the bottom I faced all the hems with a lime green print.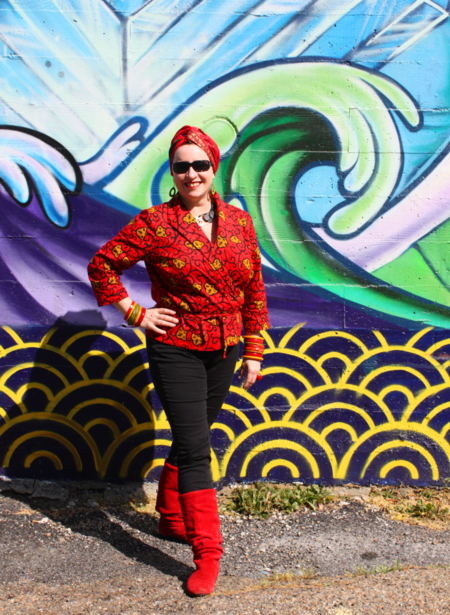 And in the grand Kazz tradition I piled on my bakelite bracelets, my huge red ring and some black earrings. The day was BRIGHT so the glasses stayed on : )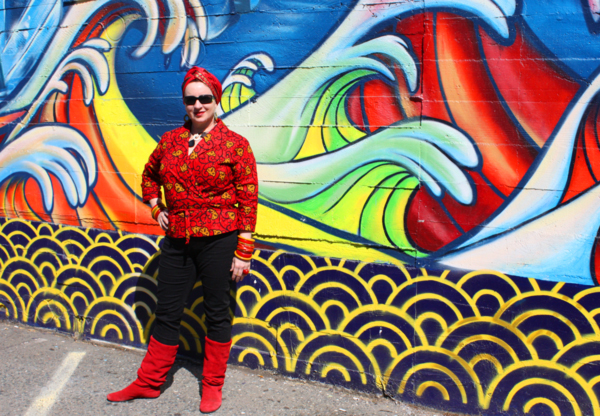 People walking by looked at us strangely and hurried on. Ah well.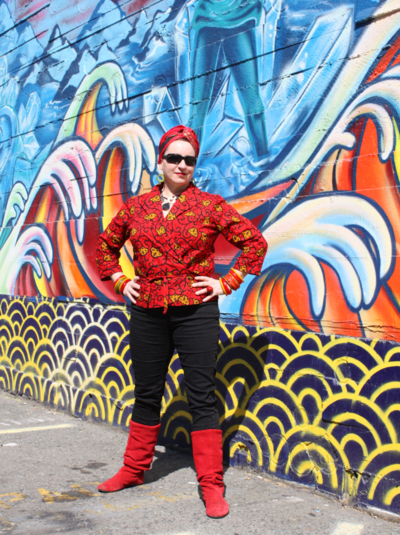 I was glad I wore my red boots, the "stuff" on the ground was a little questionable : )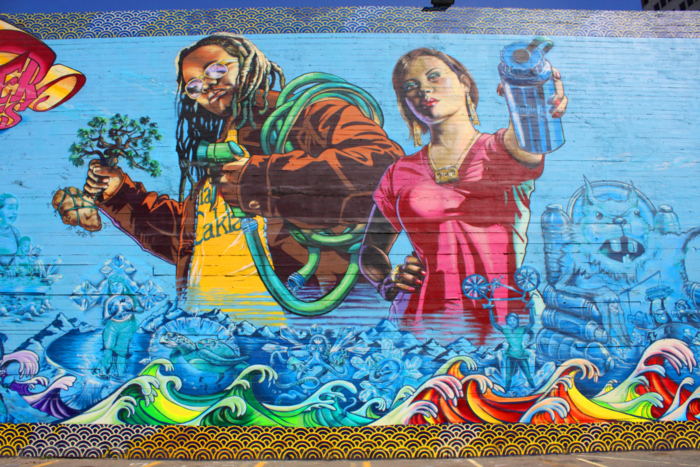 This is the center part of the mural. Brittany said when it was first complete the woman was holding a spray paint can but there was some concern as to the message so they painted a water bottle over it.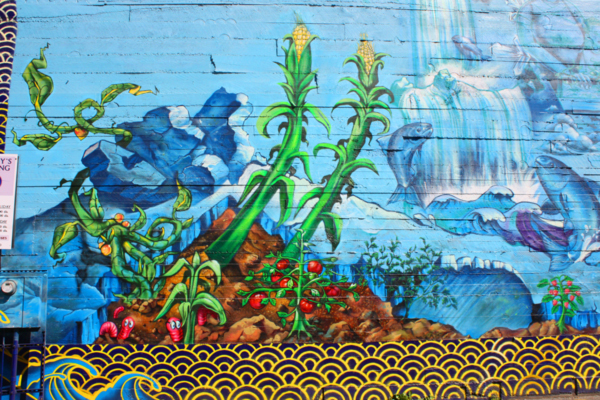 To the left of the figures is a veggie garden…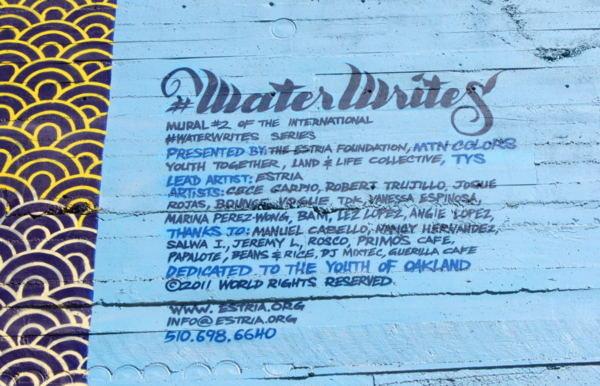 …and just above the corn are the credits. The website talks about their different projects – "Oakland, California – Broadway @ 21st Street in Downtown a collaboration with local youth programs that create urban arts and urban gardens. The mural portrays everyday ways that young people in Oakland are choosing healthy alternatives and decisions that protect and conserve water"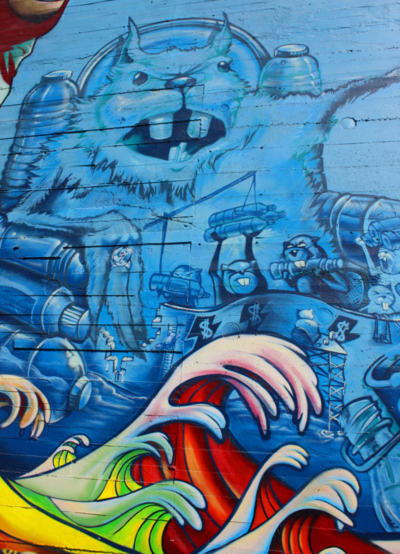 The beaver made us laugh : )
You can check this amazing non-profit out here.
Now check out Lee!! She made a Kazz outfit too!!!
I remember she used this fabric in a Sew Weekly challenge last year and I really liked that incarnation but I LOVE this one!
It's simple, it's swingy and it is Lee : ) From her blog:
"Kazz's broad spectrum of talents and prolific production of awesome garments, including her recent foray into lingerie, could be a little, um, too impressive, especially in the past energy-sapping week I've had.  Very little time to myself lately, frigid late February. . . I'll snap out of it.  In the meantime, I prefer to focus on the empowering Kazz takeaway:  Do your own thing.  Pump up the volume in terms of fantasy and attitude.  Challenge yourself.  If all you can manage to sew is a rectangle, make it high impact and strut that dresstangle, babe."
Strut indeed.
Now for slightly boring stuff.
One of the items on my list of "things to do" this year was get the strawberry plants planted. I finally did : )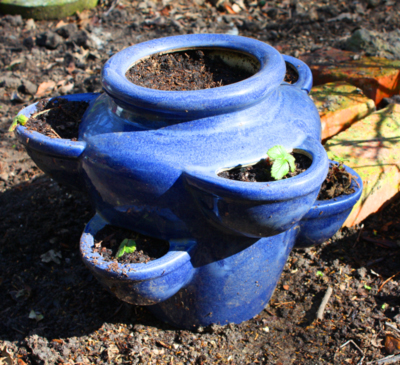 Amazingly the chickens aren't interested one whit about what's going on in the pot. One other item on my list was to get the back porch cleaned off and fixed up.
Oh. My. Goodness. That opened a can of worms. It started with a can of free stain, moved onto a few deck boards needing replacing (a known issue) and has ended up with an almost complete re-build AND a replacement gas line. Sigh…
So just for giggles (and the desperate need to complete SOMETHING)  I submitted a couple of my projects to the Mary Jane Farmgirl connection for my badges. What is Mary Jane? Check her out here. I can explain it more if people want me to, but for now I wanted to get this very late post up : ) Think of it like Girl Scout badges for adults with a farm twist and you're getting there.
They accepted my work for the Apron badge and sent me a lovely certificate of completion-
My goal was to do 6-8 badges this year, I think I'm up to three and have two more in the final stages. Slowly things are getting done, I just feel like I've been walking in molasses.
I'm participating in two other sewing challenges this month, the 1940's Sew for Victory challenge over at Rochelle and Lucille's page as well as Tempest's David Bowie challenge. If you've never met Rochelle check her out at Lucky Lucille. Her Lucille looks a lot like Chloe here : )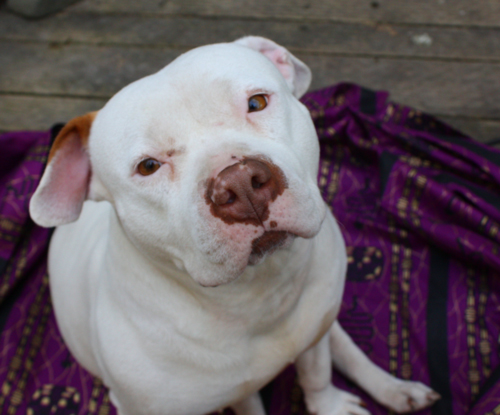 Now that daylight savings time is here it's lighter later and life is getting better : ) If I'm going to get these challenges met I've got to sew like the wind!