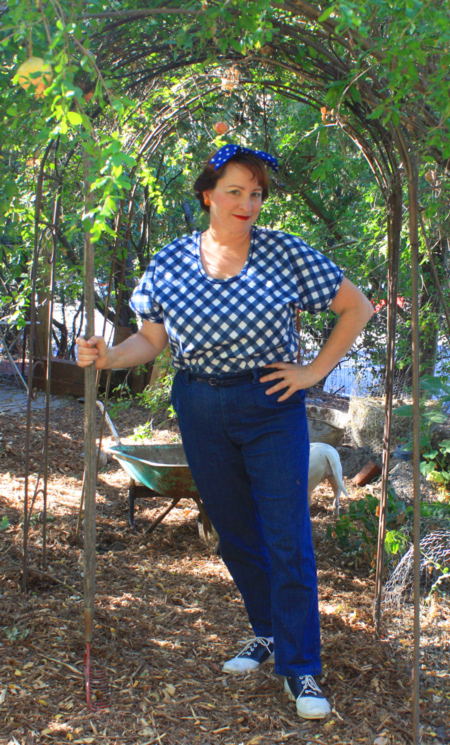 The Facts
Fabric: Blue printed gingham, all cotton : )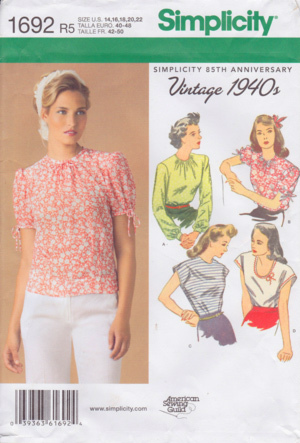 Pattern: Simpliciy 1692
Notions: 1 zipper, 1 package vintage navy rick-rack, 6 buttons from stash
Time to complete: 2 1/2 hours
First worn: September 2013
Wear again? Yes
Cost:  $4.78 including pattern
Rochelle from Lucky Lucille and Tasha from By Gum, By Golly are hosting the Fall for Cotton Sew Along. The only "rule" is the garment MUST be cotton otherwise Anything Goes : ) ( I recently saw "Delovely", can you tell?) Good thing they chose cotton since I LOVE cottons AND recently bought a pile of vintage fabrics at the flea market and the Longest Yard Sale!
So here we are with this shirt – it is actually project number 3 in a series but the first one photographed. I had bought the fabric as a remnant at Stone Mountain Daughter thinking I could make a wearable muslin and indeed I did. (For some reason I'm fixated on ginghams right now, maybe because the closest JoAnn's to me has had the same three pieces since February. When I asked if they were going to get any in, ever, they told me that they no longer had any control over ordering at a store level, that it is all auto-shipped from a central warehouse. I know all about those warehouses. I used to be a store manager for House of Fabrics. I spent HOURS of my week arguing with a bunch of guys who didn't understand the importance of re-stocking the fabrics in high demand. The fact that they've "streamlined" their process to cut out the people that actually know what sells in their area just has me shaking my head.  OK, rant over.)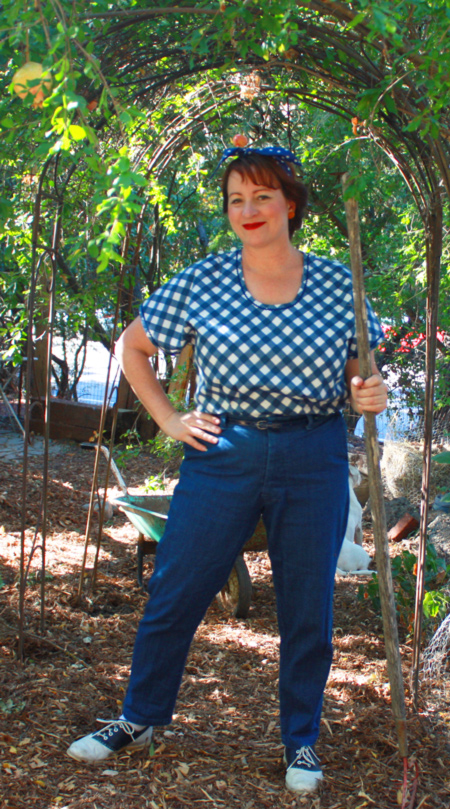 I decided to try Simplicity 1692, Vintage 1940's, since I picked it up for a whole dollar and it has potential. You know what threw me? The model on the envelope is wearing some sort of white headband or head scarf but every time I look at it the first thing I think is "Mennonite". Don't misunderstand, I have a great deal of respect for them but I don't necessarily want to emulate their style. It's just not me, like fluorescent colors and belly baring tops, so not me!
Once I got past the whole headscarf thing I liked the view with the neck gathers and the view with the rickrack. And guess what I discovered as I wrote this post up? I forgot to do the rick rack bow on the front of the shirt.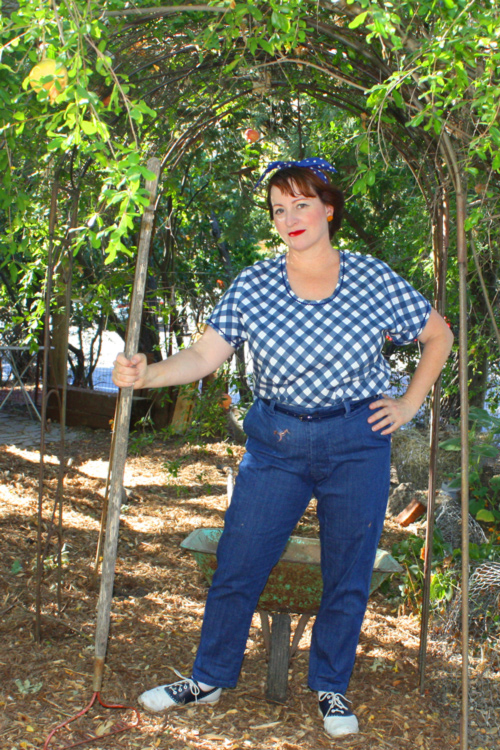 I really liked this shot until I realized I had a piece of redwood bark on my pants…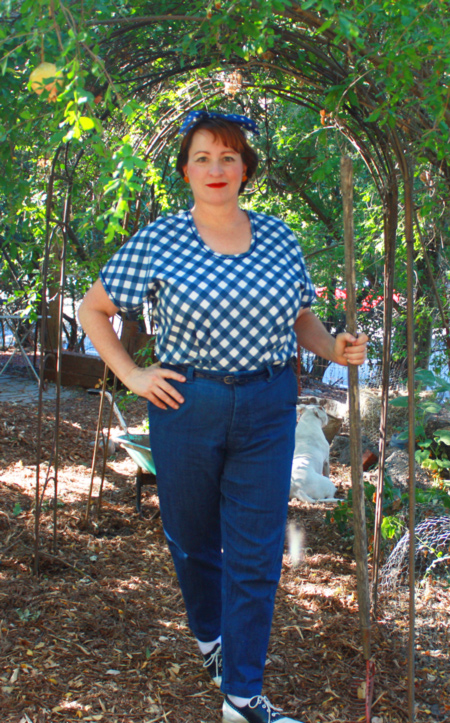 Here Chloe has turned her back to the whole process.
I felt very Farm Girl today : ) What else does a gingham blouse need? A polka dotty head scarf a la Tasha. I didn't have enough pins but it worked out pretty well for a first attempt. It was also windy today, my bangs desperately need trimming but I felt cute and put together…so I could go work in my garden…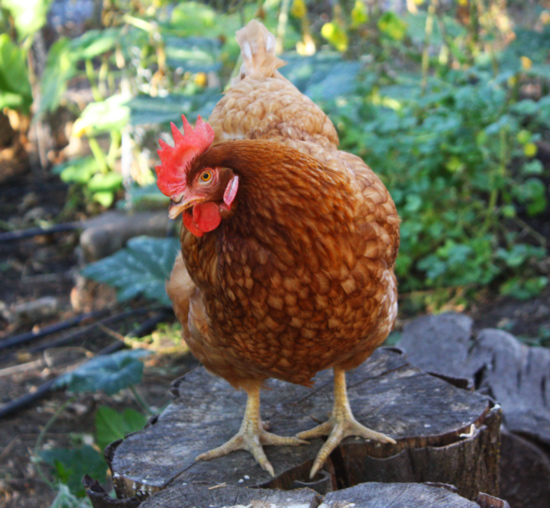 Beautiful Miss Amelia helped in that way only a chicken can.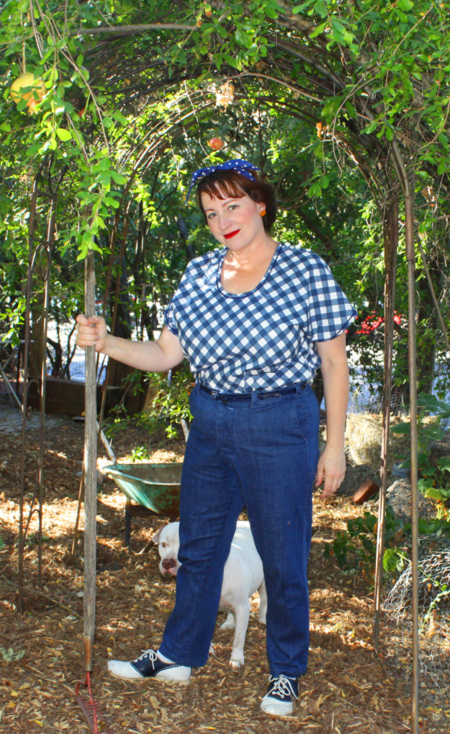 And Chloe did some photobombing. Do you think she cooperated when I tried to make her part of the shots?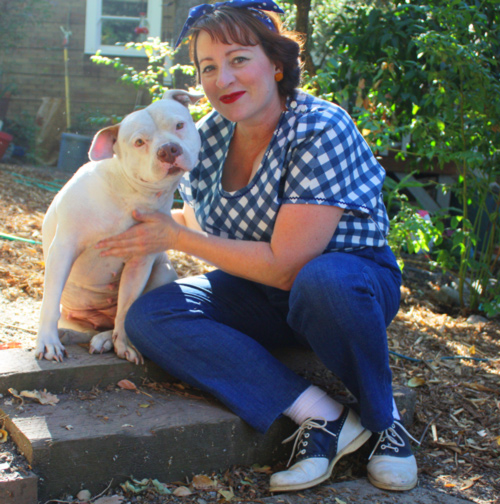 Only if I rubbed her chest : )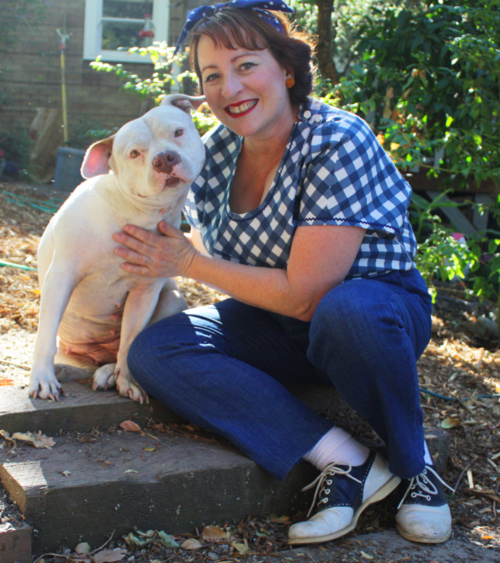 OK, so things I like about this shirt:
The deep scoop of the neck is lovely. The button detail on the shoulders is cute but seriously, do you need to do all those loops and face everything just so? No, you don't. The scoop is deep enough that you don't have to rely on the buttons; at least it was for me. Baste it closed and see if it goes on over your head to double check but in the future I'll happily sew buttons along the seam and skip the loop-making.
Another side zip. Sigh… I can't stand side zips but I went ahead and installed one anyway because the tucks around the waist of this looked like I'd need a zipper to get in. I think my install job on this is about the ugliest I've done in a long time. I didn't even take a picture. And I didn't unzip it before I pulled the shirt on. Now I can take it back out, it passed the Mena test : )
I also had to finagle the rick rack at the neck edge because I wanted to insert it between the shirt front and the facing. I may not have read all the words on the instruction sheet and made life harder than it had to be but I like the way the shoulders turned out.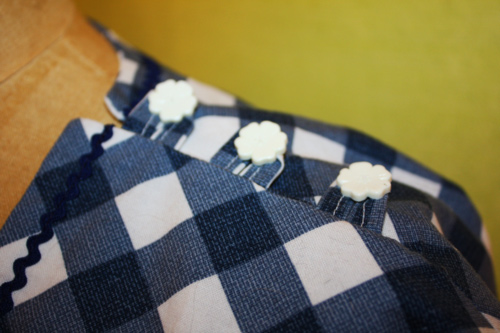 Those buttons? I have NO idea where they came from but I had 6, and this needed 6 so they seemed perfect. I 'm on a roll when it comes to finding buttons for things lately, just wait till you see the shirt I made from an old bathrobe and buttons I bought in the early 90's…
The sleeves are a little big for my tastes but they don't bind. If I had tried the shirt on before I had hemmed it I would have narrowed them by about an inch. And you'll notice the pattern meets at the shoulder/arm seam? Pure serendipity.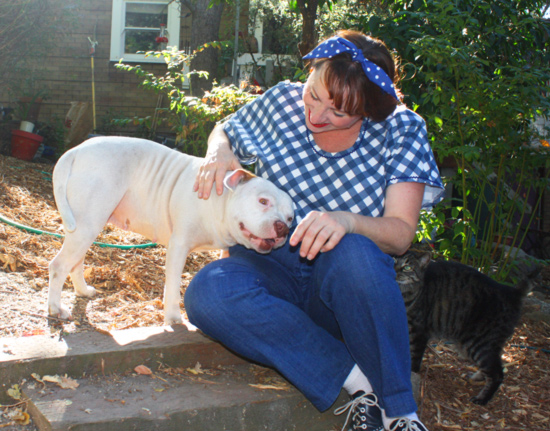 The head scarf is just a rectangle with tapered ends. Anxiously awaiting the pattern Rochelle is developing for a nicely fitted headscarf : ) This was fine. My neighbor called me "Lucy".  My jeans are my Rosie the Riveter jeans, the shoes vintage. Minnie showed up here so I included her in a shot all by herself.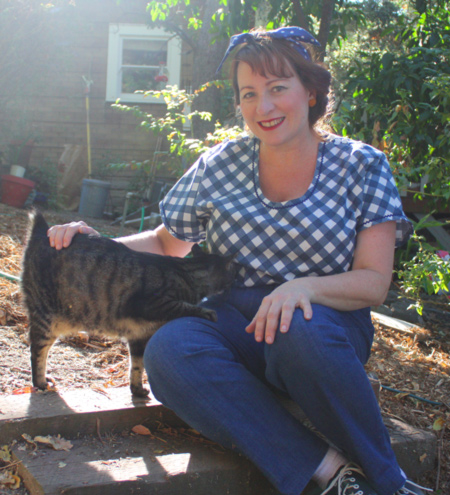 She has no tail. She was born with one but she broke it, then bugs got in it so we fixed it. I felt bad for her since she used to wag it like a dog but she's fine : )
I did photos this week in my own back yard. The area you see here we call Pomegranate Alley.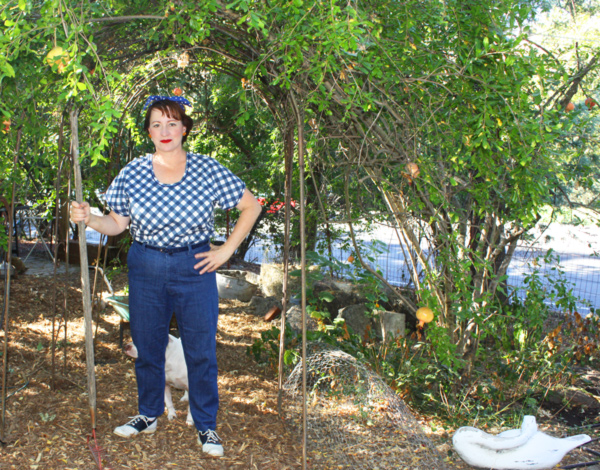 That is one gigantic Pomegranate tree there on your right (my left). It drapes over three arches and could really use a fourth. The rake I'm holding is a real rake that I really use and the turquoise wheel barrow behind me is one my dad bought when we moved to Walnut Creek in 1968. It has some holes but it's wonderful. I love my farm tools : )
I also love the vintage cottons I found at the flea market: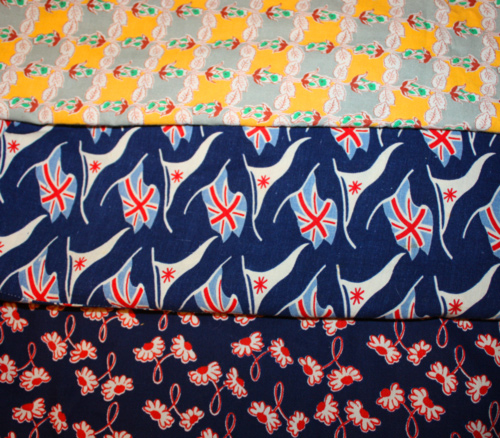 I'm not sure if I'm going to have time to get everything made by the end of the sew along but choice is good!
I would like to thank everyone who has voted for Chloe and me for the BAD RAP calendar. Last I checked we were in 8th place, all we have to do is be in the top 11 and we're in so yay! THANK YOU!!!!
And no crickets this week. I'm on a roll : )
Final photobomb. I love you too : )