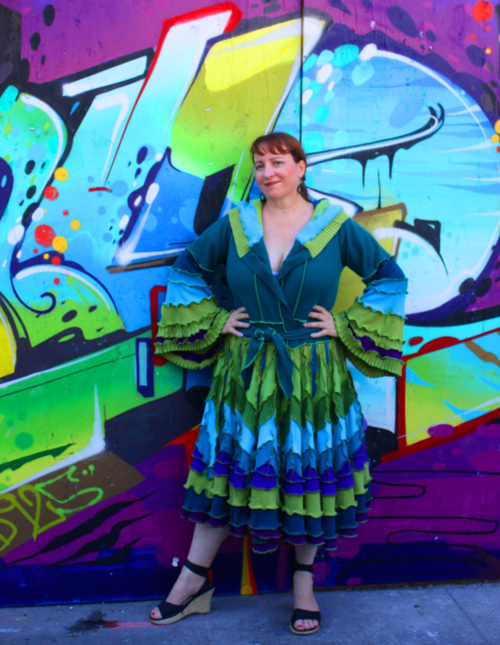 Time for adventures! For those of you who don't live in my area we're going to San Francisco on this little outing and out to…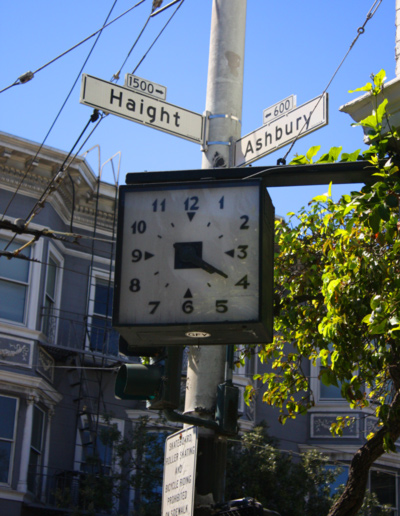 Haight Ashbury!
Hippie heaven, ground zero for the Summer of Love, which in many places has never left. Seriously, talk about time standing still. My daughter remarked that it probably smelled better back in the 60's, perhaps people were still bathing regularly, as two gentlemen in brown overalls (the trend of the moment) walked past and left quite an odoriferous wake. Nope, I reassured her, they smelled pretty much the same way they do today : )
This is one of the reasons why we headed out there: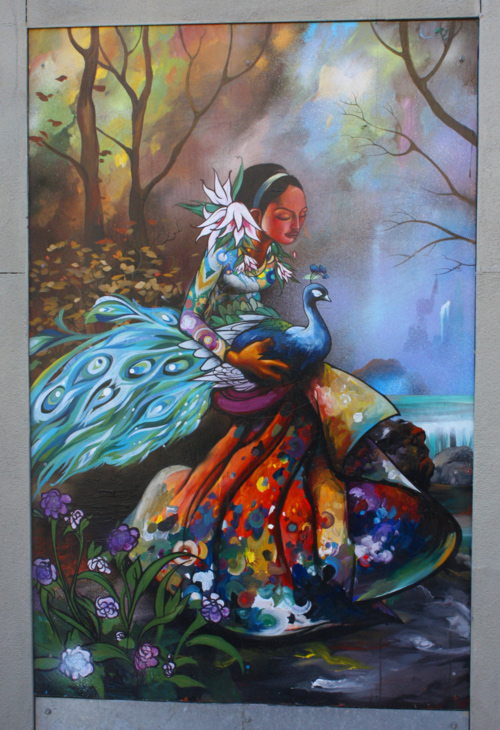 The Peacock Lady. A panel on a wall. Just cause.
And a peacock coat. Just cause.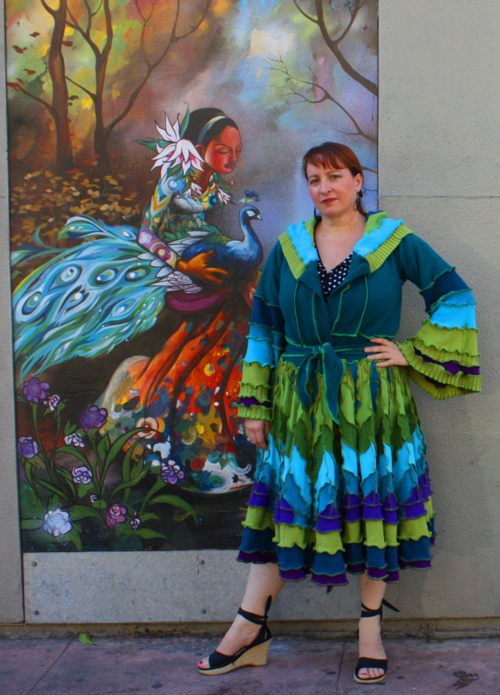 I think I had the idea to do something like this coat last year when I was working on the Snow Queen coat. Why now? It just seemed right : ) And I love Katwise, who is blogging, and her energy is infectious and wonderful. So a Kat met a Pea Fowl and they made a coat.
Actually, my daughter borrowed my sewing machine for a week and the only machine I had was the overlock. Rather than do nothing except clean the house (meh) I decided to make this.
I wanted to make each panel look like a feather without being too literal so I used my quilting skills to cut and piece a "feather". I originally made 24 panels and when I went to sew them all on the waistband they WOULDN'T FIT. I cut two panels off each end so now I have 4 panels laying about the house, orphaned and sad. Brittany suggested I make each of the dogs a winter coat from them. I actually did play around with them the other night on the dogs but all I got was confused canine expressions.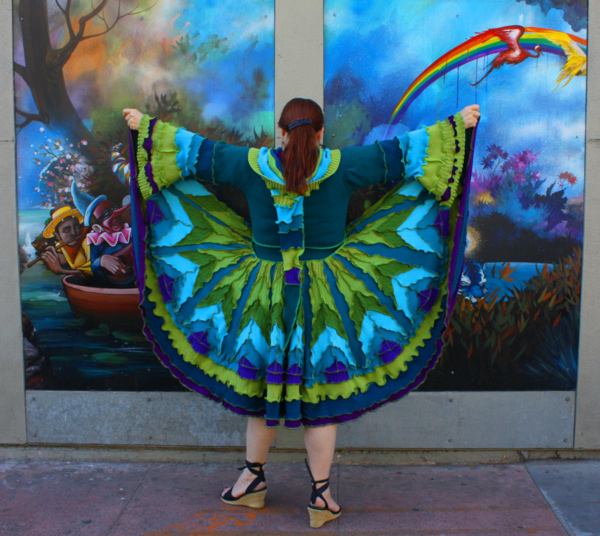 See what I mean about fullness? Holy moley!!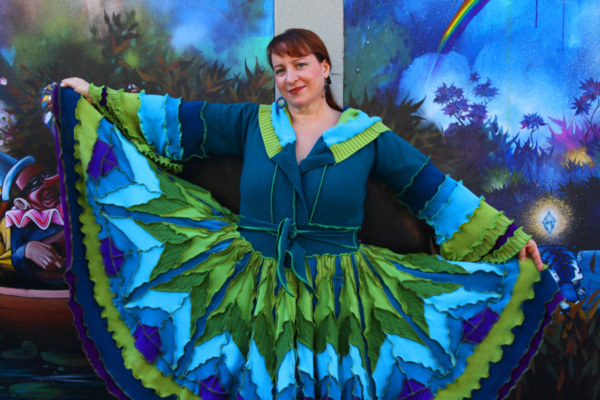 Check out the first pic – see the black and white polka dots? My "normal" clothes are showing through. I was going to wear turquoise tights, purple shoes and a fancy necklace like I did with the Snow Queen. Then we decided to take BART into the city since there was a 49's game, the America's Cup races, an anti-Syria war protest AND record high heat projected. And they just opened the new Bay Bridge span so people are FLOCKING over it, even though it has some broken bolt issues that sound the like the beginnings of a bad Stephen Segal movie.
Once I packed the coat into a bag I KNEW that was it, I wasn't hauling anything else but my camera, purse and a change of shoes into the city. Oh, and a bottle of MAC makeup that I wanted to replace that ended up becoming a nightmare retail experience. Over makeup. Sigh…
Into the city we went, took a bus to the Haight and started shooting. First we hit the peacock painting, then down the street to Buena Vista park. Both Brittany and I were thinking of the song " if you're going to San Francisco, be sure to wear flowers in your hair" so I picked a flower and tucked it behind my ear. (It's very small and yellow and behind my right ear)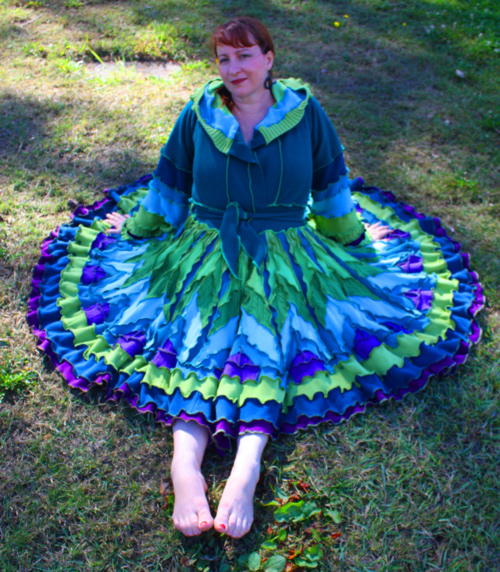 What you can't see are the people at the top of the hill. And what you can't smell is the smell of the Haight : ) Hint – they roll it up and light it on fire.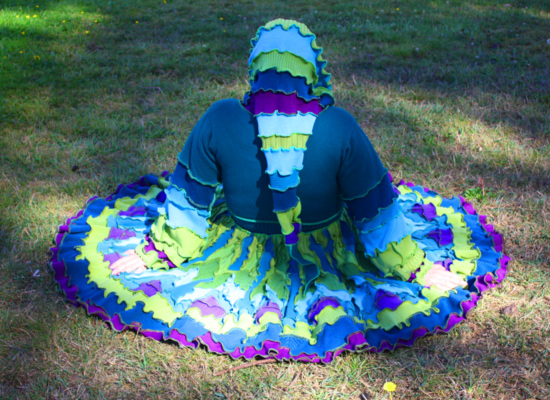 My pixie hood.
And at the bottom of the hill are groups of tourists – some speaking German and some speaking French. All are looking at me like I'm just part of the normal goings on. That's cool.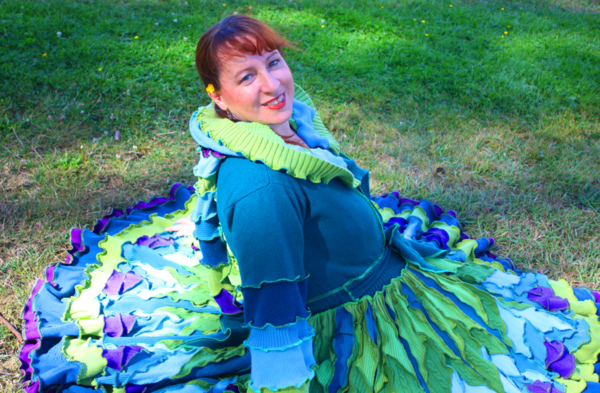 It's still really nice out, in the mid 70's with a breeze off the bay. I decided to try spinning since Katwise does a lot of spinning…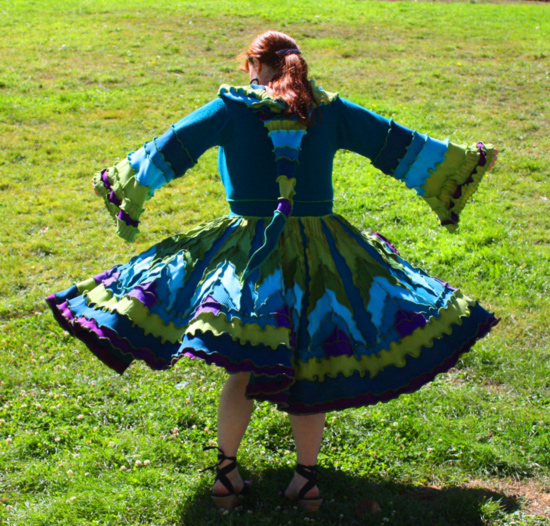 As I'm spinning a tourist bus is unloading at the corner. The leader of the group is giving instructions as to when and where to meet and ends with "Meet AT the McDonald's across the street but don't EAT at the McDonald's!". <snort>
Down at Haight and Masonic is a store that advertises "If you want to work here you Must Love Rainbows."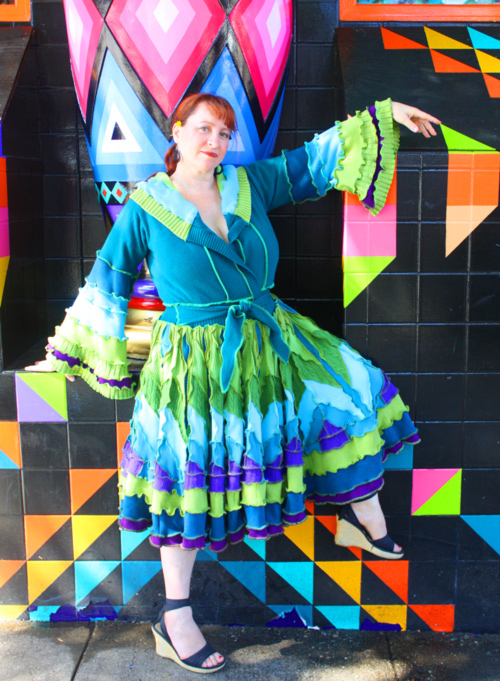 See what they mean? Just in case you don't think they're serious –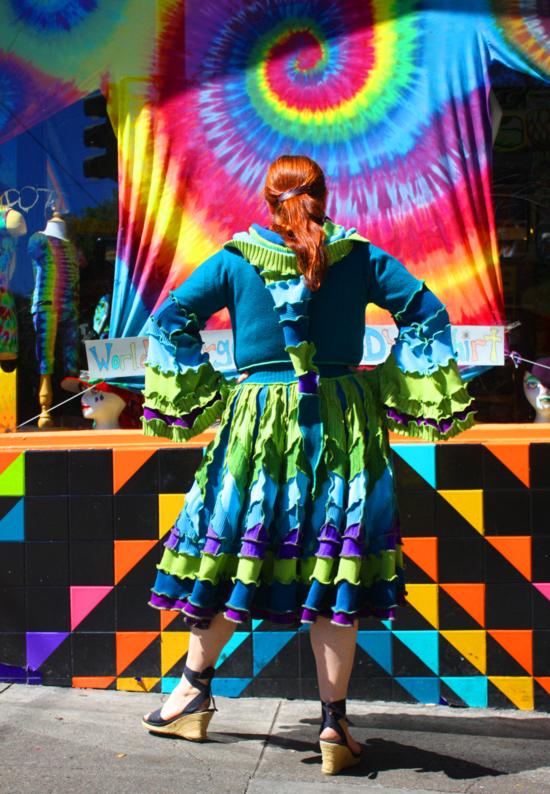 That is the World's Largest Tie-Dyed T-Shirt in the window : )
The whole time we're taking photos there are people passing by who remark on the coat, a fire truck full of really cute firemen who smile and wave and a couple of open double-decker tourist buses who think I'm just part of the neighborhood. Again, that's cool.
What ISN'T cool is the coat. The jacket is wool, most of the greens are cotton so it weighs a "bit" and when standing in the sun I can feel the sweat sliding down my spine.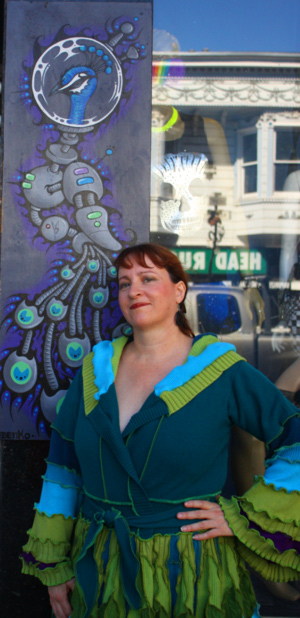 Apparently peacocks are popular graffiti subjects right now – we found this little spacey fellow and…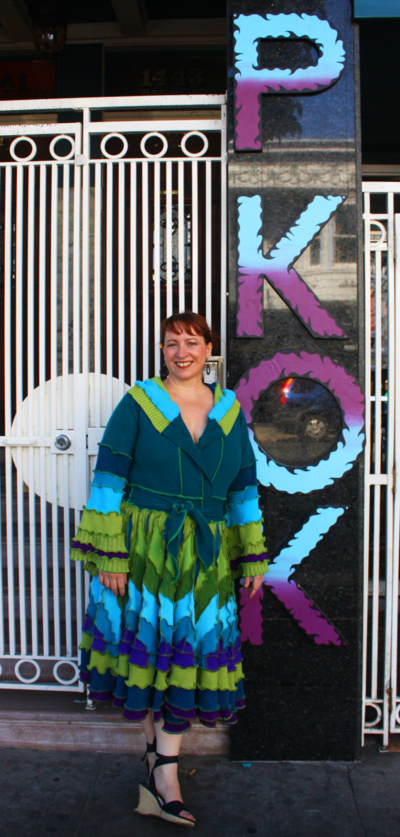 …this…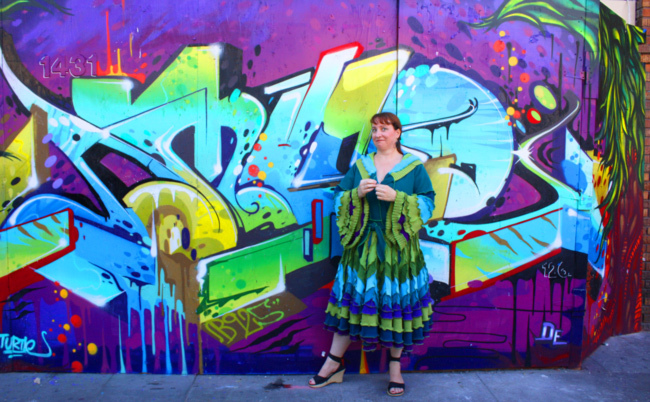 And an outtake for Vicki : )
The way I got rid of the black and white polka dots was to unbutton my shirt, fold each half back under the coat and re-cinch the coat. I figured most people have seen boobs and a bra by now. When we were done I readjusted, took off the coat and went on our merry way.
We passed houses like this: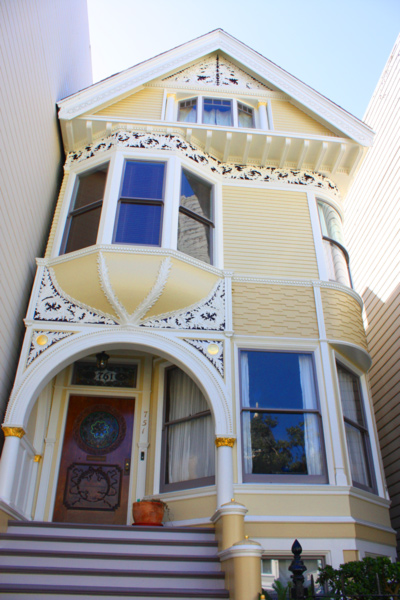 And this is the store front of the Piedmont Boutique: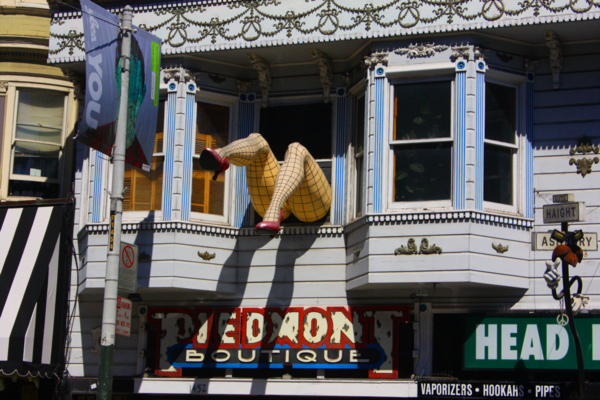 If you wander in as a tourist you may not realize (at first) that the pants are all really long, and the shoes go up to size 15, and the jewelry is REALLY big and sparkly…and it's for drag queens : ) Yes, it is almost as bright as the "Must Love Rainbows" store. But what you REALLY go in for is the amazing rhinestone jewelry. No one does rhinestones better than the drag queens.
And then we were back on a bus, heading downtown to meet Lil Bub. Lil Bub was in town for a meet-and-greet and Brittany wanted to go, so we went : )
Two hours we waited in the sun. If you look at my hair and make-up in the polka dotted blouse shots above I'm a lot more together. As the day goes on my hair gets messier and after waiting in line for 2 hours in the sun to meet Lil Bub my make-up was almost completely in my cleavage.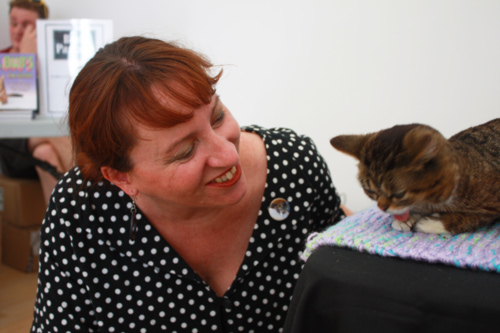 She is very tiny : )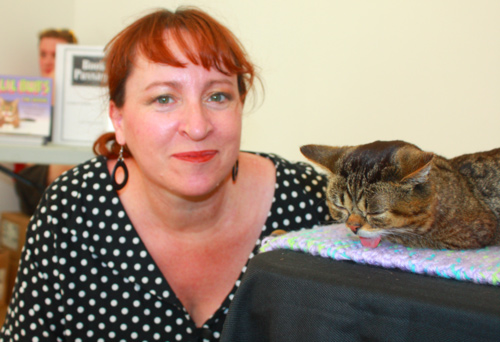 The meet and greet was very quick, and she looked a little tired. We then went to the other gallery where artists from all over the country had done pieces based on her.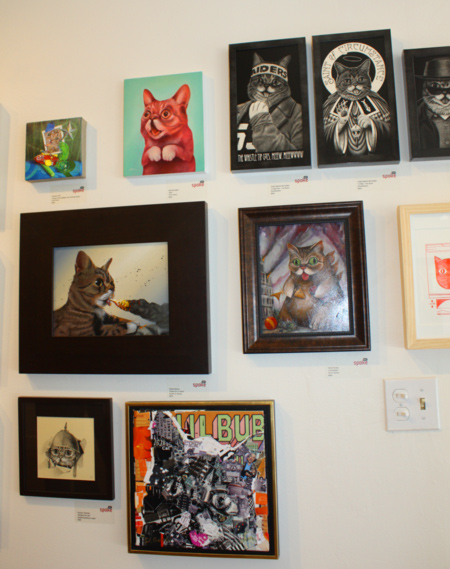 Brittany knows a couple of the artists : )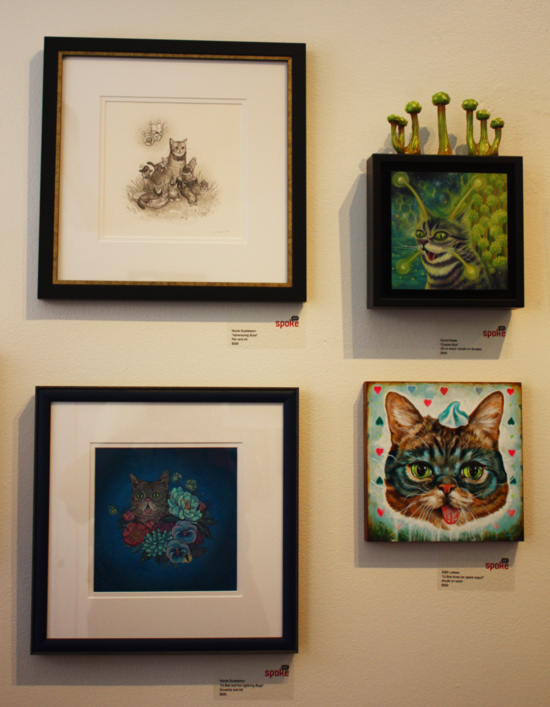 I like the one with the alien pieces coming out of the frame.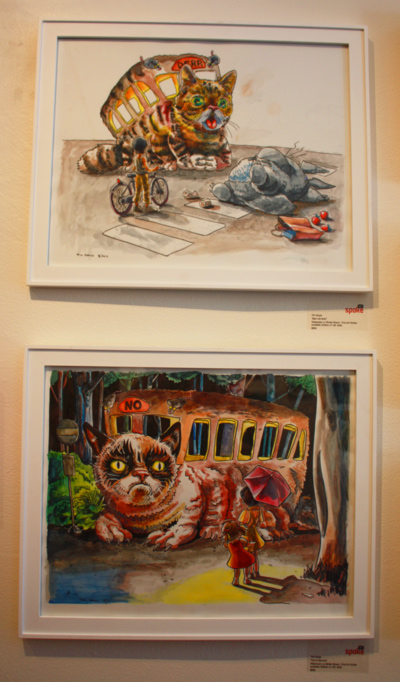 And who doesn't recognize Grumpy Cat, a friend of Lil Bub?
There was more to our day, so much more…like Loran losing her sense of humor at the make-up counter in Macy's and a 4 hour homework session when I got home BUT I got all my first week assignments in on time and have new makeup (Urban Decay, very exciting!) to play with so all is good!
I have also submitted the photo that Angie took of Chloe and I for the Snow Queen shoot last winter in BAD RAP's calendar contest. All we have to do is finish in the top 11 spots to be included! Last I checked we're in the number 6. Because this is a fundraiser for the rescue you have to donate to vote but it's a REALLY good rescue so if you feel like helping a couple of girls out… : )
I've got at least 5 projects on my table right now for Rochelle's Cotton Sew Along, including vintage fabrics and patterns that I bought at the Longest Yard Sale. I'm now only allowing myself to sew once homework deadlines are met so either I'll get really productive or you'll be hearing crickets here.