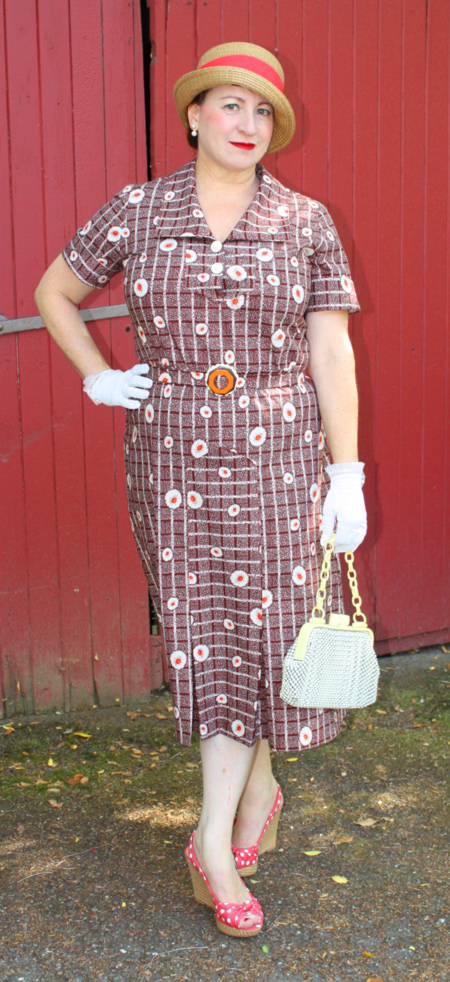 The Facts
Fabric: Brown/orange print, all cotton : )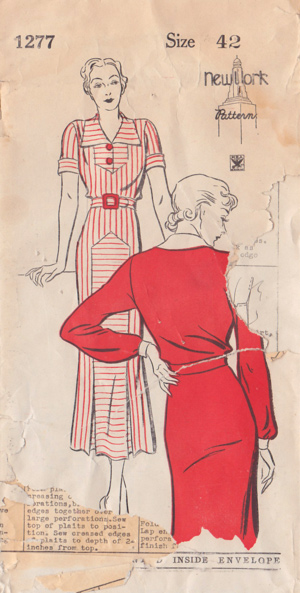 Pattern: New York Pattern 1277
Notions: 1 zipper, 2 buttons from stash, belting from Z : ), 3 vintage buckles
Time to complete: 2 1/2 hours
First worn: September 2013
Wear again? Yes
Cost: ~$31
SO much done, so little time to blog about it! Contrary to what it seems there have NOT been crickets here so I'm going to try to write this REALLY FAST since I have more in the offing : )
First up is a 30's dress that I've been coveting a good long while now. My inspiration is this dress by Marianne, a blogger/seamstress who lives in Finland. You can check out her stuff here. Be sure to scroll through ALL her posts, there's lots to love there.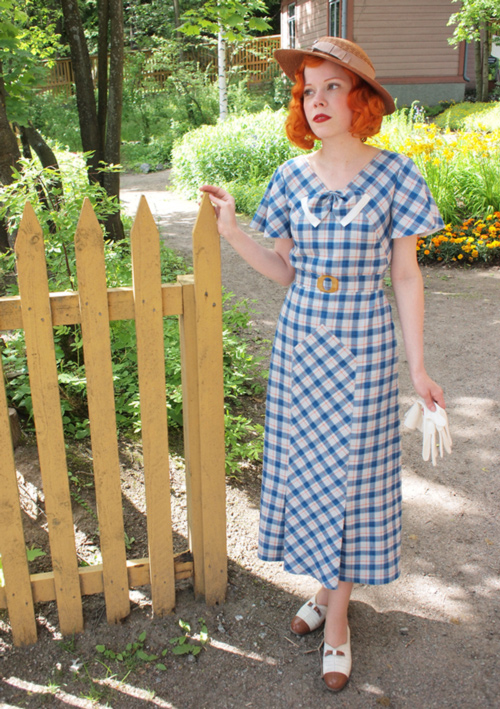 When it came to pattern choice I searched high and low through my sewing room, garage, dining room, living room… I could find the pattern that is the top to her dress but I really liked the skirt and was *almost* sure I had one that was exact. Finally, after a week of poking around I found New York Pattern 1277 in a box on my bookcase in the sewing room, a place I didn't even think of originally because….I've given my sewing room over to two feral kitties we're taming down : ) Long story but I've moved most of my stuff out like I did a year ago with Chloe and the puppies which explains why the whole house was searched.
As far as construction it went together quickly and easily. The pattern 'envelope' actually has the directions printed on the inside so after I took out the pieces, which had NEVER been unfolded!, I had to slice open the envelope. Once again I left out the dreaded side zip and put it up the center back. I cut it out exactly as stated and whipped it together.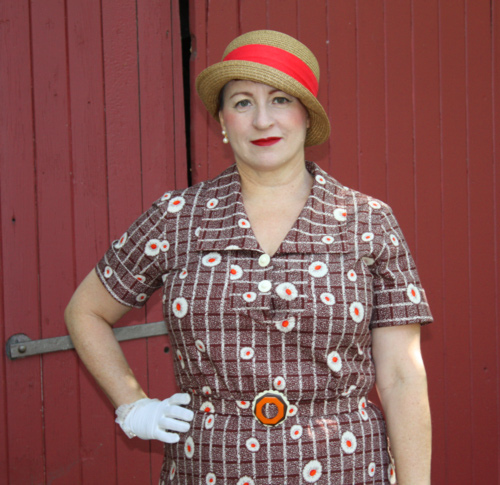 The hat is from Target, before they donated a bucket of money to the *&$%#@ from Virginia who is making a run for Governor. Hint – don't click on the link if you're not ready for a down-and-dirty discussion of his stupidity and misogyny. The end result is we don't shop at Target anymore. Ah well….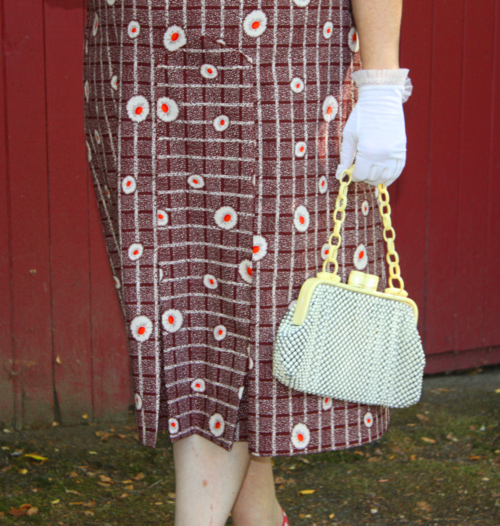 Check out that purse! I found this, and its sister, at the Longest Yard Sale. We started in Alabama this time and met a really lovely mother/daughter team set up in a large yellow and white striped tent near Gadsden. Since we were there on the first day we knew the deals weren't to be had yet but we stopped by on our way back to Birmingham, the purses were still there and I got both for the original price of one : )
Note to self – don't do branch-wrestling type of gardening the day before photos (cuts on leg unappealing)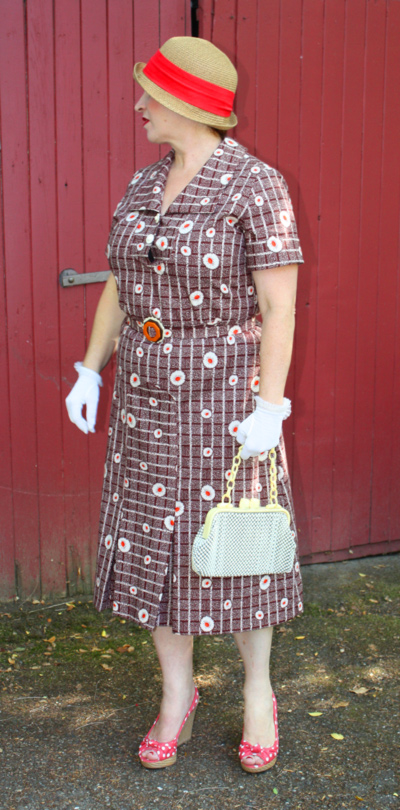 The shoes are modern because I just don't have the cuties that Marianne models.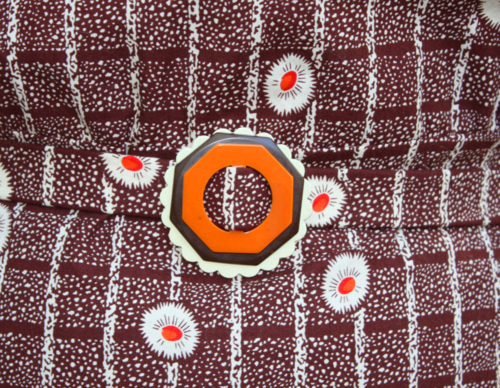 The buckle is really three bakelite buckles stacked up like I did for my Kat outfit. I'm liking the multi-colored buckles like this a LOT.
OK, onto outfit number 2.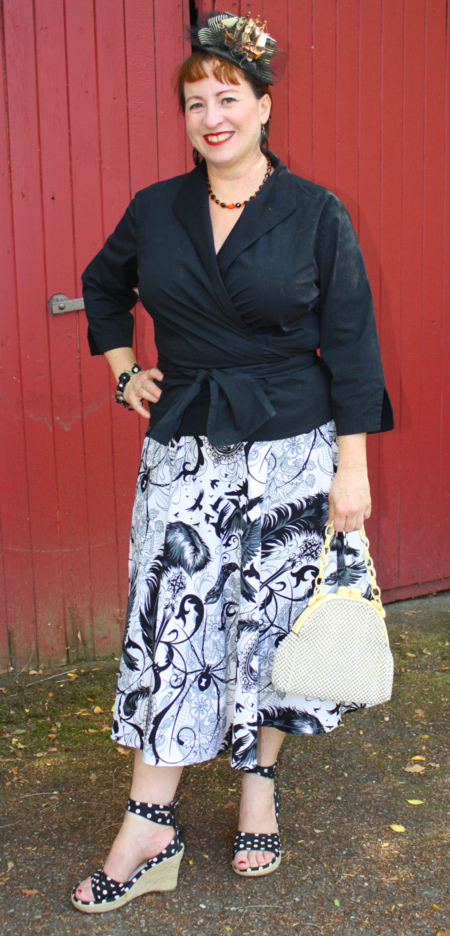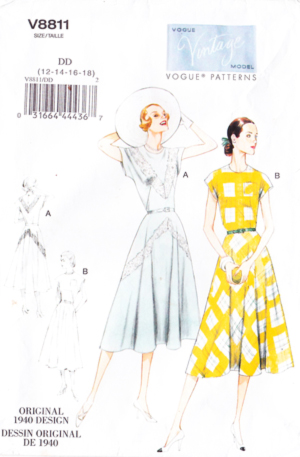 The Facts
Fabric: Black/white Halloween'y print from Stone Mountain
Pattern: Vogue 8811
Notions: 1 zipper
Time to complete: 1 1/2 hours
First worn: September 2013
Wear again? Yes
Cost: ~$18
When I saw this print at Stone Mountain I thought "Big Skirt" and then I saw the price. Smaller skirt prevailed. I used just the skirt pattern from Vogue 8811, it's a lovely half circle and easy to make. Two seams, a zipper and a waistband, how hard could it be?
Not hard if you start out with more than 2 yards. I ended up having to piece a small corner of the bottom in the back but the print is so wild who is going to notice? I think I spent more time figuring out how/where to piece it than anything else. Because of a minimal amount of fabric I ended up doing the waistband out of black cotton. It all works and even my daughter said "Ohhh…" when she saw it.
The blouse is made the same pattern my Kazz shirt only I did the larger ties and the slits in the sleeves near the elbows. Do I like this version much/better? No. I wish I had done the smaller ties and kept the sleeves in tact but oh well. I also made it from a cotton with a touch of lycra in it and it makes noise when I move so I feel like I'm wearing something plastic. You can see my other Longest Yard Sale purse here : ) Oh, and the blouse isn't faded or dirty, that's the sun coming through the trees as we're taking photos. We did 8 outfits in 4 hours…
Now my favorite outfit in 2 versions and a last minute, Project Runway-style entry: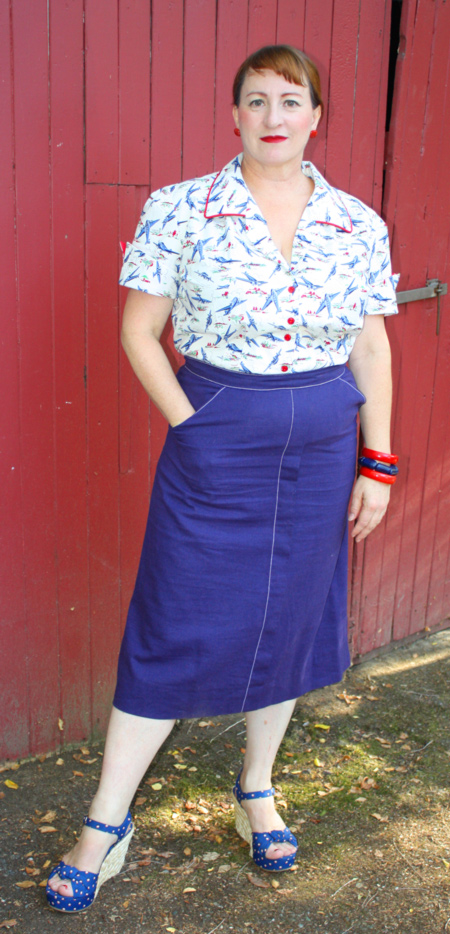 I saw the fabric I used in this blouse first on Liz's blog Zilredloh. I was IN LOVE and immediately went to the web looking for more. Her original source only had fat quarters left but eventually I found some at Hart's fabrics in Santa Cruz. Over lunch I ordered 2 yards online and just figured I'd make it some time in October but then the fabric showed up last Wednesday…
So I used my favorite blouse pattern and made this Saturday night. No joke. I decided to pipe the collar so you could see it and because I didn't have enough to face the pointy sleeve cuffs I used red cotton. The buttons are vintage red glass. I tried it with my new blue linen skirt (top stitched in big white stitches!) and it just made me HAPPY!
Then I had to see how it looked with jeans –

I loved it so much I'm wearing the whole outfit to work on Monday : )
 The head scarf is a Parisian print scarf I found at the Longest Yard Sale, deep in Tennessee. Picture this – you drive down a two-to-four lane road, winding through fields and cut rock croppings that show thousands of years of geologic history at a glance. Occasionally you come across a large field full of tents of all shapes, sizes and colors so you pull over, park in next to a ditch and pick your way across the road. This particular area had Organization, being that they had two dozen port-a-potties lined up WITH sinks. Not every place has that and you come to appreciate them: ) It was at this location my mom and I met the nicest gay couple, COMPLETELY out of place in an area that boasted its fair share of "White, Loud and Proud" signs. She bought a Kachina doll, I found the scarf and the 1940's booklets that I sent Rochelle (don't worry, I found 2 copies of each so all is well). I felt like giving them a hug but if they were selling there they probably lived nearby and had coping skills for the worst of the "loud". And now everytime I wear the scarf I think of them.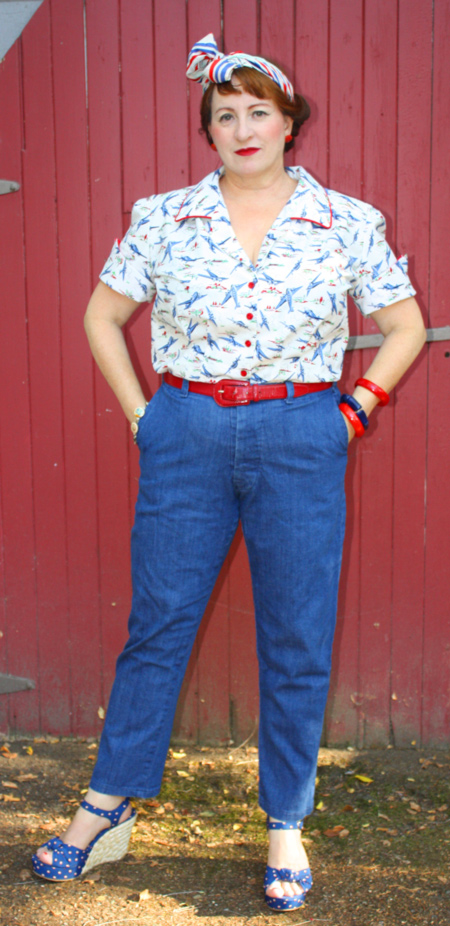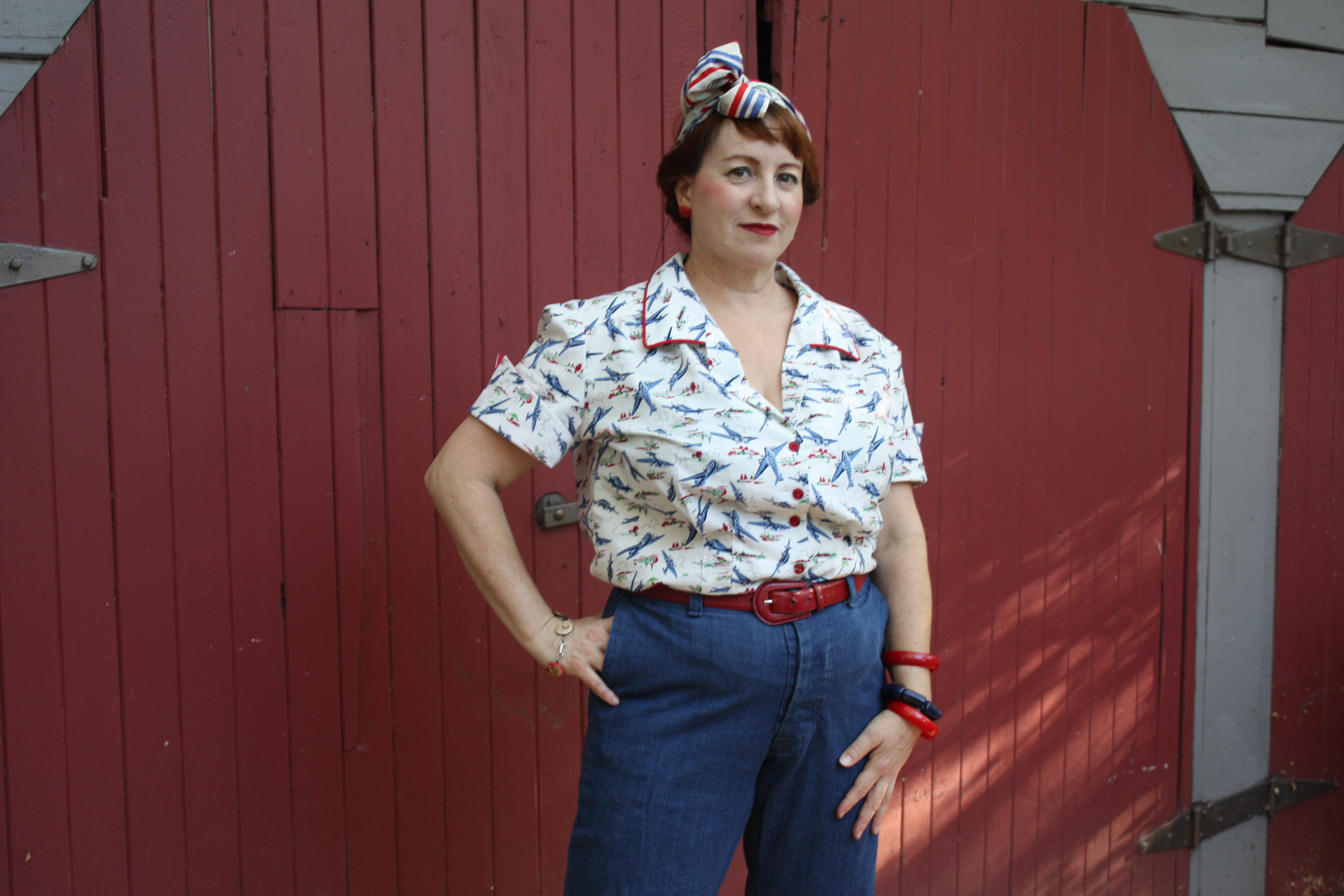 I tried to get Chloe to join in the fun but she thought I was weird and wouldn't even look at me.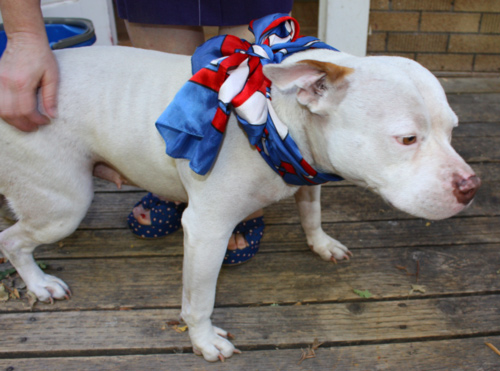 And now for the LAST creation of THIS post, I give you my completely recycled shirt.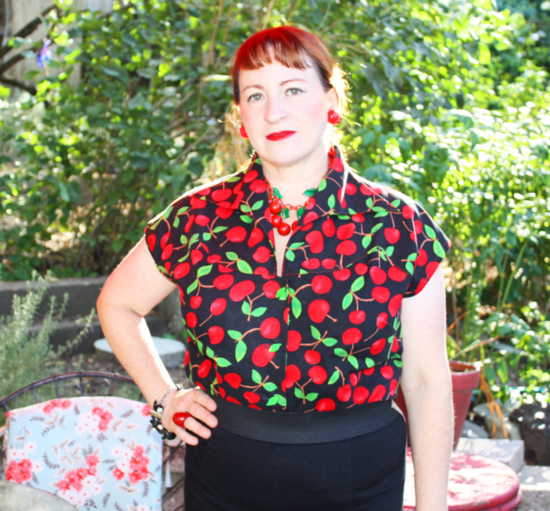 This was originally my bathrobe, the one that was falling apart that I replaced earlier this year. I didn't want to completely trash it since parts were still good so when I found a cute but small pattern for 50's blouses I figured I could use the robe for a muslin! Little did I realize how CUTE it would come out and have now worn it several times. (Sorry about the weird lighting, I was standing under our red patio umbrella) The buttons are little green enameled leaves I bought in 1993. Can we stay hoarder stash busting?
And because my sewing room is torn apart right now I can't find the pattern : ( When I find it I'll post it since the cut of the top of the bodice is the best part.
Stuart decided he needed some love.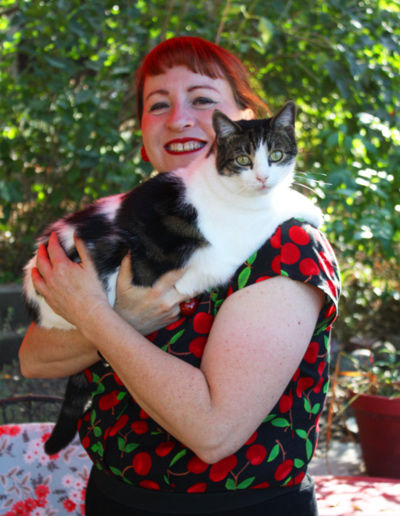 Stay tuned….I have several MORE outfits for the Fall for Cotton challenge finished and photographed! Whew….