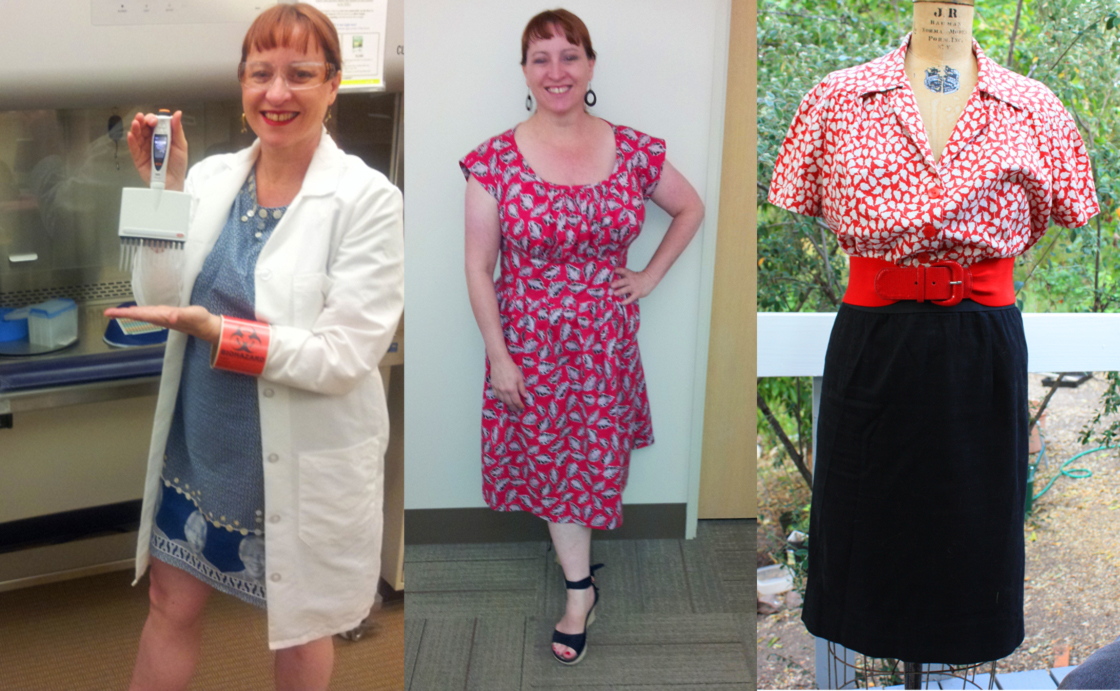 'I, Loran of Loransworld, sign up as a participant of Me-Made-May '13. I endeavour to wear at least one handmade item each day Monday thru Friday for the duration of May 2013′
True to my word I wore at least one item each day. Actaully, everything but the belt, undies  and shoes are made by me : ) The first day was my latest dress that I call the LVM dress from this post and the red dress was my final dress for the 40's Sew for Victory Sewalong.
 The outfit on the mannequin is on the mannequin for a reason – the day I wore it was a no good, awful, terrible, very bad day. Normally I can handle people being difficult, that's my job. They can whine and moan and yell and I can calmly tell them how to get where they NEED to be and if they can't/won't listen I can send them to someone else. Thursday was just "one" of those days, and when I walked out of work I was SO looking forward to getting home, walking the dog and sewing. It was not to be, not easily. BART had issues, we were delayed and then trains were so full of people who insisted they had to be on THAT train that I got hit with backpacks, elbowed, squashed and stepped on for over an hour. The AC systems were overloaded so by the time I got off at my stop it was cooler outside in the 92 degree day than on the train. Did I want to take my picture? I did not. Hence the mannequin : )
The top was from my "It could always be a quilt" outfit from last year's Sew Weekly Mix It Up challenge and the skirt was from my "Golden Gate" outfit. That is one easy skirt to make and you may see its friends later this month!
Speaking of which – sneak peek of what's coming up this week: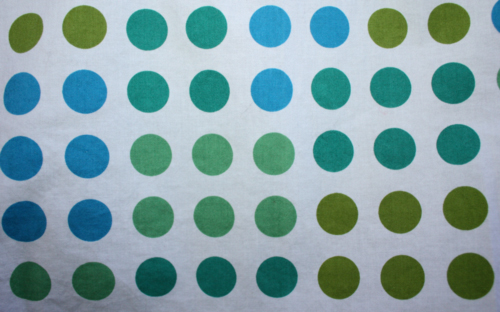 I have a very specific inspiration outfit I'm copying and am VERY EXCITED!
My backyard is also starting to become exciting. My goal this year was to make it as fabulous as possible, preferably on a small budget. My girlfriend and fellow farmgirl, Sue, has found herself burdened with TOO MANY plants. Such a dilemma! Fortunately she calls me, I bring pots and a shovel and we dig things up. She first gifted me with over 100 poppy plants that we weren't sure would transplant well or not. They did : )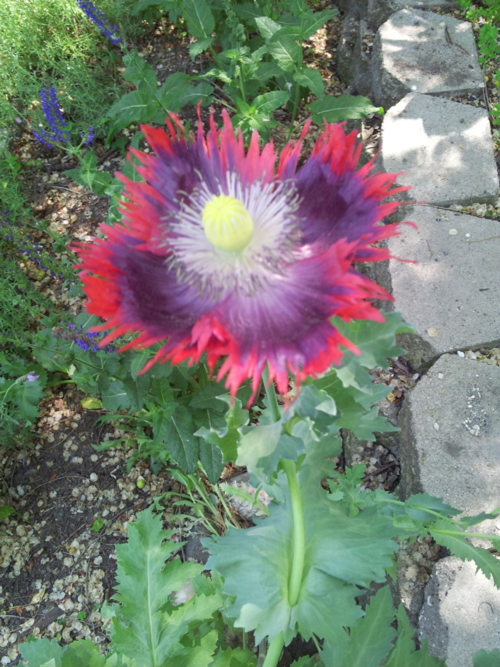 She's called "Drama Queen". Very fitting I think!. Now they just need to re-seed and cover my backyard…
Next she gifted me four different kinds of squash plants: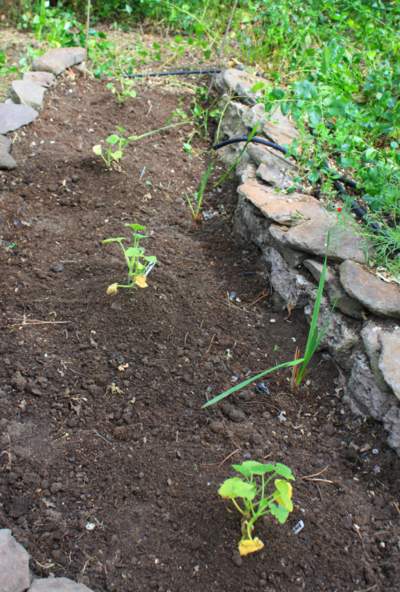 I don't even know what two of them are, I can't read her writing on the sticks and yes, I can ask but for now we'll just be surprised. The above pic is the "before" shot. Within moments of taking this I had to enclose everything in chicken wire to keep the chickens out. No, they don't eat the plants, they dirt bathe in the moist dirt and "inadvertantly" dig them up : ) The hill they are planted on is terraced with broken pieces of concrete a freecycler donated. A gentleman had decided to get rid of his hardscaping and had broken up an acre's worth of trails that he piled in his driveway. "All" we had to do was drive down, pick through the mountain  pile, load the truck and bring it all home. I've been unloading, moving, stacking, fitting etc. for I don't know how long. This is in addition to the THIS: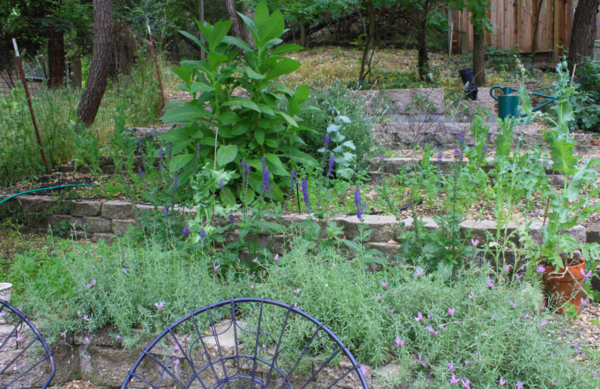 We live on a hill : ) Everything needs to be terraced. I'm getting there. And things might be further along if not for the deck. The deck, that should have been as complicated as clean it off, hose it down, add a layer or two of stain and put everything back. Hah! Not. It is almost done and looking quite lovely but until I have the details all finished no pics. Believe me, I want it done more than you know. It hangs over my head, the squirrels mock me by throwing stuff on it so it's never clean. Last week it was in the 90's everyday, today it's raining. Soon….
So to make my head happy when I'm frustrated or have a bad day I like chocolate. What a surprise : ) But I don't have time to do the kind of baking I'd like to do and if it's 90 degrees out who wants to cook? But what if you still want cake? Enter Cake in a Mug.
Apparently this was a "thing" a few years ago. I found a whole lotta recipes online, and my grandmother even had one to share with me. Here's the problem I've found with quite a few: they're dry. They resemble brown styrofoam. Back in the 80's we could buy a complete microwave cake mix in a box, complete with pan, that my chemist father looked at and said "You know, this is only one molucule away from sytrofoam." "Well" I replied, "it must be a very important one becaue it doesn't TASTE like styrofoam". "Yes" he said "but is it really 'food'?" He had a point. I don't think they tasted as good after that and I gave them up.
But now, because someone (or lots of someones) got creative, there is a host of recipes to make one serving desserts in a mug in the microwave : ) Instant gratification. Because I'm curious I'm trying about a dozen of them and sharing the results. It's a tought job. So far here's my favorite:
Nutella Mug Cake
I substituted the new Almond Chocolate goo from Trader Joe's and it's a WINNER!
4 Tablespoons self rising flour
(I made my own by adding 1 1/4 teaspoons baking powder to 1 c. flour)
4 Tablespoons sugar
1 egg
3 Tablespoons cocoa powder
3 Tablespoons Nutellla or other chocolate goo
3 Tablespoons milk (I used goat)
3 Tablespoons vegetable oil (I'll try coconut oil next time)Combine all ingrediants in a large coffee mug, I used a Starbucks 16 oz. mug. Whisk well with a fork until smooth. Microwave on high for 1 1/2 – 3 minutes (mine took 2). Top with whipped cream if you're so inclined. I put on a scoop of vanilla ice cream made with coconut milk instead of cream since dairy and I aren't friends.
YUM! What separates this recipe from the others I've tried is the oil. That and the Nutella goo makes this about as good as you're going to get especially if you NEED cake NOW.
You're welcome : )
And don't ask me about calories or carbs, if you have to ask that question then this isn't the droid you're looking for.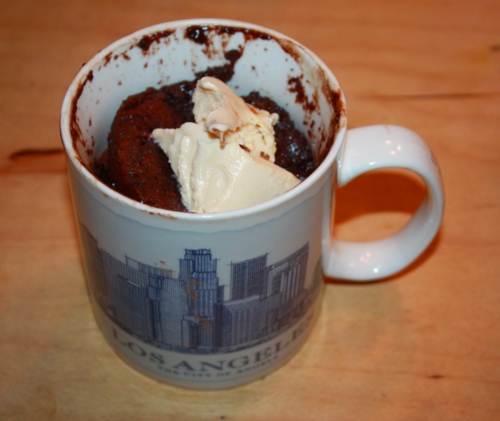 Stuart decided he needed to check out what's in my mug, it's usually chai so he has a sip and goes about his day.
How hot was it last week? Hot enought that the dogs would roll around in the dirt trying to get cool. Chloe SHOULD be white: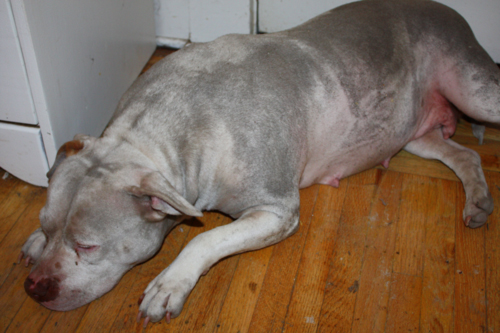 Here's to a little rain! Hopefully she'll be white soon, the deck will be done and polka dots will abound.