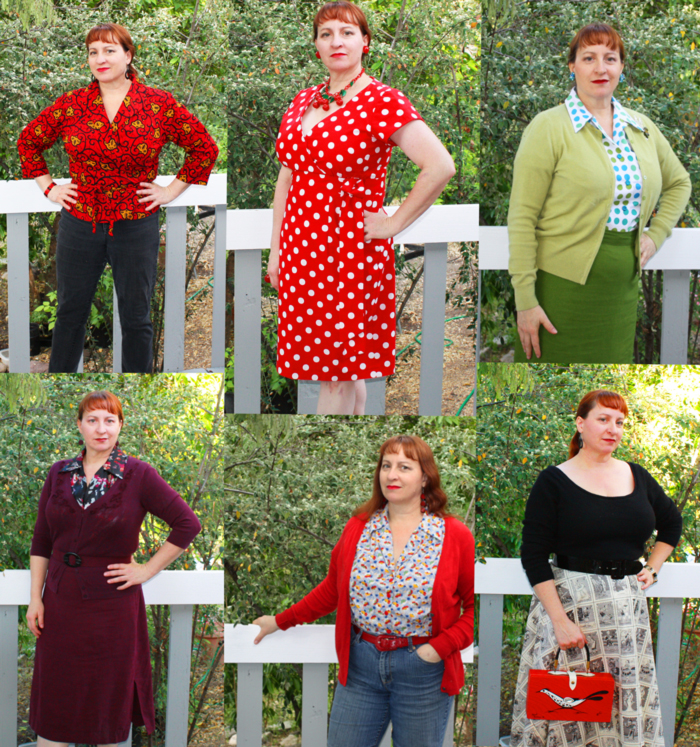 The week in pictures : )
I actually made it all seven days but the day seven pic…I'll save that for the end. There's a few new pieces here and some "old" so to make it easy we'll go one day at a time. The one I'm MOST excited about was actually my Tuesday outfit and since the inspiration photo is just too cool we'll start there.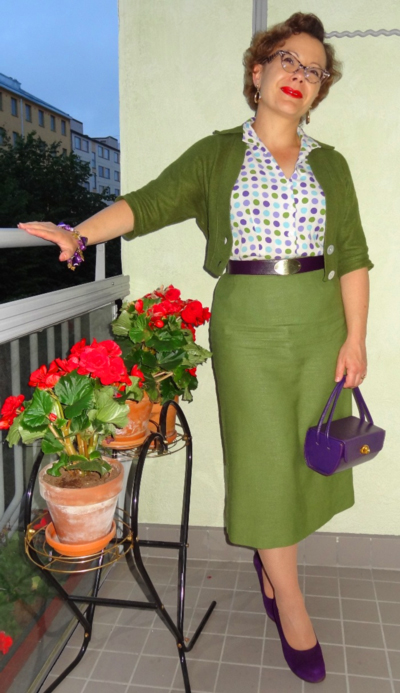 This remarkable woman is in Finland! She did a blog similar to my tablesetting blog only she did a different vintage outfit, with very few repeats, for 365 days. You read that right, a different outfit every day for a year. Amazeballs. I think it took me three days to read each and every post because of course I discovered her after she was done. She still posts on a blog called Fintage, along with a few other women, who are *just* amazing. If I try to describe the delights on those pages I'll not do it justice so to cut to the chase you can go here to see the rest of the post about this outfit and here to start with the most recent post. If you have ANY interest in the 30's to 50's GO, just GO. Now.
Tuesday: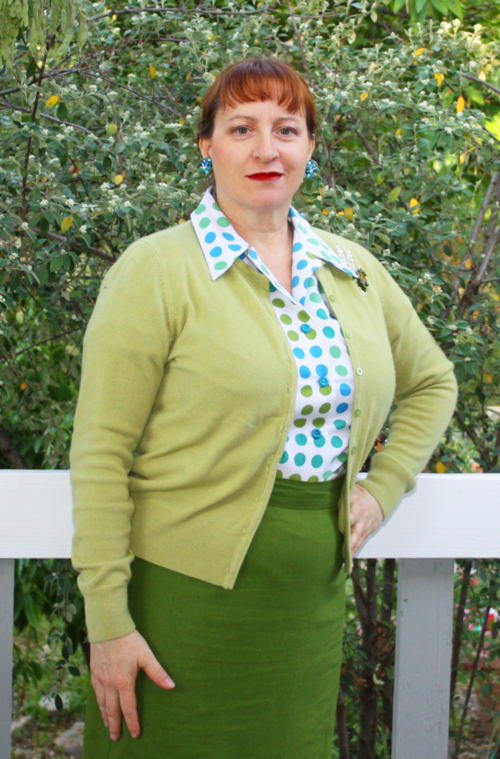 I have been looking for a green/purple polka dot fabric for MONTHS. Haven't found one I like. Last trip to Stone Mountain I found the blue/green polka dot I finally bought for this blouse. I liked it so even thought it wasn't "perfect" it was good enough. If I ever do find my green/purple then I'll have two awesome blouses : )
The linen skirt is from the same 30's pattern as my Pomegranate outfit. I tapered the skirt a little and put the slit in the center back. Silly thing took me a whopping hour and a half. The sweater isn't quite the same as the inspiration shot but here's the deal – it's cashmere. It was $2. I had several sweaters in my stash (for making Katwise coats!) but none were big enough for me to make into a cardigan. It took two of us looking at this sweater to discover a small green stain on the right sleeve. For $2 I'm ok with something that took me 10 minutes to find. I have no cha-cha belt…yet…but I will : ) I do have a cool pin: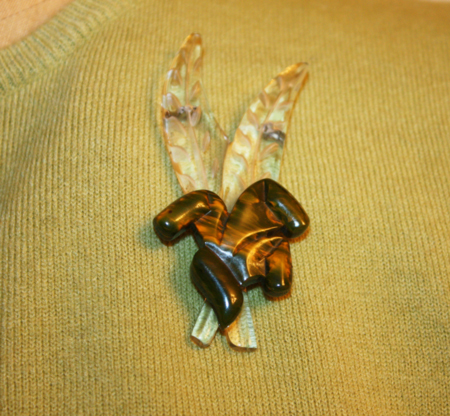 Lucite "feathers" with a stylized bakelite fleur de lis. Or so I think. It was a mega deal at the flea market a few months ago over which my mother raised her eyebrows. I knew it would find a place. The earrings are vintage but so painful I wore them for photos only.
Monday: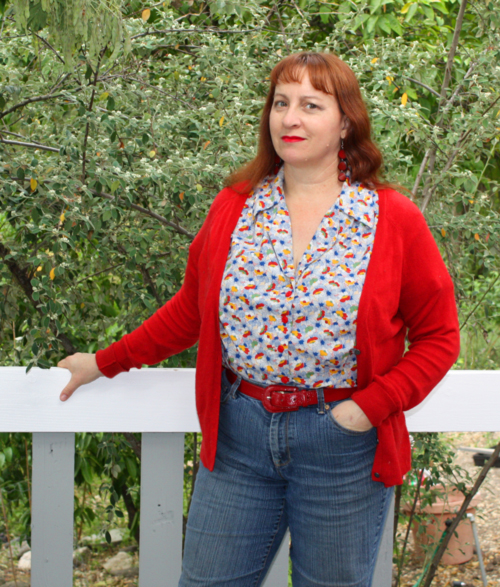 Still one of my favorite all time shirts, I made this last year and call it my "Fiesta" shirt since the print is all the colors of the original Fiesta ware. The sweater was a Target find and I decided on jeans because it was in the low-50's at 5:30 am. While I love my skirts it can be tough to psych yourself up to get on a bike at 6 am in one : )
Wednesday: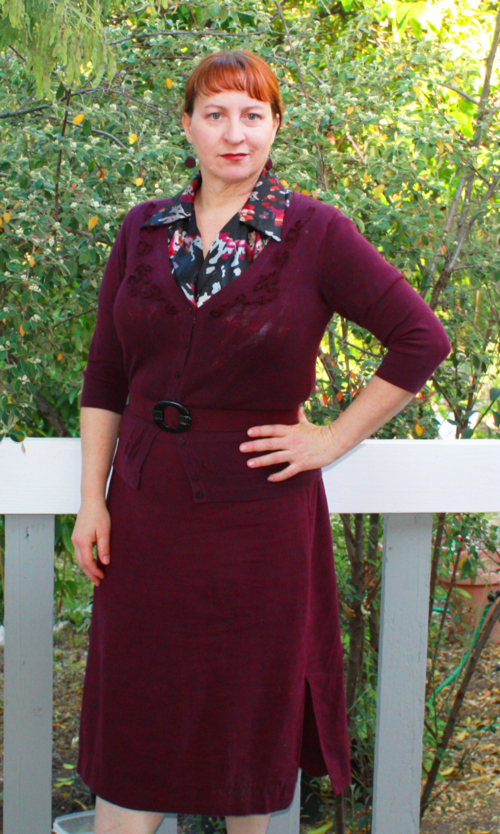 This actually IS my Pomegranate skirt! I made the blouse this week, finished it Tuesday night. Because the weather was still being temperamental I not only wore my purple sweater over it but a long, heavy black one as well. There is a belt there, it's the same linen as the skirt with a black bakelite buckle but amazingly the sweater is such a good match to the skirt it's all a little hard to see!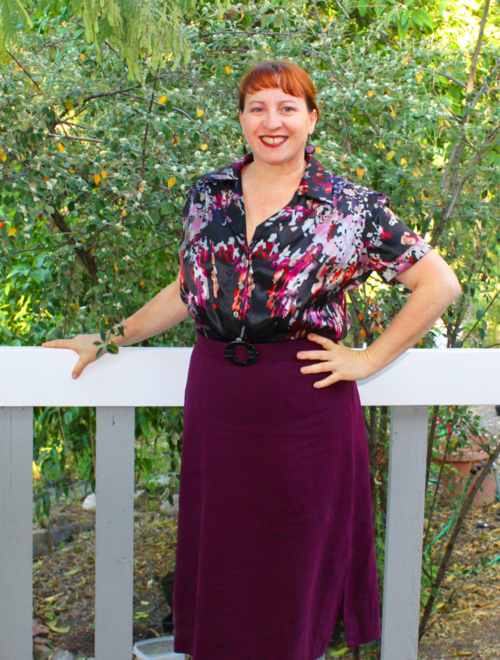 The shirt is cute but slippery. I dug out some sale poly I bought at Joann's months ago, I like the colors but it drove me NUTS all day long! The collar and facing on the right side never seemed to work well, I spent the whole day futsing and tugging and vowed when I got home I was throwing it on the mannequin and figuring out WHAT was up once and for all. I actually changed out of the skirt to walk Chloe, pulling on a pair of jeans and suddenly…all was well. WTH??? I have no idea. I put the skirt on to do photos and we're all funky again. I was too tired to try to figure out the dynamics of skirt/shirt but did find some moderate amusement in the whole situation.
Thursday: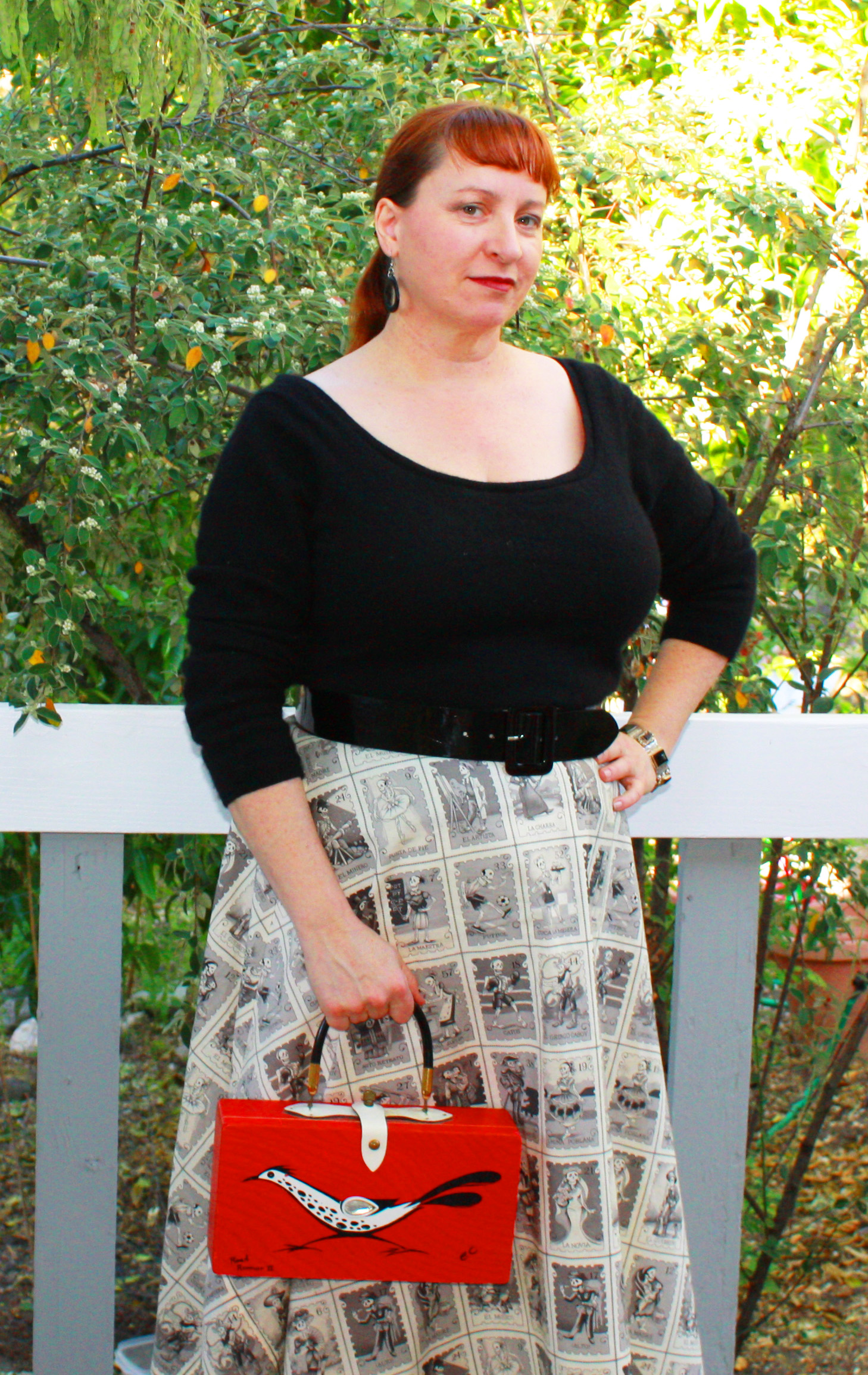 New skirt, old sweater, new purse. The skirt is Dia de los Muertos cards : )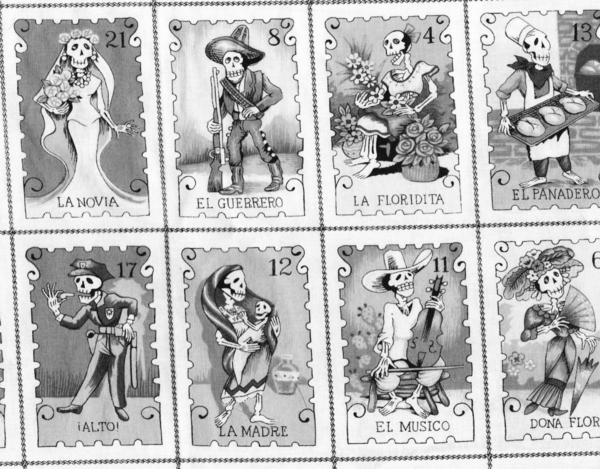 The sweater is another $2 cashmere that I remodeled for the Black and White challenge last year. I found this fabric at Stone Mountain & Daughter a few months ago and snagged the last 3 yards : ) Originally I wanted the color version of this but they had run out : ( I used the skirt pattern from Vogue 8811 and made SURE to match the print where I had to piece it at the bottom as well as down the side seams.
The purse came from the Alameda Flea market a couple of months ago. Again, my mother thought I was a little crazy buying it but I bought it from the original owner (who had used it in the 60's) and on the inside it says "The Original Box Bag by Collins of Texas. Hand decorated for You! copyright 1966 enid collins" Did I mention that it's wood? It's wood.
Friday: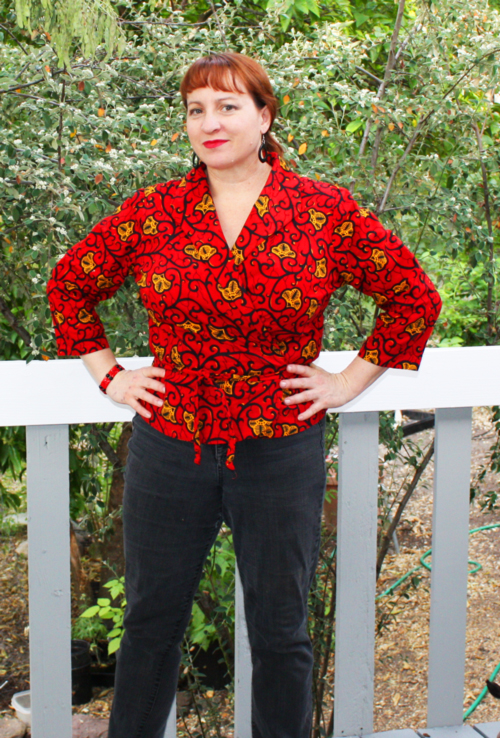 My Kazz top : ) Black jeans. Easy peasy. We went from rain in the morning to 78 degrees in the afternoon. We're calling the weather menopausal since it's going from hot to cold to hot again.
Saturday: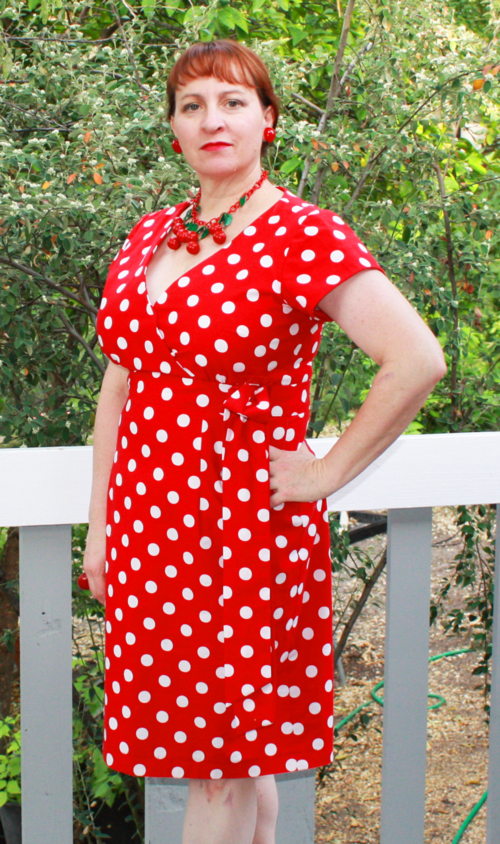 I LOVE this dress. I made it for the Make-this-Look challenge last year and when it came time to get dressed to go to my mother's house for a Mother's Day brunch on Saturday this screamed "wear me!".
My aunt came up to see my grandmother so it was decided to celebrate all the Moms in the family a day early. I was still staining and working on the deck-that-won't-be-finished (you can see my dirty knee in the picture) so I threw this on and jammed over for lunch.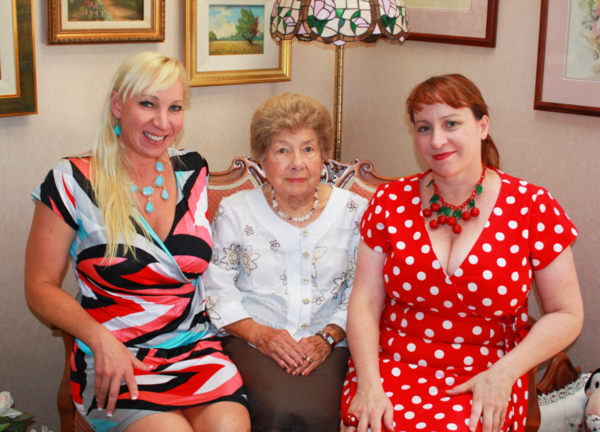 My youngest sister, Erica, is on the left with Grams in the middle. It's pretty awesome that she's chugging along the way she is. She's a little frail physically now but mentally she is ALL THERE. Not bad for 93 1/2 : )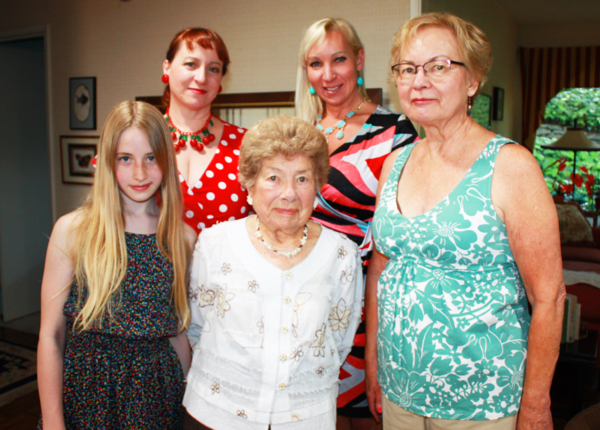 Four generations here : ) My niece is on my grandmother's right (in front of me), and my sister and mother are on her left. My own daughter was off camping this weekend. She finished up her classes last week, turned in her final projects and is DONE with her bachelor's degree work! She graduates officially next Saturday and I can't tell you how proud I am : ) In a few weeks she leaves for her summer hiking experience (from the Oregon border back to the Bay Area!) but there will be plenty of time later to talk about that.
All in all a pretty festive week, eh? But there is one more…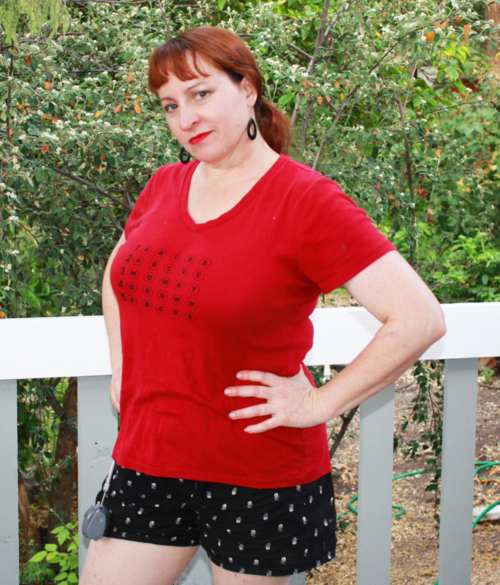 This is how I REALLY dress on the weekends : ) I did a cheesy mock sexy pose since I'm in just about the least sexy outfit possible. The shirt sort of fits into the MeMadeMay parameters – I got it at the swap last fall (free) and then had the image screened on right there. One of Brittany's friends has a silk screen business so whenever they do the swap Raquel brings 5 or 6 screens that you can choose from. This one is her version of a scantron: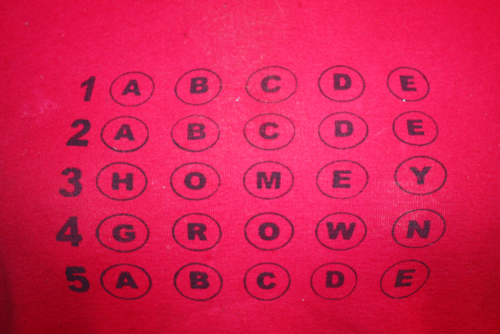 "Homey Grown" is the name of the business : ) They also have a screen that prints the images of a nickel and a dime for the 510 area code. If you didn't get it for a few seconds don't feel bad, no one does : ) But then you do and you're in the "know".
So there's my secret – I spend 5 days a week in cute clothes and the weekends in funky t-shirts and boxers. (These are my favorites, they have skulls on them.) Stacey and Clinton would be appalled. The animals still love me.
Because this post is so long I'll post mid-week with more Cake in a Mug recipes and maybe, just maybe, the deck will be done. Here's a sneak preview;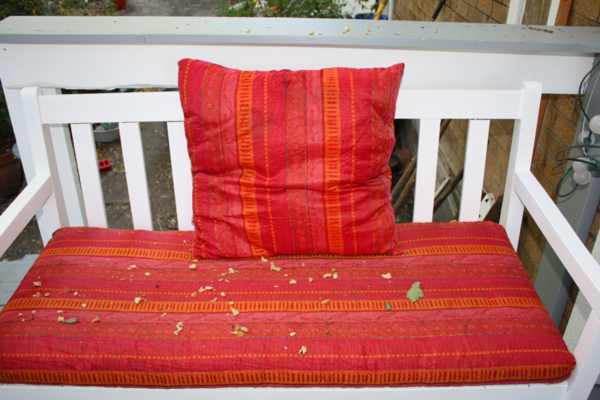 The staining is done, the bench has been re-painted and I pulled out the cushions. You see the stuff all over it? Squirrels. They mock me and throw all kinds of "stuff" on the new deck and furniture, sort of a two steps forward, one step back sort of deal. Sigh…so close and yet so far.