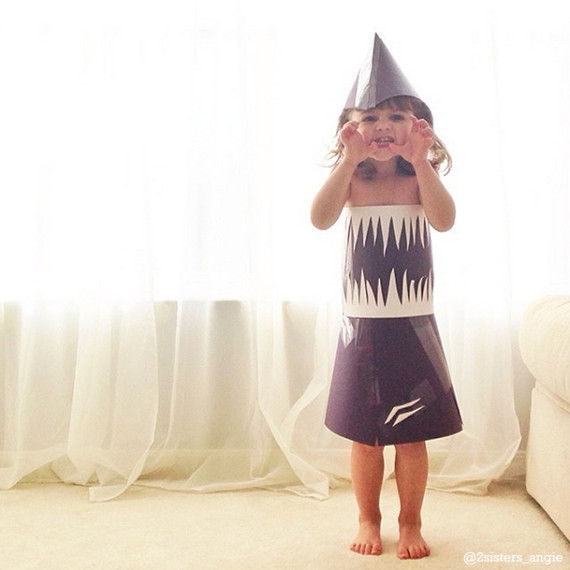 This is Mayhem. She's 4 years old and makes dresses out of paper and tape with her mother. They use whatever is laying around the house. The one above was created after a visit to the aquarium. She likes to look at photos of red carpet dresses and re-create them: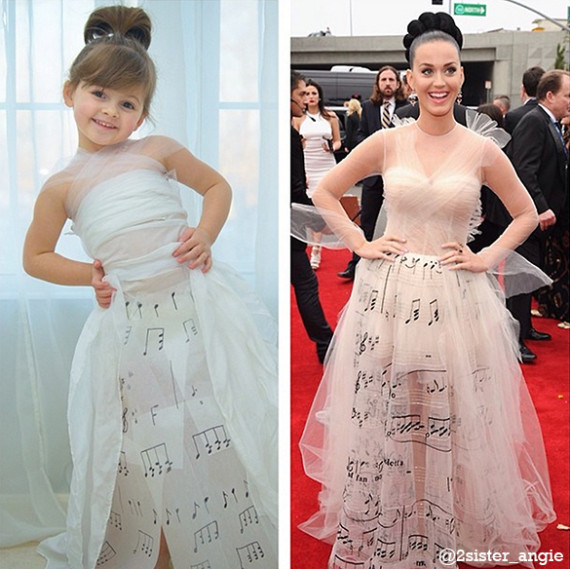 Check out this one, made with a sheet: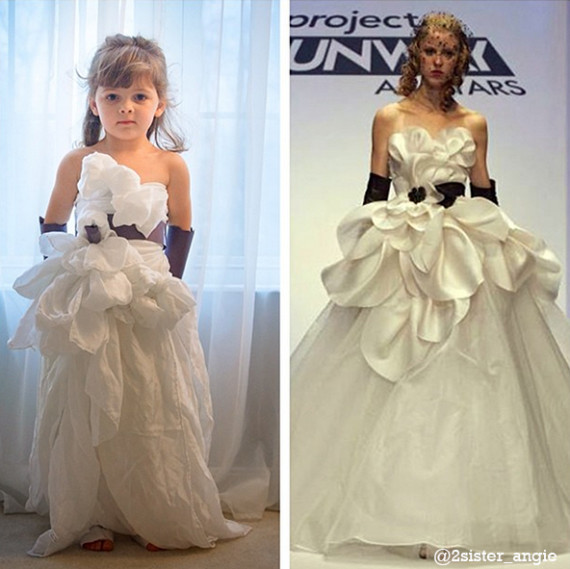 And this is my favorite: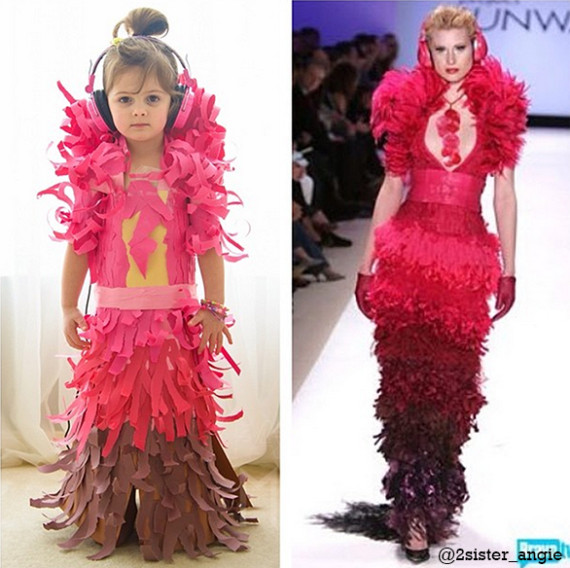 Recognize Jay McCarroll's dress from the first season of Project Runway?
You can read the Huffington Post article about her here.
And you can check out her website here.
SO ladies and gentlemen, let's make an outfit using whatever we have at home, in the spirit of Mayhem, and post it to her hashtag #fashionbymayhem.!!
Let's take a few weeks to get something done and photographed. 'Rules' are easy.
1 – Use stuff you have at home, free is good. Paper & tape is ENCOURAGED.
2 – You can use fabric but the whole point is to NOT sew!
3 – If you have kids involve them!
4 – Take a pic and email it to me. If there is enough interest I can set up a flickr page.
5 – This should be FUN and EASY, do it in an hour or so!
6 – Due date is March 16th.
7 – This isn't a competition, just a craft-along : )
The Oscars are this weekend, perhaps use that for inspiration, but anything else is good too. Use your imagination!! Channel your 4 year old self!
If you're on Instagram post your creation using the hashtag #fashionbymayem. Her mom's account, that she regularly posts to, is 2sisters_angie.
Because I don't do html-like things I'm going to attempt to make a button so stay tuned. I'm ALSO in the process of setting up ONE AMAZING SEWALONG so DON'T MISS IT!!!! It's going to be totally awesomesauce!
In the meantime I'm going to go make a paper dress or two, work on the sewalong details and think about finishing one of the other half dozen blog posts I've started and not finished.