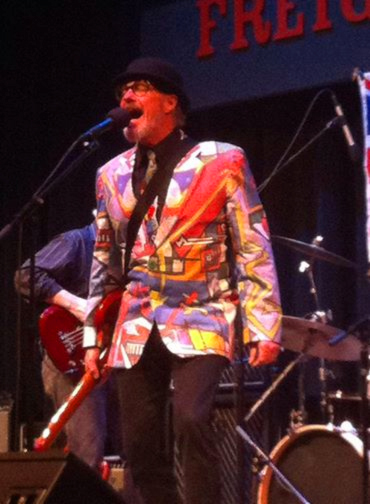 This is Dave. Dave is married to Ruth. Ruth is my friend. Ruth loves Dave : )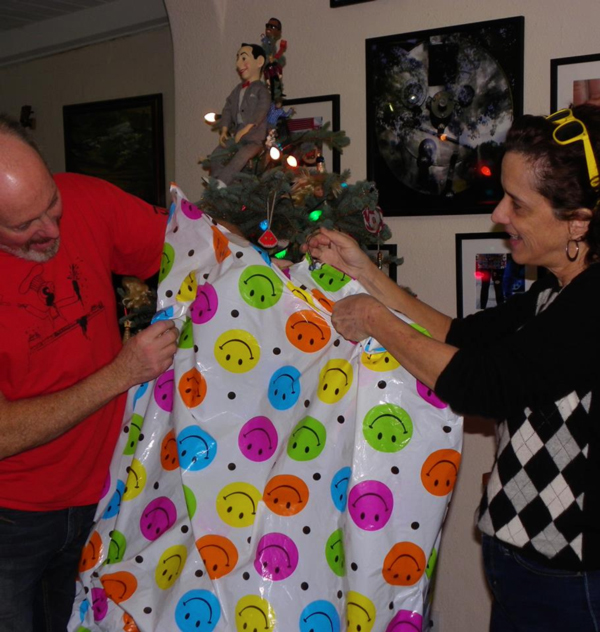 Ruth wanted sometime fun and super cool for her hubby for Christmas. So she called me : )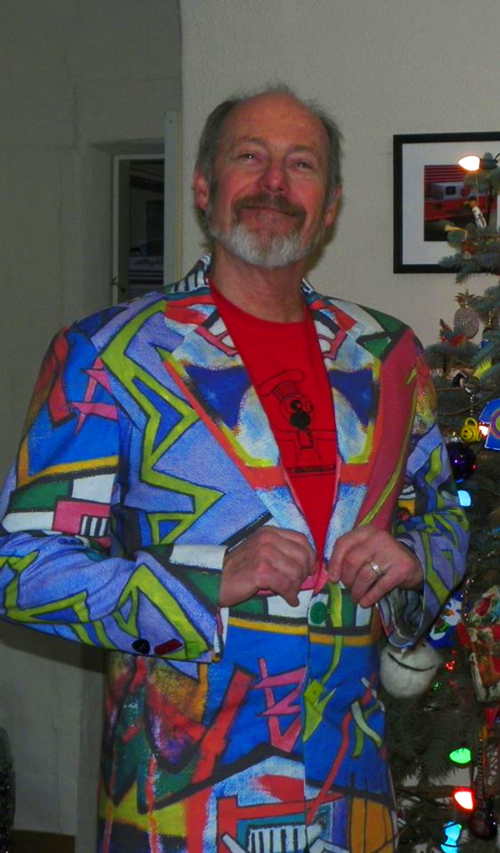 You can see he's pretty happy.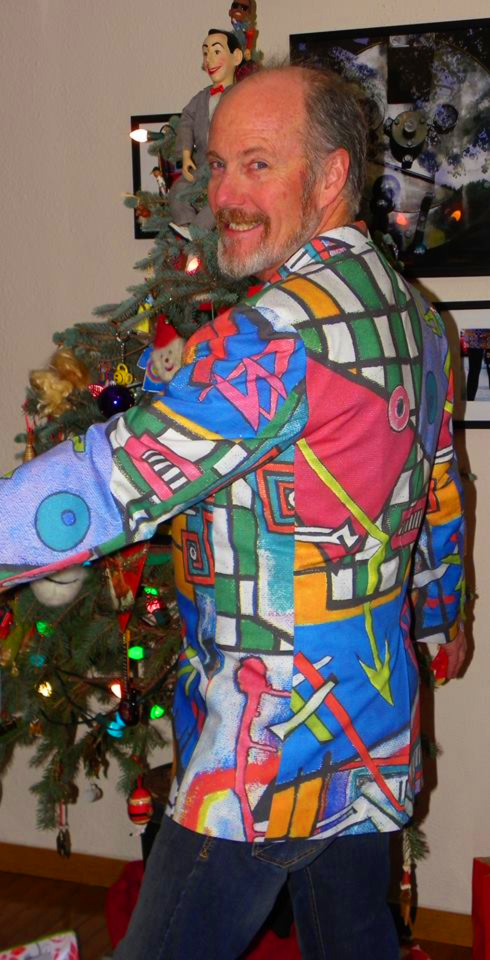 The back is pretty special too….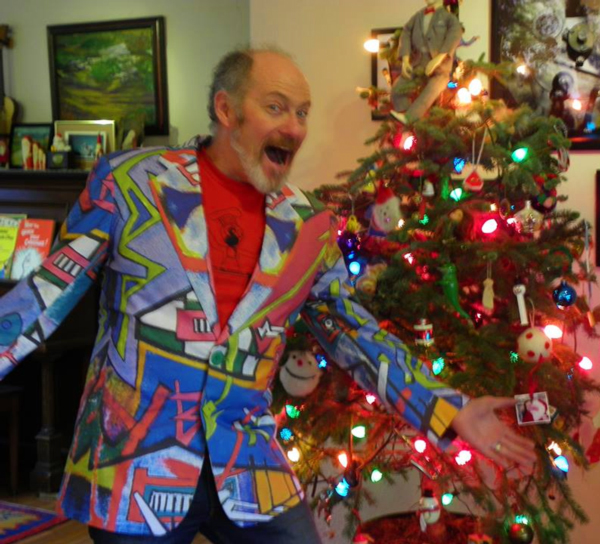 One happy guy.
Here's some details about the coat:
The Facts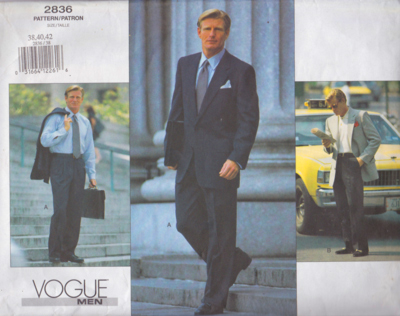 Fabric: Custom printed cotton from Spoonflower
Pattern: Vogue 2836
Notions: LOTS of interfacing – goat hair canvas and woven cotton, twill tape, 8 unique buttons
Year: Modern
Time to complete: 10+ hours
First worn: Christmas day 2013
Wear again? Yes he has : )
Cost – Not sure, client paid for fabrics.
Ruth messaged me with the following "I'm searching for abstract art type print." I told her that depending on the copyright she could get something printed on Spoonflower. She responded "Just looked at their site!! Yay!! This is so so so perfect. You are the best!!" And she was off…
She took a photo of a painting that Dave did and manipulated it into this:

Crazy huh?
And then she made this: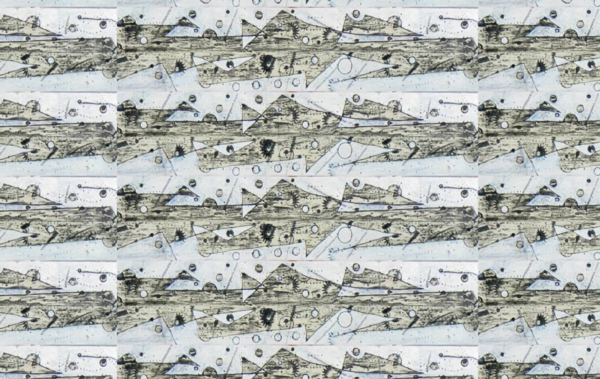 Apparently this is a repeat of the painted frame. It's for the lining.
If you follow me on Instagram you would have seen the fabric just before I cut things out : ) It took several hours to get the piecing just right. I wanted to have it as symmetrical as possible but keep the basic flavor of the design in tact. Ruth had one request, that a certain part of the design be on the back: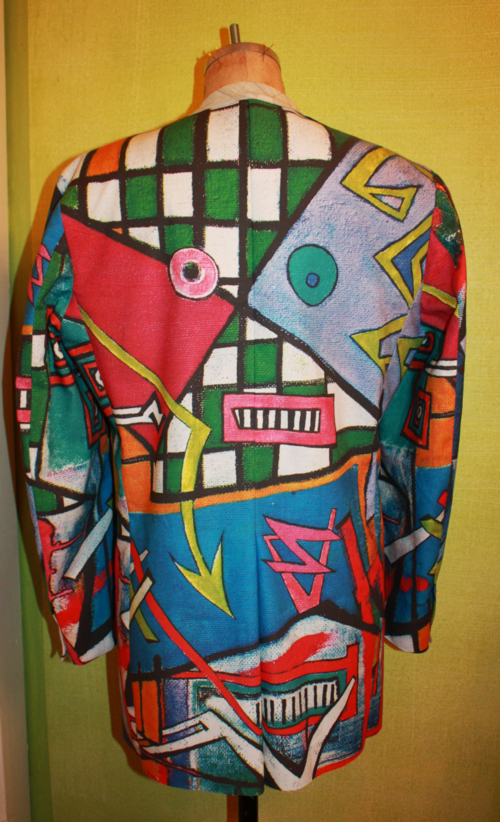 There IS a center back seam there, so it was some pretty fancy sewing I managed to do!
A word about the pattern: for those of you wanting to make a men's jacket and do it traditionally (with all that hand stitching) this is a GOOD pattern. The instructions are thorough and clear with the tailoring directions.  I really liked the way they pieced the front interfacing panels together: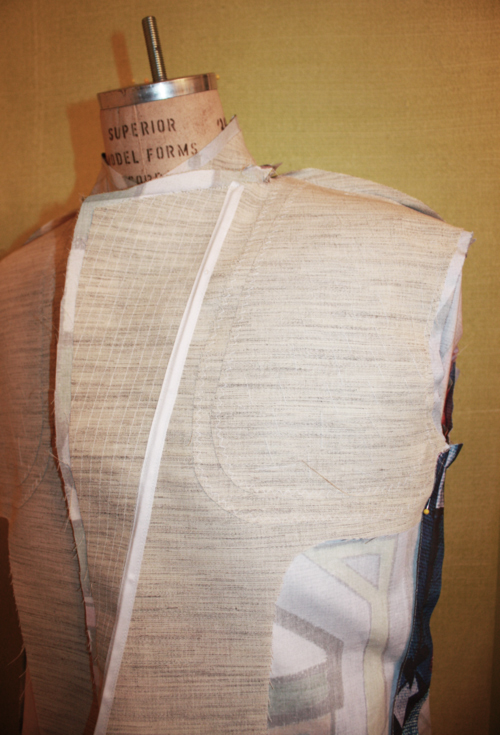 But I didn't do all that hand padding. Years ago I took a course in machine tailoring so this jacket is a hybrid mix of machine and hand tailoring. I was concerned at first that the color of the interfacing would show through the design but it was fine. You can't really see it but I did do hand stitching on the chest pieces. This is the front collars with the roll complete: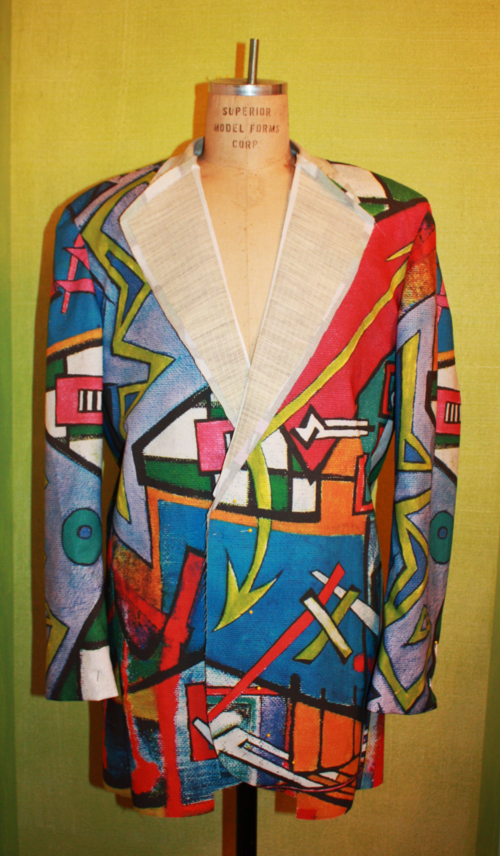 Ruth had brought me a jacket of Dave's that he liked and fit him well and the Vogue pattern matched the roll line of the collar on his jacket nearly perfectly. The changes I made to the interfacing pieces were:
Added upper back jacket interfacing.
Added underarm interfacing.
Used lighter weight woven cotton interfacing for sleeve hems.
Here's a shot of the coat after I dropped the lining in: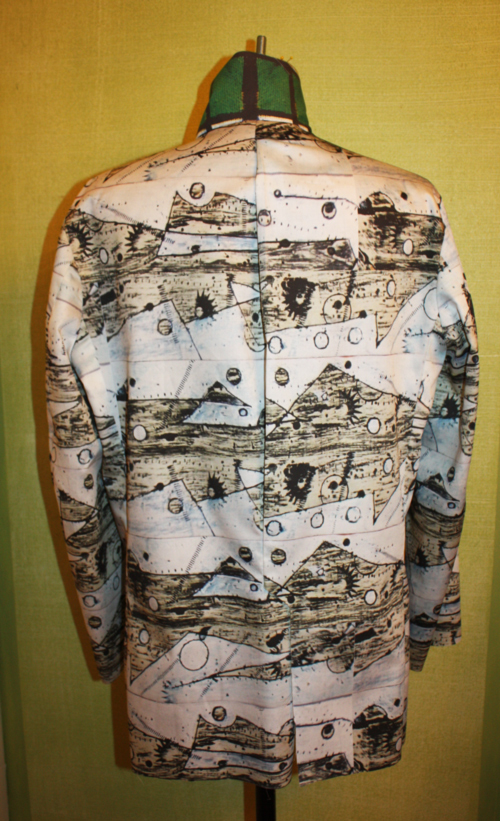 Pretty cool, huh?
Ruth originally wanted pants to match!? I just didn't have time BUT there is enough fabric left over to do a pretty dress for Ruth should she get sufficient encouragement : )
Ruth is special to me in several ways – First, she's an awesome mom. I met her when her youngest son was in a production of "To Kill a Mockingbird" and he played Dill. That particular theater company had an agonizing tradition of letting audience members comment of aspects of the production during dress rehearsals. One older lady in the audience took issue with the Chuck Taylor shoes we put on the kids and said "I don't think they had those shoes back then. I think you messed up there." Before I could open my mouth to defend my position we hear this tiny little voice "Um, excuse me ma'm but I researched the history of these shoes. They were first produced in 1917 and quite popular by the 30's." I know he said some other stuff but I was so astonished by his certainty and spunk, and he was around 7 years old at that time,  that I don't remember the rest. I just remember thinking "Who is this kids mother??? That must be one awesome family." They are : )
Second – she has done a REALLY COOL THING. She hosts the Spontaneous Smiley blog. It's funny, it's silly and she's met Oprah. Go check out her website. Subscribe. Smile.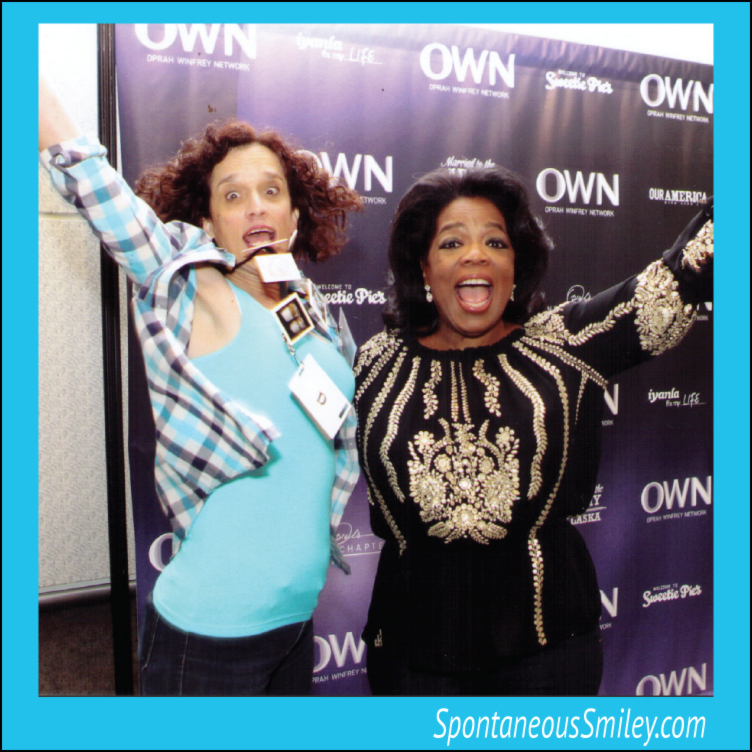 Third – She got Oprah to jump with joy with her : )
This is a photo my friend Lucy took of a Spontaneous Smiley: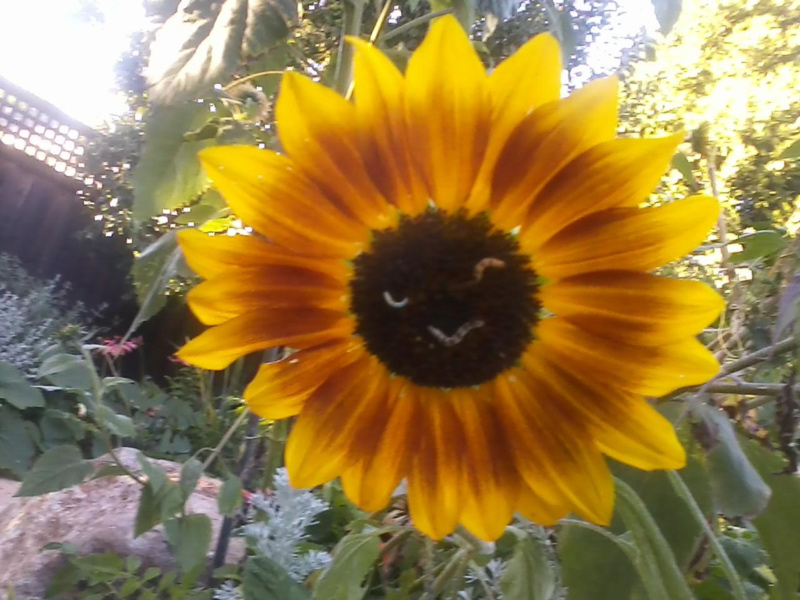 Those are caterpillars on the sunflower making that face. Totally natural, totally random and totally cool. Ruth has people from all over the world submitting photos like that. If you look at the bag she encased the Christmas Jacket in you'll see it's covered in smiley faces : )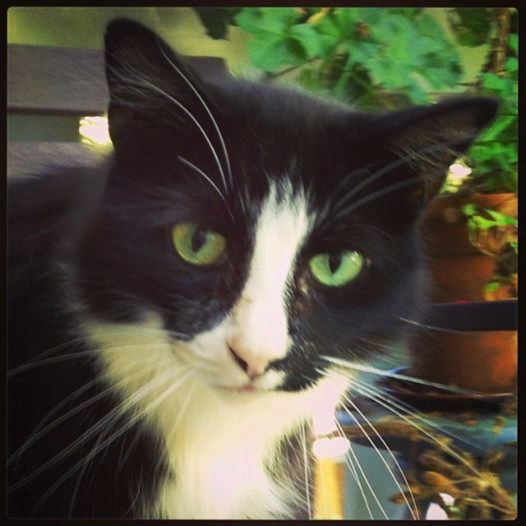 This is Chunk kitty. We had to put him to sleep a couple of weeks ago. He seemed fine on Thursday, Friday morning he was in my sewing room just hanging out on the floor. Jim thought he was acting funny so he took him to the vet. Next thing you know we're looking at advanced lymphoma and in a day and a half he'd deteriorated so much we had no choice but to say good-bye.
We miss him. He was sweet, not the brightest bulb in the box but just SO incredibly sweet that all you wanted to do was hold him tight. His mom gave birth to him on our property so we buried him at the top of the hill in the back yard. He used to LOVE to sit by the street edge and watch the world go by, now he can do it forever.
Life is rough. Some days it's nice to have an extra smile or two to look at. And hey, look at that, a second blog post in a week. I'm on a roll!