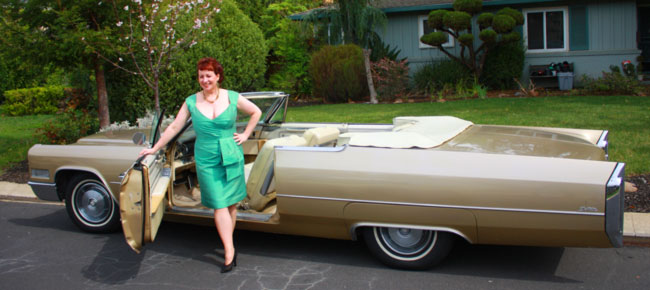 What's a girl to do when she feels down? She makes a pretty dress and takes photos with a pretty car : ) THAT is a 1966 Gold Cadillac. No, it's not mine, it lives in the same garage as the 1940 Packard. What can I say? I have friends with cool toys…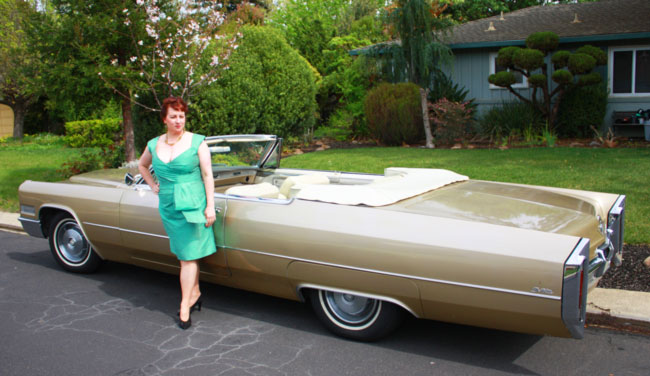 What else can I say? I love Joan, so I decided to take a crack at this dress: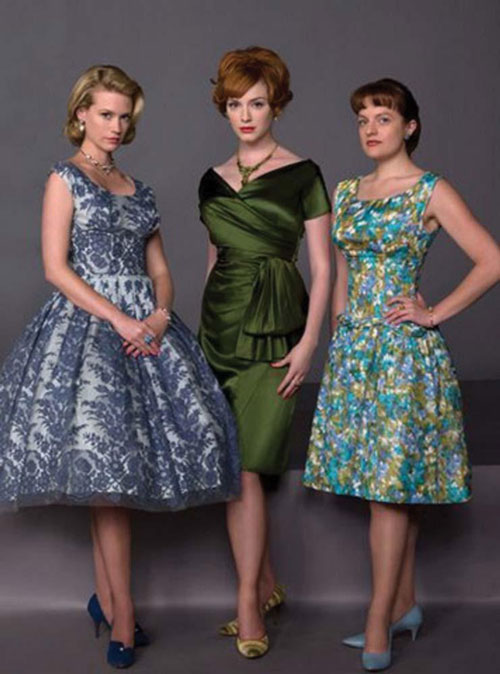 Lo and behold, look what pattern just happens to resemble Joan's dress:
The Facts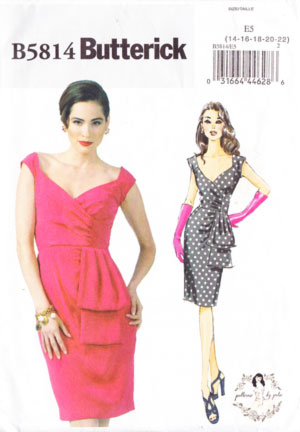 Fabric: Silk from Bay Area Sewists fabric swap (free), lining ($7.43)
Pattern: Butterick 5814
Notions: Zipper, boning all from stash
Year: 60's inspired
Time to complete: 3 1/2 hours
First worn: March 2014
Wear again? Yes, to the right event, perhaps some fund raising dinner : )
A few weeks ago, at the Bay Area Sewists fabric swap, Meg from Made by Meg (who is seriously adorable so be sure to check out her blog!) brought this lucious piece of silk dupioni. I had to think about it a LOT since the whole POINT of the swap (to me!) was to get RID of stuff, not bring armloads back home. I caved and I'm glad I did.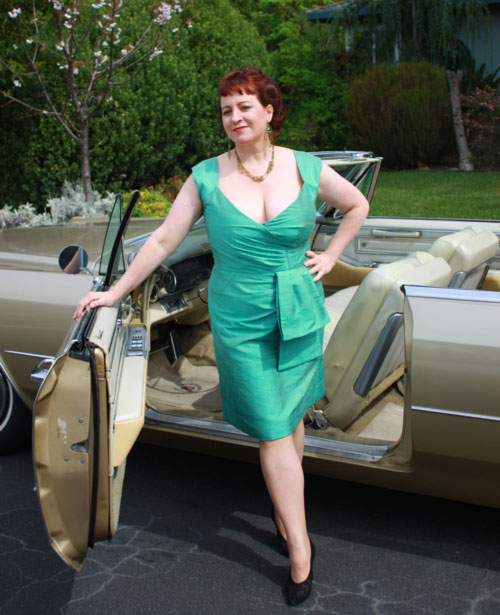 I had been wanting to try Gertie's retro pattern, especially after I saw the version that Laura Mae did last year, and since I waited until the last minute to really DO anything about the Mad Men challenge, this is it!
All in all the pattern was easy to understand, a decent fit and I'm about 80% happy with it. What I need to fix, and had my suspicions about up front, are those sleeves. They're a little too big on me but I'd rather have too big than too tight. Since my height is in my legs most tops are a little long and while the body of the dress hits about right I feel like I'm swimming in the sleeves. The horizontal "pull lines" you see in the photo above are equal parts arm position and a last minute pinning of the bodice pieces my photographer did so you wouldn't see the top of my spanx : ) Yes, it needs to be tacked or, in the next version, raise the whole front so my boobs aren't so INYOURFACE. The darts are in the right places, but the day was cold and breezy so some things/parts are *showing* that otherwise shouldn't be – we shot these photos in between some very necessary storms. Still…

I know, I know, my shoes aren't very cha-cha. At least they're pointy. And then John said "Wait! I've got this great Christian Dior hat you HAVE to try!" and he hobbled/skipped off (for a man who broke his hip a few weeks ago he did remarkably well helping me out but I think I exhausted him).
THIS is what he came back with: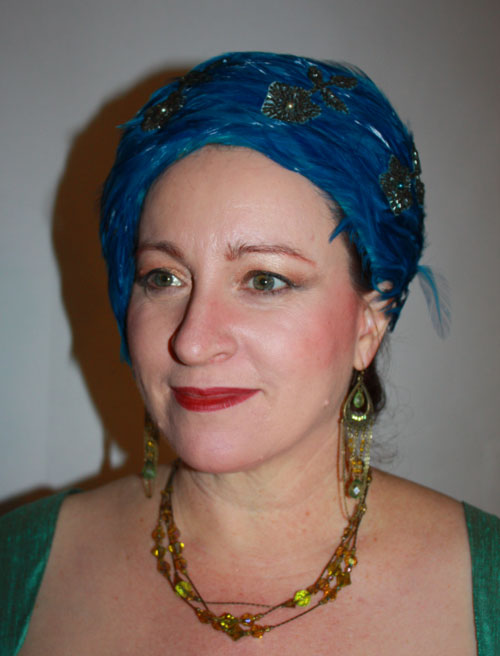 I feel a little like Liz Taylor here.
He also lent me the BEST hat to wear with one of my Sew for Victory creations. Now that I've overcome my "Oh my god I just HAVE to do the Mad Men challenge" hurdle it's time to make the half a dozen or so 40's outfits I've got rattling around in my brain…
Thank you EVERYONE for your very kind comments last week. You are truly all the BEST : )