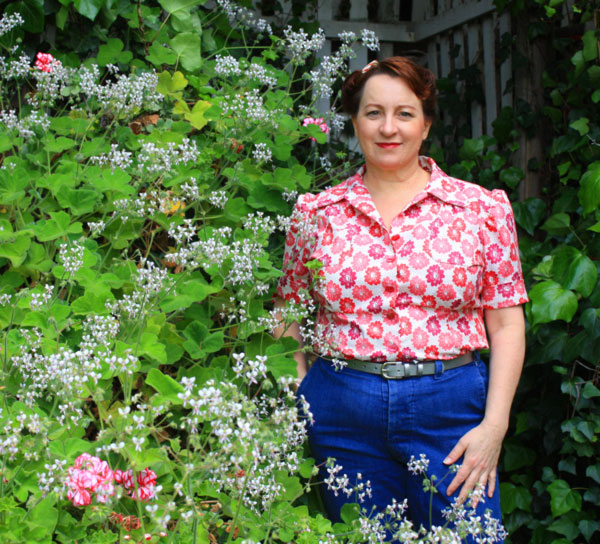 The Facts
Fabric: Cotton from JoAnn's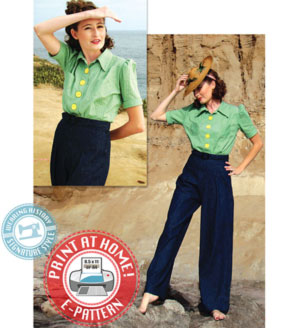 Pattern: Wearing History Smooth Sailing blouse
Notions: 6 buttons, interfacing
Year: 1930's
Time to complete: 2 1/2 hours
First worn: April 2014
Wear again? Already have!
Quite a few of us liked this pattern for the Sew for Victory sewalong. Check out this version that Rochelle did!
This fabric is a piece I've had laying about for a while, I like the combination of colors and figured I'd use it as a wearable muslin to check out the features of this pattern. Here's what I like:
The yoke is cute. I like the way Rochelle used the two fabrics, I may have to copy her idea at some point : ) I really like the way the yoke comes completely across the center front.
The collar is a tad big for my preference, I can easily cut it down in the future but it's a nice cut.
The pockets over the boobs – I did the two like the pattern called for. One is coming off and in the future I'll only do the single one. I need one more thing on my chest like I need another cat (not). I see a colored handkerchief addition soon : )
The sleeves are a nice cut, love the bias cuffs. I may make them shorter because, it's supposed to be hot this summer and the less cloth the better.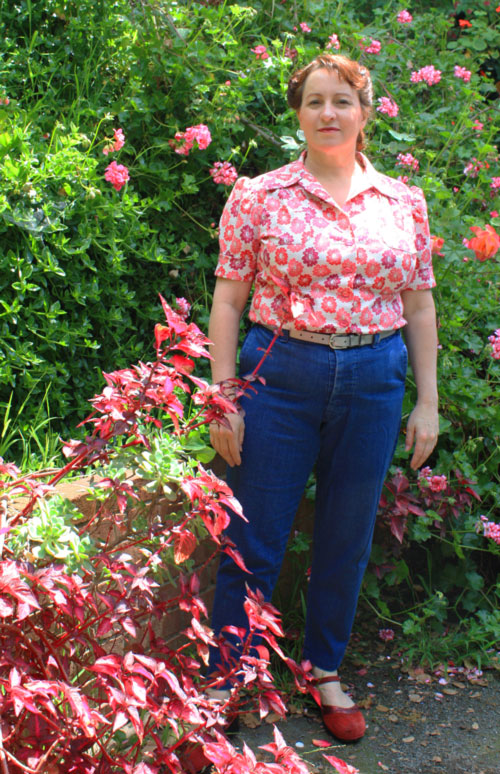 The plants in my daughter's backyard were very happy with all the rain lately, and had the courtesy to bloom in the colors of my shirt : )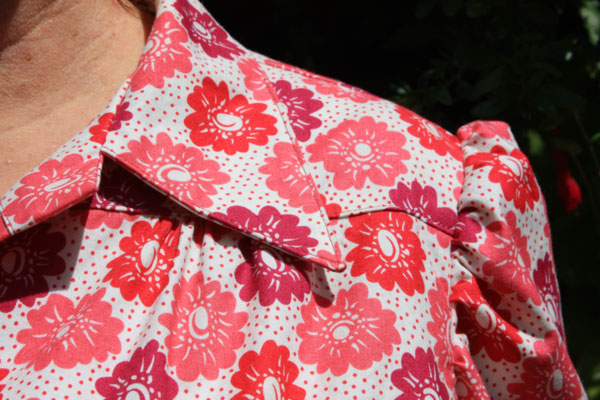 I decided to top stitch everything in the berry color. You can barely see it but I like it : )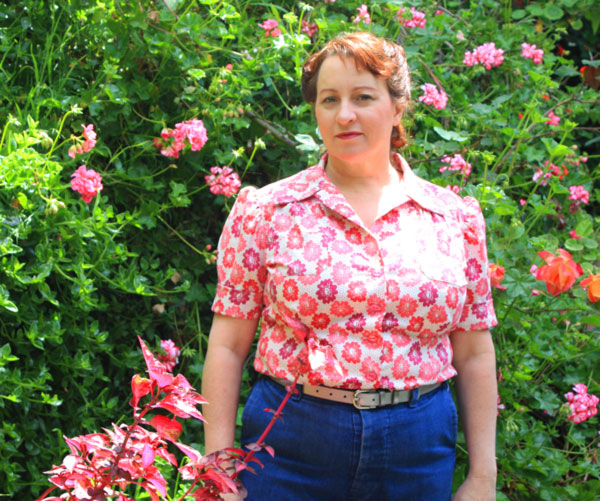 The only thing I'm not crazy about, and this is MY issue, is the puffiness of the sleeves. These aren't as pronounced and the next blouse but in the future I'll probably do darts like my other favorite 1940 blouse pattern. I also didn't do the huge buttons like the pattern shows, I found some vintage buttons through my favorite button seller at the flea market last month: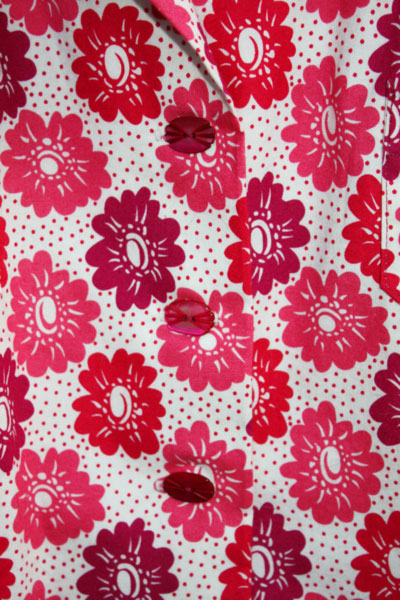 And now my OTHER Wearing History pattern: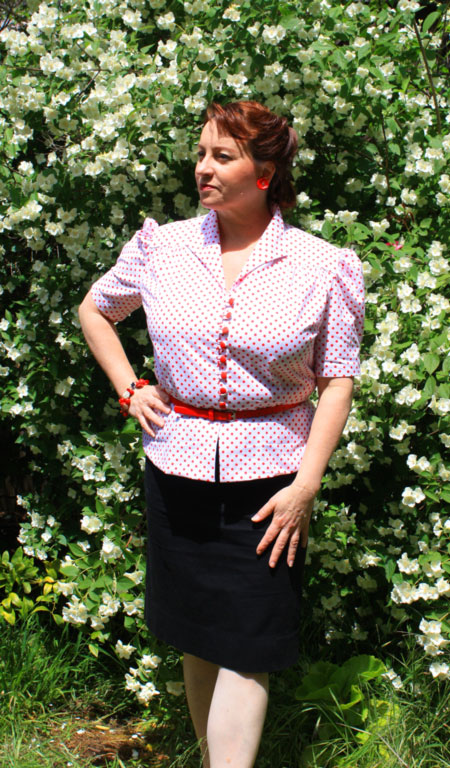 The Facts
Fabric: Polka dotty fabric from who knows where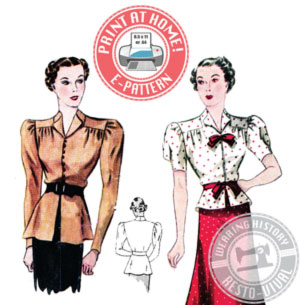 Pattern: Wearing History 30's shirt pattern
Notions: 8 buttons, interfacing
Year: 1930's
Time to complete: 3 hours
First worn: April 2014
Wear again? Today as a matter of fact : )
Apparently the only thing you have to do to make me fall in love with a pattern is show a version in polka dots : )
And do I have plans to make a red with white polka dots skirt? Maybe…
I didn't have time to do the fetching bow and belt as shown, but I WILL! When you see part 2 of my Sew for Victory post you'll understand why I haven't yet.
Things I like-
THIS collar and yoke!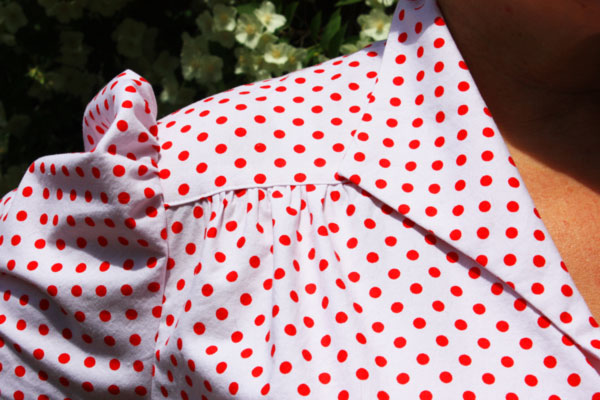 I LOVE the way the yoke is done. It's TOP STITCHED onto the front (it's actually quite clever) and it lays beautifully. Don't try to do it any other way than the pattern instructs. Just don't. You'll be sad. Follow the directions.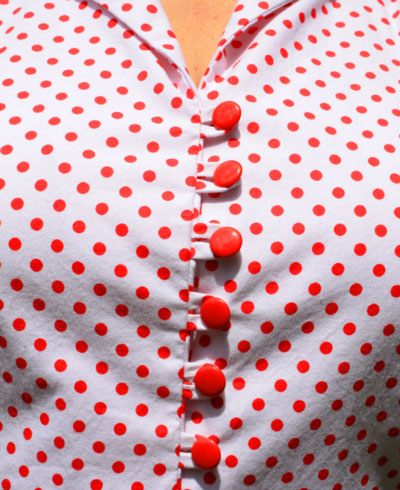 No buttonholes! Just loops. Which are their own challenge but I like them here. I ended up having to re-do them once I decided on my buttons since these are much smaller than I had originally planned on. Can you BELIEVE I've gone through my entire collection of red buttons in the last couple of years?? The only ones I have left are singles or two or three of a few styles, certainly not 6 or 8 like I need here! I've had to <gasp> BUY red buttons.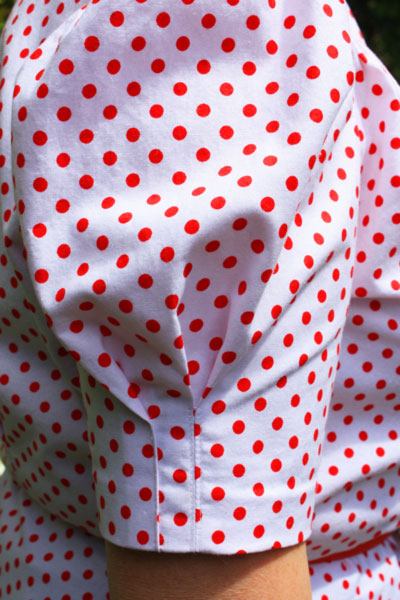 The sleeve is adorable but I ended up adding an extra pleat because it felt too big and sloppy without. And that puff…sigh…I think I've reached an age where cute puffy sleeves aren't "me". At work today I was told that I resembled a Carol Burnett character: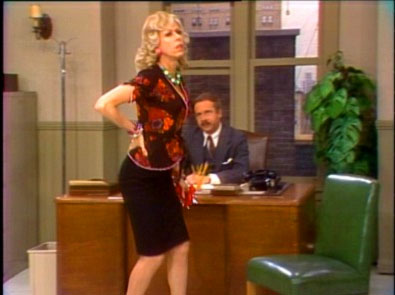 Mrs. Wiggins. Sigh. I just hope I'm more effective than Mrs. Wiggins : )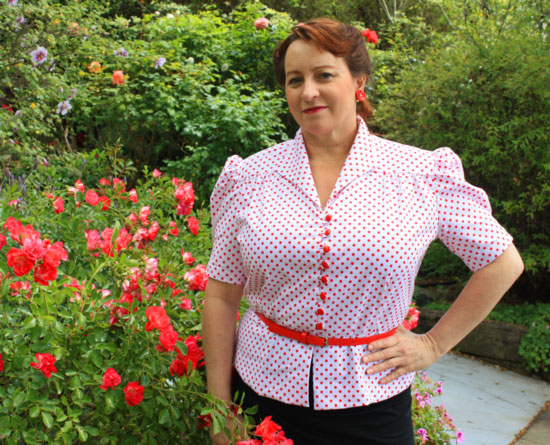 I didn't do the gathers at the waist like the pattern suggests, I made a pleat on each side as I've done with so many other vintage patterns and it works GREAT! Those little gathers right there add to the mid-line bulge, if you know what I mean : )
If I hadn't been in the middle of scraping down my dining room ceiling so I can transform the room from alien-green to boiled shrimp pink I might have had more time to make a red skirt. That will just have to be next on the to-do list…after the dining room is put back together.
Next up – Part 2 of my Sew for Victory projects! You just KNOW when you find a piece of fabric that makes your heart sing that the resultant outfit is going to be AMAZING!!
AND – as an added bonus – the UNVEILING of a NEW and WONDROUS project that you can ALL play along with (if you like) and an unexpected travel twist. Stay tuned : )