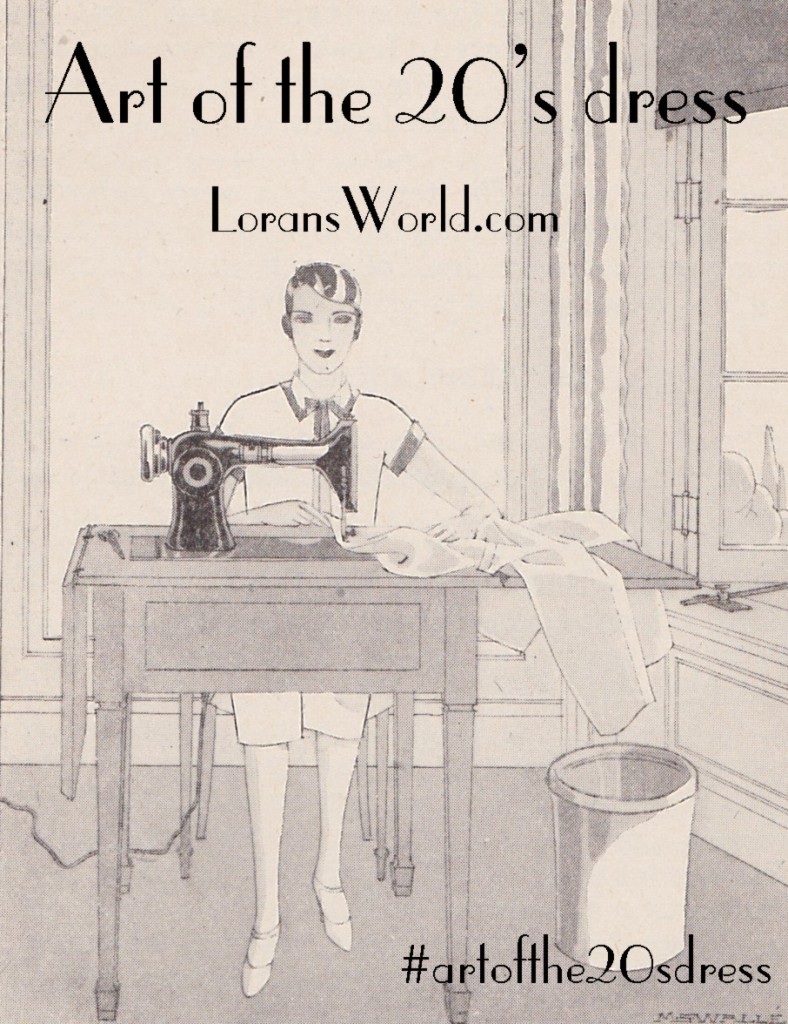 GUESS WHAT!!??!
Things are happening.
First – who doesn't love Miss Fisher of Miss Fisher's Murder Mysteries? I mean, seriously, the clothes, the locations, the music…sigh…
Check this out: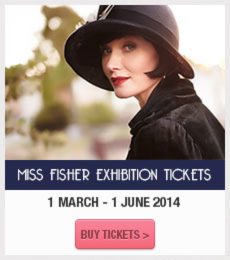 There is a Miss Fisher costume exhibition going on RIGHT NOW and I've got tickets to see it!! I am meeting up with the lovely Trish from Quiet Vintage Sewing to see the exhibit, check out a fabric store or two and explore Sydney and its surrounds.
To that end, I REALLY want to get a handle on this 20's thing. I made a stab at the Gatsby sewalong last year and failed miserably. The biggest hurdle to overcome is my view of my own body – I'm not tall, I'm not willowy, I look nothing like Miss Fisher or any of the drawings we typically see from the 20's. I AM smart enough to know I AM typical, women were shaped like me back then! To get over my own silly self I'm going to jump right into the era and invite you all along : )
You see, on Vicki's blog she's got these links on the right side. And I was bored one day so I started reading them ALL, and I stumbled onto 20's gold. Kathleen from Midvale Cottage Post has posted some of the cutest, seemingly simple yet elegant 20's "patterns" by Ruth Wyeth Spears. One page patterns/directions, most likely from a magazine, they epitomize the look of the 20's.
I'm going to start from the underwear out to re-create some (hopefully) fabulous looks. I found a pattern on Reconstructing History that I'm excited about: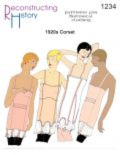 I am SO fortunate to be able to pick my grandmother's brain (my mother's mother) about what was worn! We have some photos of a trip my great grandparents took to Niagra Falls in the late 20's that I'll be able to share along with some funny and new-to-me stories of life back then. She was born in 1919, is turning 95 this September and remembers EVERYTHING! The only thing that she doesn't quite understand is my fascination with that era. Ah well…
I have a photo of my dad's mother that I want to completely re-create. I look just like her and inherited the boob gene from her so it should work out well : )
In keeping with my vow to buy as little as possible this year <cough*hoarder*cough> I'm going to try to make everything on my list from stuff I have in my stock. Unless of course I find something SO FANTASTIC in Australia that I MUST have it, but I've done a cursory inventory and I should be able to do this.
Here's a sample of the goodies I want to make: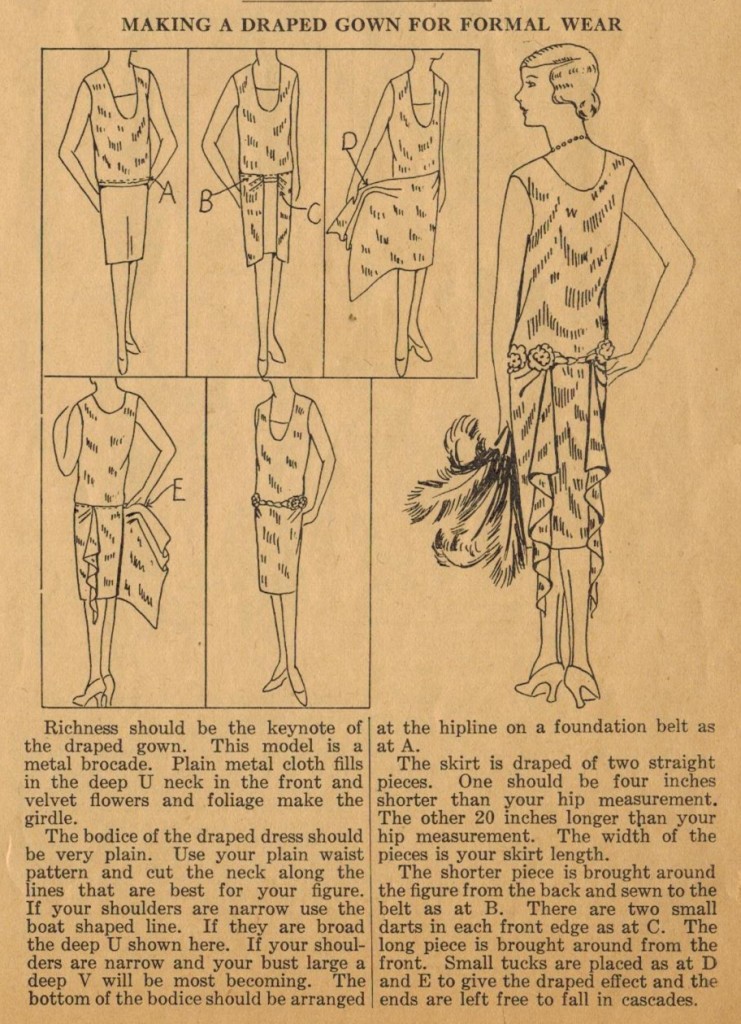 I think this is one of my top favorites! This is the ENTIRE pattern but if you read it its pretty clear. Ruth is assuming that you (or we) have a basic shift pattern. I'm going to draft one, and show you how, using a pattern we can all find online for free. Free is good : )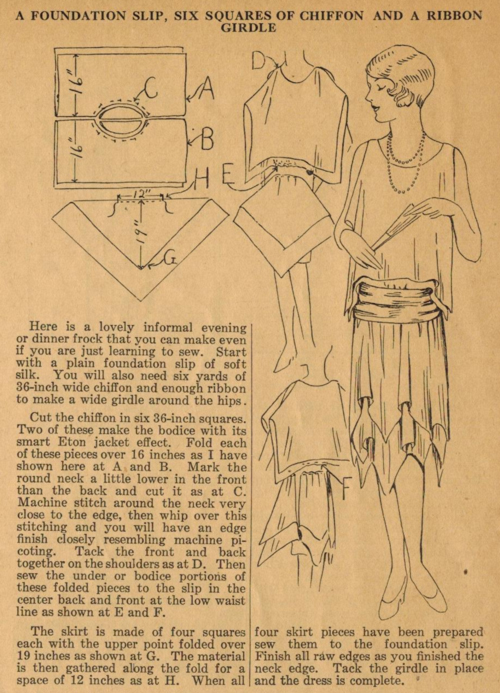 I love the simplicity of this, and have a piece of printed chiffon that might do it justice. I'm also guessing each of these creations can be done in an afternoon : ) I'm going to use 'mostly' standard sewing techniques available back then, but I'm not above using a rolled hem foot or even the rolled hem serger stitch to save my sanity. My grandmothers would approve.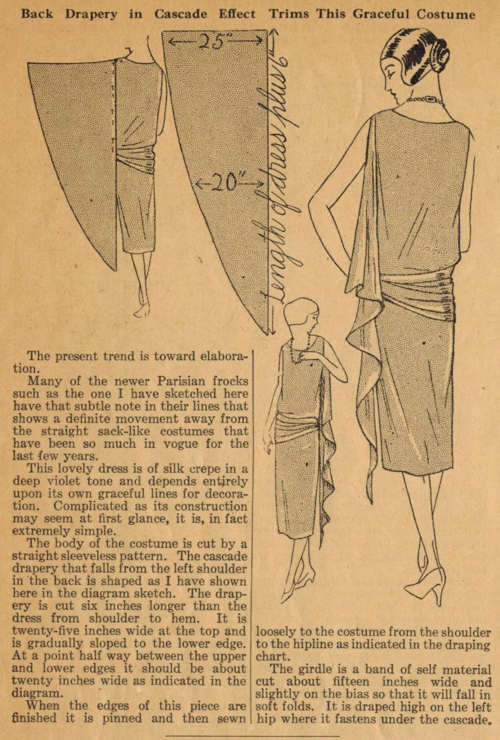 Oh! I just LOVE the idea of this! Will it look like this when I'm done? Who knows… But I've got a box of tablecloths made from Indian inspired fabrics (and Marion Boyce uses lots of Indian fabrics on "Miss Fisher") that are just waiting to be something fun.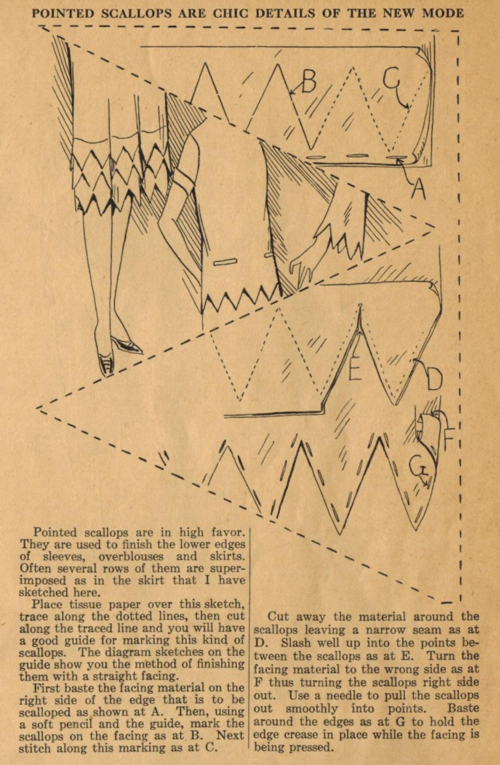 I'm not a big point fan, mainly because making them is a pain, but I can't pass this up. Time to hone those skills!
And if you have fabulous dresses you need cover-ups: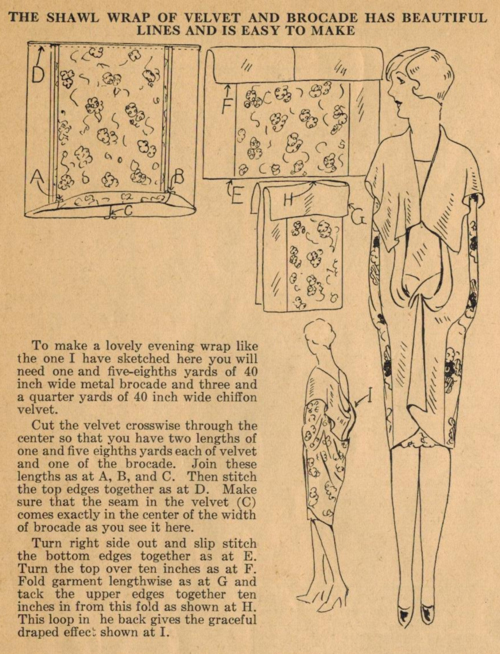 That piece of bright pink velvet my girlfriend gave me years ago is PERFECT for this, wait until you see what I pair it up with!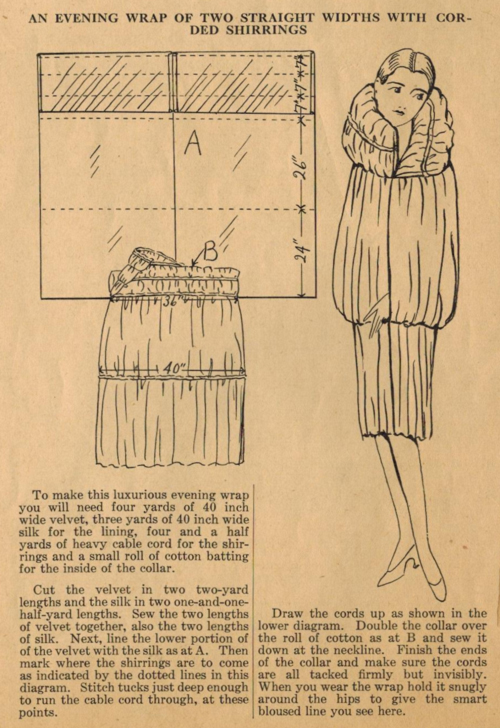 I'm not sure if I've got 4 yards of velvet but I certainly have yards and yards of other things.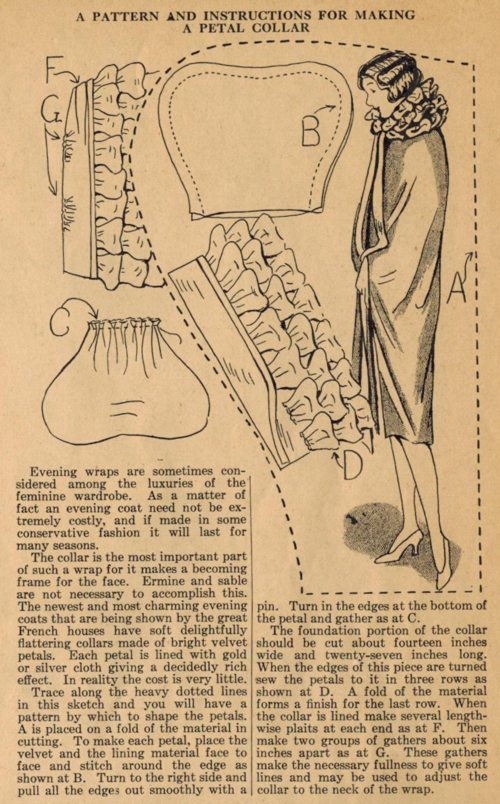 How cute is this collar?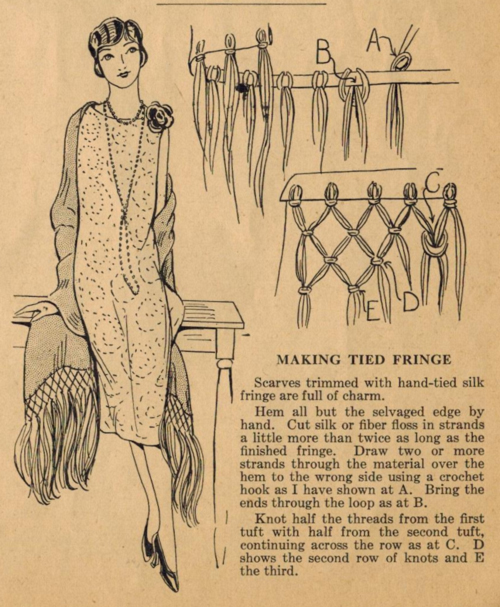 Fringe, honey, fringe…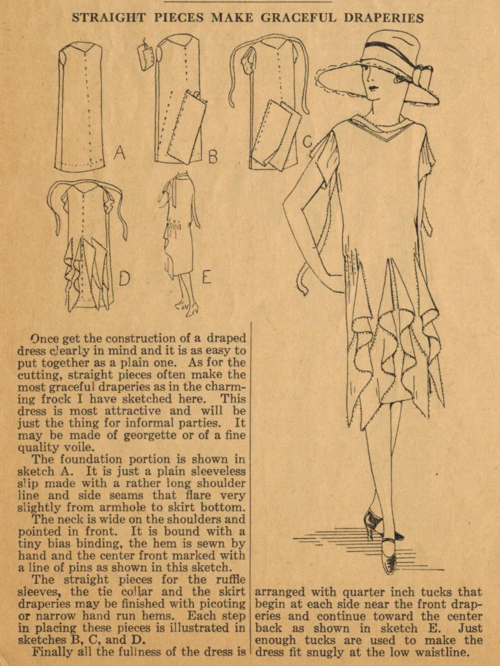 I like the IDEA of this, now I'm going to see how close the reality is!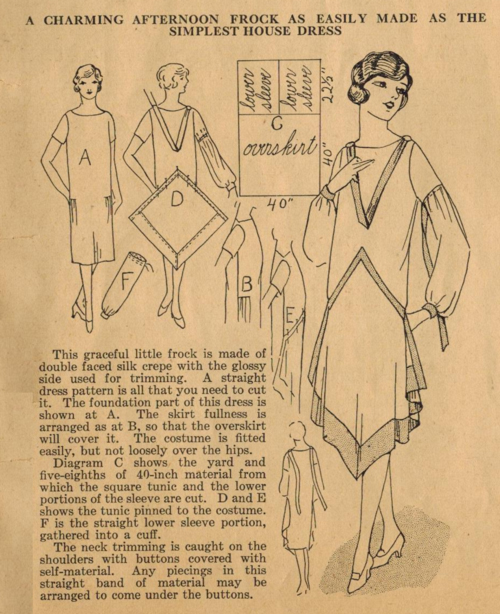 More squares…again, how will it look on a real person (me)?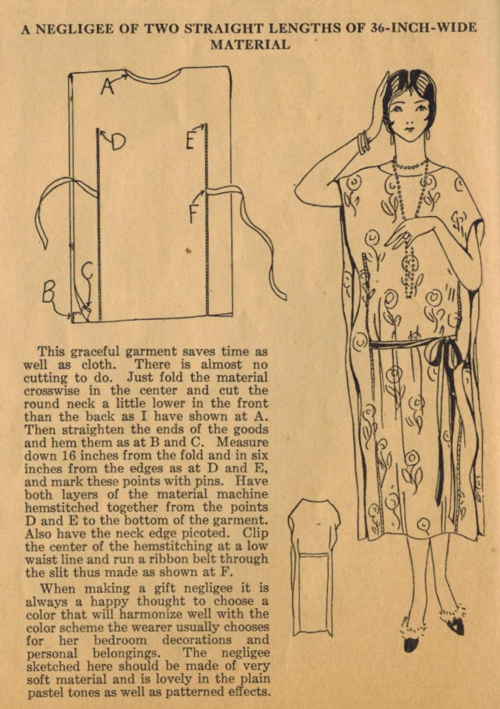 We had a version of this in the 60's. I'm hoping the right hair and make-up makes me think 20's and not caftan : )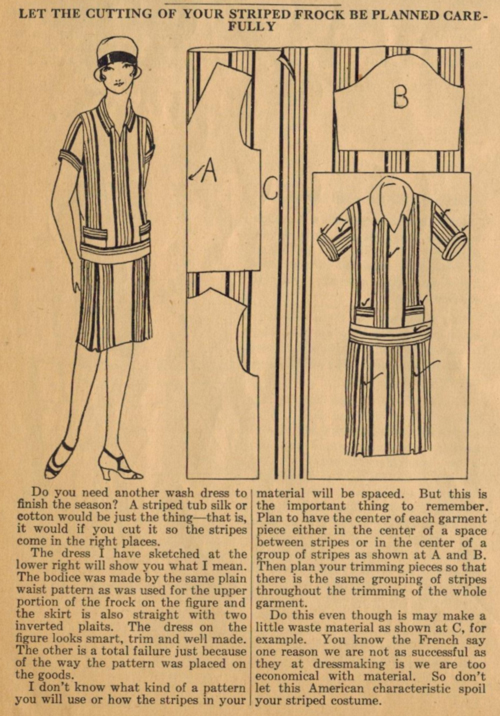 I love this sporty stripy outfit!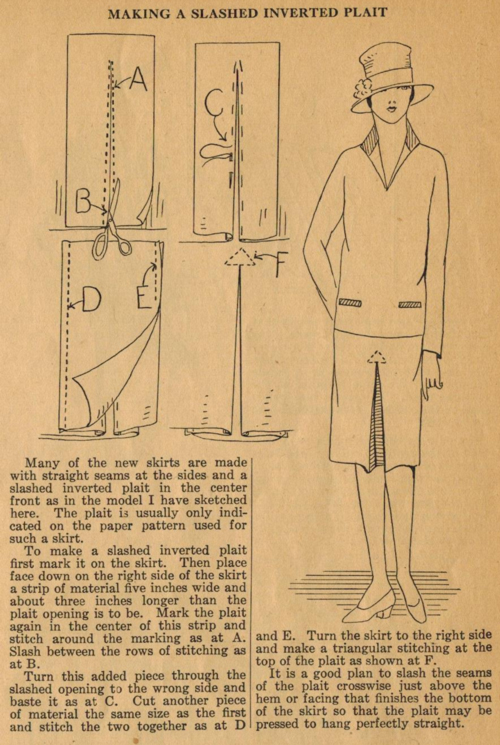 I would wear this to work today, in a snap.
And the perfect accessory for this? Hats!
Hats, hats…for career girls…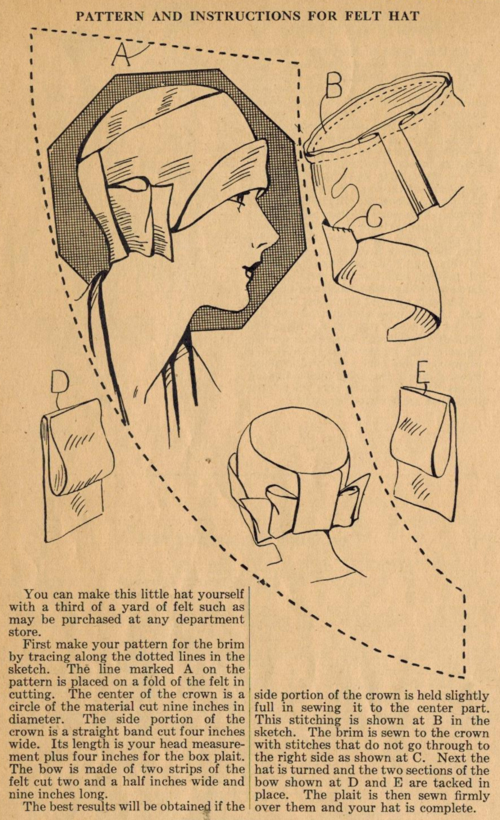 Felt. Just felt. No buckram. MUST TRY.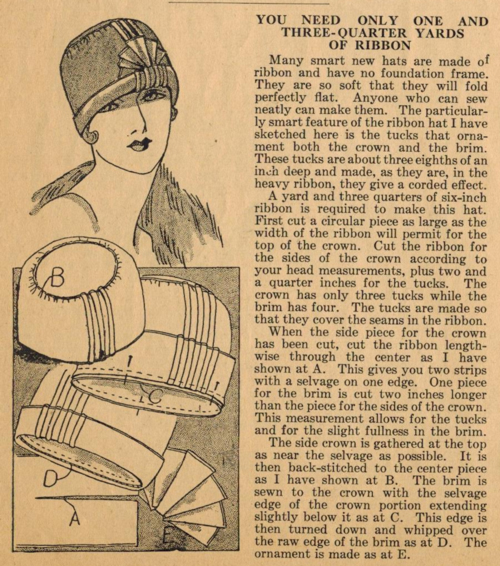 RIBBON. Just ribbon. Again, MUST try!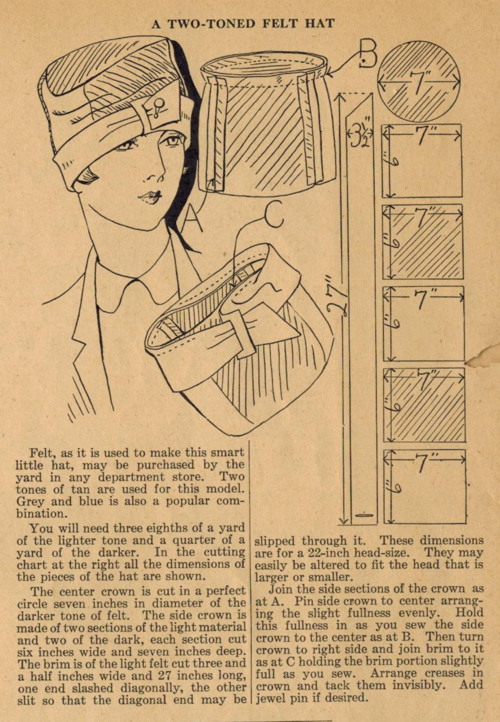 Again, felt. Scraps in stock, can't wait.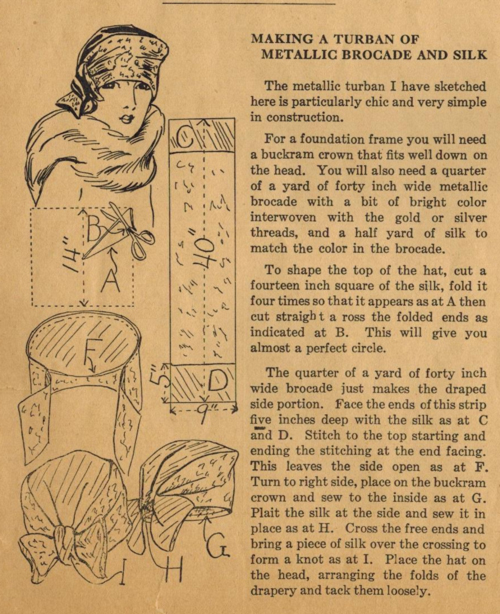 Metallic brocade. Sigh…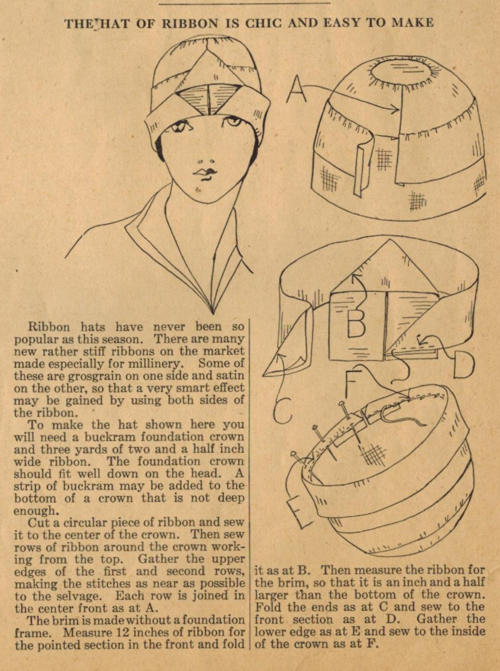 This one uses a buckram frame, and I have buckram and a mold so I'll show you how utterly easy this is : )
What about some fun accessories?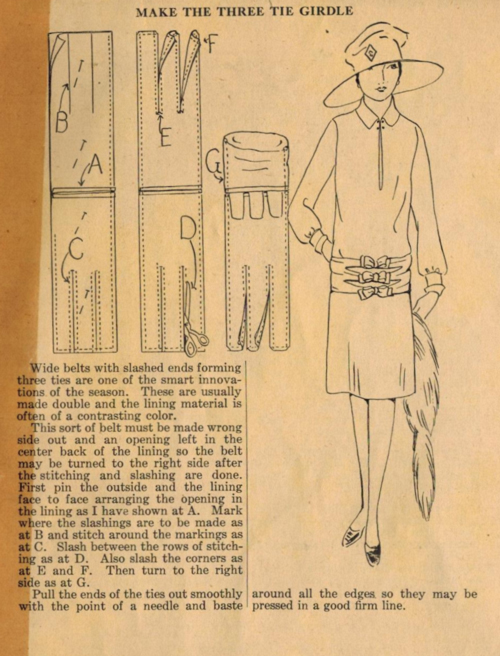 The drawing is cute but how functional is it? Let's find out.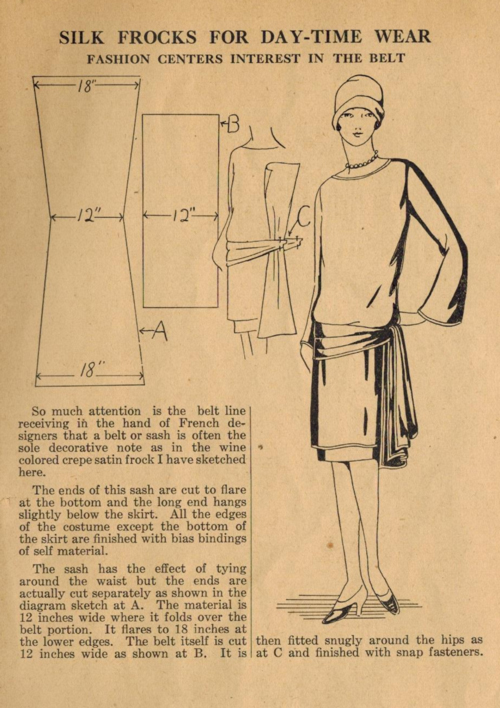 A handy belt to dress up a plain frock. Again, box of tablecloths just waiting to be something new.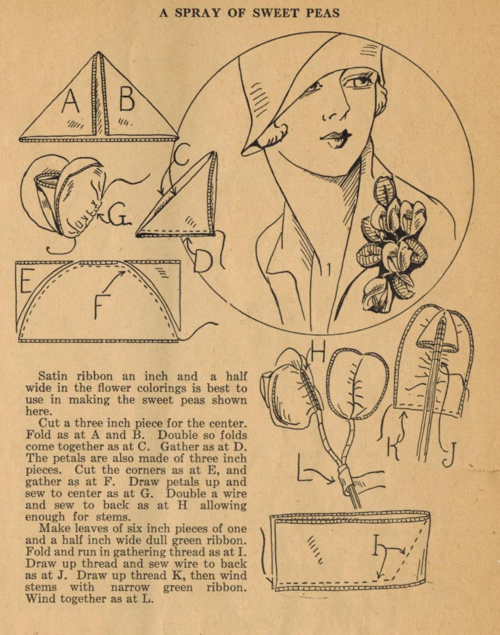 Hats need flowers : )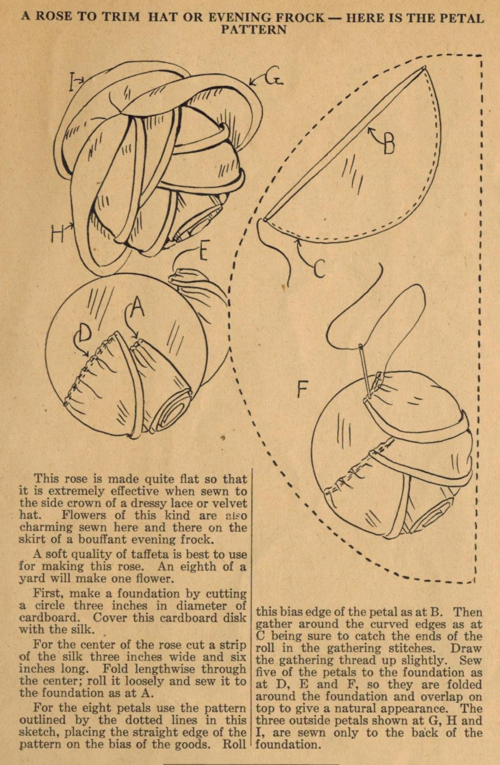 And more flowers!
So you see, there is PLENTY of inspiration out there that takes just a little ingenuity. This is my starting point, the project may change as I go. I'm using my Grandma Bertha's book, "The Art of Dressmaking" by Butterick as my go-to source for period details. (Sarai on Coletterie wrote about it here.)  I don't have much from her so this is precious to ME. She was a seamstress, tailor and all around character. I think she would heartily approve of this project.
You all are invited to sew along with me!
I'm turning the top photo into a button for pasting onto your blogs : ) Several bloggers out there have recently cut their hair into 20's style bobs so I hope they come play. I'm kicking this off June 3, the day AFTER I get home from Australia, and considering the number of projects I'm looking at means I'll probably be posting over a 6 week period. I'll do step-by-step pictorial tutorials so you can compare the written instructions to the photos and hopefully all will be de-mystified.
If nothing else, I'll have some really fabulous frocks to choose from for the Gatsby picnic at Dunsmuir house this September : )