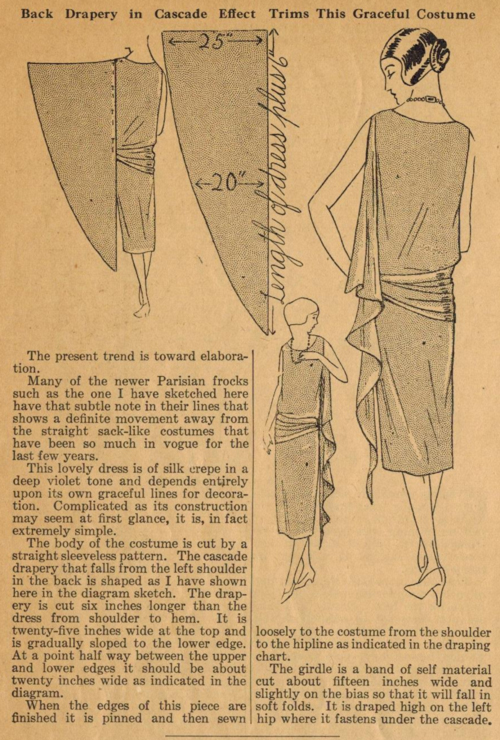 Simple and elegant. Just wait till you see what I did with an old tablecloth!
 I promised you a way to get a basic 20's dress pattern so here we go: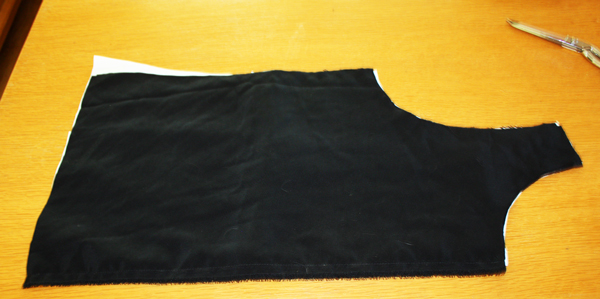 This is the Sorbetto pattern from Colette, its FREE! Check this out: "The body of the costume is cut by a straight sleeveless pattern." Now look at the black top I cut out. I cut it exactly as the pattern stated, basted it together and tried it on. For my body everything was fine except the hips, a little too much fabric there for the straight silhouette so I cut that part off. That's why you can see a little bit of white pattern paper showing next to the black fabric on that one edge. That's all I had to do to change the basic pattern. To turn the top to a dress pattern I just kept cutting below the hip/hemline of the top. I think I added about 27″ to make sure I had enough length. No fancy curves or seaming, just straight down and you're done.
For my friend Wendy, who is about as opposite a body type to mine as you can get, I cut the same pattern in her size (go by bust and hip measurement, waist should be loose) and kept the flared hip piece because that's how she's shaped. One word – MUSLIN. Do a muslin, my friends. Do not pass go, do not collect $200, just do the muslin and save yourself time, fabric and money. THEN you have a go-to pattern that you know works. Just do a muslin.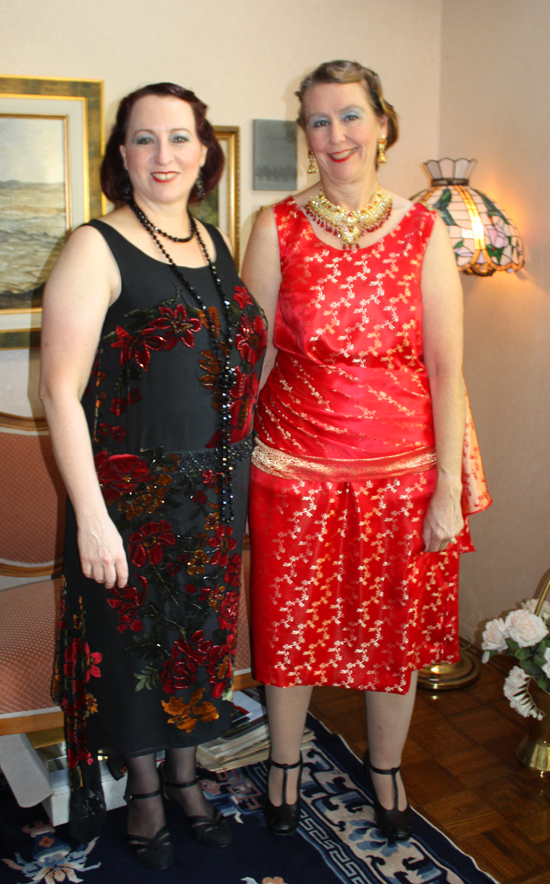 Aren't we cute??!! I know my mother will be horrified when she realizes that all her 'stuff' under the small couch is showing in this photo so shhhh…don't say anything : ) This isn't the best picture of us but it's the best of what I had. Apparently in the melt-down of the computer a couple of weeks ago I also lost the in-process photos of Wendy's dress so I'll walk you through the pattern quickly:
"The body of the costume is cut by a straight sleeveless pattern." See the pattern above? Yay! "The cascade drapery that falls from the left shoulder in the back is shaped as I have shown here in the diagram sketch. The drapery is cut six inches longer than the length of the dress from shoulder to hem. It is twenty-five inches wide at the top and is gradually sloped to the lower edge."
This is NOT COMPLICATED! Look at the sketch, I did exactly what she shows. I cut the top edge 25″ across, used the selvage for the long straight edge and guessed at the length. You can always cut it shorter, you can't add length : ) " At a point halfway between the upper and lower edges it should be about twenty inches wide as indicate in the diagram." Fold the fabric in half, or measure, and make sure you're still around 20″ across; then taper down to the end point.
"When the edges of this piece are finished it is pinned and sewn loosely to the costume and stitched from the shoulder to the hipline as indicated in the draping chart."
It took me longer to carefully hem this piece than the putting the dress together. I didn't go quite as long as the pattern suggests because I didn't want Wendy to get the drape caught in a heel or otherwise tangled in it.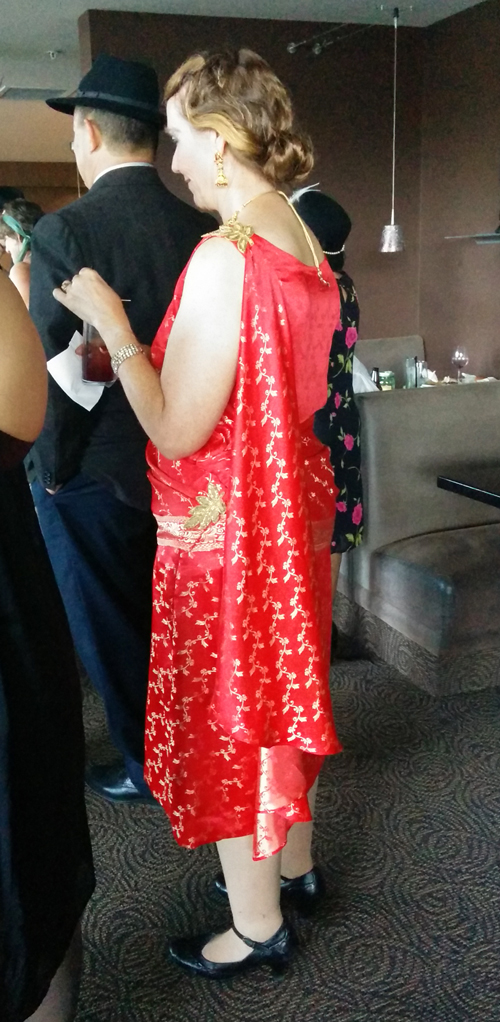 See how pretty it drapes?! You wouldn't even know that the right side is on the opposite side of what was originally chosen… Because the fabric is more of that rayon sari-inspired fabric it shreds as you look at, don't even THINK about how much it shreds because it'll do it twice as fast. I was also cutting around wax from candles and sun fading so when I discovered the red was going to be on the back and we'd see the 'wrong' side of the fabric I asked Wendy what she thought and she liked it just fine. Whew!
I found two leaf appliques in my stash that I added – one where the drape attaches to the shoulder and the other on the hip piece.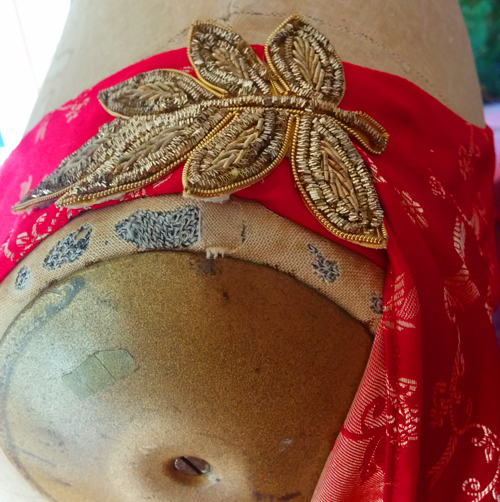 "The girdle is a band of self material cut about fifteen inches wide and slightly on the bias so that it will fall in soft folds. It is draped high on the left hip where it fastens under the cascade."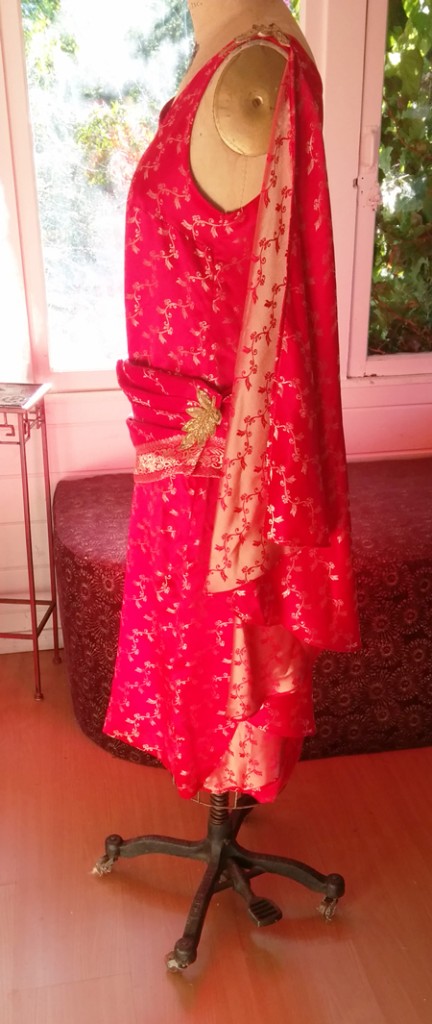 Her hip band is NOT cut slightly on the bias and in retrospect I'd do it over. I wanted to use the woven bottom band of the fabric and thought I had draped it correctly on her. Well, cats got ahold of the piece and removed some of the pins for me so by the time I saw her again and we were dressing for the party things had "shifted" a little. It isn't quite right but ended up looking ok. She kept saying how comfortable the dress was, which is good because it was 103 that day! It took us over two hours to do her hair and our make-up but was totally worth it : )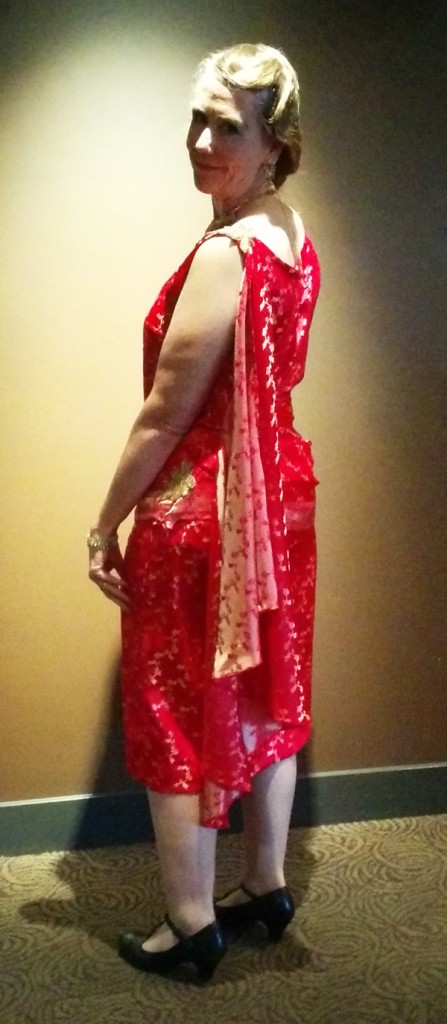 We both wore seamed stockings and while her shoes aren't as dressy as we might like she did just have her second knee replaced so all things considered she's moving really, really well! AND she's a veterinarian, so NONE of her co-workers, clients or friends have EVER seen her like this!! Ever. We took many, many photos on her phone so she could show everyone her transformation this week : )
The OTHER thing that I added for weight on the drapery piece is a bunny button. The woman throwing the party does bunny rescue so in honor of her I added a bunny.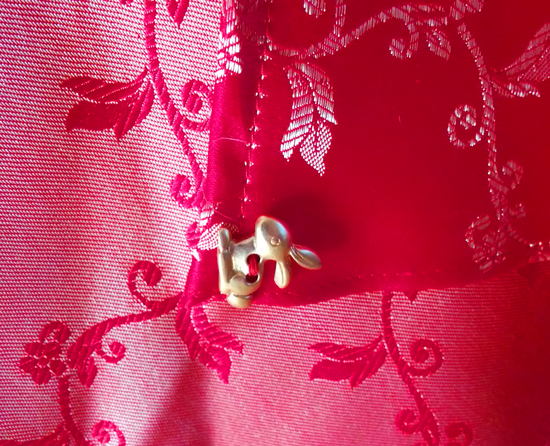 She's being saucy here : )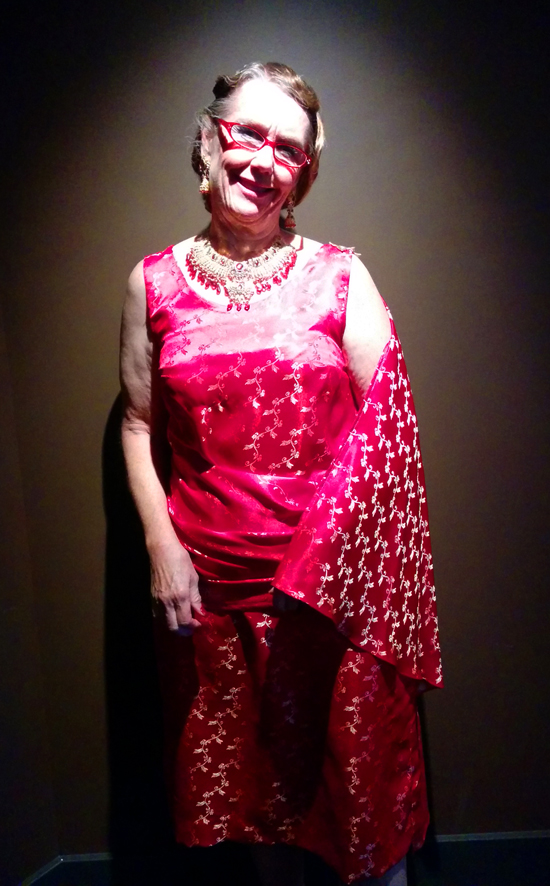 I know, I know, the glasses are an anachronism. Well, they HAD glasses back then but not red ones with rhinestones and since neither one of us can read small print any more this was her solution to our aging issues, she was very proud of them and how well they matched. Her jewelry is my wedding jewelry. It is an Indian set I bought from one of the Indian stores on University Ave. in Berkeley one rainy Tuesday, they dropped the marked price from $175 to $35. For the best deals shop on rainy days mid-week : )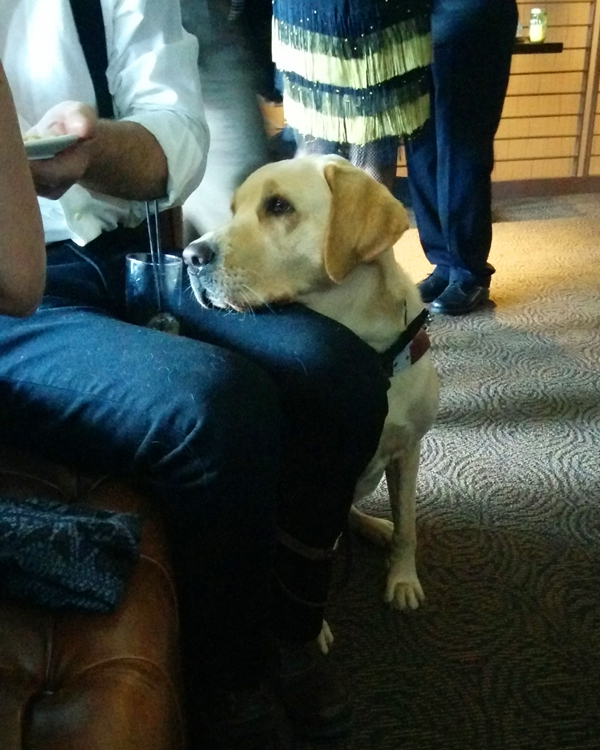 What kind of party would it be without a dog? This is an actual seeing-eye dog who was using his best puppy-eye skills to score a snack. It worked, just not on his owner : )
The Pattern: Back Drapery in Cascade Effect Trims this Graceful Costume
Fabric: Rayon Indian-inspired sari cloth
Ease of Instructions: Easy, just do a muslin of your top pattern first!
Effectiveness (1-10): I'll give this a 9.
Notions: Thread, 2 appliques from stash, 1 bunny button.
Hours to complete: Around 3, maybe a little more but only because we chatted and played around with other stuff. Most of that was spent doing hand work.
Total cost: FREE!!
While watching MythBusters the other night I wondered if I should do a "Confirmed" or "Busted" category on these patterns. Some have been highly successful and look like the sketches, others have been a struggle to get right. What do you think?
Tomorrow – My dress!!!