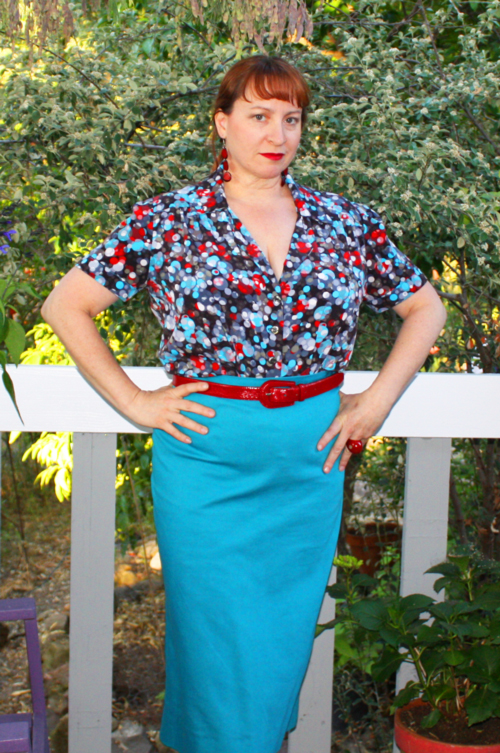 I finally got the Joan pose down!
Definitely having to learn a whole new skill set when it's just me and the camera on auto. This is how I ended the week, channeling Joan in my Favorite things outift, and this is how I started the week: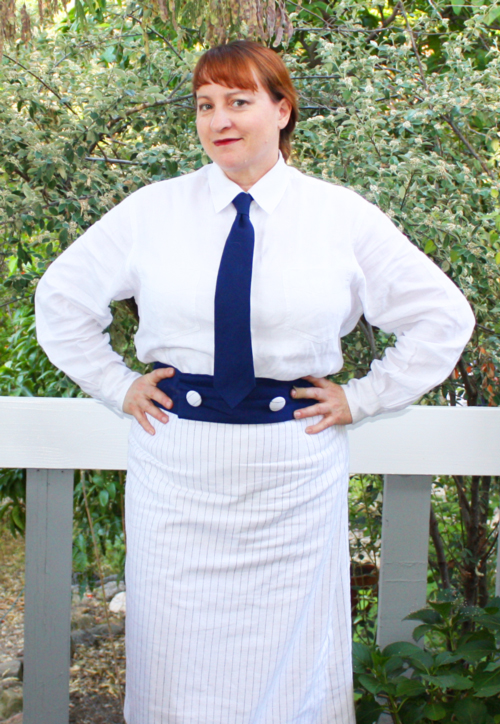 Can we say "Titanic"?
Yes, I FINALLY got to wear parts of my Titanic outfit from last year. The $3 Salvation Army linen blouse has seen quite a bit of wear, so much so that when I found another one I snapped it up so I wouldn't wear them out so fast. I don't know about you but I trash the cuffs before anything else.
I used the belt from the jacket for a waist belt and wore the same purple/white shoes I wore to Brittany's graduation. Because the morning was a little chilly I wore a basic white sweater to work but it was quite nice at the end of the day so Mr. Sweater stayed in my bag. The big hat? In the closet. I can't imagine it would stay on my head while I rode my bike! Even with ties it is so big it would block my vision so no hat. I'm ok with that but when I look at the above pic I start thinking I look like a Cheesecake Factory waitress (no, they do NOT wear the outfits you see on "Big Bang Theory" and yes, I tried to google that for you but nothing relevant comes up. They wear ALL white!).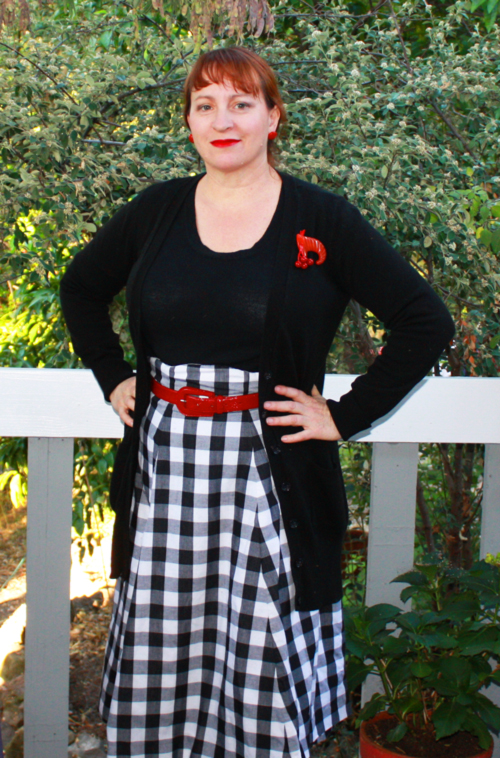 We're still having this weird weather pattern where it's cold at the beginning of the week, almost raining, and then by the weekend it's nice and warm. This particular day, however, was NOT warm. I've not only got on a long sleeve sweater as my basic foundation piece but I had 2 more sweaters on over it! I'm only wearing one here but wow! What happened to the mid-80 days??
The skirt is the one I made for the Childhood Challenge last year. I love the skirt, made 2 more from this pattern : ) I probably would have made another couple had it not been shredded by puppy teeth last fall. I did get to wear one of my new-ish bakelite pins, a cornucopia with cherries. Any day with a little bakelite in it is a little better day, which leads me to…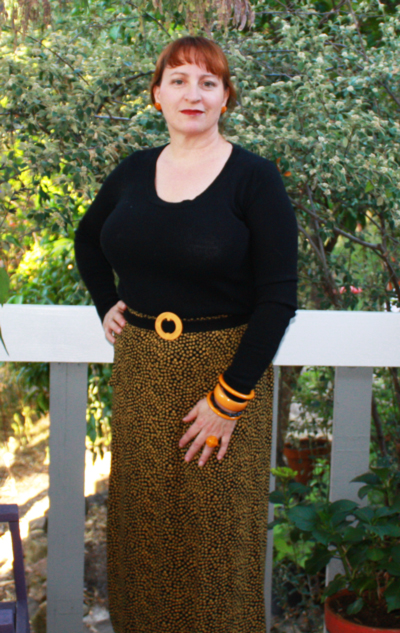 Bakelite galore!! This was just the SECOND outfit I completed for the Sew Weekly challenges. Again, I love this skirt pattern and again, it was shredded by puppy teeth. This pattern, however, is so easy I can probably pull one off the skirt itself. I never would have thought I would love the yellow/black combination of this so much but I do. So much so that I recently found a piece of black/yellow printed chiffon at JoAnn for something like $2 a yard and I bought a piece for experimentation. I recently joined the Vintage Pattern Lending Library and let me tell you, it's been an education : ) I have several 30's day dress patterns now that are just BEGGING to be made up!
 And now for the extra special photo of the week: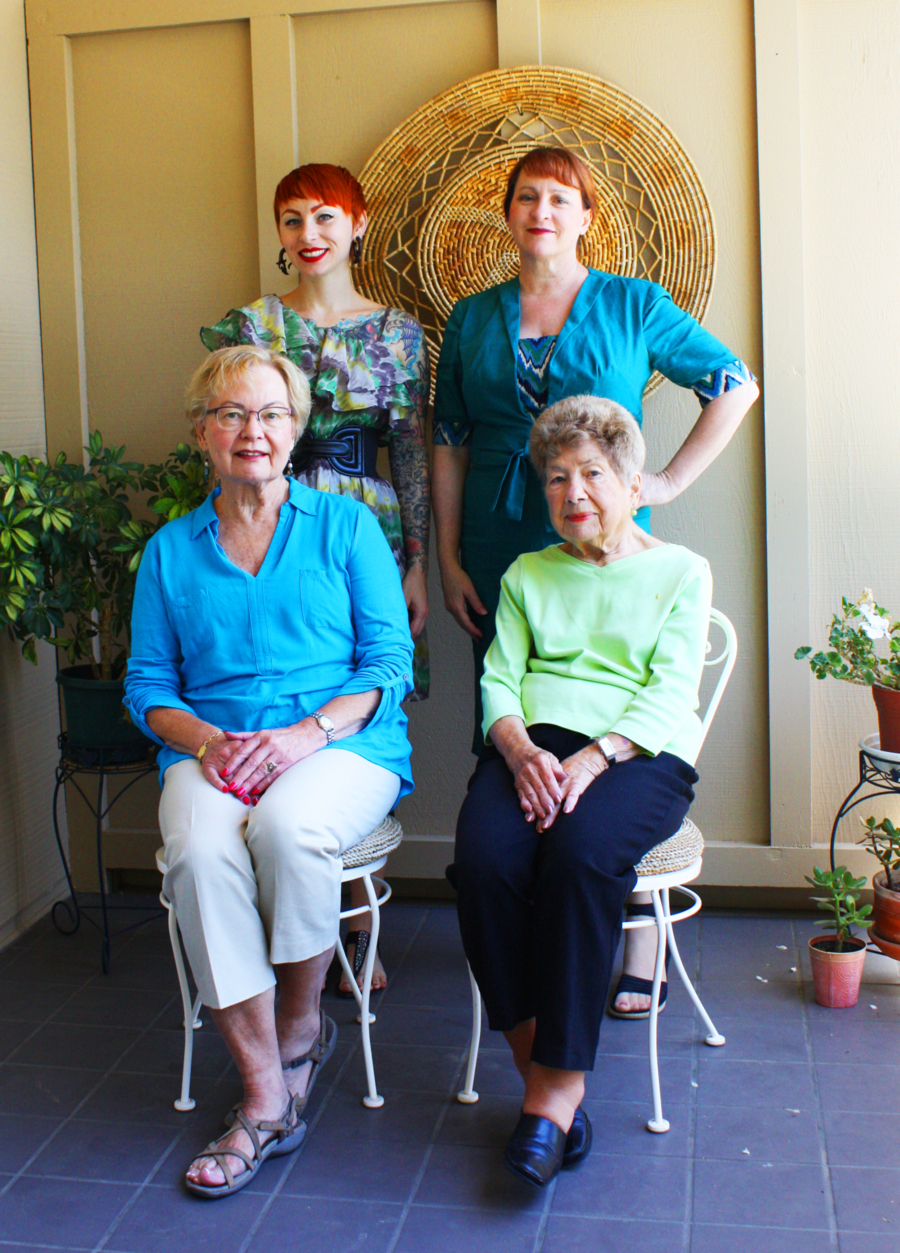 Four generations.
Grams insisted : ) I guess because Brittany wasn't around for Mother's Day my grandmother wanted a 4 generation photo with her so we obliged. My mom thinks my grandmother has a "list" of things to do before she "goes". I don't know what to say about that other than "ok" when she asks. I wore my Joan dress from the latest Mad Men challenge. Right color for the day : )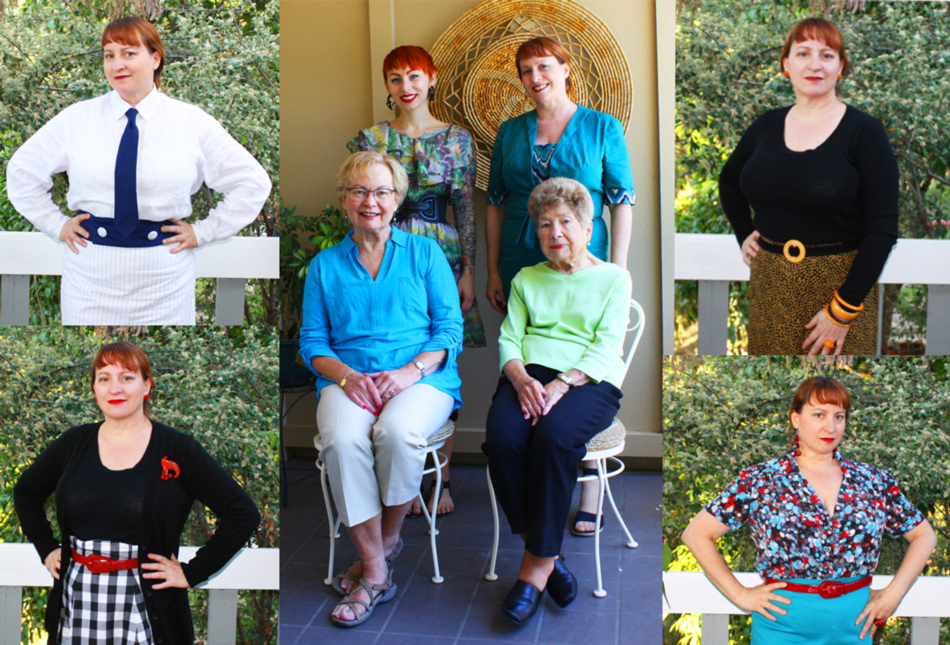 So that's my collage for week 4. I have to say I'm a little disappointed that I haven't been able to add more new things to my wardrobe. I've got lots of stuff cut out, just haven't had much time to actually sew. The real challenge has been to make sure I don't wear the same things over and over again, plan ahead so I'm not ironing a shirt at 5:30 in the morning and make sure I've got enough layers on to go from 50 to 80 degrees in one day.
I'm also quite happy that Miss Crayola Creepy has extended the deadline for the Gatsby challenge to June 4. I have a vintage dress that is falling apart that I would love to turn into something Gatsby-ish. Not my favorite era for someone with my boobage but I'd really like to see what I can come up with considering I pulled the dress from the trash. And I'm still futsing over my Lee challenge : )
So much to do…