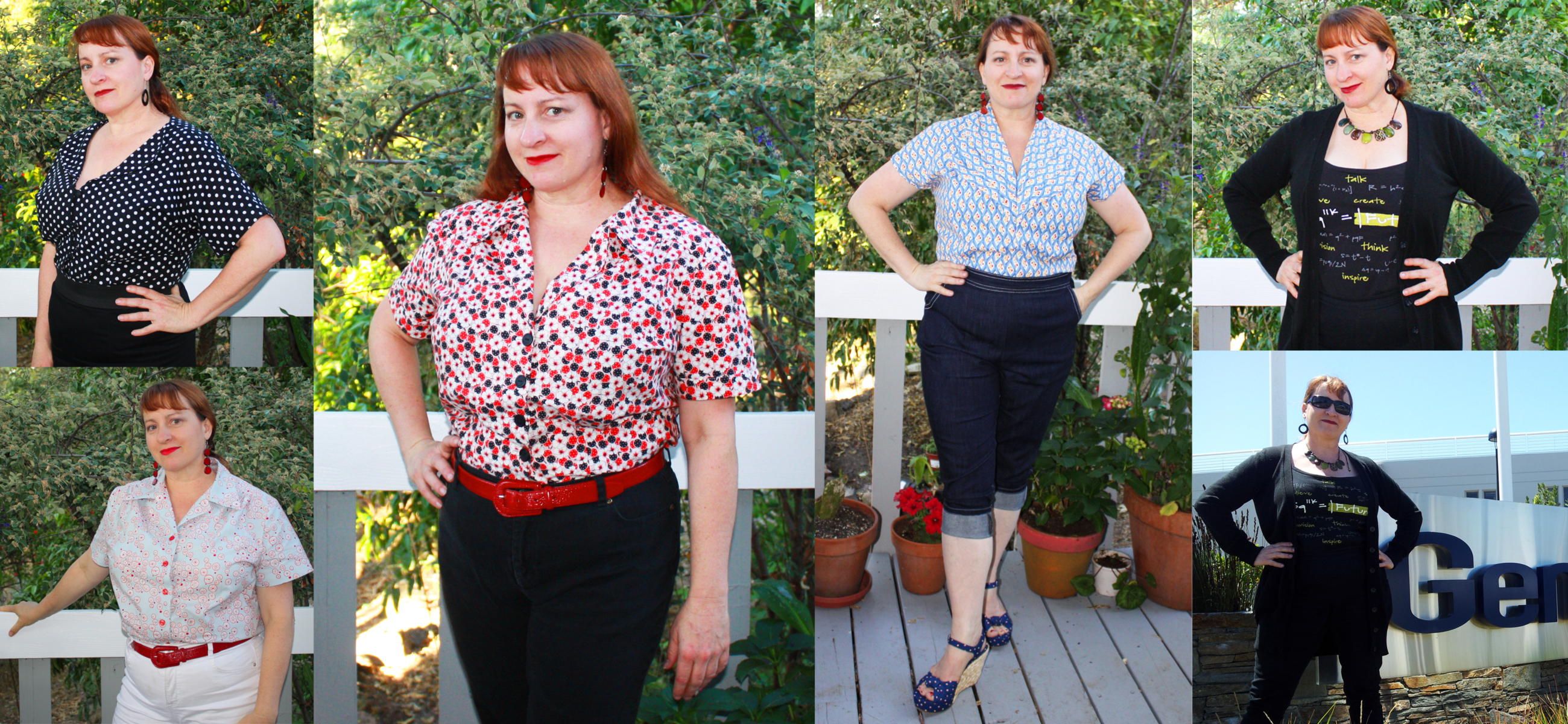 I only made 3 new items this week but boy am I tired!
First up, Monday: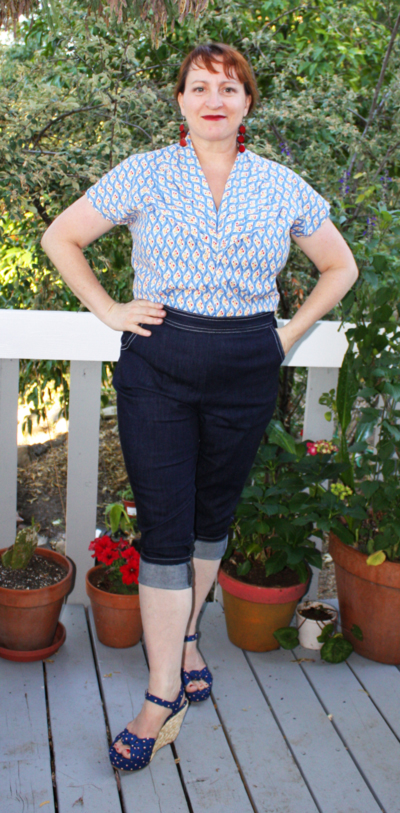 Memorial Day : )
We didn't do anything picnic-y, it was just a nice day to work in the yard, walk the dogs and finish up my Gertie pants muslin. The pants are Gertie's pattern Butterick 5895 and they are easy-peasy! What I'm wearing is actually my "muslin" since I found some stretch denim at Discount Fabrics for $2.98 per yard because it had mud on it. Mud washed right out so for less than $5 I got to try the pattern out.
I would STRONGLY recommend making a muslin of these pants. They are high waisted and while I took off almost an inch before I put the waistband on I'm tempted to take off at least another half inch. I also cut a size 18 expecting to take them in a little and ended up taking them in a LOT (like an inch out of each side seam), most likely due to the stretch in my fabric. In the future I'll cut a 16, fit them and use the flat-tummy underpockets like I did with my Gina pants.
I wasn't going to do anything fancy to them but ended up top-stitching them in white. The pockets are a little on the small side, a casualty of the fitting process, but still functional. Wouldn't these be cute with RED top stitching?
The shirt is from the Collar challenge last year. Again, wouldn't it be cute in white with red top stitching? Yes it would : )
On to Tuesday: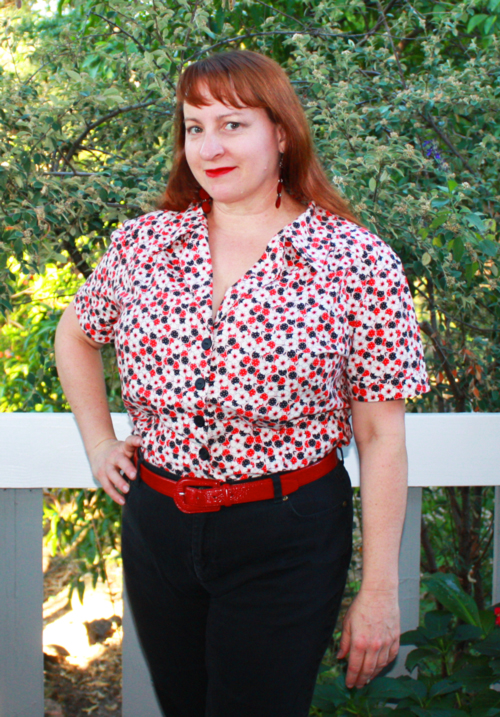 Love my cotton blouses but this is why I have to plan ahead and iron the night before. This also means sneaking into the sewing room so Stuart doesn't catch on and claim the ironing board as his.
This shirt was part of the shirt challenge last year. It's one of my favorites : ) Paired with black jeans it made that 50-80 degree day transition easily. I think I keep making these shirts because if I have a lot then I won't wear out my very favorites. Or at least that's my justification and I'm sticking to it : )
Wednesday —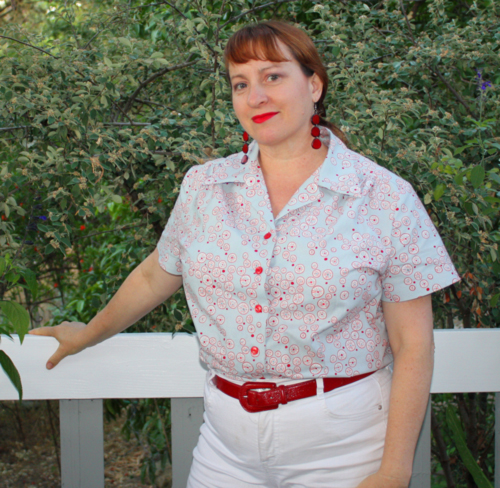 Ok, ok, I know what I said about a lot of these shirts but this is NOT the same pattern as the one above! Yes, it has gathers that seem to go into a yoke but this pattern has the back of the shirt incorporate the yoke so there are no separate pieces. Originally they used darts in the front and back but I turned them into pleats like the other shirt. I stitched the buttonholes a little closer than the pattern called for, they wanted 3″ spacing between each but I prefer 2 1/2″. It does NOT have the 3 little darts in each sleeve head that I love so : ( One of my resolutions this year was to incorporate more red/turquoise into my wardrobe and this shirt does that.
*I'd just like to add here that all photos are taken at the END of my day. I've been wearing the outfits you've seen for 12 hours, have biked three miles in them and already walked the dog…twice. I can see that my white jeans are a tad dirty, ah well : ) I DID brush my hair and reapply my lipstick but that's it.*
Which brings us to Thursday –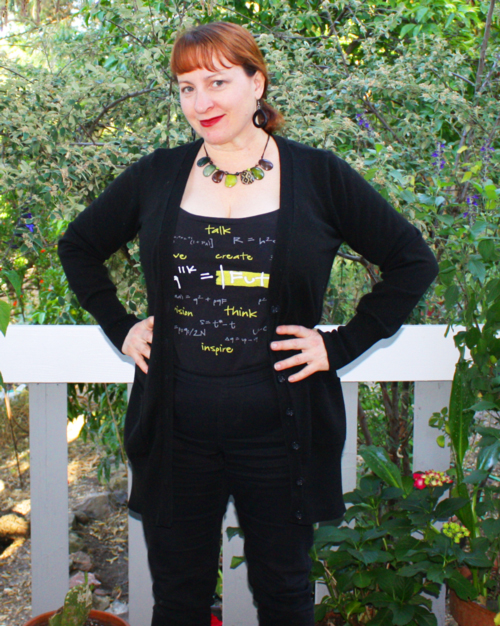 Thursday was a little chilly, once again there were two sweaters along with my cute tank top. You'll also notice in my collage I've got two photos of Thursday's outfit: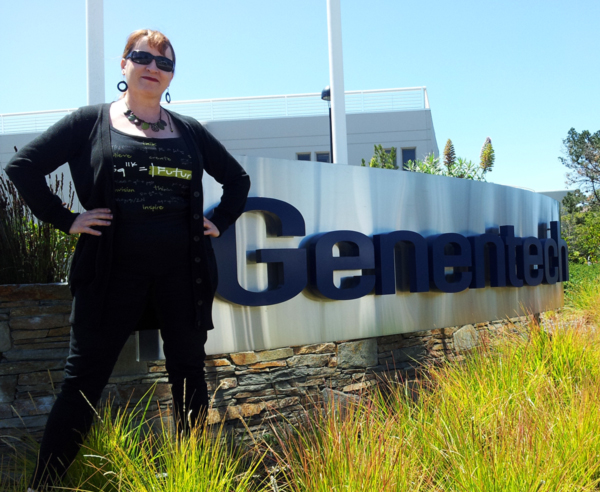 This is for Vicki, who just found out I'm one of "them". Yes, I work at Genentech in South San Francisco. This is the sign on our end of campus and the tank top I'm wearing is one of the many company shirts that are given out. This one was to commemorate a big think-tank-like project they did last year. I liked the graphics on it but the only style they ever order are crew neck shirts. I'm not a crew neck shirt fan at all, I'll slice and dice them every time!
This particular one I cut down, used the scraps for the edging and straps and it took me about half an hour mostly on the serger. I used a technique I use whenever I do underwear, dance leotards and swimsuits, which is NO elastic! Vicki was asking on Twitter earlier about how to use elastic in swimwear so in the next day or two I'll write up a whole separate post on how I do this. I'll use another shirt as an example and do a step-by-step set of photos so you can see EXACTLY how to do this and how easy it is.
Really : )
So I took a free cotton t-shirt, made it totally girly and cute and paired it with a 12 dollar pair of pants and long cardigan I bought at H&M years ago.
And finally…the end of the week and the end of the month…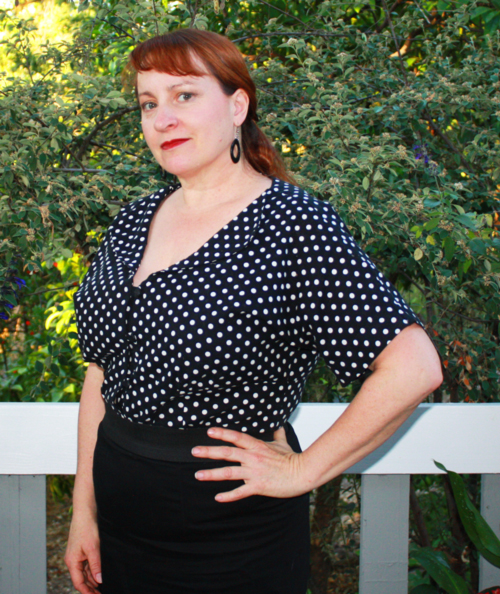 92 degrees. Feel the heat : )
The shirt was one of the first UFO's I finished last year, it has a nifty underbust corset that matches but it's in the closet today. The skirt is one I've worn before, it's my one seam, 4 dart, wide elastic for a waistband skirt. I have 2 more ready to stitch up on my sewing table, one in plum, the other in red. I didn't get to them this month : (
But realistically I DID wear at least one piece of clothing I made at least 5 days a week this month. Took some planning, took some stealth but I did it! One day I may not have to think about it so much but this was definitely a good challenge. Again, the challenge to get photos of everything proved to be the stumbling block but I worked through it.
Phew!
This weekend is the final weekend for me to get thing planted in the garden. We're heading into the nineties temperature wise which means the tomatos and squash will be growing like crazy. It also means the blueberries will be ripening : ) My poppy plants are coming to the end of their blooms, now we wait for those seed pods to mature.
I've also got new sets of cushions for the outdoor furniture almost done, a bench to make using all recycled parts including the upholstery (lots of pictures I PROMISE so you can make your own!) AND the deck. is. DONE. Hallelujah! It even has evening mood lighting : ) It feels like I'm making so little progress on my 52 things to do in 52 weeks but not for lack of trying. Maybe I can clear a few things off my list this weekend…
And cupcakes. I think we need cupcakes soon.