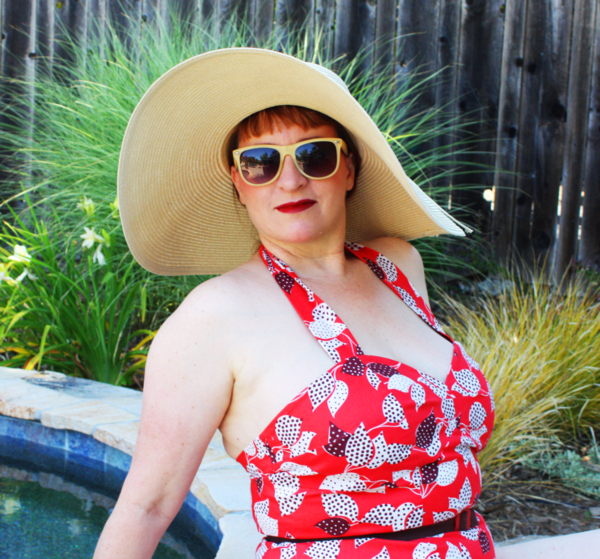 The ladies over at Three Dresses Project hosted a Swim-Along with SO MUCH great info I couldn't keep up! Closet Case Files released the Bombshell swimsuit pattern not long ago and I couldn't resist. I also had on my list the Mrs. Depew swimsuit pattern I made last summer but this time I wanted to try it in a plain non-stretch cotton.
Doesn't it seem logical to just roll everything into one big project? I thought so. It gives me that deadline I love so : )
First up – the Mrs. Depew pattern. You can look up my suit from last year here. Because so many vintage suits are NOT stretchy and I love the style of this pattern I thought I'd give it a go. The fabric is a remnant I found at Stone Mountain a while back, I was looking for something vintage and tropical floral inspired but nothing jumped out at me. This print had the vintage quality I was looking for and the added bonus of being less than $5.
The only thing I changed about the pattern was cutting the center front panel as well as the lining panel on the bias. I read somewhere that would give a bit of stretch that might be needed. It was not the best idea I've tried. You see me sitting down doing a Vargas-ish pose? That's on purpose. The bias created a funny pouchy hem that in a better world I could fix.
Here's the deal – the "official" weather people haven't classifed our weather as a "heat storm" (yet) but every day for the last week has been over 100 degrees. We literally went from rain and wearing a JACKET to so hot I'd go naked if I could. Anything over 105 and there just aren't any combination of fabrics or cut that makes clothing comfortable. If I lived in Arizona like Tempest I'd have coping skills. I don't, there's a reason I don't and you have my utmost respect, m'dear. You've also got HVAC and I don't : ) Someday I will fix the suit front but if you want to make this out of a non-stretch fabric  just cut the pieces the way the layout suggests. It's actually very cute, almost like a sun suit but a tad short in the behind for me to wear outside my back yard.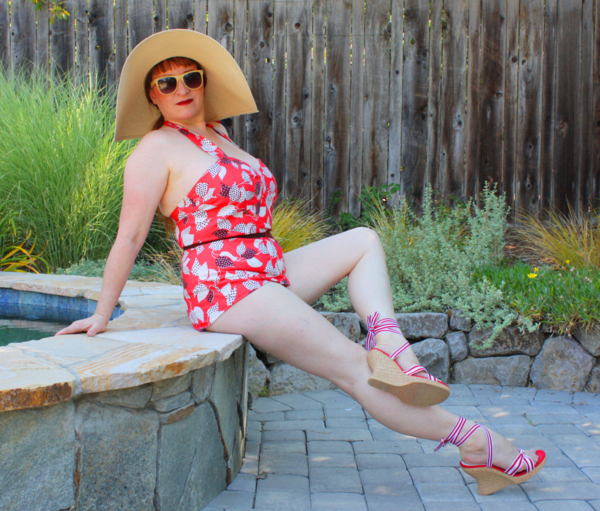 It took 2 episodes of "The Big Bang Theory" and 1 episode of "Rizzoli and Isles" to sew this gem up. It fit pretty well but to do fine tuning I'm going to need to phone a friend, Regis. And my fitting friend lives in a city that somehow manages to be 3-5 degrees WARMER so that's a no go for now. My next idea was to make a skirt to go over it like this one, maybe not as long and full. I even made a trip to Joann's to get red cotton to match the background! I got it halfway done and set it aside to finish up the bombshell suit and then sadness…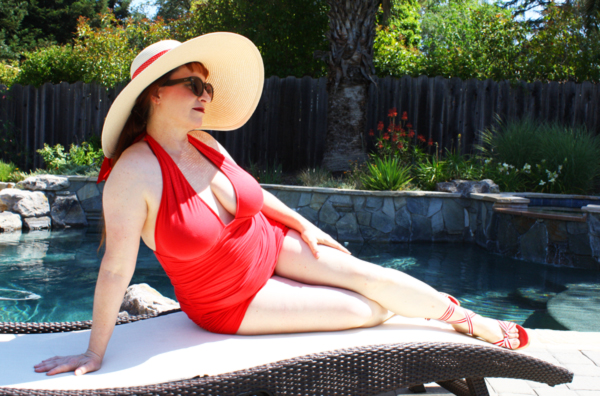 The suit is cute, don't get me wrong, but this was the best photo Heidi took and all I could emotionally handle. I still feel a little vulnerable putting it "all out there" like this (and some jackass comment that hit my email this morning via Flickr didn't dispel that feeling any!) PLUS the HEAT! When I got to Heidi's Sunday morning it was 85 degrees. I think we shot both suits in less than half an hour, I jumped into her pool for a couple cooling down laps and left. It was 98 degrees going back home.
Yes, I realize I'm showing a bit of boobage; no, I didn't insert cups into the top of the suit (I hate feeling like I'm still wearing a bra) but to quote a favorite Faire saying "You can see the apples but no stems so all is well".
How do I like the pattern? It's pretty good. Which suit nearly brought me to tears? This one, and not because it's hard but a word of advice – follow the directions EXACTLY as they're written and you'll be FINE. Don't try to skip ahead or figure it out on your own, like we do with big 4 pattern company patterns.
What nearly had me in tears was MY choice of fabric. Last time I was at Stone Mountain I was looking through their knits, mainly wanting something just to use as a muslin when I found red rayon lycra ON SALE! It feels so nice, so soft and has wondrous stretch! And at $5 a yard I brought home 1 1/2 yards, pre-washed it and thought I'd cruise through.
Nope. My machine REFUSED to sew it. And by refuse I don't mean it skipped stitches and hemmed and hawed, I mean REFUSED to even make a stitch. I own every knit/stretch needle that Schmetz makes and NONE of them worked. I know the machine has (ahem) "issues" but this took the cake. Finally a size 14 universal needle worked if I was sewing at least 2 layers. It would NOT, under any circumstances, GATHER. You see all the pretty gathers? Hand gathered. As in needle-and-thread Little-House-on-the-Prarie gathering. It beat throwing the machine out the window and crying. And only took an hour after I'd spent almost 2 trying everything anybody recommended.
Once the gathers were in stitching through multiple layers and the elastic was fine. Completely, utterly and perfectly fine. BUT that and the heat gutted my desire to sew the cute little skirt for the other suit. Or take a ton of photos. Or do much else but take a nap, which I did Sunday after the photoshoot.
The OTHER events that derailed my sewing were the decisions handed down by the Supreme Court that tossed the worst of DOMA AND the hideous Prop 8 here in California. All my gay friends now have the right to marry legally and be able to get things like spousal benefits and tax deductions. This is a HUGE deal and one that makes me and many of my friends over the moon with delight. To celebrate, and because it was Pride week in San Francisco, buildings gilded themselves with rainbows : )
I saw photos on facebook, stunning photos going viral of stuff happening a few miles from me. I REALLY wanted to go into the city after dark to see for myself but since I spend 5 days a week commuting the thought of one more trip in held little attraction. I sent a message to a professional photographer friend to see if he wanted to go and after some negotiating he agreed! We left my house just before 9pm and stopped by Treasure Island. For those of you who don't know Treasure Island is a completely man made island connected to Yerba Buena which connects the two parts that form the Bay Bridge. The World Faire of 1939 was held there, and so MUCH cool stuff has gone on in and around there that I could devote post after post to it but that will wait for another time.
This is my shot from the shore looking at the half of the bridge that goes into San Francisco: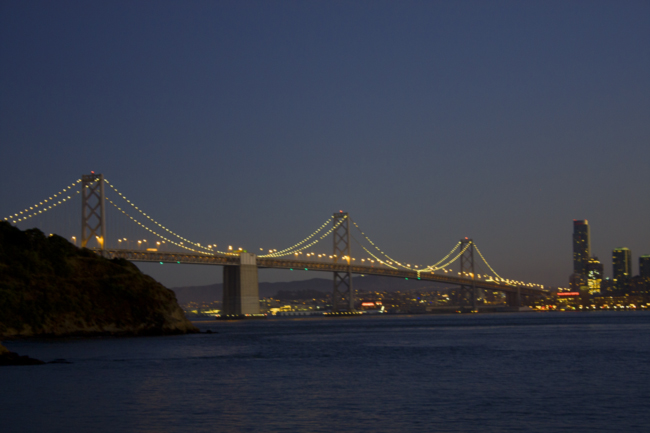 What you can't see just yet is the Bay Lights show that happens every night. As cool as that is, and it is VERY cool, I wanted to see the colored lights so we hopped back in the car and followed the bridge to Oz : )
Our first stop was Coit tower and sadly none of the photos I took with the "big" camera came out as well as the Instagram shots. Honestly, though, they're kind of "boring" compared to City Hall since the tower is a cement cylinder that the locals make suggestive jokes about. The panels of color went vertically and it was a little hard to see more than one color at a time. The tourists LOVED it but it was chilly (!!) so on we went.
Next stop – City Hall! You can just see John and his son in the lower left corner. If you look at my Instagram shots for the night the light is actually a little better but let me tell you, this was pretty amazing! We're standing in the middle of Civic Center plaza that was crawling with people setting booths up for the Pride parade the next day and the nightime denizens. Interesting combination of cultures : ) There is a large stage in front of City Hall that is normally not there so you can't see the lovely steps.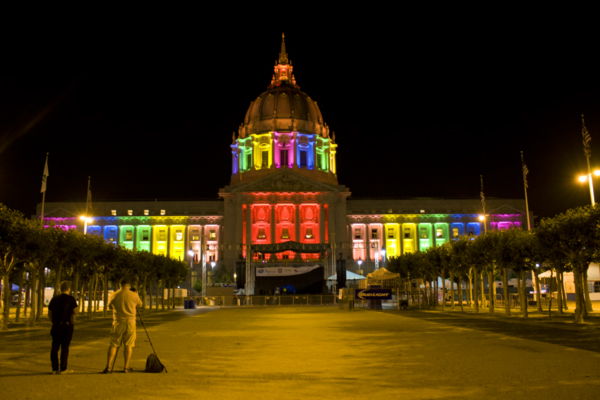 When the Giants won the World Series last year the building was black and orange and at Christmas it's red and green. We are a festive lot : )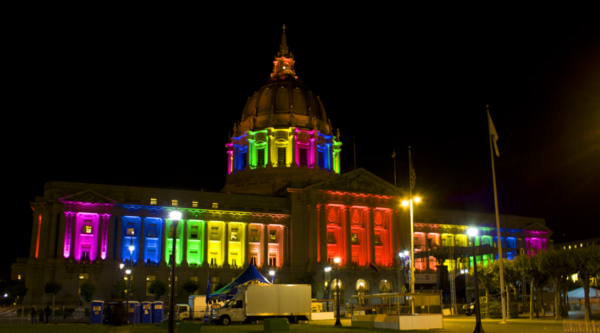 Behind City Hall is the Opera House. The very same and actual Opera House Richard Gere took Julia Roberts to in "Pretty Woman".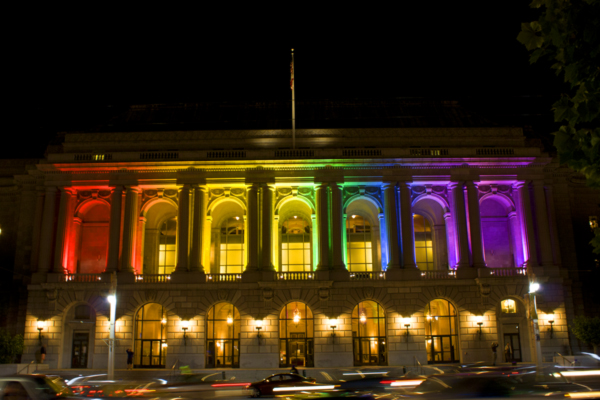 By this time it was 11 pm and as late as that feels to this suburbanite the city was in full swing. Buses driving down Van Ness all had this sign. It gave me goose bumps.
The back of City Hall, a last look as we decided to go home. Those wires overhead are for the electric trolly's, different from the Cable Cars (and not nearly as charming). Buses, trollies, cable cars, bikes, car sharing….so many ways to get around the city! You'll notice I didn't list BART. Hah! As I write this BART has gone on strike and completely shut down. The 400,000 people that ride it DAILY are either driving, taking the ferry, taking buses or staying home. I don't have the option to stay home and frankly with the temperatures firmly in the triple digits everyday it's kinda nice going somewhere we sweaters are still a good idea. Genentech provides shuttles on a daily basis, they just added shuttles so anyone needing to use them wouldn't be turned down. I now get up at 4:15 to get to the station in the next town in time to take the first shuttle that gets me into my office at 7:30. At night I don't get to sleep as early as I'd like since it's still hot so hello sleep deprivation.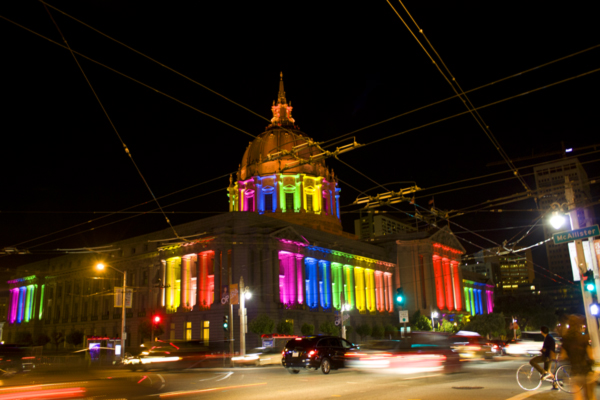 I am working on the leotard post, maybe have it done on the holiday. I've also got the Lee challenge done but not photographed, and I've made 2 new skirts, 3 new blouses and a slew of hats! Not to mention the upholstery projects…and none of them are photographed yet. I have really been quite productive, you just wouldn't know it by looking at my posts!
The magnolia dress is still out back, it has faded to a lovely even milk chocolate brown. I still take pictures of it every night so soon, very soon I'll get the slide show put together.
Wow, the year is half over. Were did the time go?