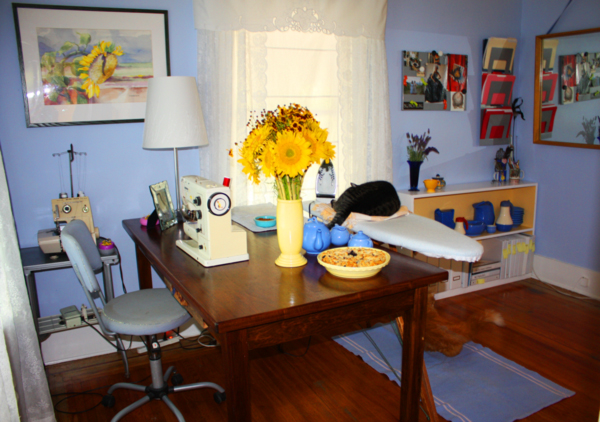 After a week of sorting, packing, tossing and scrubbing I finally have a semblance of a creative space! To celebrate I made Sue's scone recipe and added blackberries and some tea, that I then iced down since the weekend turned warm : )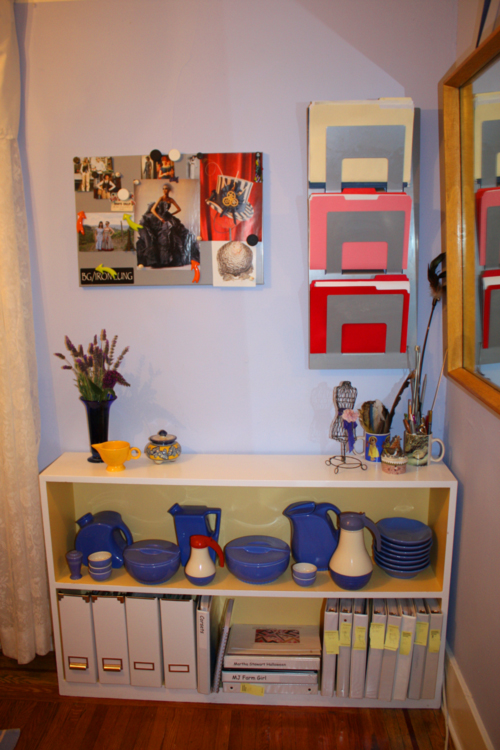 This is my "storage" corner. The file boxes hold patterns still to use, the notebooks all my goodies like downloaded patterns, craft ideas and that whole series of binders with the yellow post-its on the end? Print outs of Retro Deco Settings so people like my grandmother, who don't use the internet, can read my posts. Sometimes it feels like a dream, like I didn't really do an entire years' worth of tablesettings but then I trip over yet another box of dishes or cloths and oh yes, it was real.
The blue dishes are refrigeratorware, collected over the last 9 months. Made by Hall, this is what refrigerators came with for storage, no plastic here! Except for the lids on the syrup pitchers, and here's my one big question – how much syrup did people go through for a syrup pitcher the size of the large juice container be in production (the one with the blue lid)?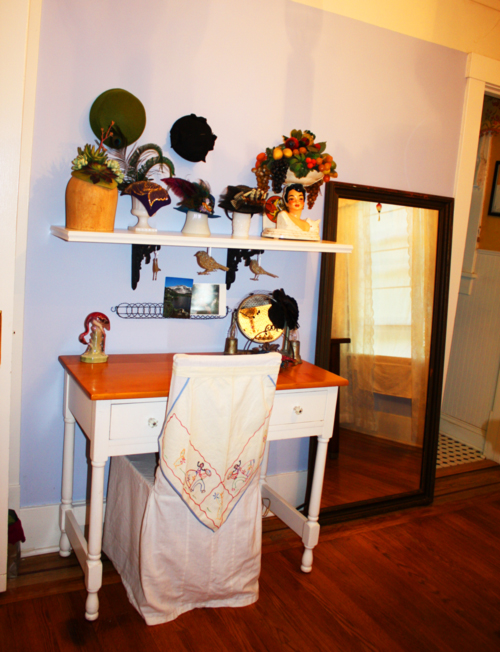 This side of the room holds my desk, which really means a surface to hold projects in progress and a drawer for all those things you don't quite know what to do with! I made a simple white cotton/linen slipcover for the wood chair. It keeps the room looking light and airy in the summer and makes a wonderful cat hide-out. I tied an apron that is too cute to be in the drawer around the top of the chair.
The upper shelf holds some of the hats I've made for Sew Weekly challenges along with my Carmen Miranda china head. It came with all the original plastic fruit, a little dusty, but all in good shape. I was going to update the fruit but whoever made this glued those suckers in there in a way that might damage the piece so they stayed.
That very large mirror is a family heirloom. My great-grandfather made it, he was a carpenter in the Sacramento area a hundred years ago. When my great-grandmother died he asked friends, and clients, of his to raise my grandfather. We have so few pieces from that side of the family and this may very well be the only thing that he made that still exists. It is HEAVY, solid wood frame, with a thick mirror whose backing is pretty good and while the finish is flaking I just can't bring myself to change it.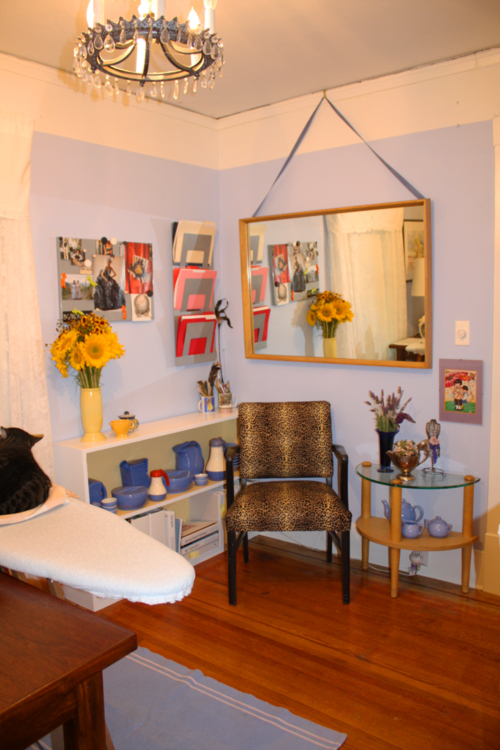 I used to work at a junior college that had a history of flooding : ) Most of the floods only involved a few inches to a foot of water but one time we had a doozy with almost 5 feet of water covering the entire lower level, the level we stored the furniture and costumes along with the costume shop. Our dry cleaning bill alone came to almost $100,000 dollars : ) There were several chairs that had originally been library chairs, covered in a delightful selection of orange, green and brown vinyl that I always loved under their icky plastic skins. As the decisions were being made to keep/toss my co-workers decided they were tired of the tacky chairs and were going to toss them into the dumpster. I rescued them and through the years re-did them. Since I firmly believe that everyone should have at least one leopard print chair I stained this one ebony and found a cute leopard-printed twill. It took less time to re-upholster the chair than sand and stain it : )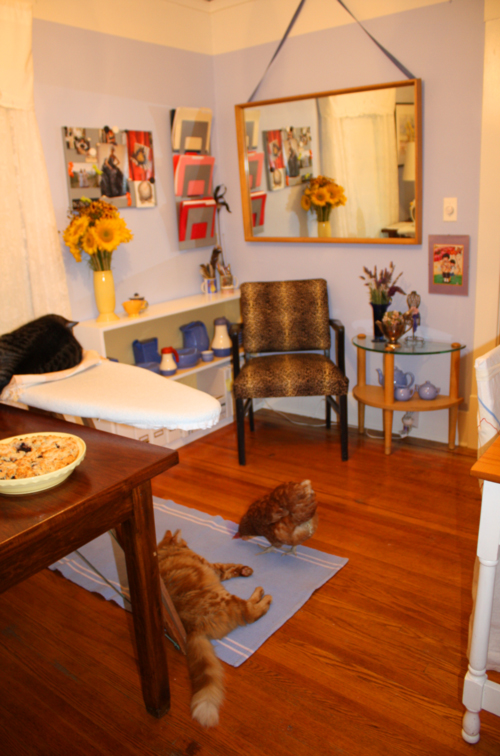 This is my reality. Yes, there is a cat on the ironing board (that would be Zoe), one on the floor (that is Ashton) and a chicken. Zoe was so excited about the room being put back together she claimed the ironing board as "hers". She's resting on the plaid tablecloth I was going to use for the tea party.  Ashton loves the floor rug and is more than happy to share it with Amelia, the rescued chicken. More on her later : )
There will be more tweaks made, stuff added, stuff taken away. But for now this is where I'll be able to put together those fabulous Sew Weekly creations. Now I'll work on getting some of my past postings put up here with more details. Someone asked about the shoes I wore with my last challenge skirt, the red-and-white striped espadrilles. You'll see them again this week so just hang on…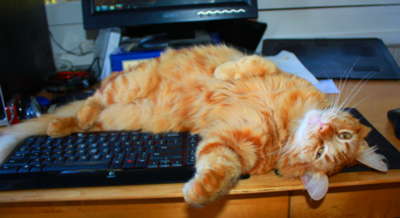 This is how I write my posts : ) How can you resist that face?