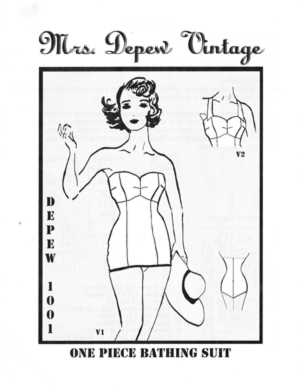 The lovely Mrs. Depew stopped by to take a gander at my suit!
Not only does she have a great pattern but she's just re-done her website so that any patterns purchased can be instantly downloaded instead of waiting for an email. For those of us who like immediate gratification this is great news. I HIGHLY recommend this pattern for those looking for a vintage style suit, and I don't highly recommend much or often : ) Here is the link to that specific pattern:
http://mrsdepew.com/beach-patterns/one-piece-bathing-suit.html
Be sure to check out her other items as well. I've got my eye on a blouse pattern and maybe the beach shorts… And who knows, with Gatsby coming up I may consider a 20's dress.
I've also started compiling a blogroll, yeah! What I've added are just some of the amazing sites of my co-contributors to the Sew Weekly party.  Here is a "brief" description of each one:
Kazz the Spazz – a woman into tribal inspired fabrics and fashions who definitely marches to the beat of her own drummer. Graphic and bright, she resides in Melbourne (if you don't know where that is find a map) and makes me want to explore her stunning city and then sit and have a chai and pick her brain.
Absbloominglutely – Tempest Devyne lives in Arizona, the land of H E A T. This is a woman who is fearless, funny and quirky with an enormous heart. Check out what she did for the "Olympic" challenge : )
Ginaclarkstyle – Gina lives and breathes fashion. Talk about taking risks, she showed up to a construction site to do photos in not much more than a shirt! OK, she had shorts on under the shirt but you couldn't see them : ) If you don't think that's brave try it yourself sometime.
Lilacs and Lace – Laura Mae makes some of THE most amazing vintage-inspired outfits. She's got the skills, the look and the tutorials and I was lucky enough to meet her a few months ago when Mena, of Sew Weekly fame, hosted a swap at her house. This lady has some serious talent and is willing to share her techniques.
Quiet Vintage Sewing – Trish is another Aussie who originally hails from New Zealand. She did a skirt a few months ago out of vintage tablecloths. Amazing! She has some serious vintage style in her home and her wardrobe. Be sure to check out the skirt she made for the Yellow challenge, think PINEAPPLES!
The Cataloguer – Liz describes herself like this: "I read, I sew, I eat, I watch TV and movies. That's about it." What else is there? She is seriously cute, takes chances and puts it all out there. How can you not love that?
The Dreamstress –  "Leimomi Oakes is the Dreamstress, a textile historian, seamstress, designer, speaker and museum professional."  She is a fellow historical costume person! One of these days I'll drag some of my creations out of the dark but for now take a look at some serious talent on this woman's site. She recently wrote about the evils of acrylic fabrics. Read it and then never use the stuff : )
And finally, for now,
The Slow Steady – Lee lives in Brooklyn with a tag line that says "I'm not that hardcore. But I am consistent". Her submission for the Yellow challenge was adorable, and genius. Great minds think alike since we both did a version of Rosie for the 40's challenge : ) She has also done some amazingly cool shorts. Check her out.
This is by NO MEANS a complete list of all the fabulousness out there! This is just what I had time to start with.