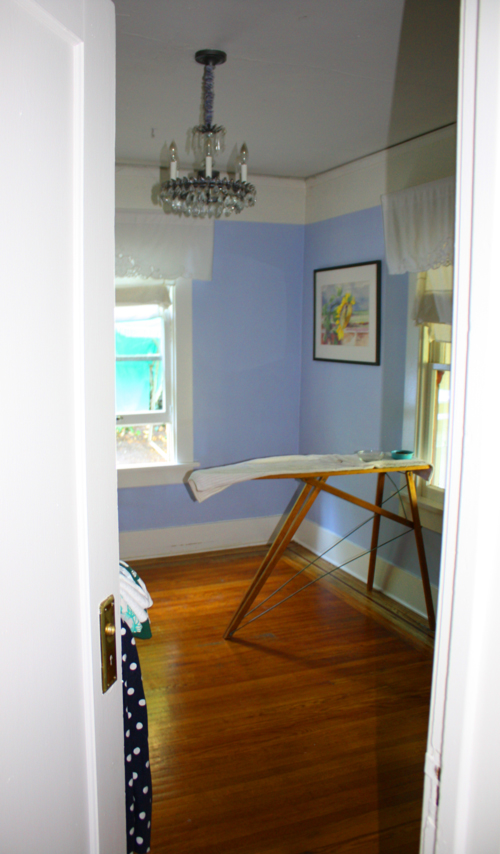 Welcome to my new blog!
After a year of blogging about tablecloths, dishes and things domestic I'm now opening up my life for all to see!
My crazy world revolves around my daughter, my animals and my projects. As a guest contributor to the Sew Weekly blog I'll talk more about the challenges each week and my processes, so that I don't end up writing small novels on Sew Weekly : )
The above photo is a glimpse into my sewing room – I've emptied the room of furniture (except for the ironing board that Zoe likes to sleep on, and a chair holding the closet door open) and am scrubbing furiously. It's taken me WEEKS to get the piles of dishes, boxes of silverware and scads of napkins tamed.
Let's get real…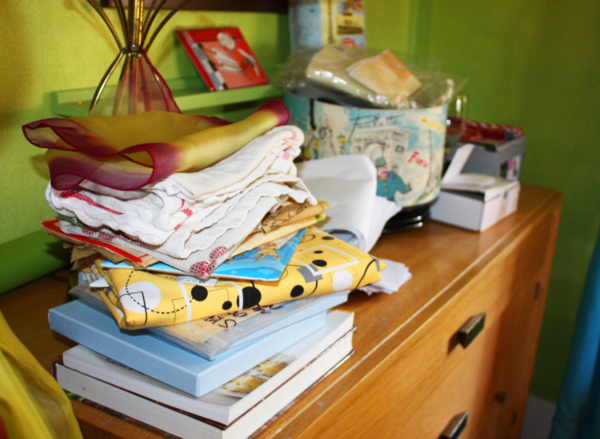 Many of the dishes and accoutrements are in the dining room : )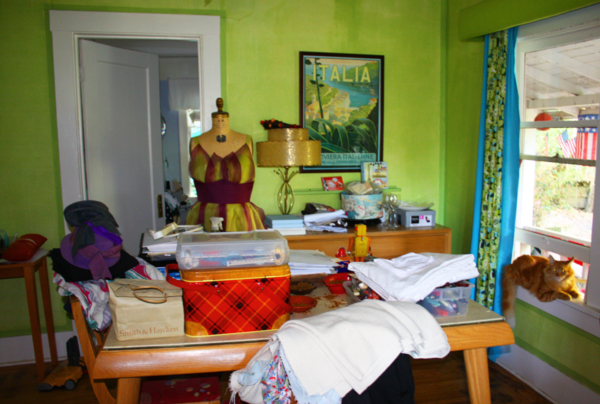 You can see that I've merely shifted some stuff but I SWEAR I'm working on finding things homes, honest…
The one thing I'm very excited about it my sewing table. I rescued it some years ago, it had been kept outside in the elements and used for miscellaneous painting projects. Its legs were multiple colors, someone had let thick royal blue paint puddle on the top and drip down the drawers…so sad.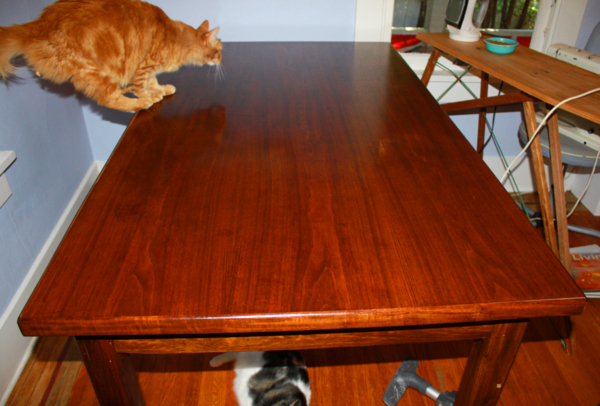 I brought it home and used it for a few years in its sad state and last year finally sanded it down. Unfortunately we weren't fast enough bringing it in and it was rained on. It was ok but this year I managed to get it re-sanded, re-stained and repaired. Isn't it glorious?
It's actually an old library table, built by Hoosier Desks, most likely from the 1950's. It was in a public library for many years and then replaced with those oh-so-attractive plastic and metal desks in the 60's. It is SOLID and HEAVY : ) You can see Ashton (the orange kitty) and Stuart (underneath) checking things out. I think the table had been up for a whole 30 seconds before they moved in.
Now I am re-assembling my sewing room. I will also get some background posts up as quickly as possible to show some past projects, like the painting technique I used in my succulent inspired dress and some hat making techniques.
There will be a little bit of everything landing in this spot so be sure to check back in!