The Facts
Fabric: 3 yards cotton plaid from Stone Mountain & Daughter
Pattern: Butterick 5898
Year: 1930′s
Notions: One zipper, interfacing for hat, bakelite belt buckle all from stash
Time to complete:  5 hours
First worn: September 2012
Wear again? This fall
Total Cost:  ~$18.00 I think
I've owned this pattern for at least 25 years, I even remember buying it at L'acis when my daughter was 2 and Kaethe Kliot, the owner and lace expert, would give my daughter little toys to play with while I shopped. I've made all the versions at some point or another and what drew me to this was that collar, the one with the buttons. I had originally planned to use this for the collar challenge (wouldn't it have been perfect?!) but plans changed and I'm very happy they did. Check out my inspiration: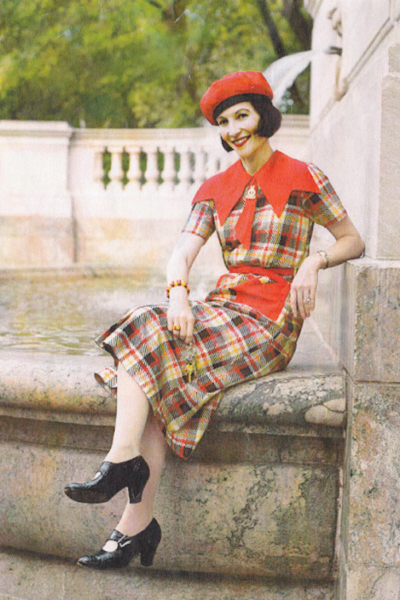 Isn't she adorable?
This amazing lady is Heidi Rosenau, a dancer who has the best vintage clothes collection!
You can see the full story here.
This was number 13 of 13 different outfits she put together, if you want to see all 13 you can find them here.
The key was the fabric and I was fortunate enough to find a few yards of a white plaid. I used a red cotton gabardine for the collar, I wanted something with body that didn't necessarily need to be interfaced AND it needed to be sturdy enough for the hat. That hat takes the whole dress from cute to fabulous : )
The pattern is easy – took about 45 minutes to cut out the four silly pieces needed (front, back, sleeves and bow) because I needed to make sure the plaids matched. Stuart had to help hold the pieces down but his timing for letting me move onto the next step needs some work. There are 10 darts in total and I may add another set in front to help fit the bust-waist-hip a little better. It *should* have taken me about 2 1/2 hours to make this dress from beginning to end but I had at least 3 other projects going at once so everything took twice as long since I didn't have a consistent train of thought going. That in itself was fine, but when I came to draping the collar and tacking it down I just didn't like how it turned out. I don't think the bow ends are long enough and I actually lengthened them a bit! I tried different loops, knots and buckles and finally settled on a fairly large yellow bakelite buckle to hold everything in place. I think it took a little over an hour to get that right and then the buttons shown on the pattern seemed superfluous.
When it came time to get dressed the belt and buckle I originally chose looked awful. I tried a couple other red belts and my daughter and I both agreed that the wider elastic didn't completely suck. We headed to our local park to do photos but it was so hot we'd take three or four and go pant in the shade.
So here I am, wearing hose and brushed cotton (almost flannel) in 98 degree heat : ) I think in another month or two the dress will be great but today…not so much. I'm also going to make a simple belt using the same red fabric as the collar and hat, and I may go so far as to try a red pocket like my inspirational girl. I did notice that the plaids don't match up at her side seams : )
One of the things I'm working on with great speed and with brain-power-sucking detail is our whole set-up for the Gatsby picnic next week. It is going to be SO CUTE, stay tuned!!!!
Coming up next:
I'll post a quick tutorial on how I did the hat. I've been (temporarily) removed from my sewing room –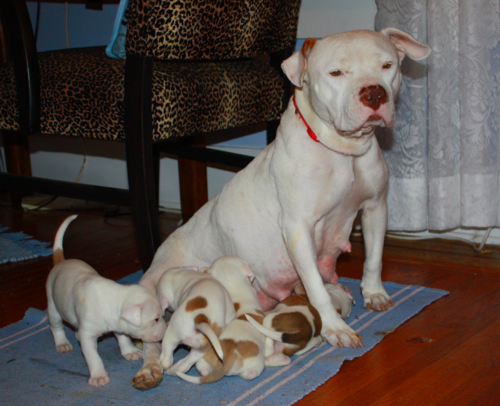 This is Chloe and she has eight babies : ) We're fostering the whole family until the babies are weaned, then the rescue that "rescued" them will send them in pairs to other foster families to teach them some manners and socialize them. We will keep mom, take her to classes and give her a home and love until she is adopted. We only know part of her story right now – that she was stolen from her family three years ago and they now have 3 dogs and don't want her back. I don't know what happened to her in the meantime, how she was found etc. But she is a VERY sweet girl and a good mama so we'll give her everything she needs until she finds her forever home.
And in the meantime that means I give up my sewing room : )