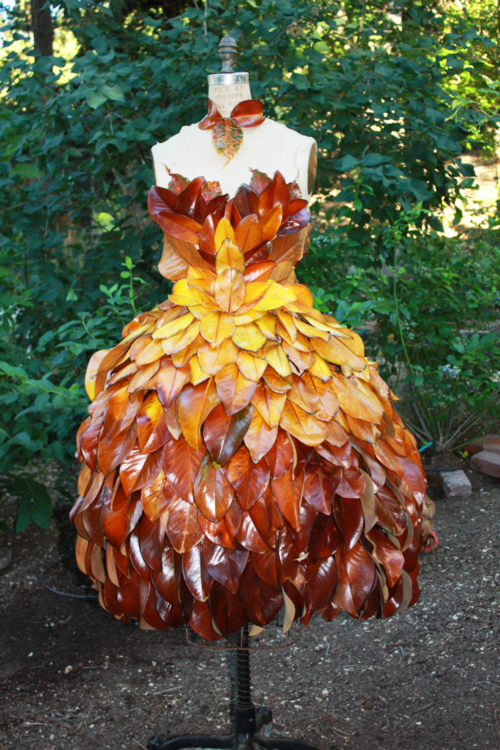 What happens when you've spent all week working on things on your "To Do" list and you just don't want to do one. more. thing?
You make yard art : )
Inspired by several ideas I've seen floating around facebook-land (and no, I didn't save them anywhere except in my brain so I sadly can't share them with you…right now…I'll find them again at some point but that isn't today) I found myself wandering down Main Street yesterday, looking at the different colored shiny magnolia leaves laying about. Was it because I didn't feel well earlier this week that these shiny objects held some fascination? Or were they just pretty?
I picked up a few to bring home to contemplate. Somewhere late Saturday night I got the idea to make a dress using chicken wire as the base and then attach the leaves, dark ones at the hem and the bright yellow at the waist. I had no idea how many leaves it would take, how long it would take or how I was going to attach them but hey, I had a vision and who needs to worry about details when one has vision?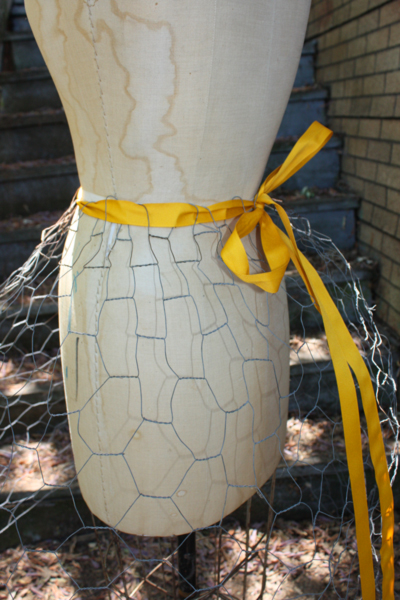 I pulled out a mannequin, grabbed a hunk of chicken wire and made a skirt of sorts : ) I used the ribbon for a drawstring waistband and pinched the cells of the wire close together near the waist to shape the skirt.
Then I sorted the leaves by color: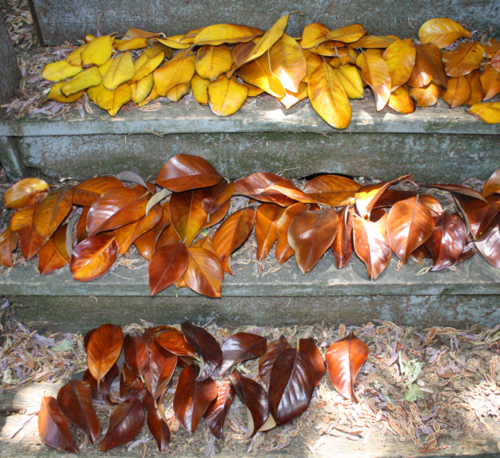 Light to dark, this is most of one full grocery bag that I collected on my walk with Romera this morning.
I still had to figure out how to attach them. I tried staples <snort>. Don't use staples. Then I found a spool of thin craft wire. I cut 2″ pieces, bent the piece in half and stuck it through the leaf and twisted it around the chicken wire. Perfect! Starting at the bottom I worked my way up to the waist, took about 2 1/2 hours and I had to run down the street for another bag of leaves. I'm now the crazy neighborhood person who hunts for "stuff" under trees, picking up and keeping some leaves and leaving others. Whatever : )
For the bodice of the dress I merely pinned leaves to the mannequin. I decided not to glue or sew anything. The whole point is to let the leaves do whatever they're going to do; dry out, crumble and fall off, it's all good. When this piece is "done" it will go back to the earth from whence it came. Or into the green can.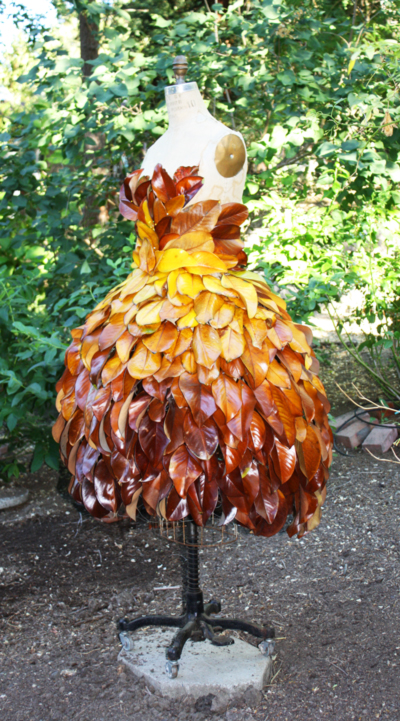 Right now she is just hanging out with the chickens –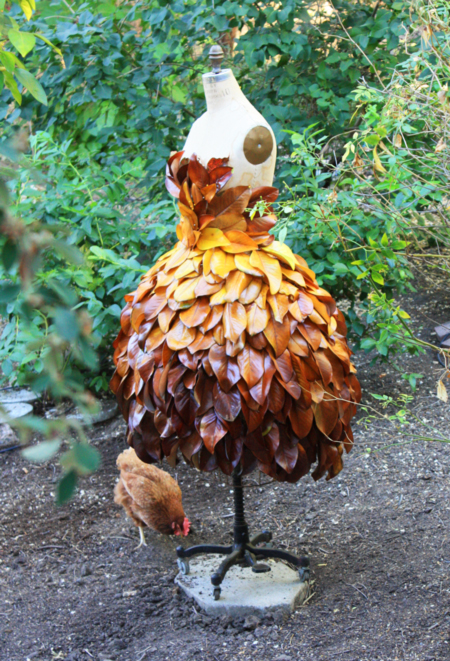 Amelia came over to check her out…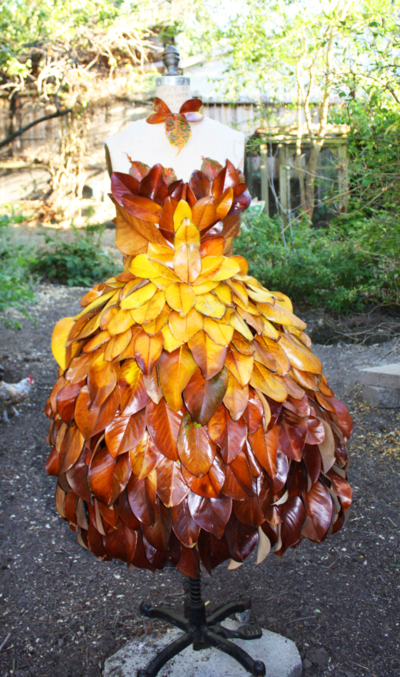 …as did Pouff ( left side, about half way up).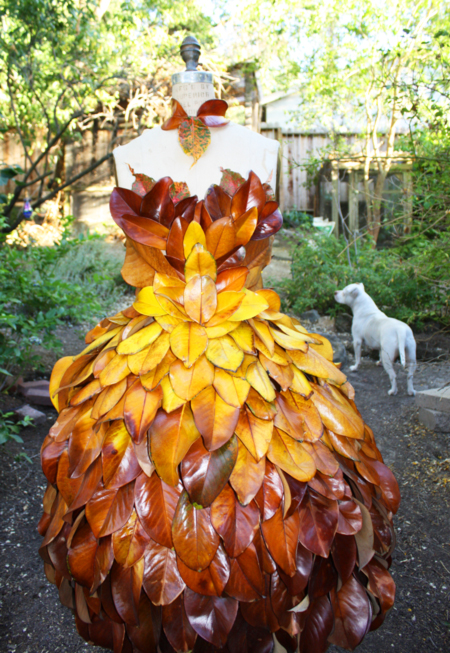 Chloe was more interested in the cats.
It worked out more or less the way I wanted it to. It's quite a statement!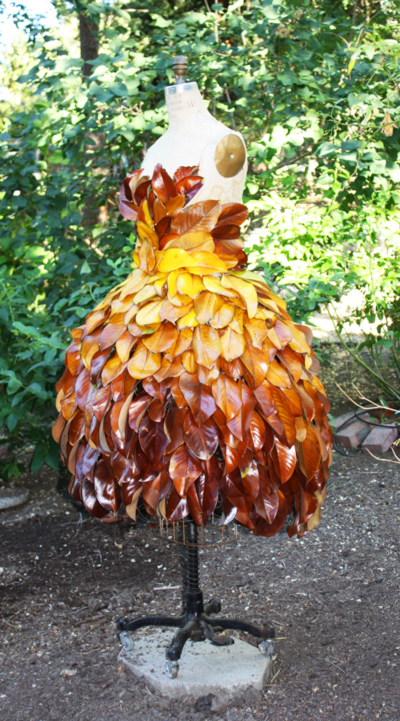 Just for the fun of it here's the side: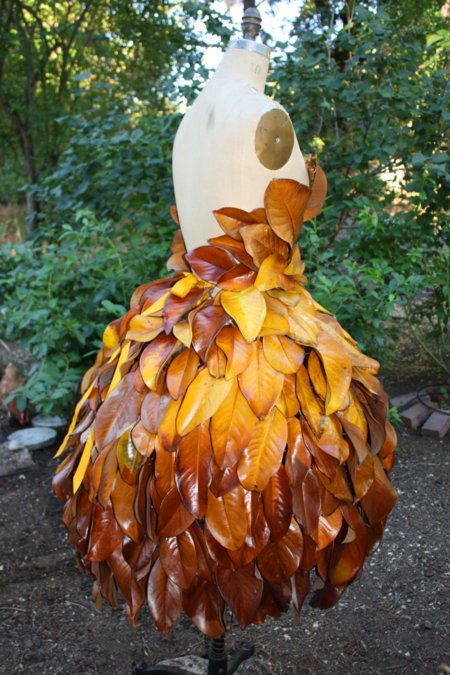 And the back: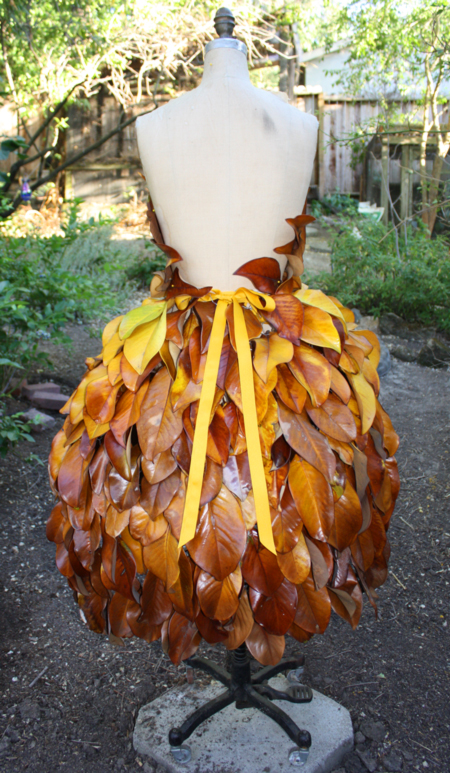 You can still see the bow that is holding the skirt on/up : )
And finally, just because it's cool, the inside –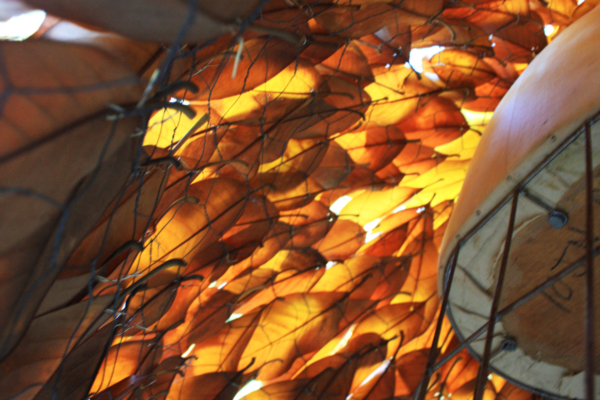 I have all the photos done, I "just" need to write the post for making a pair of dance trunks/short/underwear using NO elastic. It was one of the things on my "To Do" list that was making me groan. Maybe tomorrow…
For now you get a dress made with no thread : )