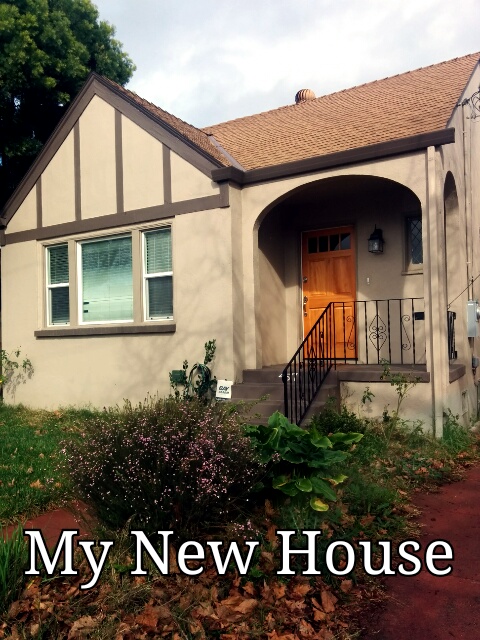 (exhale)….
Ok, breathing again….
We are alive. We are doing pretty well all things considered. And I never, ever, once imagined that life would take the route it did.
Three months and three mortgage brokers later, I bought a house. Yay! I had about two and a half weeks to find something and then I had to figure out how to move 21 years of accumulation.
I rented a pod. I rented a storage unit. Friends came and helped pack. The chickens went to my daughters house, the cats were split up to several fosters, the bun is up in Napa having the time of his life with a new doggy sister…
And we are 'homeless'. Technically, even though I own a house, we are homeless. The sellers are still in the house, they won't be leaving until the first part of April so we have no address we can get mail delivered to (other than my parents), have no utility bills, nothing to "prove" where we live because we're couch surfing.
Now, don't cry for us Argentina, it's not that bad 😛 But it's definitely not the best way to live. We are renting a room from a lovely woman in Berkeley who accepted us with two dogs, originally four cats (more on that in a minute) and the proverbial partridge in a pear tree (the rabbit). Thankfully Karen (blinkysews.com) was able to foster the bunny for us so we literally arrived in the middle of the night with a small Noah's ark of creatures and 2 very tired humans. We're here for another 2-3 weeks and THEN we finally get to move into the 1937 house that you see above.
This has been the roughest 5 months since Jim was diagnosed with cancer. The whole house buying process was RIDICULOUS in the amount and types of paperwork needed. By FAR more intrusive than giving birth! At one point I told the mortgage broker (after yet another absurd request for documentation that demanded a level of transparency that the industry demanding it NEVER itself uses) seemed puzzled and mildly offended when I said "I'd rather give birth to twins naturally and raise them myself than go through this lunacy ever, ever, ever again." Yep, seriously. Ugh.
I'm hoping that once we're down to unpacking boxes, finding homes for all the 'stuff' I've dragged along with me and are doing mundane things like picking paint colors that this will all be worth it. The feral cat colony that I've taken care of for 15 years is still an issue. I can't move them until I move and the purchaser of our former home is…of a different culture that sees animals as disposable and repugnant (just going by the comments that he's made). The last evening we were in the house we had everything out and I was getting the cats into carriers. BIG MISTAKE. I 'should' have gotten the cats before the bed left and just taken them to our temporary home. But I didn't and I regret it. Ashton fought me but I hung on and shoved him into a crate. Max fought me harder and still I hung on and shoved him into a crate. I moved Ashton to the car and went back for Max and the blanket we left on the floor. Holding Max's crate by the handle with the blanket under my arm, I made my way to the car at 3am. Max struggled so hard he managed to break the damn crate and ran away, as I held the blanket under my arm. I haven't seen him since.
I've been back to our old house many times. A neighbor stepped up to help me feed the cats and has gone toe to toe with the new owners, explaining that this is a protected colony that will be moved once we get into our new home.
And why are we waiting? Here's the fun part of the whole story – originally I was told we had until the end of March to move. When I entered into the contract on my new house the sellers asked to have until the beginning of April to find a new place and move. I figured, at that time, that we might have to stay somewhere for a few days, at most a week or so, so I agreed. THEN the landlord served me papers that said we had to be out on 2/26, not even 2/28 because of reasons that it turns out they lied about. The last week in the old house we had no gas service because PG&E showed up on the wrong date to shut service off, smelled gas and shut things down. They sent someone out later that day who determined we had a 'substantial' leak (yeah, and we'd know about it for more than 2 years but the landlord chose to do NOTHING) and they ended up completely removing the meter. REMOVING. We had no heat, no hot water and no way to cook. No recourse either since it was 4 days before we were to be out and standard procedure is to tell your landlord they f*&%$d up and make them fix it. Sigh….It was 38 degrees every night until we left. It was uncomfortable.
And now we're missing Max. I've got signs up, I've got all the neighbors keeping an eye out, and there is food and water at the station for the ferals. I'm hoping he's somewhere close and we can trap him when we get the ferals and get everyone moved. Once we're in the new house and all our family members are there then I'll be able to take a deep breath and move on. Until then I remind myself to breathe, put one foot in front of the other and keep saying "it will all get better soon, it will all get better soon…"
I'm hoping the next update will be SOON and I'll be able to include LOTS of pictures of my pretty new house! And that I can SEW again soon!!
Thank you to EVERYONE that has shared their nightmare stories of buying a house with me. To everyone that offered to help us out, that has fostered an animal for us, that has been there when I've been in tears, THANK YOU. Especial thanks to Angie, who was responsible for several crucial puzzle pieces. THANK YOU!