The Facts Fabric: Two different cottons from stash, navy sueded rayon from stash
Pattern: New York 1779
Notions: 10 buttons, 1 safety pin, interfacing, all from stash
Year: 1940′s
Time to complete: 5 hours
First worn: November 2012
Wear again? Yes!
Total Cost: Free
The good news is I finally went through the big pile of shredded patterns the puppies created for me while I was working on the Western challenge. The REALLY good news is my FAVORITE blouse pattern was FINE!! The less-than-good-news is I lost of total of four patterns. Two are current, Simplicity 3688 and 2648, which I can replace the next time Joann's has a .99 sale. The other two I lost were my favorite skirt patterns (this one and this one.) There were enough pieces of the first that I think I can re-draft it pretty easily and the second one I lucked out with : ) I found a navy skirt I had cut out from the scraps left over from this dress so all I had to due was trace around the pieces and voila!
Why is this navy skirt important? Because I couldn't make up my mind which of these two fabrics to use for this challenge…
And this stunner –
So I used both : ) And because there is blue in the second piece and I don't have a blue skirt (until now) it seemed a really good way to clear up a UFO, reclaim a pattern AND have a nifty outfit!
Here is one outfit:
For photos this time I joined my daughter at Mills while she worked on some final projects so we're in the painting studio. One of her friends made this photo booth so we checked it out : ) I hesitated to show the full shot because I had this FABULOUS idea just before I left to go to Oakland – wouldn't this look great with yellow/gold tights?! I don't have any : ( and getting to Target before I met my daughter was just out of the question…so you get the same black I wore with the other outfit. Reality…
But the rest of the outfit is great. I felt so good in it that I wore it for the rest of the day!
And let me just point out a couple new accessories I'm sporting here – you can see the gorgeous blue necklace in the photos above, it has a bracelet friend:
It looks great with my bakelite…and check out that RING!! That is influenced completely by Kazz : ) The necklace, bracelet and ring is made out of Tagua-nut, a nut from Ecuador. For the last four years I've gone to the Green Fest in San Francisco, a two day festival that celebrates all thing sustainable and "green". The first year I went with my girlfriend Sue and her son Kevin and he was dismayed to find out they served only vegetarian/vegan food, no burgers, no bacon!! My daughter has gone a couple of times and for someone who can't eat gluten, and I can't eat dairy, we don't feel like freaks : ) Along those lines comes jewelry like this, made from renewable resources and STUNNING. The woman from whom I bought pieces the last few years wasn't there but a new seller was and I jumped at the blue set you see here. I don't think I would have EVER considered a ring like this (or my yellow bakelite one I have on my other hand) without the Kazz influence. My mother thought my yellow ring was HUGE and this red one is twice its size and I LOVE IT!! The woman who makes this stuff is local and I will be buying more from her in the near future.
Now for the other shirt and outfit:
I paired this shirt with my black skirt from the Reality challenge. I mean, we keep making stuff so it should all start going together, right? I swapped out the navy and yellow bracelets for a few more red and black, kept the giganto red ring and pulled out my latest flea market find for the belt.
It's not a buckle but a pin but who can tell? I just pinned it to the belt for something different. Cool huh?
And who is that curious fellow to my right? Brittany says that call it the "Zombie raccoon". Painted on plexi glass, there are several of them near the art building.
You can't help but be amused : ) And cold…it's cold out right now. We've got a storm from Alaska hanging around so the high today was 61 degrees. It is NOT 61 in the shade!
I'm loving my shirts! I wear my red one with jeans, skirts and even the skirt it was originally designed to pair with. The only thing I did differently with these two was make it one inch longer so they'll stay tucked into my pants a little better. I have two other pieces of fabric I'm eyeing as we speak…
The safety pin I listed in the notions list was to keep the waistband of the skirt closed on the navy skirt. I didn't have any more hooks-n-eyes and didn't know it. Doh!
SIX challenges left!! Only six! What will we DO next year?!
ARI UPDATE
We were "supposed" to do a Christmas party for Ari the Sunday after Halloween. I had a phone call asking for help decorating on Saturday and spent part of the afternoon getting the main tree in the living room festooned with as many ornaments as I could possibly shove on/in, getting the growing pile of presents under the tree and trying to be upbeat in the face of stupid cancer.
We gathered Sunday with family and friends, a table loaded with enough food to feed a small army and Courtney, dressed as a tree : )
There was the red shoe contingent: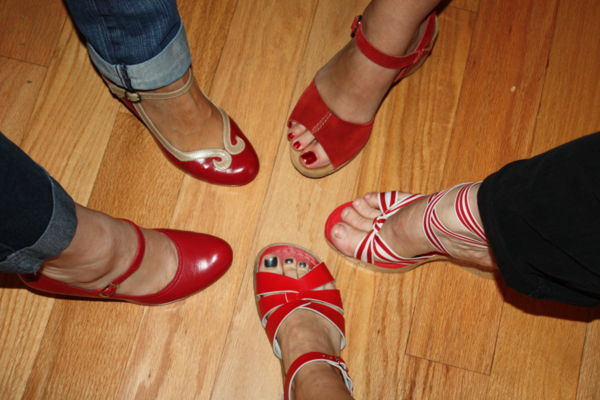 People ate, people laughed, poor Isabella (the 3 year old ballerina in my Autumn outift post) threw up all over the kitchen and was packed off home. When it finally came time to open presents Ari was carefully arranged on the couch and five minutes later headed back to bed. There was a meltdown and Jason asked us all to leave. Having been a caregiver to a cancer patient I understand how quickly things change and so we exited quickly. Heidi and Courtney headed back to Heidi's house with my daughter while Angie and I said we'd meet there to do the apron photoshoot.
We needed to decompress. Heidi pulled out a bottle of champagne, poured 5 glasses and we let loose (sort of…you hate to have fun knowing your friend is in the worst place she can be at that moment but then again, you also need to celebrate the people that you love and care about that are RIGHT THERE.).
Crystal asked us to take down our photos on facebook, it reminded her about the cruelty of the day and Ari not being able to see what was going on. I'm hoping posting them here doesn't hurt her so if you see only words I've taken them down again. I was able to get a couple of photos of Ari, Elora and Crystal just before things went south but they'll stay on my computer for now. Before we left I was able to go say good-bye to Ari and get a hug.
That just can't be the last hug I'll get from her.
Her disease is progressing. She is barely able to move and it takes two people to get her up to go to the bathroom. Some woman with a side business selling some "miracle" pill regimen contacted Crystal and told her she should put Ari on a vegan/gluten free diet and take "her" supplements and all would be good! Crystal lit into her in a long and pretty well thought-out letter considering all she's going through and the woman tried to say a family friend told her to contact the family. That turned out NOT to be the case, and when the woman didn't like what Crystal said she wrote a heinous email that talked about how she had attended Ari's wake and how pretty she looked lying in her coffin, that it was too bad she was just going to be worm food but nice that she could be buried in her favorite Giant's shirt.
As if that isn't bad enough she had set up another email account and had it routed through various servers in various countries so no one could trace it back to her…so she thought. Come on, we live in the San Francisco Bay Area, Silicone Valley is an hour south. You can't swing a baseball bat without coming close to a dozen tech geeks with mad skills. One of them found out it was the same woman but sadly what she did isn't illegal, just morally heinous. To top it off this isn't UNCOMMON for families losing someone to cancer! Rhabdo, the type of cancer Ari has, is quite rare, only 350 cases a year are diagnosed. There is an online community that sticks pretty closely together and more than a few families have been targeted in a similar way. To have to deal with a sick child and then a sick outsider pulling this kind of psychotic stunt is just awful.
Now Crystal has all but shut down and communicates only sporadically with the outside world. I imagine this is how a lion trapped in a cage feels. The rest of us are just stunned. We'd hold them tight and keep out the real world if we could but there is only so much we can do.