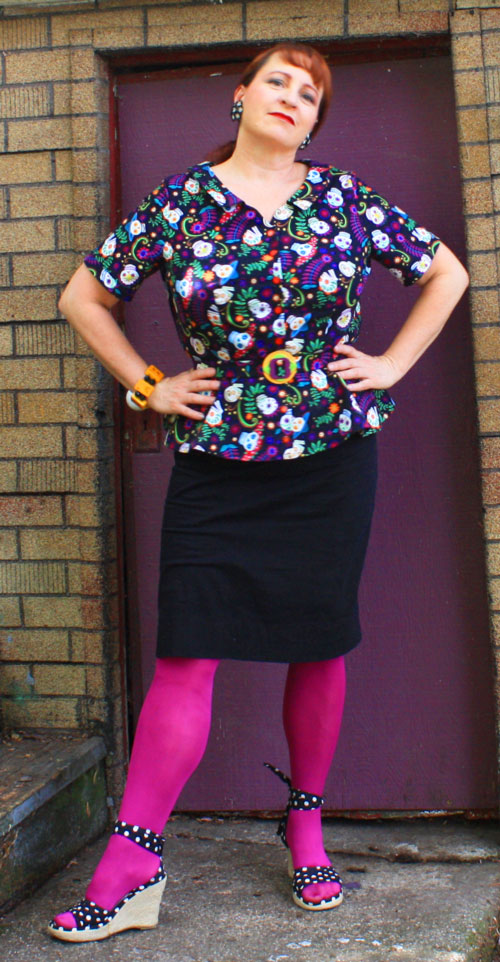 The Facts
Fabric: Cotton Dia de los Muertos fabric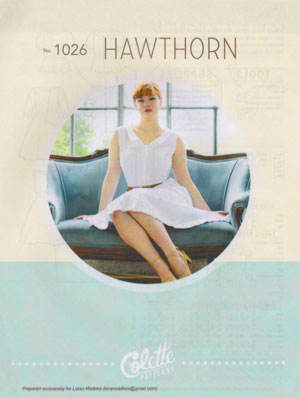 Pattern: Colette's Hawthorn
Notions: 8 buttons, interfacing, belting and 3 bakelite buckles all from my stash
Year: Modern
Time to complete: 4 1/2 hours
First worn: August 2013
Wear again? Yes
Total Cost: Free except for the pattern so $11.90

Yeah for another finished and PHOTOGRAPHED!
But first…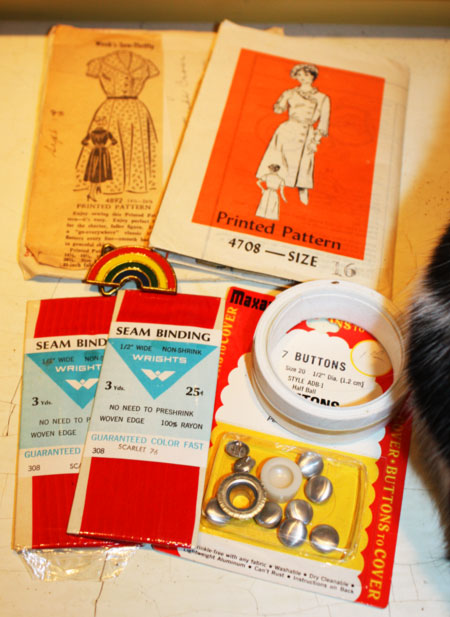 Goodies in the mail!!
Z from Gladys and Viv was my swap partner and THIS is what she sent me – 2 awesome patterns, a package of buttons-to-cover, red seam binding, belting and a rainbow belt buckle : )
Now how could she know how perfect all of this was for me? I have an almost immediate need of the seam binding, to-cover buttons and belting are main stays in my sewing room and that buckle? Once upon a time, back in the 70's, EVERYTHING I owned (or at least as much as my mother would allow me) was rainbows. I'm going to have to give the outfit that buckle accessorizes some serious thought. And that coat pattern? <gasp> SO COOL. I have already chosen my Sew Weekly reunion project but that dress pattern will be made up pretty quick after the reunion : )
THANK YOU, Z, it is all WONDERFUL!!!
And now we come to my Kat Hawthorn.
I didn't get this done in time to enter it into the Hawthorn 'contest' since I was out of town AND I made a really. stupid. mistake.
Really stupid. But learn from me, peeps, and this face-palming moment will never be yours.
See this page? It's the very first page that prints out with just about every pdf pattern I've ever downloaded. It's there for a reason.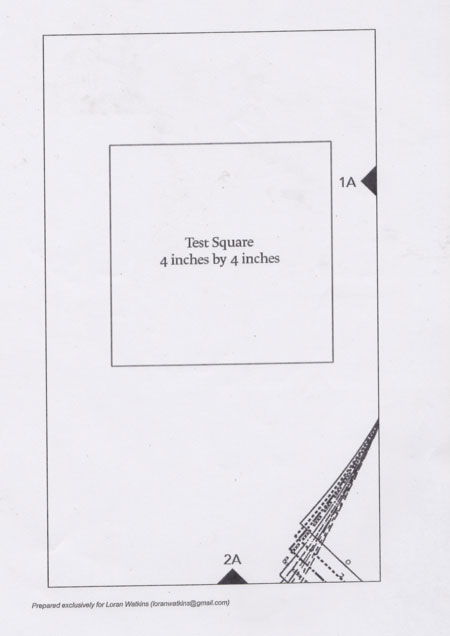 That square in the middle? It matters.
The first few patterns I ever made I measured, it was 4″ which meant the pattern was printing correctly.
I did not measure this time. I just cut, happily and naively. The whole top. I figured I would cut a size 14 so that it might be a tad on the large side since it's easier to take in than let out. Soo…. I put the darts into the fronts and back, made the collar and stitched on the facings. I basted the side seams and felt like I was on a roll. One more episode of "Poirot" and I'd have this beauty done.
I tried it on. Or, rather, I tried to try it on. It didn't meet by a good 3″. Trying not to panic, I pulled out a tape measure. Sure, my mom and I had a couple meals during the Longest Yard Sale that were completely fried (definition: fried veggies including onion rings, french fries, an 'apple pie' and a churro) so it's quite possible I gained some weight : )
Nope. Measurements were the same. I sighed, tried not to feel too disenchanted with myself and went to bed. Sometime during the night I came up with the bright idea to check the pattern. I measured the pattern to see if it jived with the measurements and it did not. Since Colette patterns are well tested and well liked I was pretty sure it wasn't an inherent flaw with the pattern, and there are so many gorgeous versions of this out there and no one has made one mention of sizing issues so it was something I did…
That little square on page one? Should be 4″ x 4″. Mine is 3 3/4″ x 3 3/4″. The damn printer re-sized EVERYTHING. My first top, my "muslin" would fit my daughter but I think the odds that she's going to want a blouse in the same pattern and fabric that her mom has are pretty slim.
Thank goodness I still had some fabric. Back to the literal cutting board.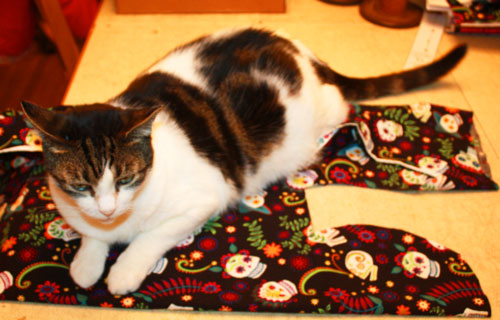 Stuart continues his domination of the fabric : ) He did NOT want to give up his spot on the scraps. But he eventually moved, I cut and then re-sewed. Almost 2 hours of the stitching time was spent making the first version. Sigh. There is one handy little tip I borrowed from Liz at Zilredloh when she made her Hawthorn; she didn't want multiple seams at the shoulders so she did a lovely job of re-drafting her collar so it was all one piece. I did something similar but not nearly as elegant: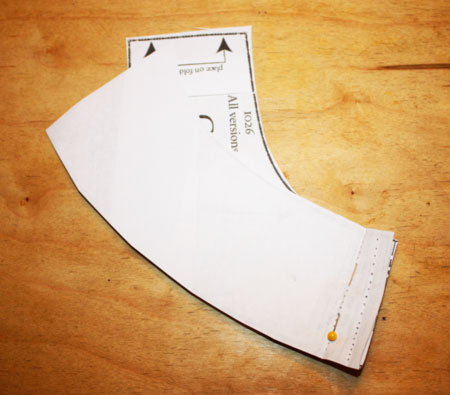 I just pinned the pieces together, then folded them out –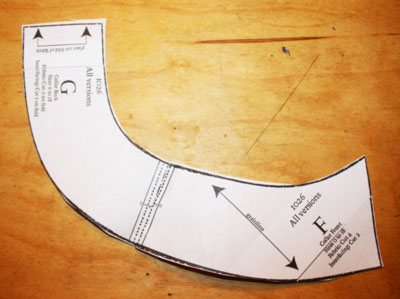 ..put the center back on the seam and cut 2. Works just fine : )
After my 'little' snafu I stitched up my SECOND bodice, used the sleeves and peplum pieces from the first with a little bit of fudging and things finished up nicely.
It is a lovely pattern, easy to do once you cut out the CORRECT size : ) Because our friend Kat likes bright colors and adorable prints this is my version of something she would wear. What else would you expect from something who writes under the moniker "Modern Vintage Cupcakes"?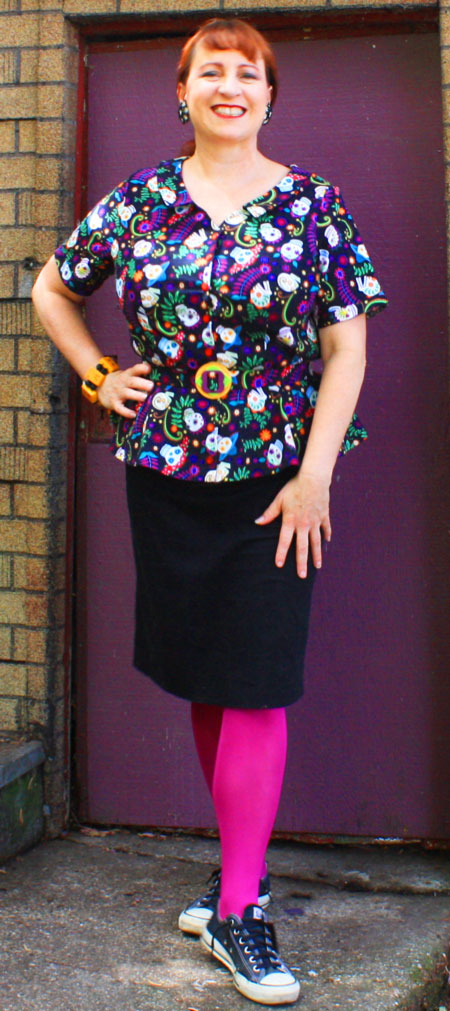 This is so very Kat! I borrowed my daughter's sneakers, I'm sure when she sees this pic she's going to say "Did you stretch them out???" (No, I did not.)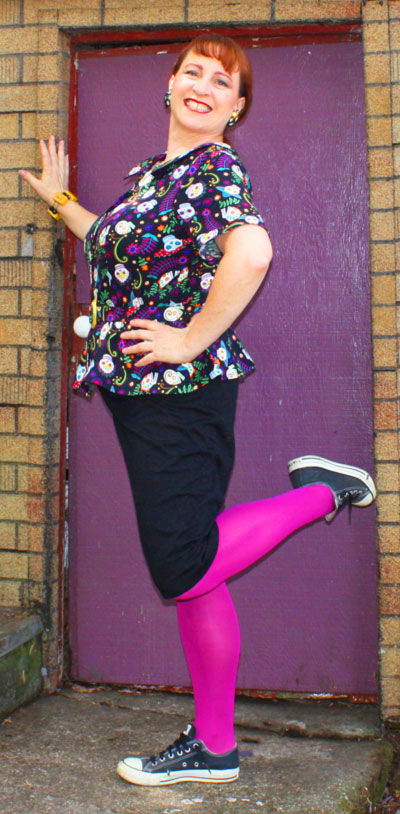 What is up with my eyes? I swear these pictures looked much better smaller.
I was trying to capture the spirit of fun Kat has : )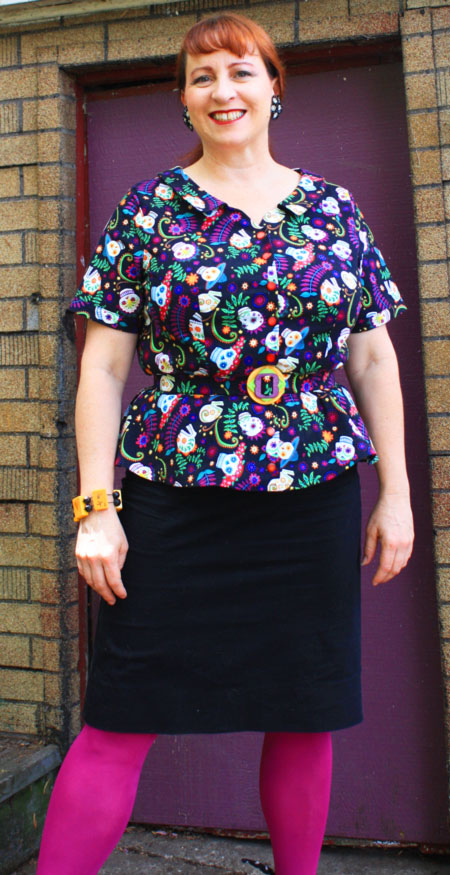 I'd be liking the tights a whole lot better if it weren't 97 degrees out…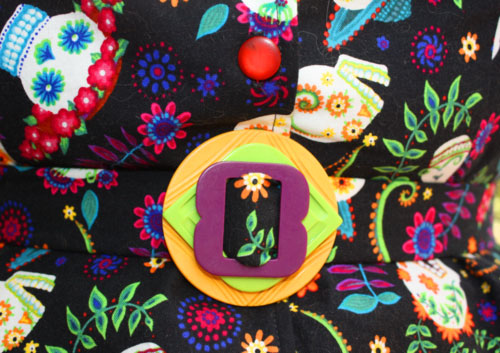 Total bakelite fabulousness. Why wear just one buckle/color when you can stack them for extra delciousness?
The orange buttons were in my stash and when it came time to pick a belt buckle I couldn't decide on just one so I stacked them.
I have to say I was skeptical about this pattern. I didn't know if it would be too "young" for me and I certainly have MANY memories of peplums from my Dynasty days in the 80's. (I wanted to be Crystal, not Alexis. I still have some of the patterns that came out to go along with the show.) I wore it all day after I took these shots so it seems to be a winner!
Chloe photobomb: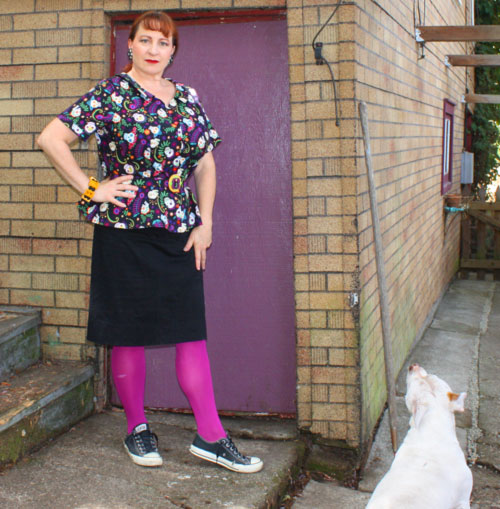 Chloe wanted to go back in the house. It was hot : ) I was trying to take pictures in front of the purple door in my back yard. Erin at Miss Crayola Creepy recently talked about driving around town looking for cool walls, but since I didn't have time to search for something fun, and I didn't want to add another excuse to the pile, I settled for my own back garage door. No, Erin, you're not the only one : )
I'm struggling to get caught up here. Being out of town took a toll, and getting home from the Longest Yard Sale proved to be a test of my patience that had me telling my mom "Never doing that again."
I'll write more about our travels through Alabama, Tennessee and Kentucky later. I'll probably fold those stories into future challenges. I WILL say that I did pick up some patterns (2 of which were a huge disappointment) and a couple pieces of vintage fabric that I'm going to use for Rochelle and Tasha's Fall for Cotton challenge along with a couple of quilts and some tablecloths (I know, I know…I don't 'need' ONE more but wait till you see them…)
I've become completely obsessed with Miss Lemon in the "Poirot" series. Turns out my father has ALL the DVD's in his collection so I'm limiting myself to one epsiode a night. There are going to be a lot of 30's clothes in my future.
There are sewalongs galore – Tempest is going to be hosting a Dr. Who sewalong this fall, the deadline for the Sew Weekly reunion looms, I think I missed the cape challenge and I'm signed up for my Shelter Management certificate program and begin classes September 3! SO much cool stuff, so little time. But so much fun and I can't WAIT to see all the submissions for the reunion! And if you love vintage and cotton head over to Lucky Lucille and join the fun. For now, I'm going to go to bed and try to get caught up on sleep : )