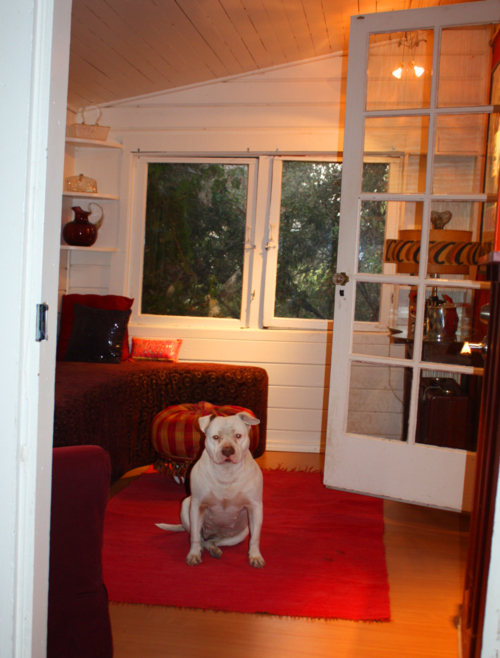 Chloe likes the put-back-together room.
In case you forgot, here is the before: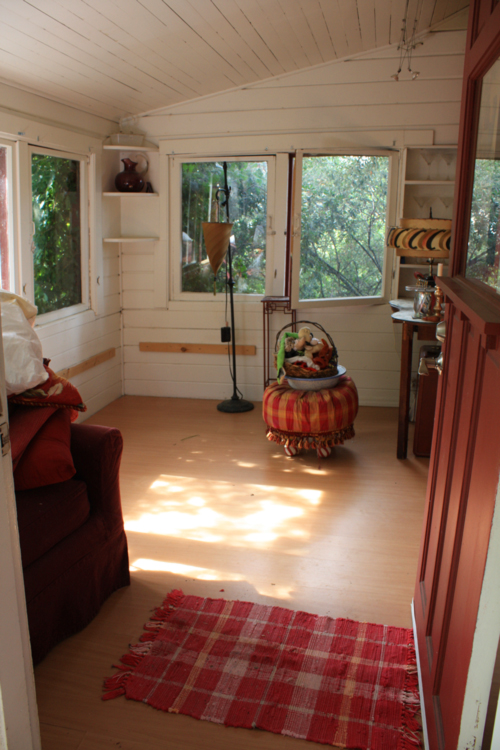 And here is the after: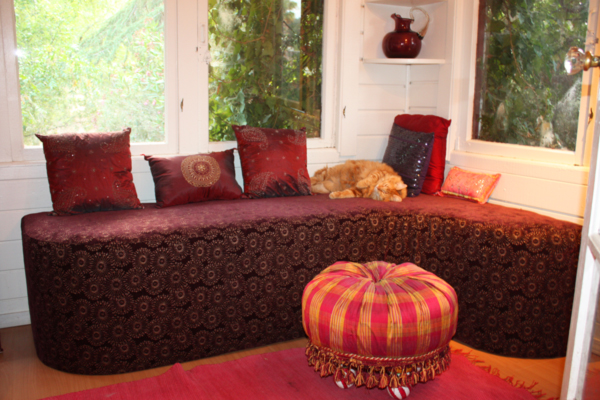 Ashton staked his claim as soon as the bench was in place, I've just been putting the rest of the stuff back into the room around him.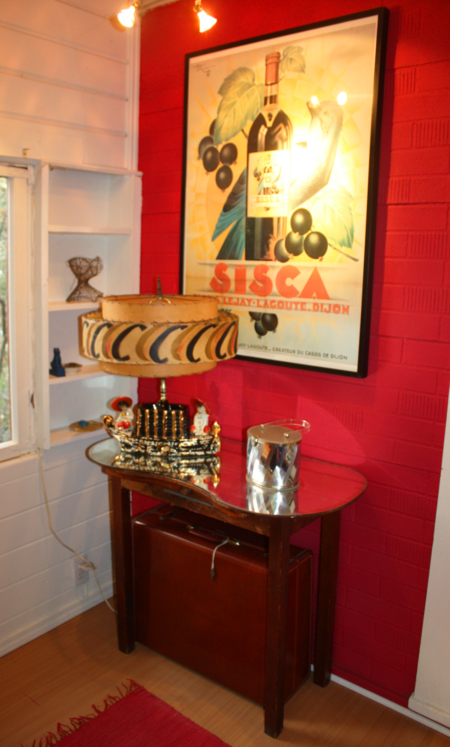 The "bar" on the red wall, which is really just an old dressing table with its mirror top. Don't you love that lamp? That isn't the original shade but it works for me. And the vintage leather suitcase? Just because, and it fits there. The purse on the table is lucite with strips of chrome/aluminum/shiny stuff on the sides.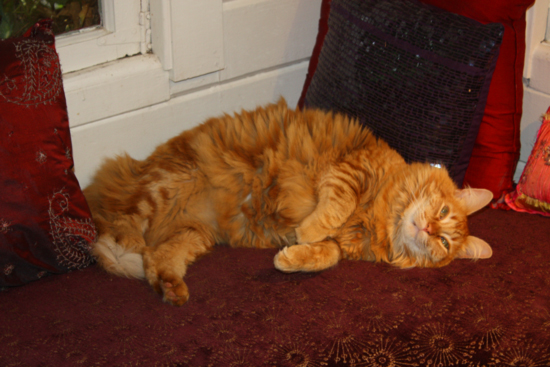 Cat on a plum velvet bench. The fabric is not new, I bought it way back in 2008 in Phoenix at the Fabric Depot while visiting my sister.LOVE the sputnik-ish embroidery on it!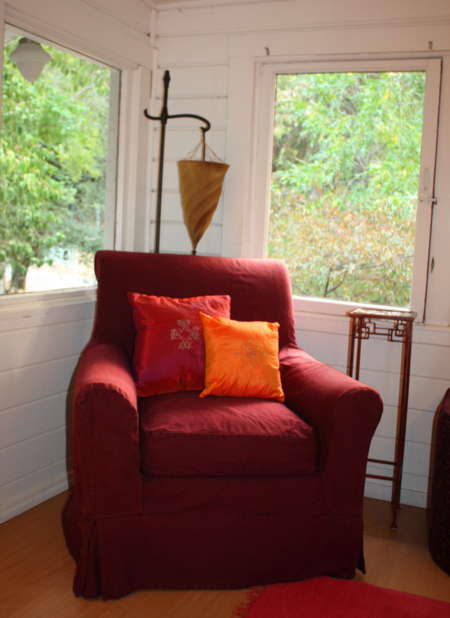 The chair is slip-covered in basic duck, just like most of the rest of the furniture in my house. When you've got long haired kitties it only makes sense. Not to mention muddy-pawed dogs and chickens.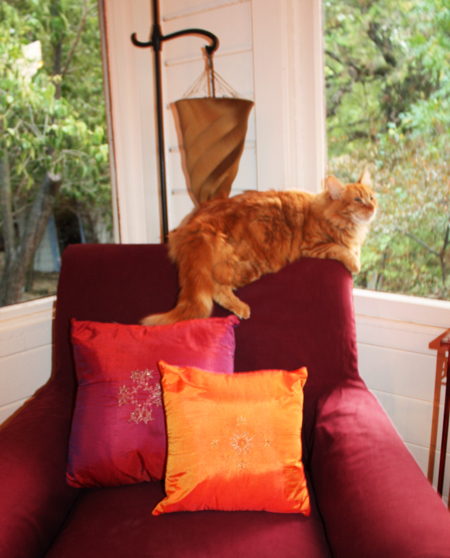 As I was taking photos Ashton morphed onto the chair. He has a great view of this: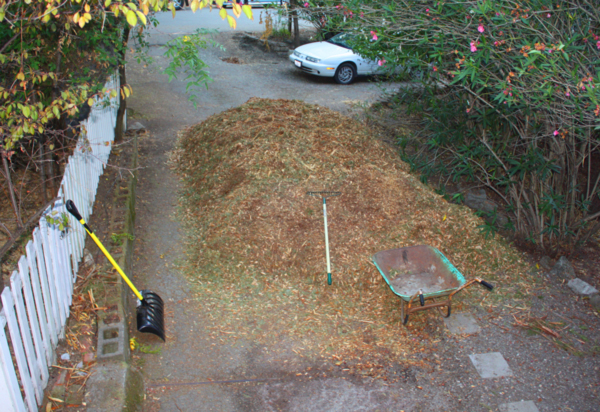 This is a VERY large pile of shredded redwood, dropped off by one of the local tree companies for our amusement. We're guessing it's at least 10 cubic yards of material that we're moving around by wheelbarrow and bucket loads. The best part of the project? This was all FREE! The not-best part of the project? It's at least 10 cubic yards that we're moving around by wheelbarrow and bucket loads : )
My friends Sue and Chris came over today to help us since my back wouldn't hold up on my own. We moved about 75% of the pile, finally finishing our front yard hardscaping project!
Remember the kerfuffle over Chloe and her puppies last year? Our cranky next door neighbor had threatened all kinds of actions because she could "hear puppies" (hello Cruella, your long-lost sister lives next door). She was able to get the city to come out and tell us to cut down three bushes by the stop sign at the front edge of the property. At first the city inspector said to just trim the bushes and he was fine with that, but a week later he was back out and said everything had to come down due to "further complaints". The landlord made a VERY rare appearance, most likely due to the threat of a fine, and cut down and hauled off the bushes leaving our entire front yard open and exposed and looking icky.
I'll take photos of the completed areas, a project that I have literally been working on for a good 2+ years. As I was finishing up the rock wall the partner of the cranky neighbor walked by, remarking "Oh, this looks so nice. Good to be able to see the street so we don't get hit and killed." For the record, you could always see the entire street : ) This was just a power play but she didn't try to take my animals away from me so if all we lost was a few bushes that's fine. And the cranky one hasn't been seen on the street since that 6am appearance last September…
I've been working in the yard so much that I haven't had time for sewing or photographing the projects I have completed! I finally decided I'm just going to set things up like I did the Me Made May photos and crank some stuff out. Check this out – my mom and I get on a plane this coming Wednesday morning to fly to Birmingham, Alabama. We're doing the Longest Yard Sale this year!! Back to the land of humidity, small country roads and interesting food choices. My mom bet me last time I couldn't/wouldn't stay vegetarian (like it's some kind of diet instead of a lifestyle choice) and there was one dinner that I think I had french fries and onion rings because there was NO vegetable choice other than those two on the menu. That was the night we should have had Doritos and Mountain Dew from the mini-mart. We now have a yardstick for "how bad is this food". To be fair we also met a very nice Amish family that sold their own baked goods so we're hoping for more sugary, greasy, fatty baked goods this year to take us through those inevitable "food desert" patches.
The adventure soon begins!