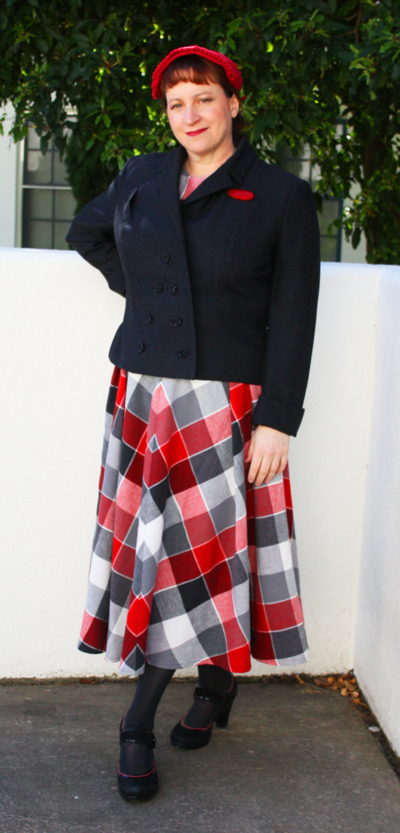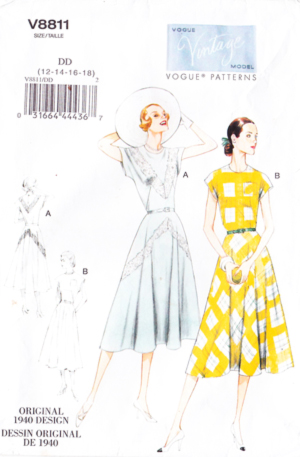 The Facts
Fabric:Vintage 36″ wide cotton plaid from Alameda flea market
Pattern: Vogue 8811
Notions: A zipper and a button from stash
Year: 1940
Time to complete: 4 hours
First worn: February 2013
Wear again? Already have!
Total Cost: $24.00
First up is the plaid! I found the fabric I used for this dress at the Alameda flea market a couple of months ago. We have a favorite seller who has all sorts of eclectic "stuff", anything from buttons to charms to paper goods, fabrics, trims and an assortment of stuff that changes month to month. One month Angie beat me to a piece of vintage rayon with a green print, the next month I found this plaid. My original intention was to make a couple of 49er jackets: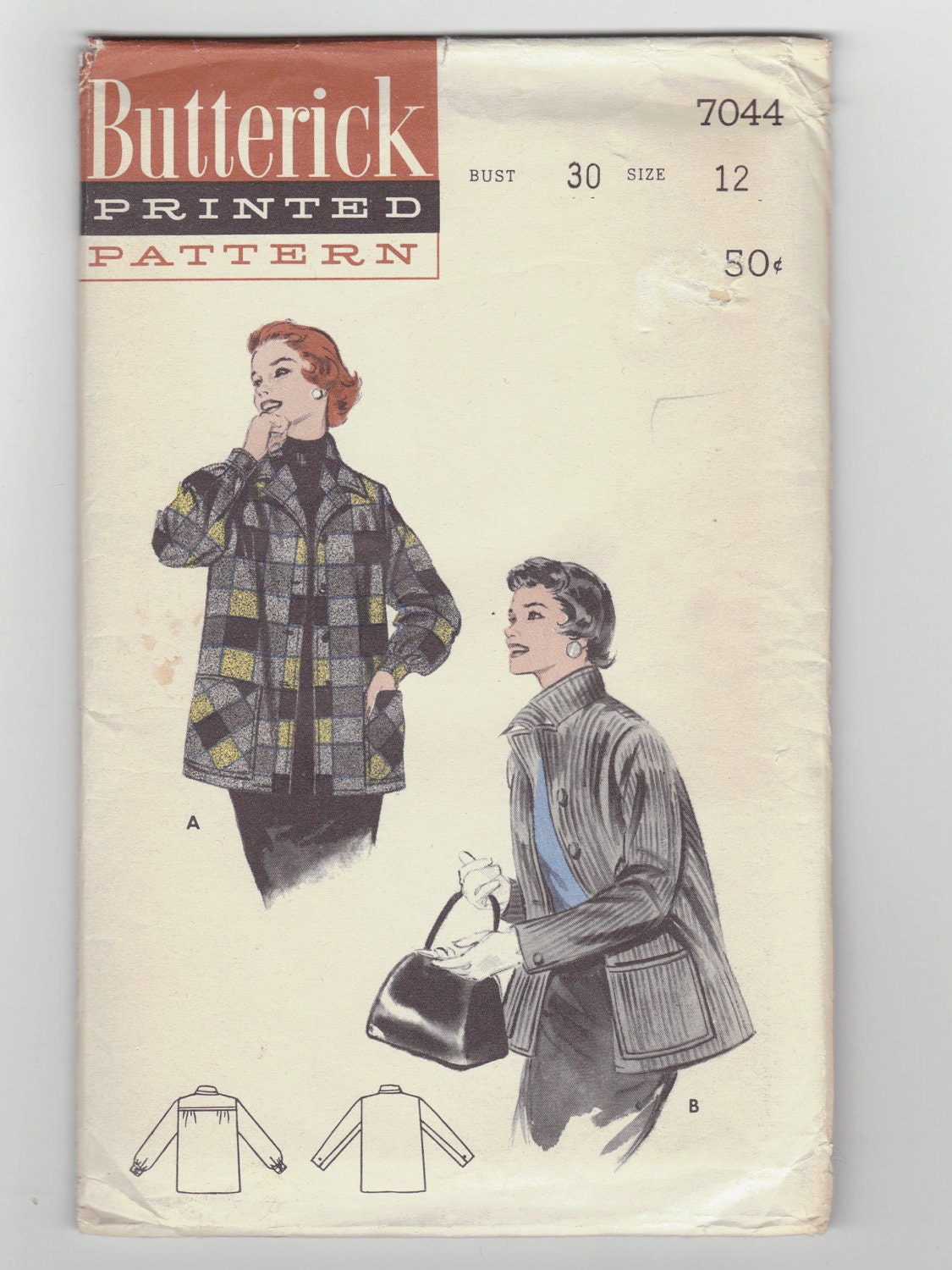 But then the siren's call of Vogue 8811 became too much and I succumbed : ) It also didn't hurt that I just discovered Rochelle's blog Lucky Lucille WITH her Sew for Victory challenge and am I IN!! I LOVE the forties styles, I've got half a dozen patterns in my "Make this soon" box so in a fit of inspiration I pulled out the fabric, got this puppy cut out and in a few hours voila! Une robe de finition! (A finished dress!)
(Oh, and the dog…my goodness! Her Lucille looks so MUCH like my Chloe!! I emailed her and we had a lovely conversation about our shared love of our girls!! Not to mention vintage patterns and fashions…)
The only thing I changed about the pattern was the way the skirt was cut – the pattern is a lovely partial circle skirt but I wanted to use that plaid to its best effect so I matched it down the center to form a chevron. It's not an "even" plaid, it isn't the same left to right so I had to be careful. Because the fabric was only 39″ wide I wanted to make sure I wasn't going to end up piecing things and it all worked out great.
I ended up doing a very impromptu photo session with my daughter in the Art Gallery at Mills College. She needed some equipment for a project, I needed some photos so first thing on a Sunday morning I got dressed, loaded the car and headed into the wilds of Oakland : ) I thought we'd just use outside locales to keep it fast and easy but she suggested we look at the latest installation that involved 200,000 fortune cookies!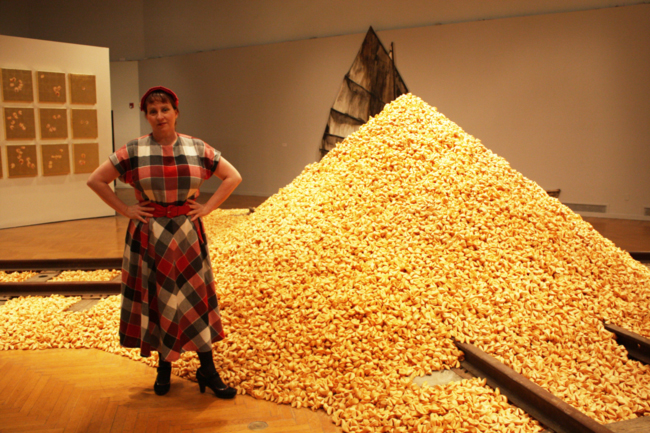 According to Brittany there is a spiral cardboard center structure that helps the cookies stay in place. They aren't glued or lacquered in any way and she said at first the smell permeated the entire building. Now there is just a faint sweet background smell that isn't at all overwhelming and kind of charming.
There is a wall of paintings, various version of the cookies. I have to say I like them very much. On the opening night of the show the artist had done some small canvases that were for sale. Now I wish I had been there and bought one : )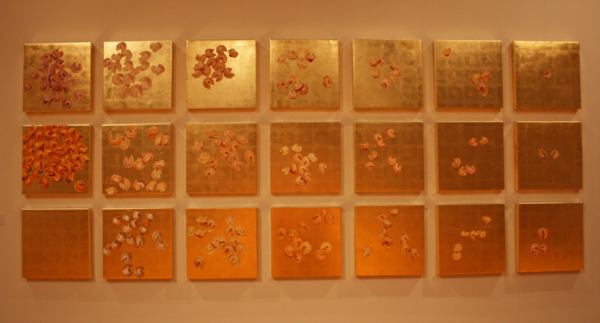 There are several other installations in this exhibit, I have plans to go back but the link to the Mills site has some much nicer photographs : )
The jacket I'm wearing in the first pic is one I found at Rockridge Rags a few years ago. It's fifties, wool, had 4 different kinds buttons (and yes, they button to form a pyramid) and a couple tears in the lining. It was also $18 and 30% off so how could I resist? I repaired the lining, changed out the buttons and now everytime I wear it people ask about it. One of these days I'll have to travel to the wall o' wool at Britex to see if I can find something fabulous for a skirt! 
 And now, onto buttons!! Button, button, whose got the button? No, not the sewing kind but the "I'm working on this fun challenge" kind. In the last week I've been able to snag a few buttons that you can now see on my right side bar. Not only did I have to learn how to upload them but also learned a *little* about how they're constructed.
As a result of all this great poking around I'm now doing the aforementioned Sew for Victory challenge (this weeks outfit is just the warm-up, I have a few other pieces planned!), Tempest's David Bowie challenge in March, the current Mad Men challenge by Julia Bobbin in March/April but I'm also keeping somewhat current with my own set of challenges, the current one being my Kazz-inspired outfit.
Phew! Fun stuff : ) Let me just say this – I KNOW I work best with light and sun. November to March is never my best time for creativity. I get up at 5am to be out the door, on my bike to BART at 6am. The sun is just rising as we head under the bay into San Francisco and I'm fine with that. I'm an early riser and can literally get more done by 11 am than many people do all day. By the time I'm back home at night and walked the dogs the sun is setting and all I want to do is curl up on the couch. In a week the whole daylight savings time thing kicks in/out and we spring FORWARD, meaning it will be darker in the morning for a while but LIGHTER when I get home so I get more done! Thank goodness!!
 I also figured out how to link up my Instagram account with this blog, am working on my Twitter account and just started adding photos to Flickr. This whole technology thing can get overwhelming…but is still so much fun!
How about you? Are you affected by the seasons changes? And does anyone else find all this technology overwhelming at times or did I just come late to the party?