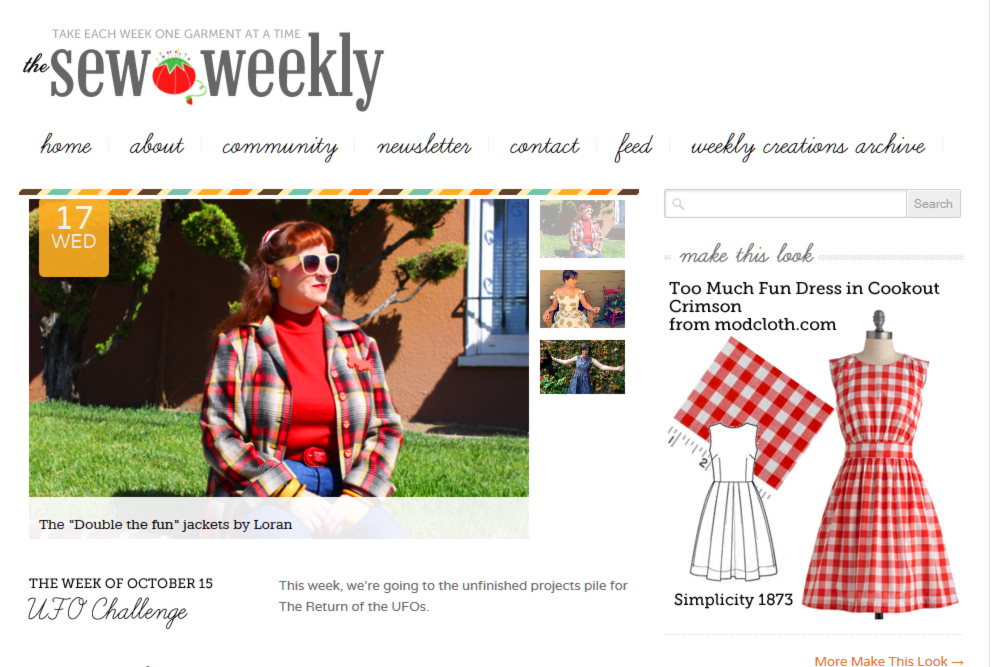 Top 5 featured : )
And that little red/white gingham dress is kinda cute….
The Facts
Fabric: Two pieces of cotton plaid flannel

Pattern: McCalls 8005
Notions: 5 buttons on each jacket, interfacing
Year: 1950
Time to complete: 8 hours
First worn: October 2012
Wear again? Yes, when fall finally decides to show up
Total Cost: ~ $40.00 but $12 is vintage buttons
Ever since Mena did her take on a 49er jacket I knew I needed to add one to my wardrobe this year. A few days after I saw her post I found a couple great heavy cotton flannels at Joann's (imagine my surprise!) so I purchased 2 1/2 yards of a red/grey/black combo. So what makes this a UFO?
This:
Oops
I was so psyched that I blithely started cutting things out, paying absolutely NO attention to how much fabric I was using and ooopps! I'm about 1/2 yard too short : ) WHY? you may ask. Sewing 101 – make sure you have enough fabric BEFORE you start to cut for the project you have in mind! For a standard shirt pattern 2 1/2 yards should be fine however, this isn't a "standard" shirt pattern. Did I read all the words on the pattern envelope or just look at the pretty picture? You can guess what the answer is : ) Not only that, I didn't even see the word "Maternity" near the pattern number on the envelope.
Brilliant, eh?
Here's what I like about the pattern; I like the "swagger" style cut, the fact that the side seams and center back seam flare a little. (I love swing coats and recently became the proud and slightly tearful owner of one of the most beautiful swing coats I've ever seen. It's a little dusty and wrinkled right now but I'll get it cleaned and post pics soon.) I went back to Joann's to get more fabric and…no more…argh…. I threw the whole project into a bag and figured I'd look at it next year.
A couple weeks ago, while looking for something completely different at another store, I scored! More plaid in my pattern!! And right next to it was an really interesting red/yellow/beige/black plaid as well. Hmmmm…..how much do I like the pattern? Enough to give it a go twice? Sure, why not. This time I bought THREE yards of fabric and, feeling quite smug, came home and cut everything out just in case…
Everything was fine : ) I also decided to make both coats at once because somehow, in my world, it only takes a little more effort and time to do something twice as it does to do it once. I scored the COOLEST buttons at the flea market this month:
The original idea was to use them on the grey/red/black jacket but after I bought the other flannel I knew I needed to use them on it. My one regret was not getting the solid red bakelite buttons.  I used 5 black buttons from my stash on the red/grey/black jacket and next month, if I can find the nice button lady, I'll buy the solid red and change them out.
Here is my SECOND jacket, my 'casual weekend' look. I'm wearing my Rosie the Riveter jeans with a $2 vintage red wool sweater. I pulled out my yellow and black bakelite bracelets along with earrings and a ring and I have to say, I felt pretty stylin'! Too bad the fog burned off by the time we started taking photos and once again I was dripping sweat down my back.  It was RAINING a couple days ago and now we're back to Indian summer : )
My daughter and I walked around Oakland and found this gorgeous house of many colors! This is going in my Inspiration file.
And now for my ORIGINAL idea/look:
Not my finest hour : ) Nothing other than being a little tired and hot but I do like the outfit. I wanted you to see the pockets in this version that I didn't do with the first one but muffed the shot. Brittany and I were just about over the whole picture taking thing today so this is as good as it gets. WHEN it gets cold this will be an AWESOME outfit! Today…not so much. The pants are from my Elton John outfit; even though you can't see them I've got on red and black bakelite bracelets and earrings.
Almost every house on this street had Halloween decorations up. Those white schmatta things are actually ghosts : ) It was all very cute! But we were done so we headed, once again, to Bittersweet,
Gluten free chocolate zucchini bread and a Chocolate Coconut Chill. Ahhhh……
In the end I cleared up one UFO that I had resigned myself to finishing next year, made its "twin" AND incorporated pieces from other challenges into some pretty cha-cha outfits. Score!!