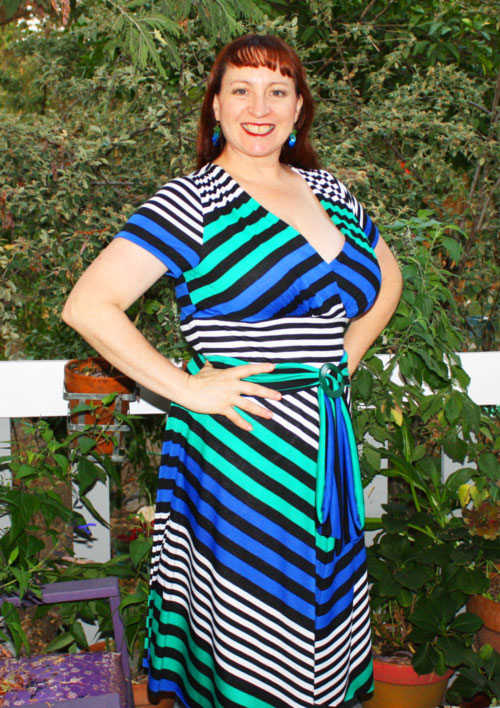 The Facts
Fabric: Cotton/poly stripe knit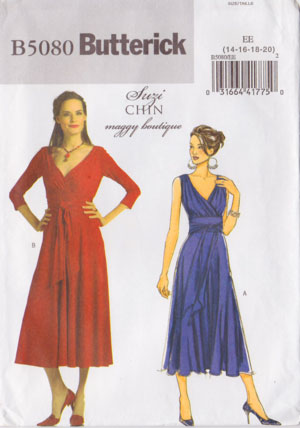 Pattern: Butterick 5080
Notions: Not a blessed one besides the thread that holds this together and a bakelite buckle thrown in there at the last minute
Year: Modern
Time to complete: 3 1/2 hours
First worn: July 2013
Wear again? Yes
Total Cost: Free, free, free.

Finally!!
A sewing challenge completed. Last spring Liz said "Hey, I have a pressie for you, give me your address" and then I got a box that had a Michael Levine bag in it full of this fabric. It is SO Liz, mainly because of the green stripes! Check out the dress she made from it here. I had debated about doing something very simple but she beat me to it : ) My other idea was to make Tiramisu from Cake but somehow I didn't have the entire pattern. Digging through the top layer of pattern boxes that I could reach I found this gem! SO close…
Those stripes just screamed "Do something fun with us!".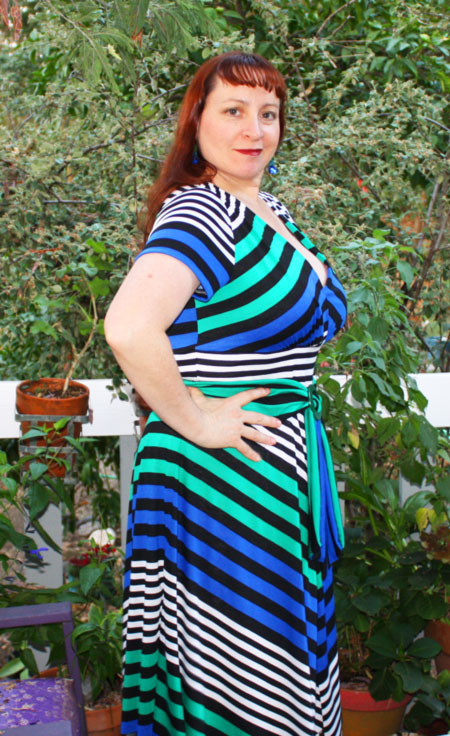 Chevrons, lots and lots of chevrons. If I'm not standing up just so I get droopy-boobs-effect because of the stripes and I found myslef fussing with an old internal monologue that questioned the sanity of putting this kind of striping on my body. Finally my Now-Self said "Shut up and enjoy it!". Not long ago the very nice Leila over at Three Dresses Project was bemoaning the fact that she was turning 36 and not in her 20's any more and there seem to be these "rules" about what you can and can't wear at what age. Read her post and the comments, then toss out those "old" voices : )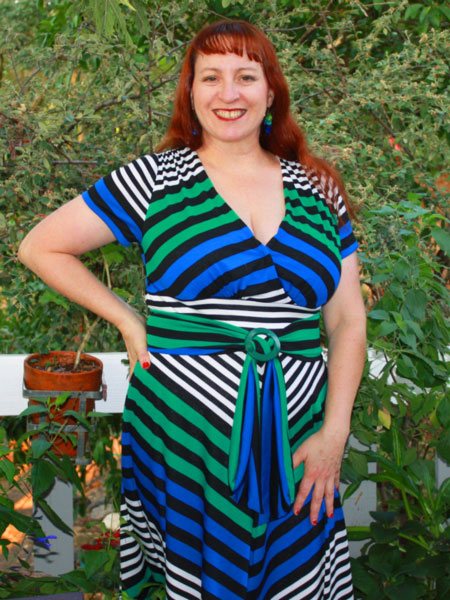 I wasn't sure how those white/black panels were going to look. I made the mistake of trying this on half-way through and panicked. I felt like it doubled my width but took a breath and said "just finish it, it will be fine".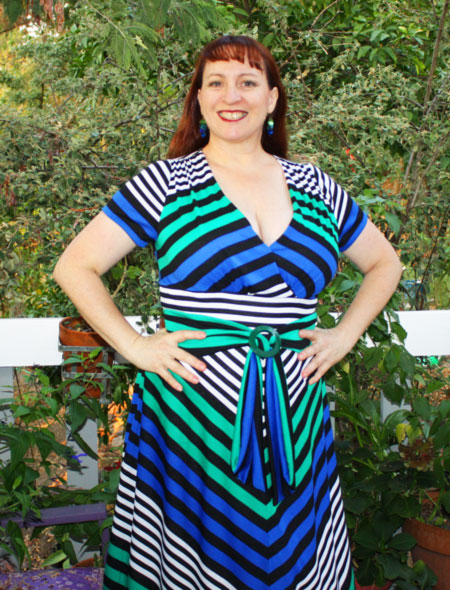 Because this is my Liz dress, and Liz is all about green I wanted to make sure the green was front and center as much as possible. The sash goes through a green bakelite buckle, not a perfect match but good enough. A couple of months ago I bought out a woman's entire collection of bakelite buckles, over 85 so yes, NOW I have a ridiculously large buckle collection!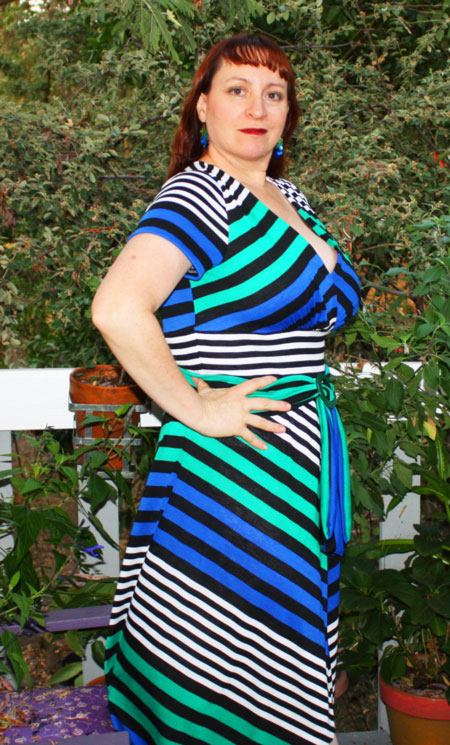 The skirt is cut the same way as Tiramisu, the stripes are horizontal at the side seams. I cut each piece individually to make sure everything would line up and be as symmetrical as possible. My head started to hurt from matching stripes and colors but it worked!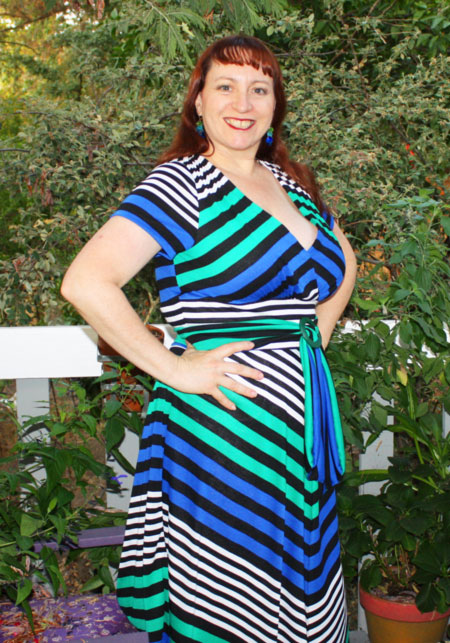 I also discovered that the top is lined and I had no lining fabric. What to do… all I needed was some white stretchy fabric…wait! I had an old t-shirt that wasn't looking so good on the front but the BACK was big enough to line the top front pieces : ) I decided not to worry about lining the back and added a bias neck band to finish it off. I cut the sleeves shorter because I was running out of fabric and made a vow to use what I have around the house.
The pattern calls for a zipper. Did I have a white, blue or green zipper? No. So I decided to try the Mena zipper test. I basted the back up and pulled it on. No zipper needed!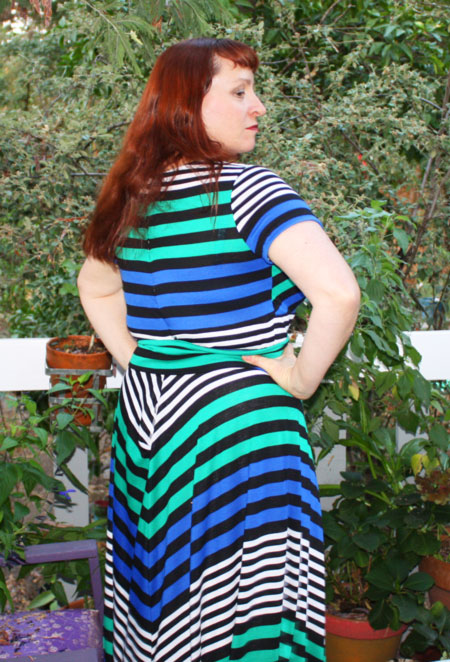 I'm liking this more and more : )
I think I'll be packing this and taking it with me to the Longest Yard Sale. Normally I wouldn't consider taking a dress BUT it will be my birthday Friday and maybe, just maybe, we'll find a restaurant that won't make us wish we'd had Doritos and Mountain Dew from the local mini-mart for dinner.
I had lots of photobombs tonight but this is my favorite: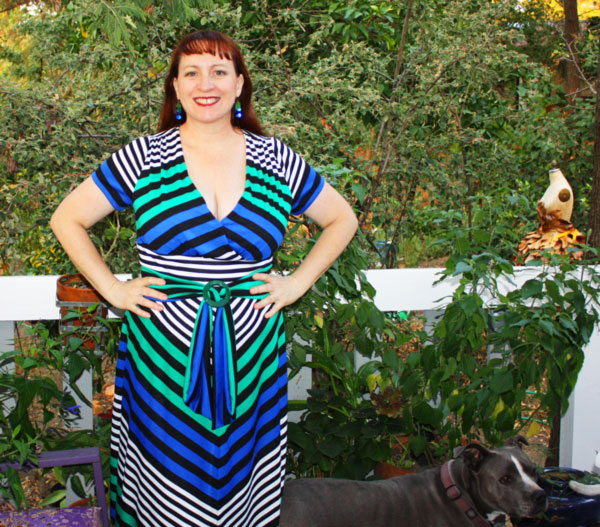 Romera was sneaking around me but glanced at the camera once. We just found a little tumor on her tummy that will need vet attention when I get back. Nothing like worrying that your dog has cancer while you're on vacation, eh?
And this shot is for Vicki-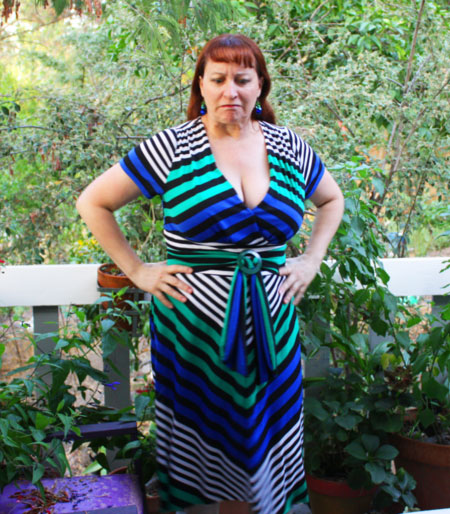 I think the cat was doing something gross here but I can't really remember what and that may be a good thing.
We find out about the Sew Weekly Reunion soon, SOOoooooo exciting!! I'm also participating in the swap and just sent my my bundle off to my swap partner. Since she's in the UK I hope she gets it soon : )
I don't know what kind of Wi-Fi/Internet service we'll have 'out there' but I'll be doing my best to chronicle our adventure through Instagram. That way I can post things to facebook and Twitter as well. If you want to follow me either send me a friend request on facebook, follow me at loran_w on twitter or loranwatkins on Instagram. Pray for good weather : )