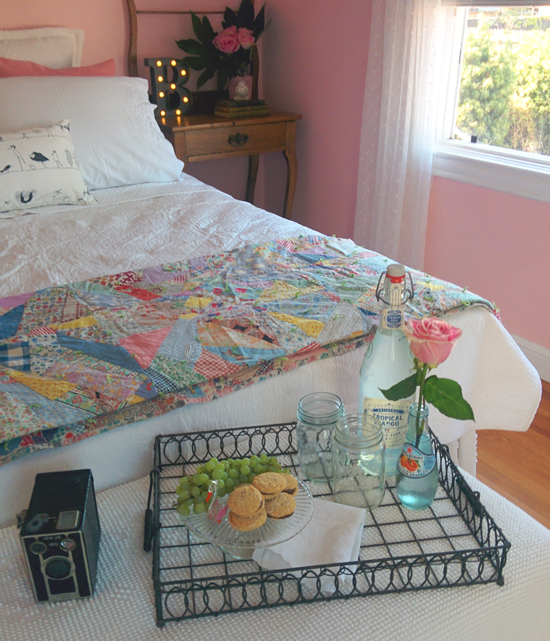 Hello world, I'm baaack…:)
After several months of unpacking, organizing, painting and general life busy-ness I am BACK, and believe me, there ought to be a cocktail or two involved!
My main occupation these days is de-browning my house. If you saw the photo of the front exterior (post previous to this one) you'll notice the lovely Swiss Coffee color. My whole house, inside and out, is Swiss Coffee. I don't drink coffee. I don't particularly like coffee and to look at brown walls EVERYWHERE each and every day of my life is certainly not the style of a person who considers red a neutral! SO. Lots of painting. And priming because you can't put anything over Swiss Coffee and not have it affect the final color. Except maybe Licorice. Another food I'm not a fan of. Yeah, you could paint the walls Licorice and the Swiss Coffee wouldn't show through…
The first room I tackled was the guest room. Not because we were going to be inundated with guests but because it had the least number of boxes in it 🙂 And because my mother kept bugging me to come get the bed my grandmother left when she moved into an assisted living facility and it seemed silly to go to all the trouble to rent a truck, move the furniture, drag said furniture upstairs and THEN paint.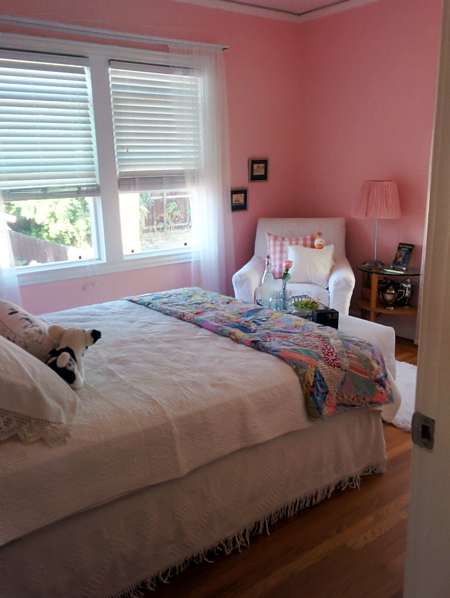 So I painted. And it's bright and cheery and most importantly, it's not BROWN. Excuse me, Swiss Coffee. It is definitely NOT Swiss Coffee. The morning after I finished I woke up and the whole end of the house was glowing. Glowing nicely into Swiss Coffeeland. Mocking the coffee, as it were 😛 Let me give you a tour of what went into this room lovingly called the Grandma John room.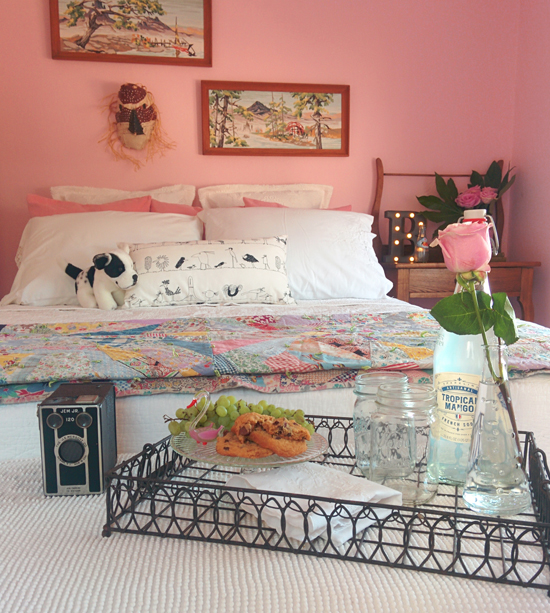 I'm sure my grandmother, whose name is Lola, would be mildly confused as to why the name John is connected to "Grandma". John is one of our former neighbors who was getting ready to move to Florida the same time we were leaving Walnut Creek, and as he packed he kept giving me stuff he didn't want any more and thought I would appreciate. For instance, the dust ruffle, the cover on the bench that the guest tray is sitting on, and the two very back pillows on the bed are made from a chenille bedspread he gifted me. I love chenille and would have gladly used it as a bedspread but alas, it had a huge stain on one side and was starting to rot on another. I carefully cut off the bottom edge of the spread, the part with the fringe, and attached that to a fitted sheet (that had issues in the center and was no longer usable for sleeping). Voila! Custom fit dust ruffle, re-purposing things I had. I cut around the holes and the stains to make the back pillows and finally covered up the former outdoor bench that I build with scraps so everything coordinates nicely.
The paint-by-numbers pics on the back wall were a flea market find years ago. Frames and all I think I paid $5 for them, maybe $5 a piece but a mere pittance for all that graphic awesomeness. The mask was made by my daughter in the late 90's, and was meant to be an African-inspired art piece of our quail at the time, Shelby the Fierce. Now it has a home other than a box in the closet. There are two fabulous IKEA items on that bed – three cotton velveteen pink pillows and THE most adorable bird print pillow. I made the mistake took the opportunity when we were living in Berkeley to visit IKEA weekly for necessary and fabulous items for the new house. I saw the pillows but at that time had no use for them so when I decided on pink for this room the lightbulb went on over my head and a quick trip in to buy one ("just to compare because….") became an OMG THEY'RE A PERFECT MATCH TO THE PAINT moment. And because that worked out so well I picked up one of the pink gingham covers for the easy chair.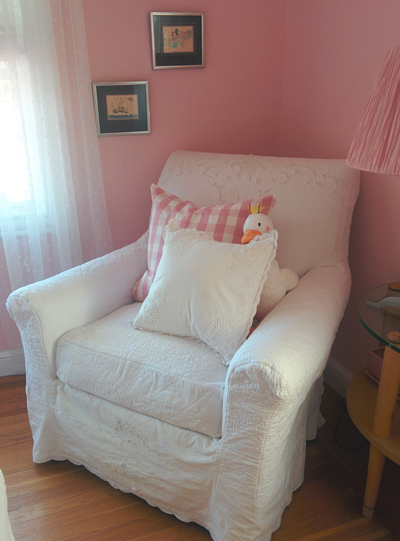 The two prints on the wall were from John, and the goose on the chair is hiding behind the pillow in a vain attempt to not be seen by one of the dogs (who have a fondness and talent for de-stuffing any stuffed animal in less than 10 seconds). That goose is one of the cutest animals IKEA has come out with yet. I'm a sucker for cute stuffed animals so let's just be amazed I only have about 6….
(Oh yeah, the little black and white stuffed dog on the bed is the Gund Jonny Justice)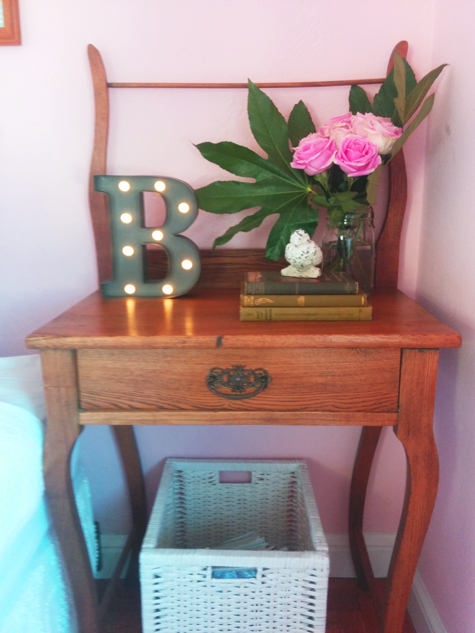 This table was in my grandmother's front hall for years. I don't think it's a family heirloom but it's pretty and very "her". I'm not generally a fan of furniture like this BUT it was hers so I will take good care of it. The "B" is a nifty metal letter that has had lights added on a battery pack. B is for Brittany, my daughter, and she now has a place to stay that is clean and sewing-stuff free should she choose. Indeed, sewing bloggers and friends, if you're in town let me know and as long as no one else has claimed the space, I have a place for you to crash while you visit our lovely area. The guest tray will be stocked  for you, film put in the vintage camera and that white basket under the table is loaded with magazines. Put up your feet, pick a cat to curl up with and relax 🙂
My favorite re-make so far: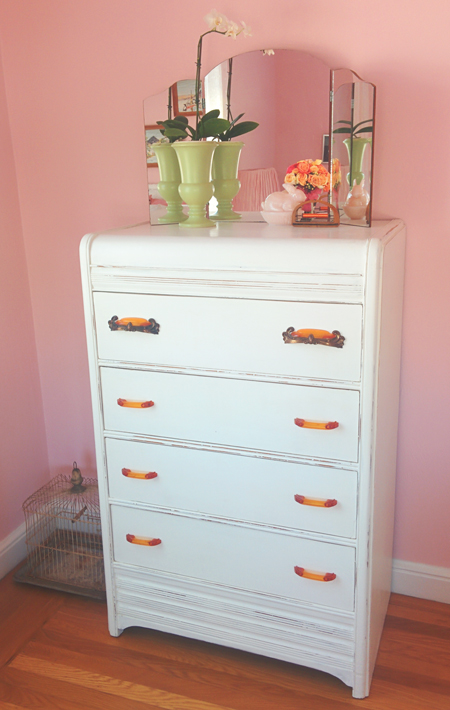 I bought this dresser in 2003 for $49 at Salvation Army. I know this not because I have a fabulous memory (it's pretty good but not THAT good) but because the original receipt was still in a drawer. I distinctly remember being drawn to the waterfall front and the fact that it still had 6 original handles. I figured I'd re-do it for my daughter but she hated it so it lived in the garage all these years. At one point the garage flooded so it was water damaged at the bottom, the veneer on one side was starting to peel off and it was missing 2 handles. I stored all manner of crap in it and when it came time to move every single one of my friends questioned my sanity when I emphatically stated I was keeping it. I'm sure at least two of them looked up the contact info for the producers of "Hoarders – Buried Alive". ALL of them made me promise that if it wasn't re-done within a few months that I'd kick it to the curb. ALL OF THEM. That's how reviled this poor piece was! HA!!
Secret – my new favoritest (yes, that's a word) product in the world of furniture re-doing stuff is Chalk Paint. Keep that in mind. Chalk Paint. Easiest stuff to use. Seriously. I can't tell you how many hours of videos on furniture restoration I've watched to see how the pros handle the issues of veneered furniture. MANY. I've even taken several field trips to MacBeath Hardwood in Berkeley, where they have an entire ROOM of veneers to ogle. I've talked to real wood workers, experimented briefly on a piece of furniture I DID leave behind and you'll see that all that research yielded…the piece sitting in the garage for over a decade. I needed to prove to my friends that I had a vision and could carry it out, and show them that my hoard stuff has value, dammit!
Other secret – you don't have to do any of that time consuming, smelly, dirty prep work when you use chalk paint. Because this piece had sat for so long I did take my orbital sander to it to get off the major dirt and grease, then I cleaned it with some Simple Green and crossed my fingers. I did NOT prime this piece, I hear that priming can be useful for some projects but I was on a schedule and didn't have time for any priming. And I couldn't find the primer so there's that…
I glued down the parts of the veneer that were peeling up, and used wood putty to fill in the bits that were missing. I painted a first coat of chalk paint. And then I painted a second coat. And then a cat walked across the top so I did a light sanding and painted a third coat on the bigger parts like top and sides. There was still quite a bit of original decoration in place so I sanded the edges lightly to highlight the details and give it that "shabby chic" character. While I like the idea of shabby chic more often than not the finishes trigger my OCD painting gene and I just want to paint everything clean and pretty again. In this case I kept the sanding to a minimum and like how it has turned out.
The final, and very important, step in chalk painting is to wax it. This gives a super smooth and fairly water-resistant finish. None of this is rocket science! Paint. Sand. Paint. Wax on. Mr. Miyagi would be proud. And I can attest to the water-resistant part. In between finishing this and taking pics we 'acquired' (as in walked in and decided this was good) a new cat. He proceeded to stake out his territory in the guest room (he is a guest after all…) by peeing on the chair and one side of this dresser. I spritzed the side with homemade Urine-off (SO much better and cheaper than that Nature's Miracle stuff) and wiped everything right off. If he continues we will A) have a serious talk with Mr. Man Cat and B) have the option of putting on more wax. It's all good. You should try this stuff. NO sanding. You can go over ANY finish! I'm telling you this stuff is a dream to work with. I used the Annie Sloan brand and am currently working on another project (free chair on the streets of Berkeley, you can't MISS that one!) using the chalk paint that Ohmega Salvage carries by Old Town paints. Home Depot has a version, as does Lowe's and Joann's (yeah, the fabric store. I'm going to have to try some). I'm going to guess that you get what you pay for, to a point, but have to check it out to see how the $8 version Joann's carries stacks up to the more expensive stuff at either Ohmega or the Annie Sloans. Seriously, my friends, find yourselves a piece of furniture that needs some love and jump in!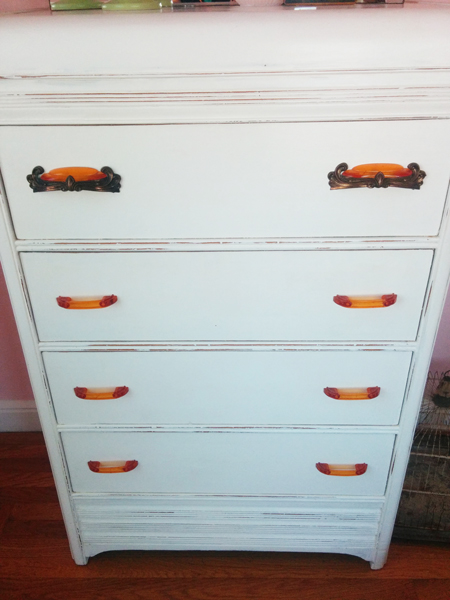 The two top handles were from another piece of furniture that we had to trash BUT the plastic part of the handle is the same color as the original handles so I'm delighted with the mash up.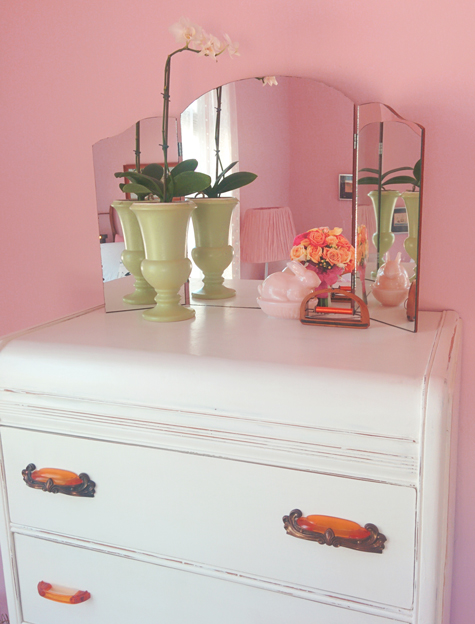 The tri-fold mirror on top was a John gift, the green Hall vase a birthday present from my youngest sister years ago, the bunny glass dish a very early Martha Stewart reproduction (the mid-90's I think).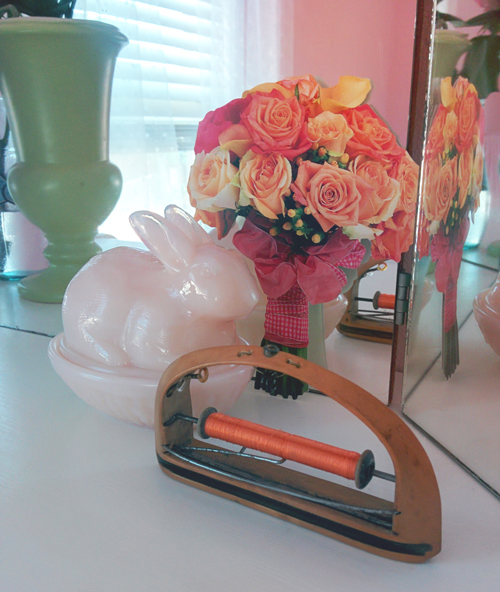 This is my favorite and newest piece – it's an old spindle from a silk loom with the silk thread still attached. One of my favorite vendors at the flea market, Elsie Green,  has a shop in Walnut Creek (though I've never been) and does THE most incredible set-ups at the flea market. I go just to take photos but every now and again find some gem that must come home with me. They do a lot of shopping in France and more than once I make it back to their booth only to find the PERFECT set of purple transferware just sold out. Or I fall in love with yet another set of glasses that I seriously don't need at ALL and have to walk away from just to prove that I don't have to OWN ALL THE THINGS. Who am I kidding? You can drool over their stuff here. Hide your credit card first.
I'm so happy with this piece I've entered it into a twitter/instagram #dyi contest. NO expectations but to everyone who helped me move – I DID IT!
A couple other things of note – each room in this house as a ceiling fixture and the previous owner replaced whatever was up there with all the same contractors special. Nipples on the ceiling, I call them. So from friend John, I replaced the fixture in THIS room with this: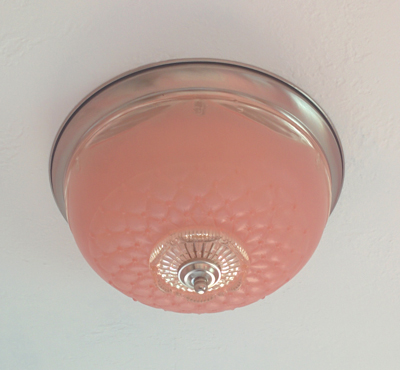 It's vintage, it's pink. Go big or go home. Yes, it's a little nipple-y <shrug>.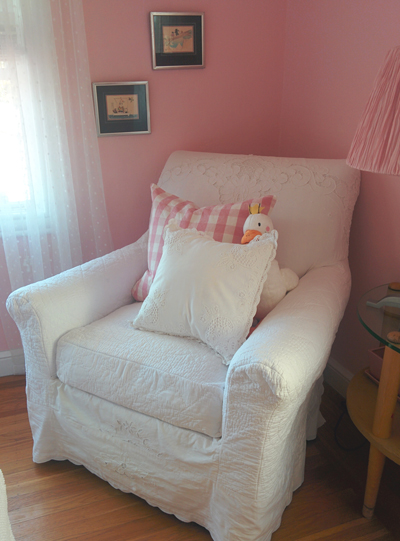 A quick mention of the chair – it is slipcovered with a blanket and a duvet cover. The arms and seat cushion are covered with a hand embroidered quilt I picked up in the sale section at IKEA 15 years ago. It was so cheap I used it as a picnic blanket and dog blanket at one point. It is beautifully hand quilted and a king size so I had enough fabric to do the chair and used the rest for the bedspread on the bed. The skirt and back of the chair is an old Battenburg lace duvet that had plenty of holes in the lace and back but I was able to cut around those and recycle it. This is one of THE comfiest chairs in my house.
And the final addition to the room: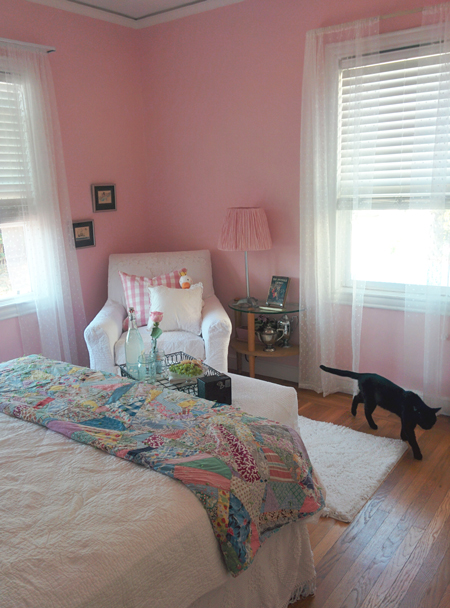 Henry, Le Chat Nouveau. He's been in our yard off and on since we moved in. A couple of months ago he finally landed on my radar when I got a good look at his head. He has two large gashes behind each ear, had a eyeball that was so swollen I was afraid he was going to lose the eye, and an attitude of take-no-shit, give-no-fucks. He's one hissy, snappy dude in that way that cool cats are. He came in the house a few weeks ago, demanded food and head rubs and then would hiss and smack me. We set a trap one night and caught him in about 20 seconds. He's been fixed, ear tipped and shot up with anti-biotics. The morning after his vet experience he decided I'm the BEST thing in his world and has become my shadow. He was fascinated with the process of setting up and shooting this room and finally crawled UNDER the bed (because I kept moving him off of it) and fell asleep. Once the food came out and I sat down for more than 7 seconds he hopped up and made himself at home.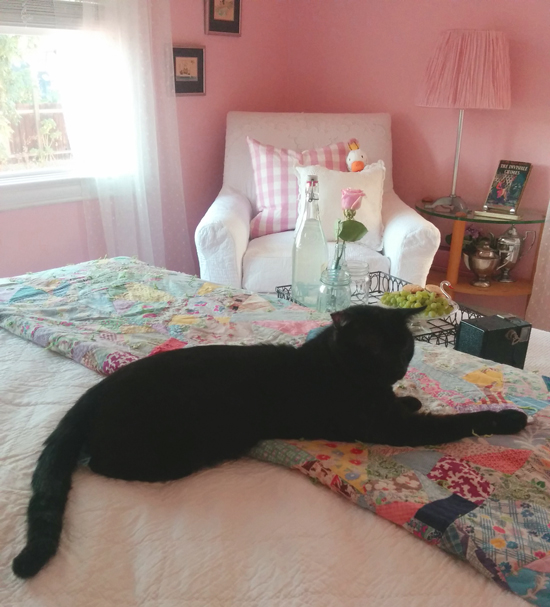 He's resting on the 1940's, maybe 50's, crazy quilt that I bought on my birthday a few years ago on the Longest Yard Sale. The seller was cranky, the quilt was moist because the van they loaded everything in leaked and she wasn't about to negotiate (did I mention how cranky she was at 9am?) It was a whopping $25. I paid her and walked off grinning. Everyone loves that quilt, and now Henry has claimed it.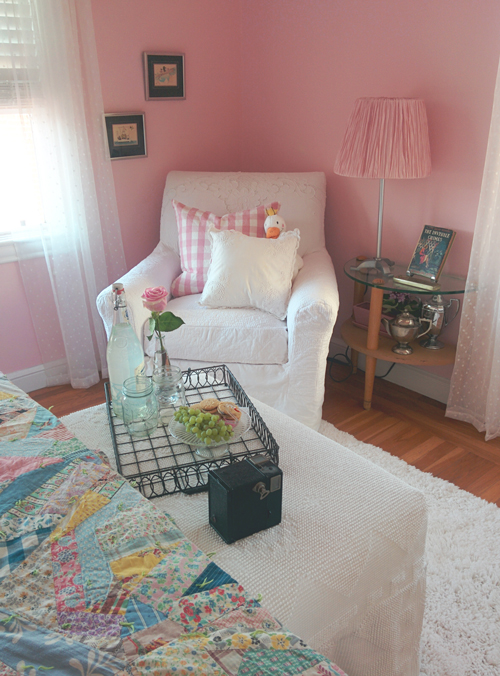 And there we are. One room done, a long-standing project complete, two people who gifted me with lovely things honored. The rest of the house is coming along, wait until you see the breakfast nook 🙂
Until then, follow me on Instagram for as-they-happen projects. I'm going to be making my own cleaning products to get rid of the chemicals in my house, make some cheese and pickles, not to mention more peach jam, as well as document the sad, cement back yard before we start ripping things out to make it our personal oasis. Woo Hoo!
To top everything off – we finally caught Max! He's home, he's happy and regaining the weight he lost. It took a small army of volunteers but he's BACK. My family is complete.
"Life moves pretty fast. If you don't stop and look around for a while, you could miss it." – Ferris Bueller
P.S. Apologies to anyone who visited my page and saw a slightly off colored phrase at the top of it. I was hacked because my version of wordpress was slightly outdated. It was rectified quickly and easily but boy o boy, don't those people have better things to do? Once again, sorry and thanks to the Jolittletime on Instagram for the heads up!