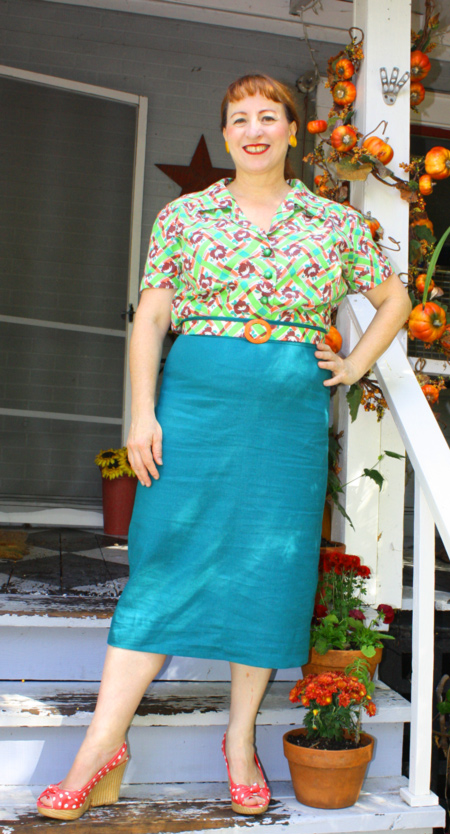 Believe it or not, more!!
This was actually the first outfit I thought of for the Fall for Cotton sewalong. The shirt fabric is Vintage, and yes, that capital V is on purpose. The shirt is made from 2 feedsacks, most likely from the 40's or so said the woman selling them at the Longest Yard Sale.
When my mom and I went to the yard sale the first time we flew into Nashville, rented a car and took highway 40 east to the 127. Took about 2 hours plus a side trip to see Andrew Jackson's home, the Hermitage (an unexpected side trip that involved a last minute decision and the crossing of 3 lanes of traffic on the highway. There was honking : ) ). Just north of the 40 was one of the best spots for "stuff" that we found that year. This year, because we started at the most southern part of the yard sale we thought we had to be extra vigilant so we'd find that area again. Nope. But we did have to travel through several miles of mini-mall after mini-mall after mini-mall that made me CRAZY.
Just as we crossed Highway 40 this year we decided to get gas 'just in case' and my daughter called to wish me Happy Birthday, which she did 2 years before at that same exact moment and I was in that exact same spot. Weird…
So…back to yard sale. There were MORE tents and lots of cool stuff. The lady selling these pieces also had tons of tablecloths and quilts. My mom and I each bought a couple tablecloths because the prices were so good and she thought I was a little crazy for liking the prints of the feedsacks, I really liked the combination of the greens, orange and burgundy.  However, I left them there. I found a woman selling vintage patterns and bought three only to discover that one was missing those particular pattern pieces. There were pieces in the envelope, just not to that pattern. Another pattern had only the top pieces and not the skirt. Did I discover this before I purchased them? I did not. And why didn't I look more closely? I was hot, I was tired, I'd just driven 100 miles and I was hungry. And all the food at these events is either hot dogs, baked beans with hot dogs, corn bread with hot dogs, blue slushies or warm cole slaw (with hot dogs at one stop, I kid you not).
I recognize that being a vegetarian in certain parts of the country can be a challenge and I was prepared for meals of French fries or sauce-less spaghetti. It wasn't going to hurt me to eat less here and there and we always found decent places for dinner. BUT this day, at this time, after I'd tried eating a piece of THE WORST cornbread EVER, and then warm cole slaw (a dish I tolerate at a decent restaurant but won't eat warm under any circumstances!) I was cranky. So no, I didn't check the patterns : )
We headed north and for a day and a half, I thought about those feedsacks. My mother still thought I was a little wack-a-doo but I stopped on our way back south, they were still there and I snagged two. They were about 34″ wide and 40″ long and a little musty. I washed them, dried them in the sun, washed them again and dried them in the dryer to fully shrink them and then cut my blouse out. The fibers are a little nubby and not as tightly woven as our modern cottons but softened up nicely.
Then I had to figure out what to wear WITH it! The skirt I made above is the same shade as one of the greens in the shirt so that is all well and good. It was a remnant left over from my Joan Mad Men dress this year so yeah for stash busting. But while I was at the fabric store I decided I also liked the burgundy in the shirt and found a piece of twill with a little lycra in it so I had to play with that. Plus, it was on sale super cheap and the whole skirt was around $4 : )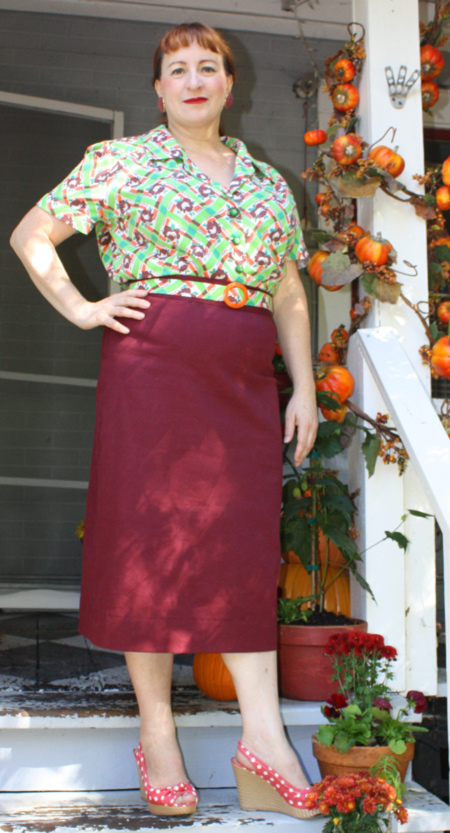 That's what we have here. I can't decided which combo I like better! I forgot to mention the buttons – green half rounds from the 60's, all from my stash. They remind me of gum drops.
Ok, now stay with me here, this is how my brain works. It's like that facebook ecard going around right now "A creative person's brain is like a computer with 2687 tabs open all at once". I watch the "Poirot" dvd's while I sew. One episode had Poirot and Hastings in Egypt and a woman on the same tour had on the nicest solid linen shirt/skirt combo with a belt and neck tie/bow made from a print. How could I do this….??
Voila! I made a burgundy shirt to match the skirt, used the belt from my outfit above and pieced together a little neck 'cravet' from the very few scraps I had left and here we are:
 Now I can close out a tab or two : )
The print and the color combos are unusual and not in my comfort zone but now that I've manipulated 2 vintage feedsacks into three outfits I'm pretty jazzed about them. I have NO green or orange earrings so that will have to go on the "to hunt for" list for the next flea market.
Amelia wondered what we were doing. She's a little sad and lonely right now, our Pouff girl died a couple of weeks ago. We'll get her a new friend or two soon, Animal Place has some recent rescues that are going to need homes.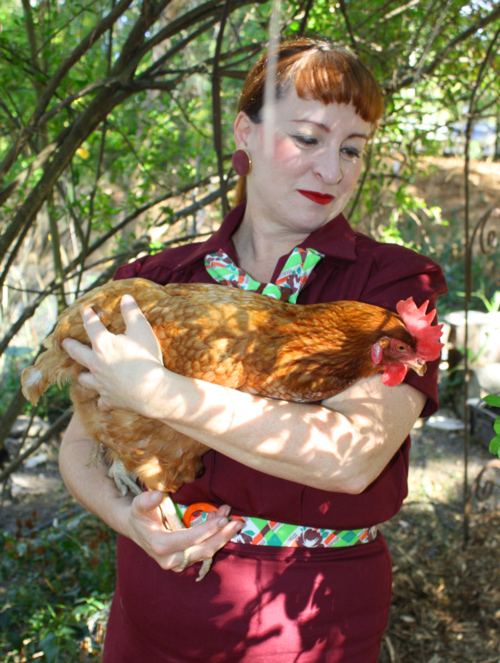 Oh, and the stupid mistake of the week – not looking at what I was doing while sewing in the zipper I sewed in the front of the skirt. Doh!! And we can thank Stuart for the kitty fur.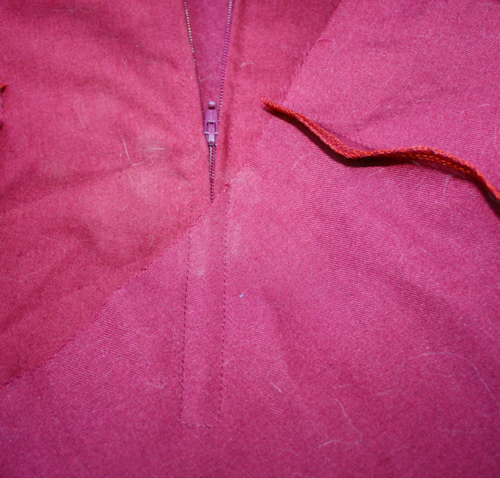 Thanks to everyone who voted for us in the BAD RAP calendar contest! We came in at number 15 and WILL be in the calendar! If I understand correctly the top 11 winners are the main photos each month, they'll choose a center picture amongst themselves and the rest of us will be a smaller photo in each month. I'll scan the page when the calendars come out in a few weeks.
You can tell Chloe is impressed.
What she doesn't know is that BAD RAP is hosting a Gund-a-Palooza party. Jonny Justice will be there since he was the model for the new Gund toy : ) I don't know if he'll be pawtographing things but I'll at least get to give him kisses again! Ken Foster, who wrote "I'm a Good Dog" is coming out and they'll have a Zydeco band, food and drink AND the new calendars! I see a new outfit in my future….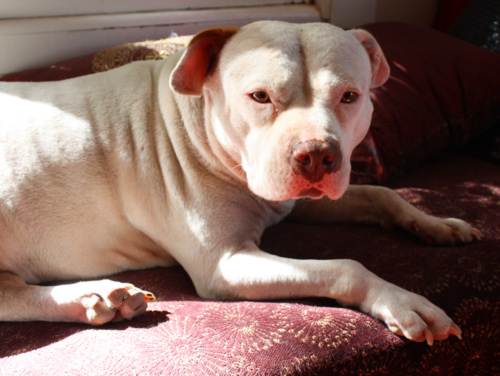 We didn't get many squash/pumpkins this year, no one in our area did but we did get this cute little Jack-be-Little: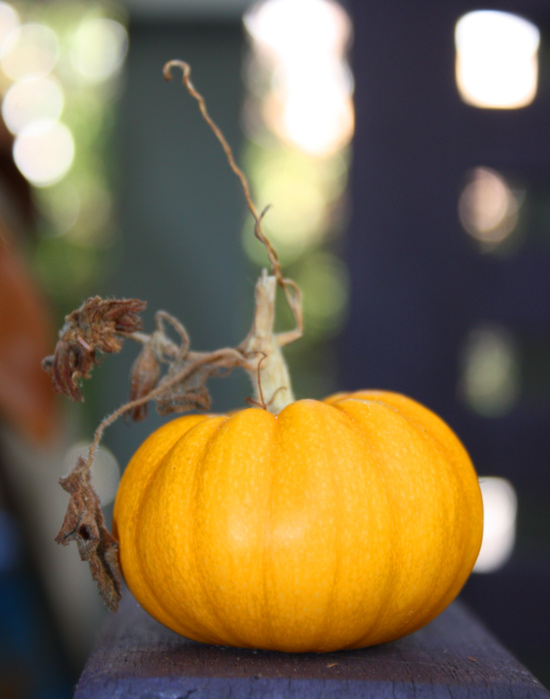 Believe it or not I STILL have more stuff I made for Fall for Cotton!! Have to finish taking photos of everything but I'm getting there. Maybe tomorrow…