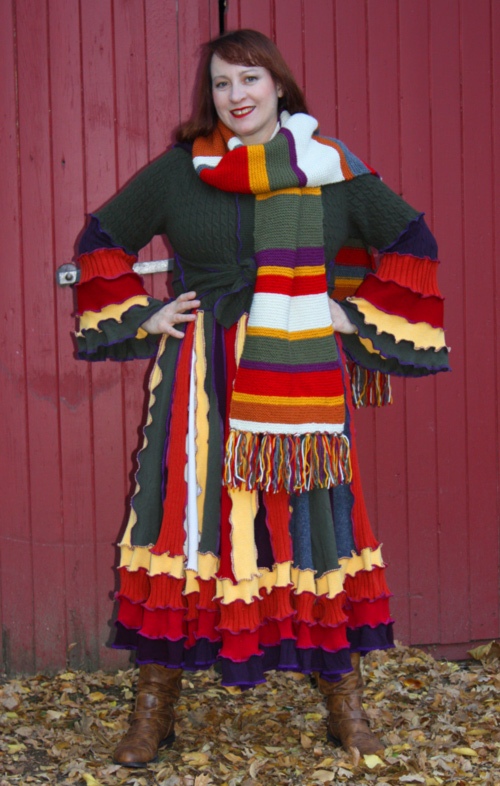 Our friend Tempest Devyne, of Fanbloomingstastic, hosted a Dr. Who Sewalong for the last few weeks. Confession: I last watched "Dr. Who" in the 1970's. I had to choose between "Dr. Who" and "The Prisoner" so I went with "The Prisoner" and then I got interested in boys and….yeah…
I had to work to get caught up on at least the major "stuff" that's happened in the last few decades but Tempest graciously provided MANY, MANY links and videos and tidbits. Her enthusiasm was so infectious that I really, really liked this little journey : )
She started out with knitting a scarf for Mr. D. I LOVE the colors and since she and a the lovely Tara at wittylittleknitter took ALL of the guess work out of whatever Dr. Who scarf you have a hankering to knit, it was easy! I chose the Season 14 scarf mainly because it's the shortest scarf and I had limited time. I liked the entire outfit Tom Baker wore and went so far as to buy brown tweed for pants, a burgundy linen for a jacket and even brown wool to do a hat. They'll look GREAT when I get to them! Alas, that whole reality thing happened and since I don't have a time machine to pick up extra hours something had to give.
Not only that, but I had a late afternoon inspiration. I was knitting on BART, looked down and saw this: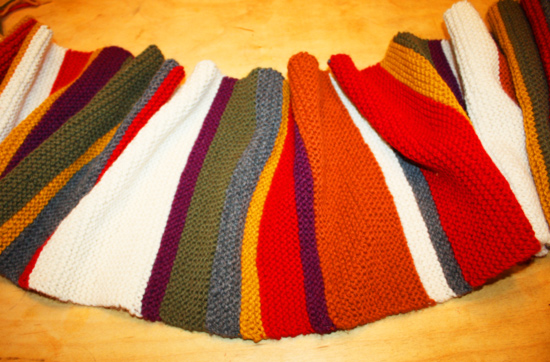 If you look at the skirt of my coat you'll see all the colors of the scarf, in their approximate ratios: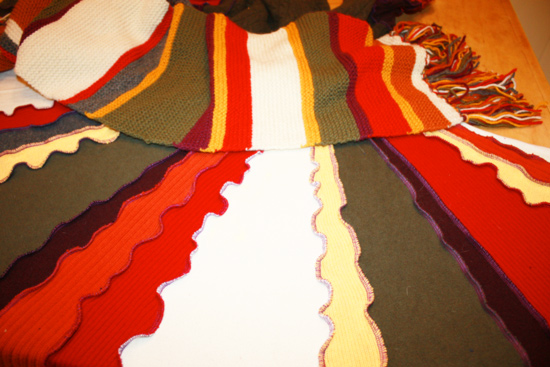 The right side of the coat…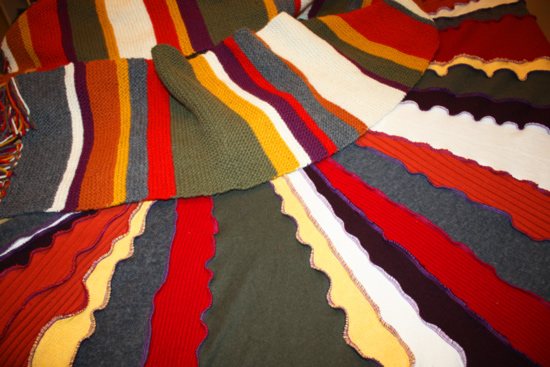 …and the left side.
The hood is a little rainbow-like, just in dusky tones as opposed to the brights.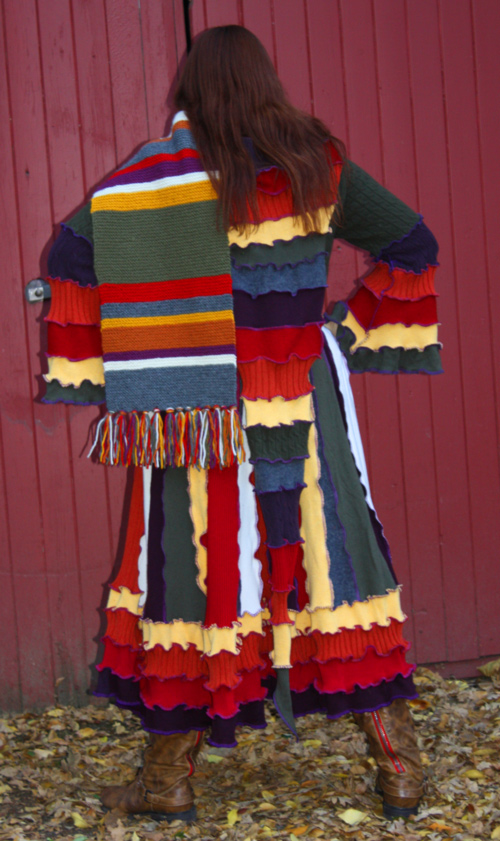 To help me out Miss Chloe is my side kick : )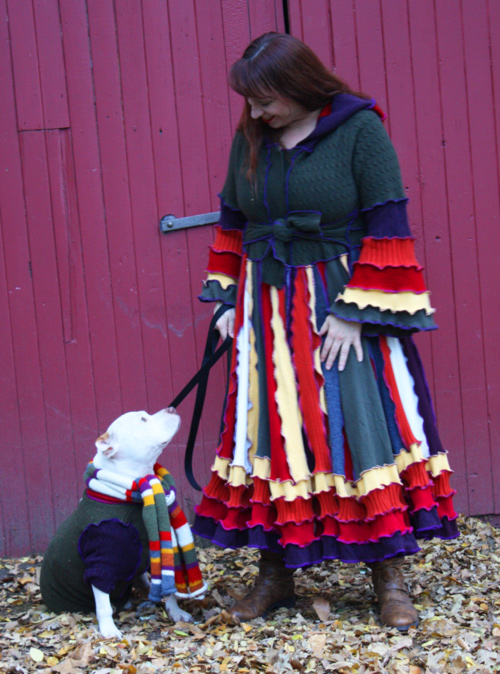 She has her own sweater AND scarf! Am I one of those crazy pet owners who feels like she must dress her animals up? Not really : ) Chloe is getting a coat because she has short hair and tends to shiver at night, even in the house. And the scarf?
Ahem…it was a goof.
PAY ATTENTION – especially when it comes to knitting directions. Read ALL the words, not just your favorites!
Here's how I goofed – I was SO excited to start knitting that I printed out the directions, went to Joann's and bought the yarn Tempest recommended, new needles and flew home. I followed Ms. Tara's directions for casting on and started knitting (FABULOUS resource!!) I had the piece of paper folded and only read the words ABOVE the fold so hence did not see things like "Knit in garter stitch" and "To obtain row count, multiply numbers by two". So the Chloe scarf is half the length it should be and is knit/purl instead of garter stitch. Just for the record, never knit a scarf in knit/purl. It curls : ) I do have a very experienced knitter friend who knew immediately what the issue was but I'm ok with it. For one, I can wear it while riding my bike and I won't pull an Isadora Duncan. And two, it looks kinda cute on Chloe. PLUS I made most of my "goofs" on this one so the second and biggest one is pretty good.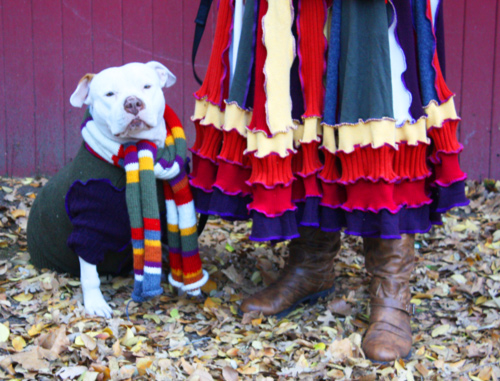 Chloe didn't seem to mind a goofy scarf.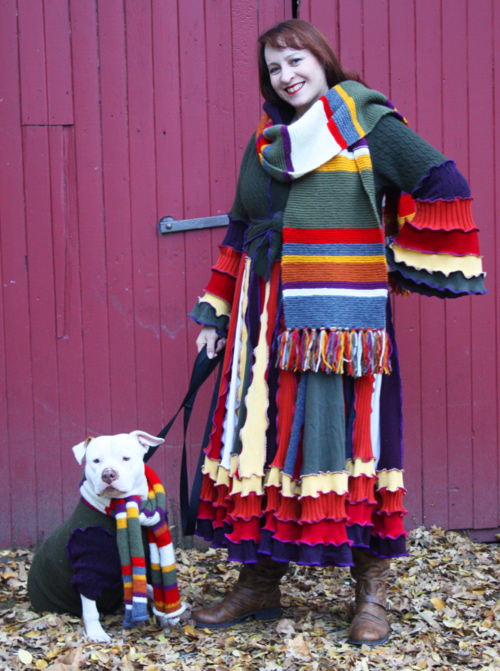 She mostly likes the kisses and cuddles she gets when we do photos.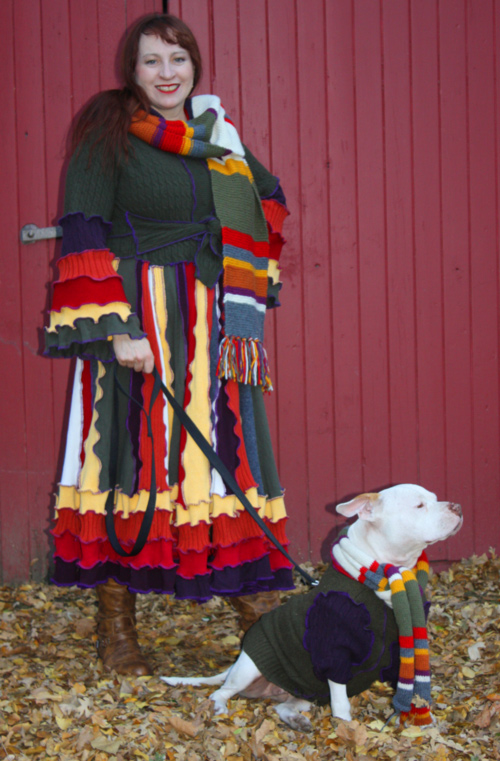 I really like my version of a Dr. Who inspired coat – the basic bodice is a Brooks Brothers wool sweater (HUGE holes at the hem, which is why it was a dollar at Salvation Army). I carefully mapped out what I'd need color-wise and was able to pull everything from my own 'small' stock of sweaters expressly for this purpose. The red is cashmere, the orange, yellow and white cotton and the grey, purple and extra green are wool. It went together pretty quickly since I was following the same diagram as the scarf to piece this out. I gave the colors fancy names like eggplant, curry, pumpkin and tomato : )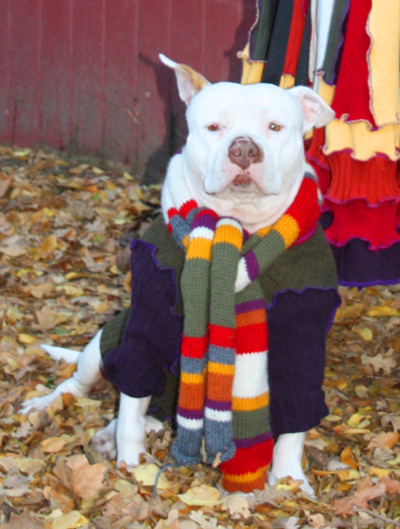 I love that ear : )
And now for a Tardis or two…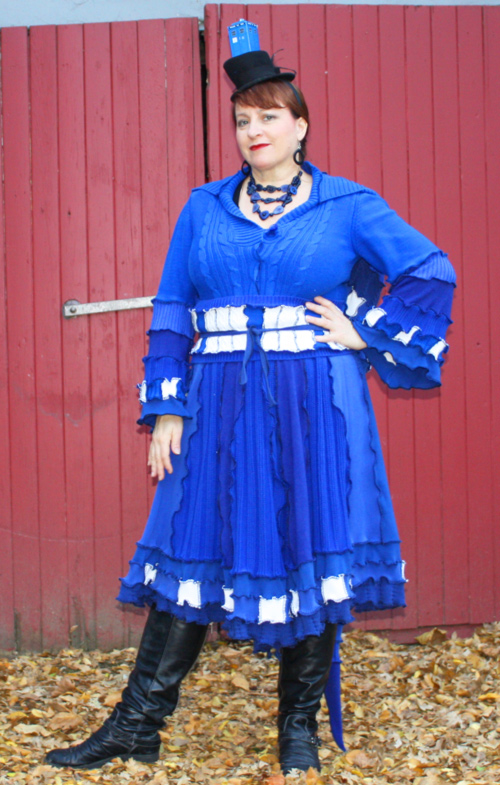 Check out the hat : )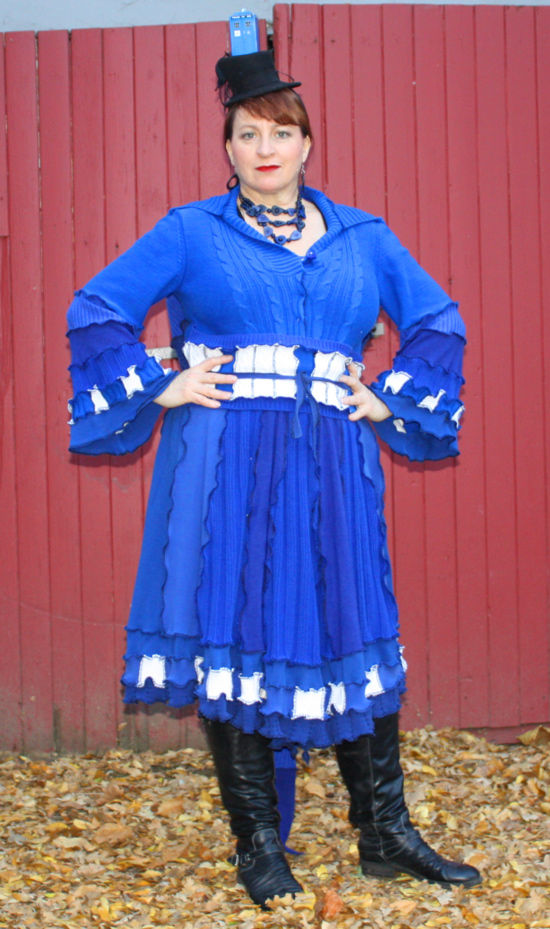 Do you know how HARD it is to find this particular shade of blue in a short period of time??? And do you know how much I DON'T like this color??? I call it Paint-Tape Blue after one of my least favorite items.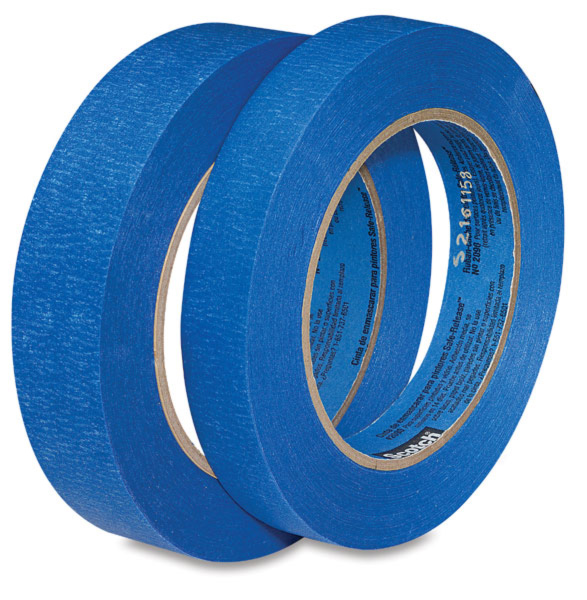 I can't stand that blue painters tape, it sticks when you don't want it to, it pulls off when you need it to stay and it almost always rips some paint off the surface you just finished. When I see paint tape in my house it makes me feel like I HAVE to hurry up and finish something. It creeps me out. Some people don't like spiders, some don't like big dogs, some don't like messes; I can't stand blue painters tape. Yet there I was, visiting every single thrift store I could possibly get to in a two week period, to see if I could make my late night inspiration a reality. I think I used 7 sweaters, maybe 8 if you count the almost-navy one. Almost all are cotton so the coat is remarkably light weight.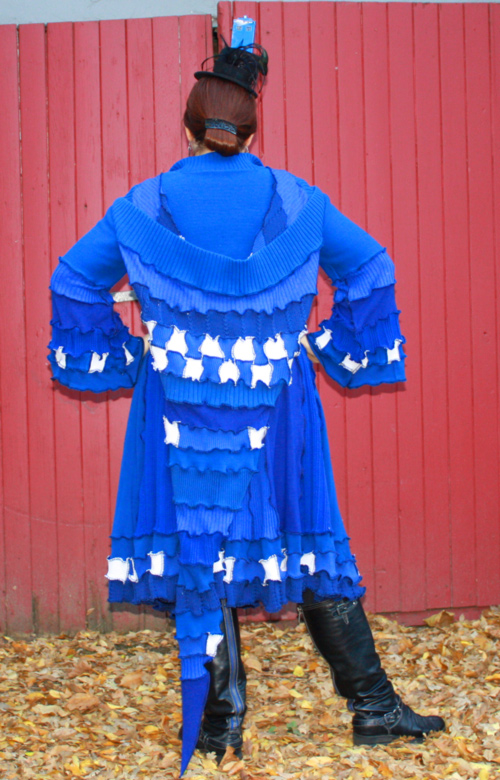 I wanted to incorporate the windows of the Tardis in the coat design without making them literal. I didn't want to use anything but the sweaters (for now) just to see what I could do with them. I also had limited time : ) I think I started this the day before Thanksgiving and finished it up just in time for photos on Saturday, since they needed to be up on flickr by midnight. It was a race but I finished!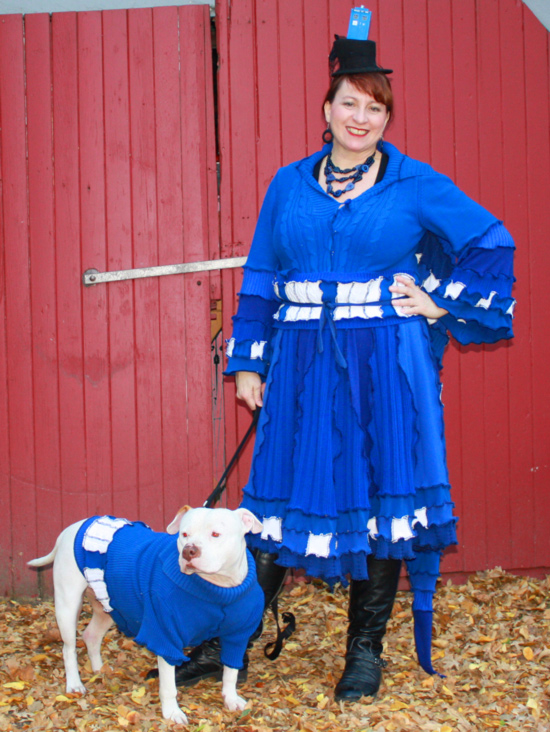 Because I had *just* enough of the blue sweaters left when I finished my coat, and because she was so cute in her other coat, I made a quick Tardis for Chloe as well.
The little Tardis on my hat is a model I found online, and I downloaded a Dalek for Chloe to wear/eat. She didn't like it : ) If you follow me on Instagram you can see that photo.
I made a waist piece in the spirit of Tardis windows. It's not all that successful and frankly if I were doing this as a customer order I'd make a cotton and boned piece that one person could take on/off. One of these days I'll finish off the buttons, they'll be the little St. John Ambulance symbol printed onto fabric like the Jonny Justice buttons.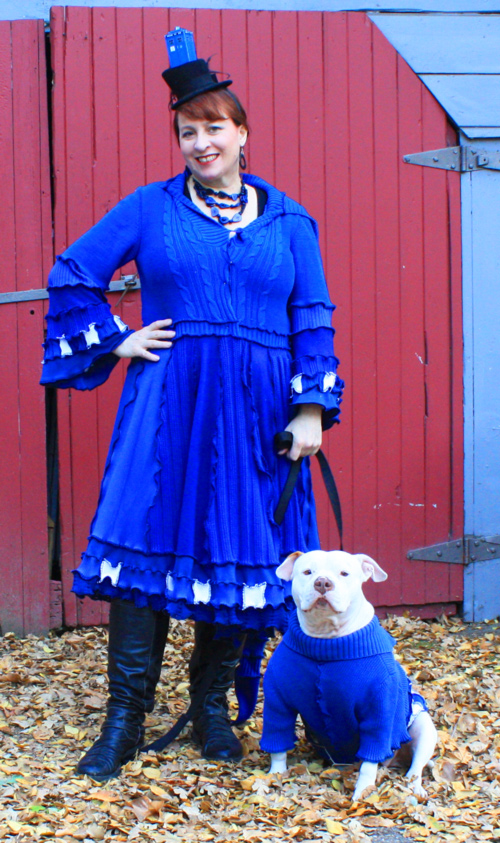 The waist cincher was bugging me so I took it off. Lost some shape but was pretty comfy.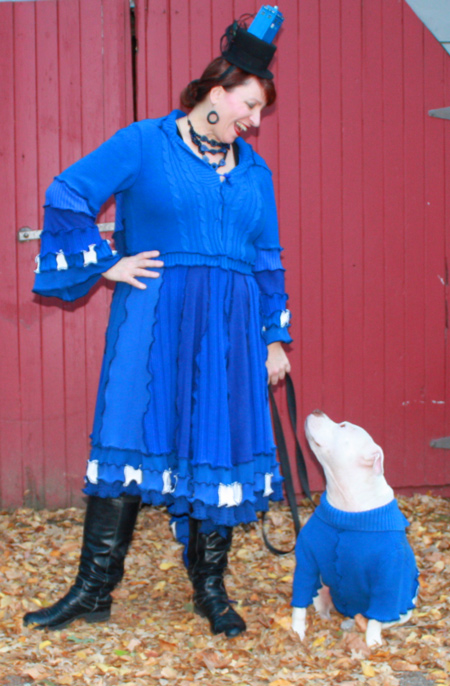 "Mom, are we done yet?"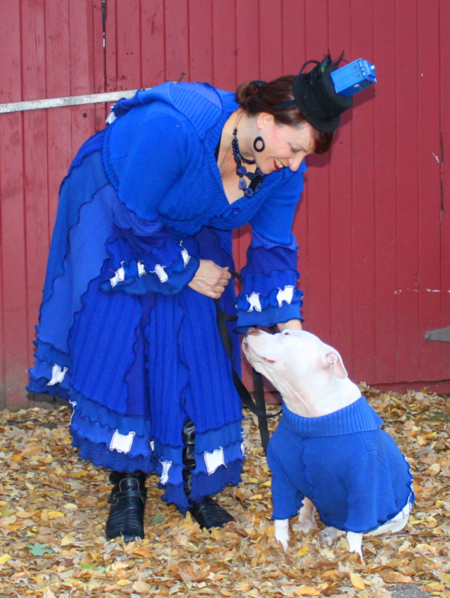 "It's OK, sweetie, we're almost done."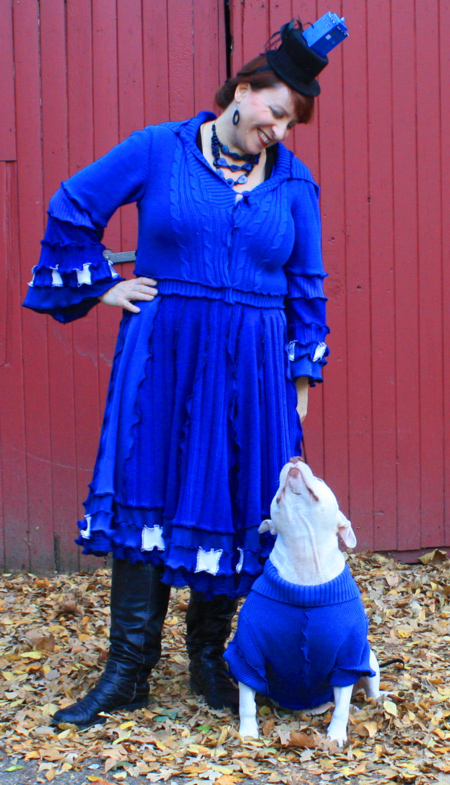 "I feel silly."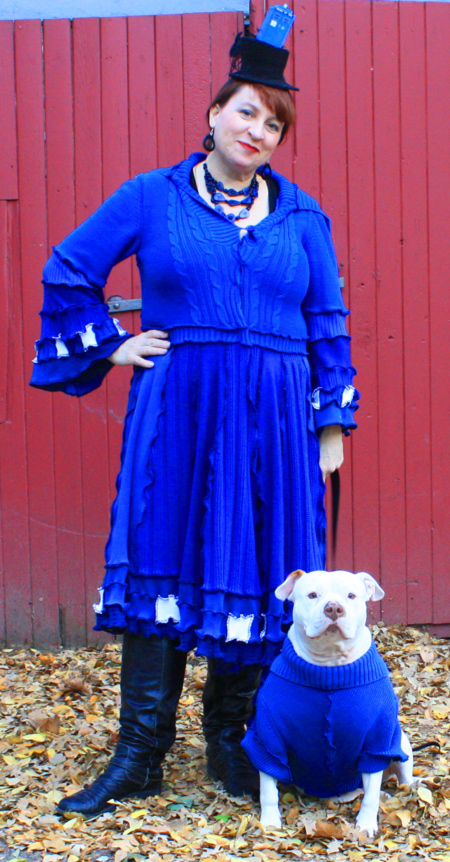 "Will there be bacon?"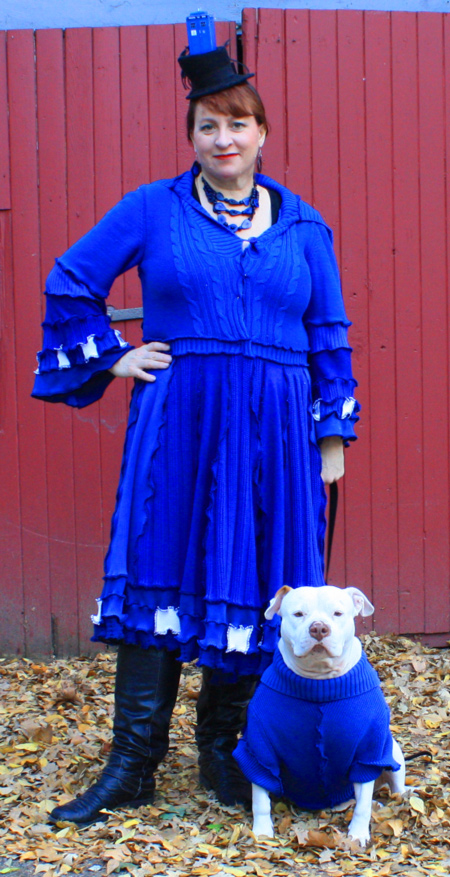 For all the color grief this gave me it turned out better than I expected. I'm thinking of putting these coats up on ebay or etsy for sale. I wonder if there's a market for funky Katwise-inspired Dr. Who coats?
And have we all seen the announcement from our friend Kazz that she is going on an indefinite hiatus???  I'm sad but I get it. She has been a HUGE inspiration to me, and I'm going to MISS her influence! She is still on twitter and Instagram so we're not completely bereft : )
Speaking of twitter – I was going through my notes from the conference this summer from my social media seminar. There's a bunch of interesting "This is how you use twitter" stuff that isn't like what we normally see in social media classes, I'm thinking of doing a short "check this out" post. Interested?