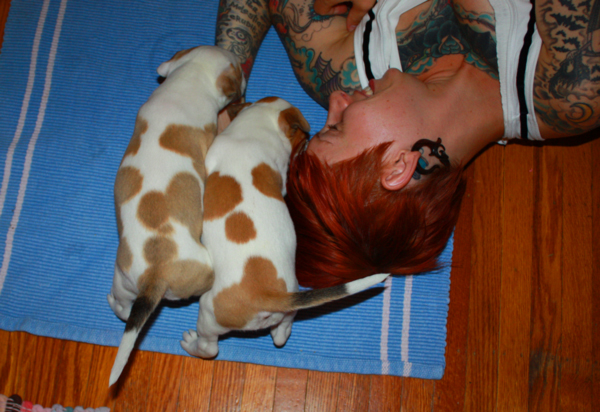 Before I get to the "regular" post I thought I'd throw in a puppy pic –
This is my daughter playing down in the puppy pile : ) You can only see two of the eight.
This weeks Sew Weekly challenge was to make something Blue. I had the perfect project just waiting to be finished, all stuffed into a bag, in the closet, in the puppy room…
My husband and I spent the better part of the weekend fixing one area of our yard so mama Chloe and the puppies could be outside together during the day since cooping them up in my sewing room is becoming less and less of a good idea. Chloe is getting tired of puppies hanging on her, chewing on her and just generally being puppies. I get it, as much as I loved my daughter I needed little breaks every now and then when she was small and there was only ONE of her!
So we pulled out fencing panels, chicken wire and hardware cloth. We cleared areas of questionable wood and leaves and finally, on Sunday afternoon around 4 pm…were able to pass puppies through the sewing/puppy room window into the big bad world. I have a twin bed out there, perfect to read or nap on during the summer, perfect for mama to jump up on to get away from hyper puppies.
Only then could I move into the room again, clean off my "sewing" table and get set up for this weeks photo shoot. Here are the details of what was on that table: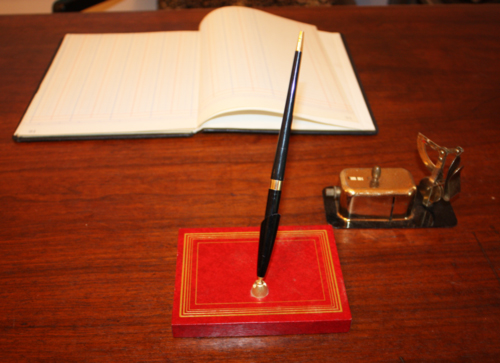 Vintage ledger in the background, pen holder in red! and a calendar/postage meter. Postage meter? Yes…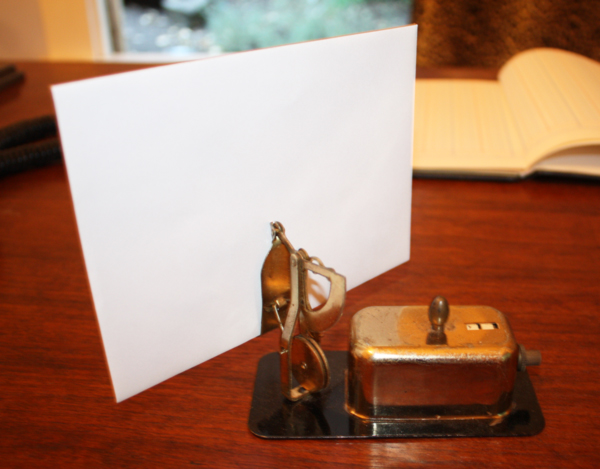 You place the envelope in the slot and the quarter dial on the right tells you how much it weighs : ) Old school technology…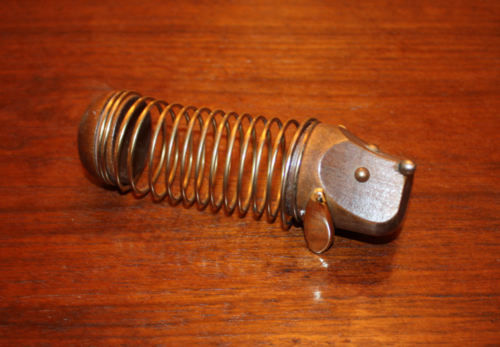 The little guy holds your mail in his coils.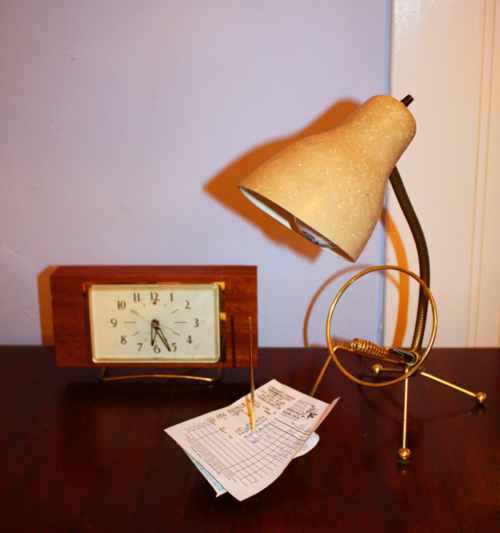 VIntage clock, lamp with pen holders and receipt holder, all courtesy of Sue's collection!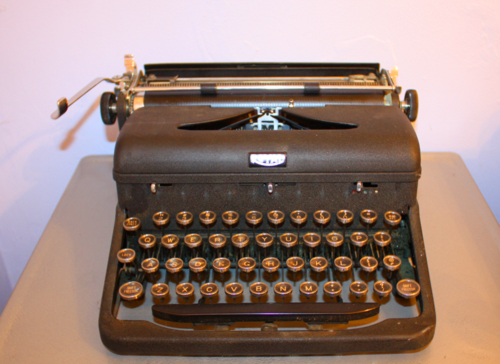 The old Royal typewriter and yes, it still works.
And finally, a vintage address "book". The small red bakelite tab up near the top can be set to any letter and when you press the red bakelite button at the bottom it magically opens to that page! I LOVE these things : )
SO Sunday evening, as the sun started to set, I finally had on make-up, hair up and dress on sans hem. That's right, no hem. Didn't have time and ran out of energy.
As soon as I had enough pics to choose from I took off the dress, pulled on a t-shirt and started scrubbing the floors to get ready to bring puppies back in. WHeW! We did it, but I was dripping in sweat the whole time and am amazed that, without my daughter, I got several good pics.
And yes, that IS a leopard-covered office chair in the back : )
The Facts
Fabric: Blue and white linen from stash, blue poly lining
Pattern: I have absolutely no idea
Notions: 1 zipper, 8 buttons
Year: 1960′s Mad Men inspired
Time to complete: About 4 hours
First worn: September 2012
Wear again? Oh yes!
Total Cost: Free but I think I spent about $18 at some point
This was my runner-up idea for the Mad Men challenge earlier this year. If things didn't work out with the Pucci print I would have gone with this. Too bad this UFO is also Blue : )
Nothing about this dress was straightforward and it really should have been. I can't remember what pattern I used for the top. Seriously, I looked through many, MANY boxes and bags trying to find that sucker but no…. I *think* the skirt was from Simplicity 2549 that I used for the Make this look challenge. I have a vague memory of cutting it out but extending the top of the skirt up to compensate for the waistband that pattern uses. I made my own white bias out of a poly linen-like fabric and used my handy bias-tape maker to ensure even width : )
The entire dress is lined so I don't have to worry about a slip and it helps keep the linen from getting "as" wrinkled. I just like the feel of a nicely lined dress! Here's my other vague memory of this dress – needing to wear both a spanx AND the tall hose to fit into it. And hold my breath. But now… a few months later, I fit into it just fine : )
Unlike Joan's dress I did NOT do that little center front neckline piece. I just didn't care for that design element for me. I don't like fussy and it felt fussy but that's the joy of making your own clothing, you do it how you like. I originally stitched the white bias on the skirt closer to the center front and was going to put the buttons on the outside but I don't remember why. In the end I moved the bias and stitched on the buttons on the inside and then I almost forgot about the bow : )
My daughter was in Yosemite this weekend and unavailable for photography duties so I used the timed setting on my camera. Ordinarily a good idea, this shoot was fraught with timing issues and heat! I'm using the sewing table in my sewing room which normally isn't a big deal EXCEPT my sewing room was taken over by mama Chloe and her eight puppies a few weeks ago. To pull this off we had to do some major yard remodeling so the family would be separate from the rest of our animals. You can "almost" see the scratches on my arms from wrestling fence panels and chicken wire… It took us all weekend to get part of the yard safe for everybody, get them moved out, get the room re-styled and then me fixed up. Without my daughters help my hair wasn't as Joan-y as it could have been, and there was no one around to say "stand up straighter, tilt your head this way, suck in your stomach" etc. I felt a little lost.
When I did this series of shots I started out sitting up very tall and as the camera clicked away I got lower and shorter…I was also utterly exhausted, pretty dirty (you can't see my feet!) and running like crazy to finish everything before dark.
In the end I really liked this dress ( TOTAL HONESTY – it still isn't hemmed!) and I can actually ride my bike in it!! It's comfy and makes me feel good. Now if I could only find that darn top pattern I could make a couple more….