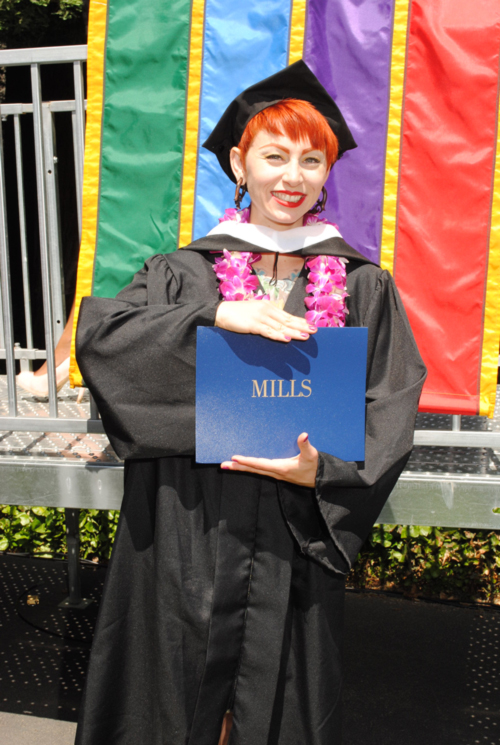 We got the photos from Brittany's graduation : ) Yep, Proud Mom. OK, that was my "mom" moment. Now moving on…
Check THIS out – there is a Sew Weekly Reunion happening!! Adey, Veronica, Sarah and Debi have decided to resurrect the Sew Weekly format for one more challenge. EVERYONE is invited to attend, just head over to the new blog, tell them you're in and check out the swap that Kat is putting together. Come play!
And now, how to make a free (or almost free) bench like the one I just did for my back deck remodel.
You see these all over the place, benches/ottoman's that cost a small fortune. Why? Four legs, a piece of wood or two for the base and some foam and fabric. Easy peasy! Here's how I made mine.
This is what I started with: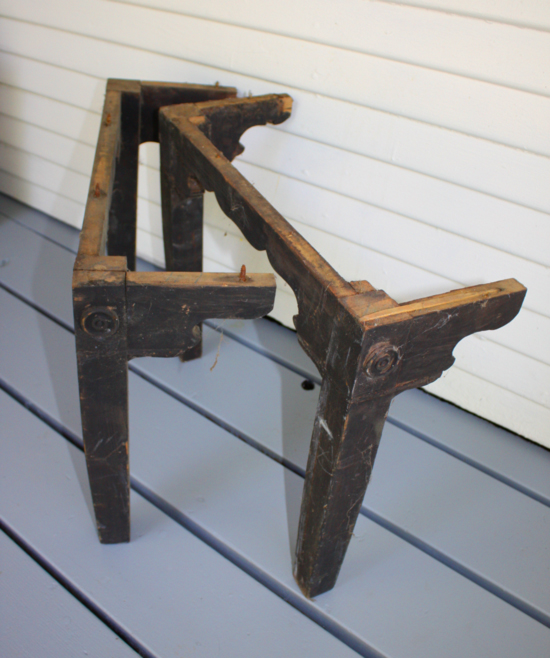 A set of bench legs I saved from the trash years ago. Because these were used in the theatre they were painted black with some hideous cheap paint that felt chalky and never, ever stopped chipping. Ugh. There are rusty screws poking up through the holes that attached the legs to the top that I'm replacing. I needed to make sure any cracks were filled in and the pieces were sanded down to get rid of any slivers
 I used the ends of the 1″X4″ boards I couldn't use for re-building the deck for cross pieces. Piece number one got glued to the ends of the leg pieces, nailed in place and then clamped to make sure everything will hold together really well.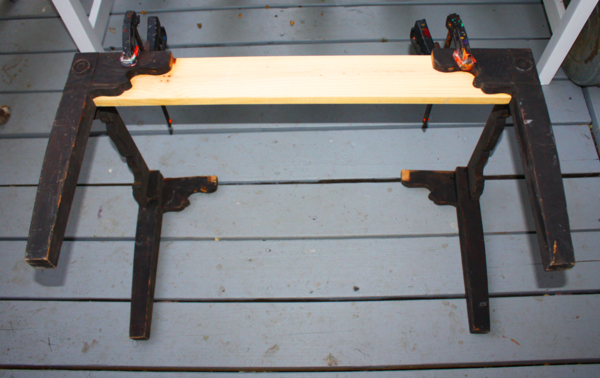 Then I saw something pretty and red : )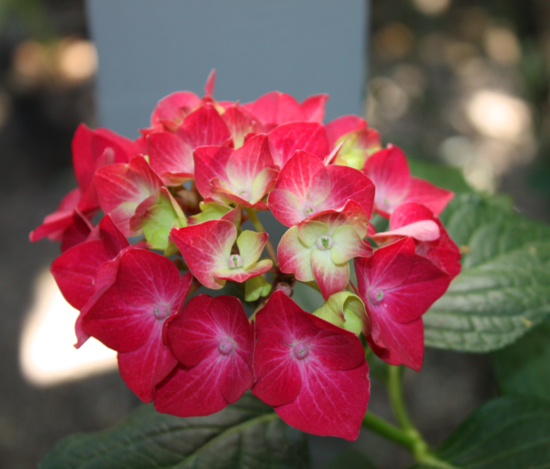 Second board in place, same as the first.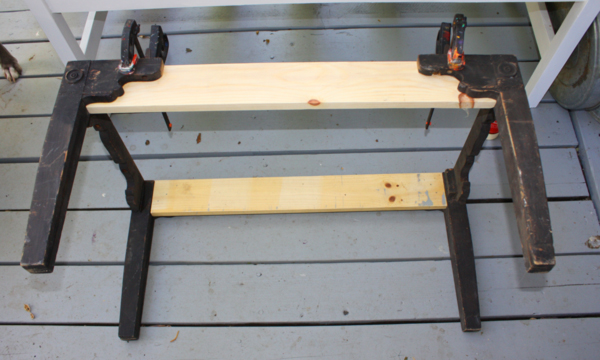 Photobomb…
Isn't that a sad looking face? Turns out she got something caught in the roof of her mouth AND had an eye infection going. I noticed her red eye in this photo and got her into the vet before things got out of hand. Poor girl is feeling much better now : )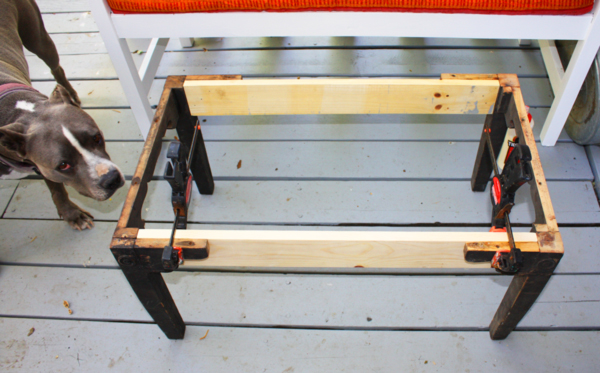 The two side pieces were faster since they're more added support pieces than load bearing.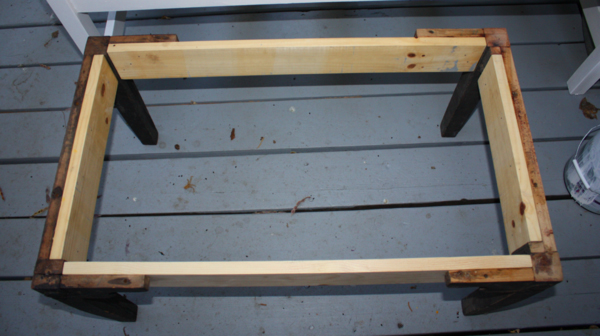 All sides in.
 I had some extra boards from an old closet configuration, too short to do much with but perfect for somewhere to put your rear end : ) We cut them to fit the top of the bench and then painted the legs. Two coats of primer and another couple of coats of basic white semi-gloss, all found at the Haz Mat recycling center for free!
The two boards are only glued together, I don't have a biscuit joiner but I think this will be fine.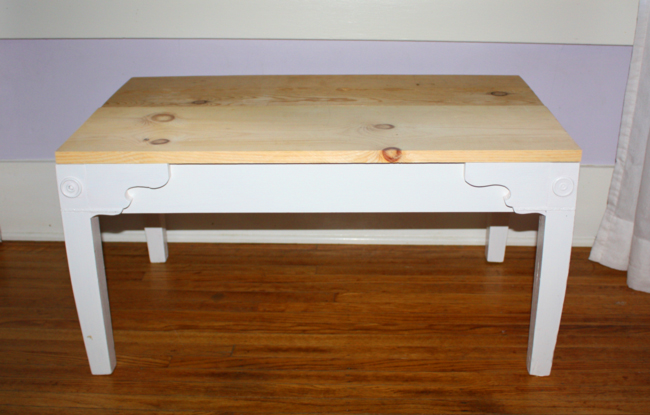 Looking good huh? No more splinters, no more crappy flaky black paint and another photobomb : )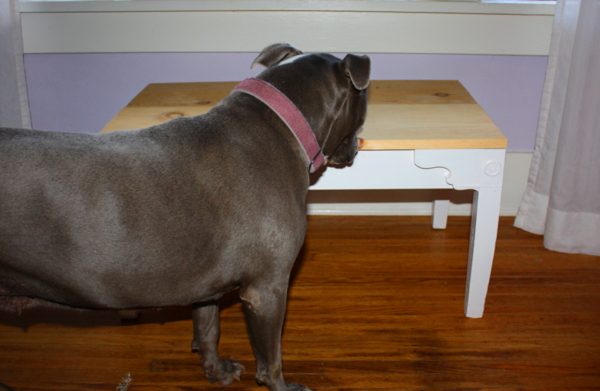 Let's get some soft goods on this thing and finish it up!
Foam. Yes, foam. I have a love/hate relationship with foam. It's major crappy stuff for the planet so I don't buy it. I actually bought a piece of foam-alternative stuff and was ready to go until this freecycle post popped up one day "Free – 3″ thick piece of foam, about 30″ long. Left over from a project, I would love to keep this out of the landfill." Serendipity! It fit PERFECTLY, just had to trim a bit off the long edge. I have other upholstery projects the other stuff will work really well with so no problems and the best part? Free : )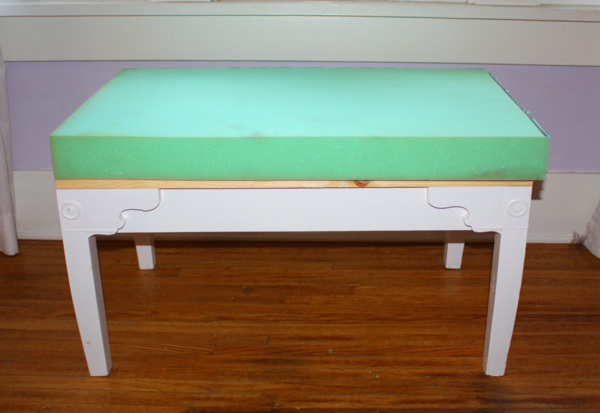 Foam itself has "hard" edges, so to soften them up I wrapped it with batting left over from the couch project. (Have I taken pictures of the new couch slipcovers? I don't think so…) It covers the foam from edge of wood platform around all four sides. To give it a nice custom finish I cut out the corners…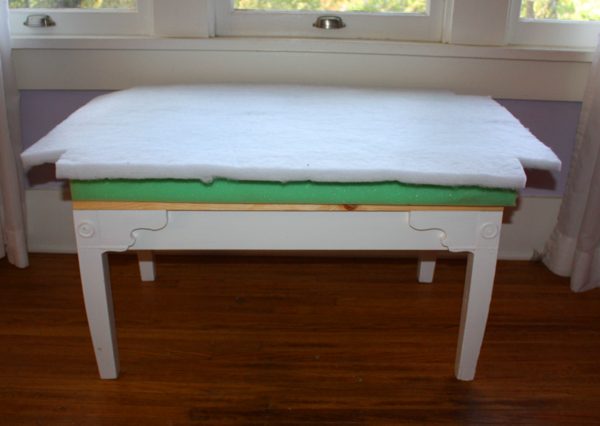 …and then hand stitched them closed to form a lovely cover.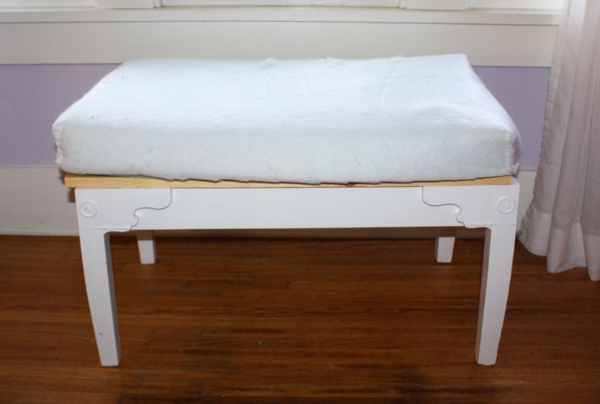 Chloe photobomb : )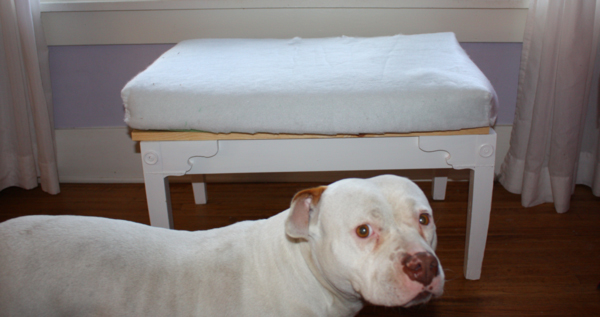 If you remember Stuart from the leotard post you'll remember his "ownership" of that project. Nothing has changed –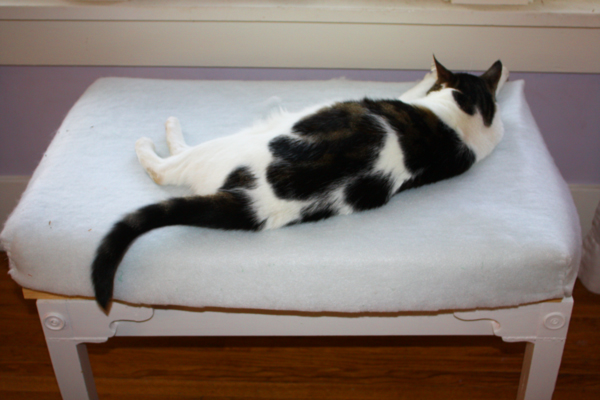 Don't touch the kitty. I left him there until he had a nap, then pulled out a piece of cotton duck left over from my David Bowie jacket. Upholstery is very basic, unless you're talking pin tucking or some other highly manipulated design, it's rustic as best. Simply drape the fabric over, pin the corners and stitch.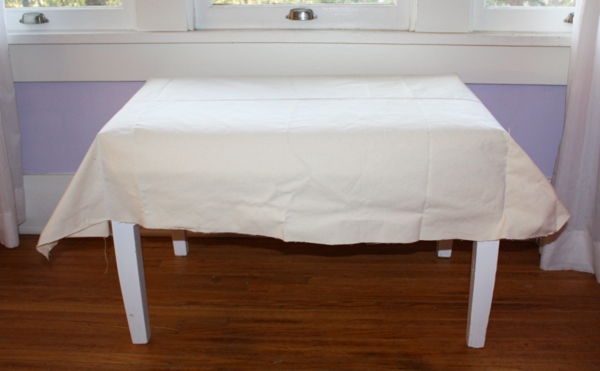 Trim corners, turn and pull back over. MAKE SURE you leave an inch or two around the botton to pull around the support boards or you'll be sad.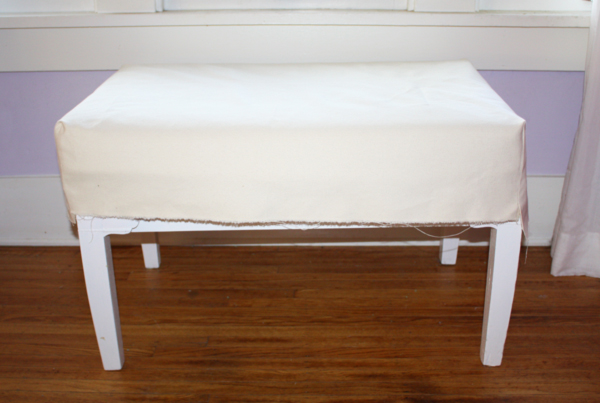 Almost done : )
Now flip the seat over and staple fabric to board, stretching evenly as you go. When you flip it back over you should have a nice, smooth, wonderful bench top. And another Chloe photobomb…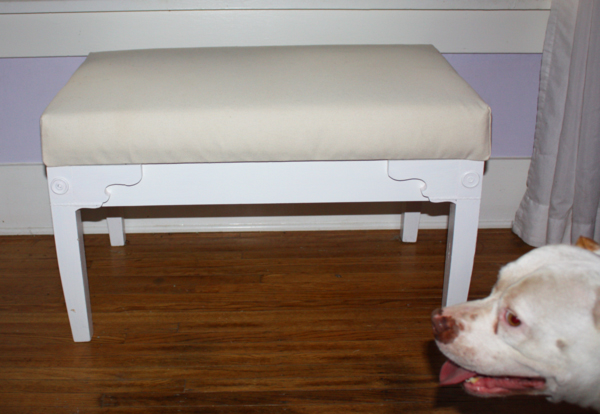 Screw the top to the legs and you're done. Chloe approves : )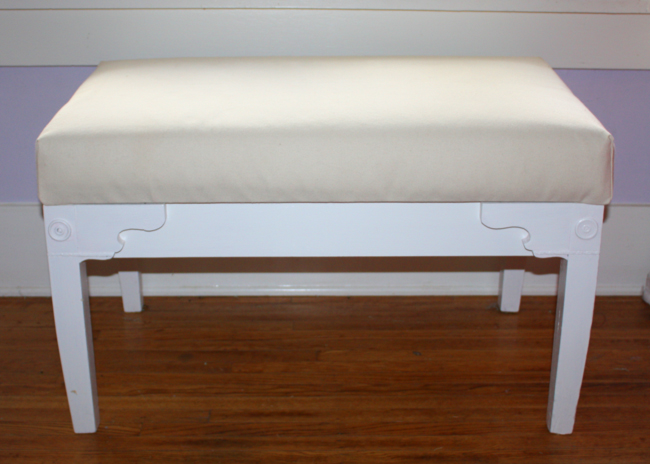 Voila!! Finished bench made from left overs and free stuff. If you were to actually purchase what you need from some big orange box store the parts and pieces could probably be had for about $20. If I were to buy the foam (shudder) I'd use one of the 50% off coupons Joann's regularly offers since that stuff is around $30 a yard. I've seen benches like this at the flea market for $200 and up that women are literally fighting over. I'm going to make slipcovers to not only protect that beige fabric the animals will soon have full of stickers and fur but also to go with different "looks". When I do I PROMISE to take pictures!
I completely forgot to show you before pictures in my last post so here we go, the pics of a shameful back porch. I figure if you're going to do before and after you might as well do dramatic pics, right?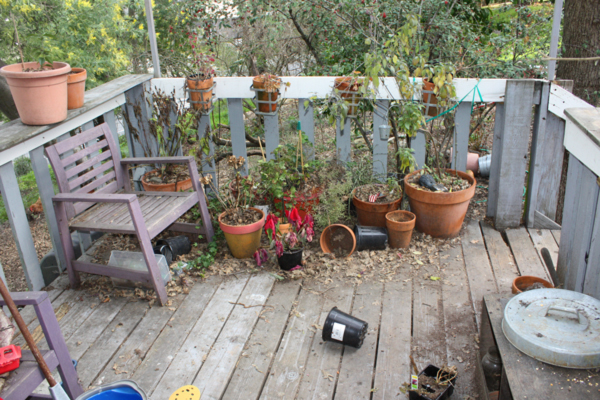 White trash central. All I can say is it was winter and we "let things go". Ahem. A little embarassing but there we are. The plants at the back of the porch are the same plants you see below, in almost the same positions, just happier with the warmer weather.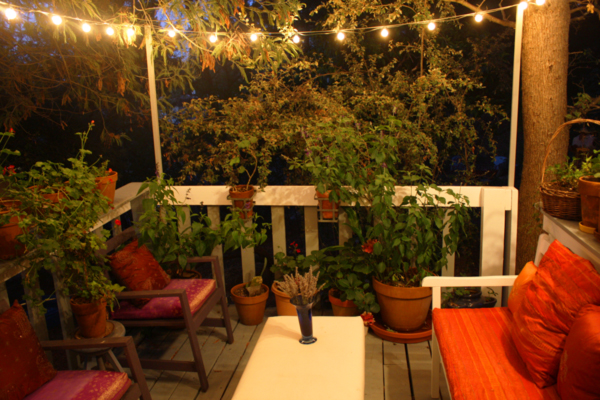 A dramatic after : )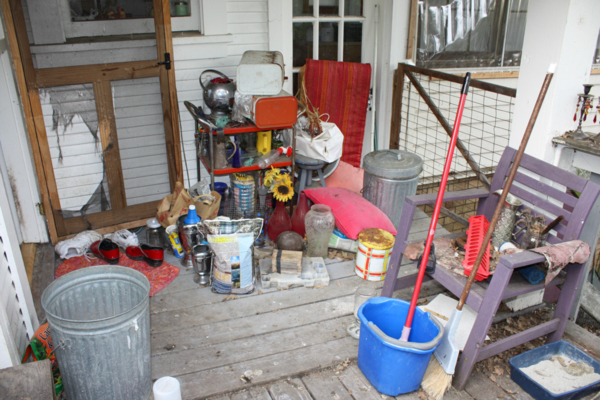 Seriously icky…  Notice the HUGE hole in the screen door, thanks to the cats unfettered access. The only word for this is GROSS BUT it does get better.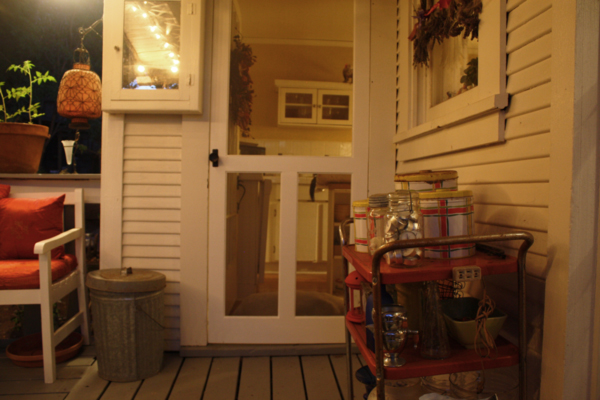 See why I was so excited about the "new" back door? Vases are all nicely organized, screen is whole and keeps out bugs and keeps in dogs and chickens.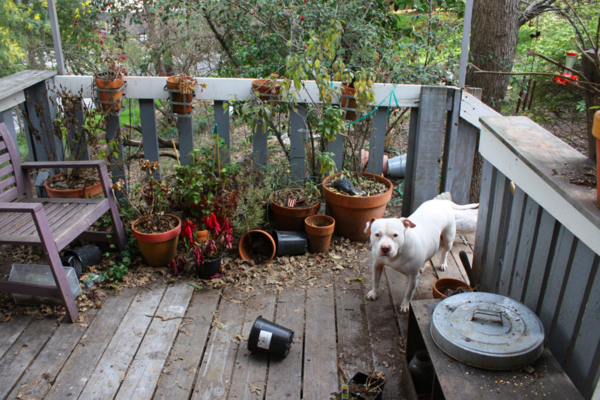 That's a very sad Chloe face : ( This was before she knew she was "home". The day I told her that she was staying she did zoomies all over the back yard, first time I ever saw her do them  : )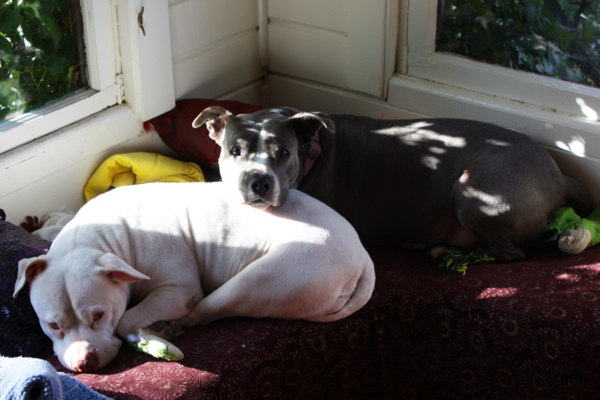 Sleepy faces…
Which leads to the project of this week: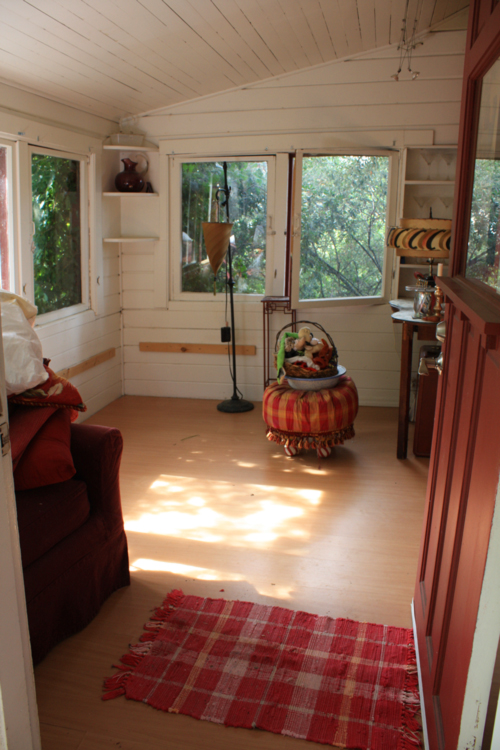 This is what we call the front sun room. It used to be pretty, now it's sad. But it's going to be pretty soon and boy, oh boy, is there a bench for that room : )
The No Kill Conference was AMAZING. It was two days of intense semiars, meeting people who literally change the world everyday and knowing that I CAN DO THIS. I met a couple people that I think about everyday.
The woman who worked with Tom Hayden when they wrote and got ratified the Hayden bill here in California which says, in essence, if there is a rescue willing to pull an animal out of a shelter then the shelter MUST let them have the animal. Awesomeness! All 50 states need legislation like this and she was telling everyone how to do it and made it seem so reachable.
A woman sitting next to me in that same seminar had just lost her pitbull girl to a form of Breed Specific Legislation (bad stuff). She was grieving and needing information on how to change things. I think she got it. We bonded and she and her friends included me in dinner plans Saturday night. Nothing like sitting in a Thai restaurant in a strange city laughing over dogs and kids and life plans.
It was amazing. I ran around like crazy in the heat and the humidity and the rain and was exhausted, in a good way, by the time I got home. I missed all my furry faced kids : ) And if anyone out there STILL thinks that pit bull dogs can't get along with others then check out where Amelia hung out when she didn't feel good –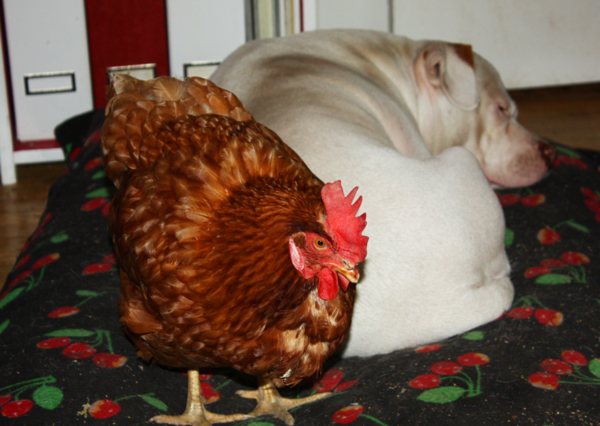 She's all better now and in FINE feather!