I found this dress in a trash heap, can you see why?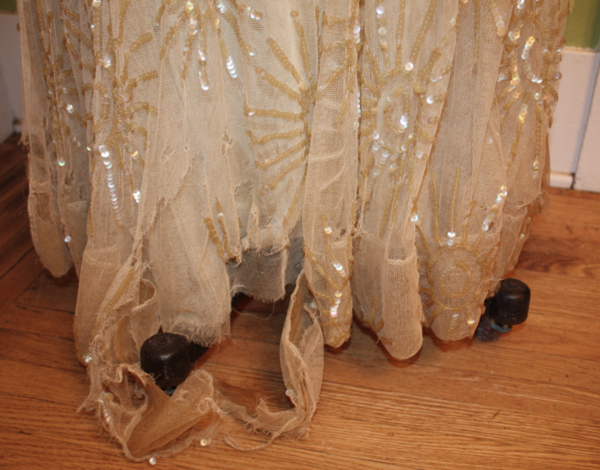 And that was only the beginning of the sadness. The skirt is 2 layers of what feels like cotton netting, the overlayer has the sequins and the underlayer is plain. There is a simple bias cut taffeta slip that was actually in pretty good shape but those overlayers…
Full of holes, ripped away from the bodice at the waist, hem completely trashed, it was just sad. When I saw the challenge posted on Miss Crayola Creepy's blog I figured I'd give it a miss with the whole Me Made May 13 thing. THEN she went ahead and extended the deadline to June 4 and somewhere around June 2 I thought I'd give it a go. Nothing ventured nothing gained right?
It was an exercise in frustration.
Here's what it NEEDED to be – just a basic slip dress. Make a Laurel with no sleeves, or add a hip sash but simple, simple, simple. This is what it wasn't – simple.
With all the damage there was NO WAY to salvage enough length to make a slip dress the correct length. Why I didn't take a photo of the whole dress escapes me but I didn't. Originally it was a fitted bodice, around a size 6, with a lovely deep back, embroidered net shoulder straps and a 3 layer half circle skirt. And holes, lots and lots of holes.
The size 6 was the second problem, I haven't been a size 6 in the chest for decades and I really wanted to keep the pretty back intact. I thought maybe I could make a simple square bodice, attach a straight skirt and pull it off so that's what I tried.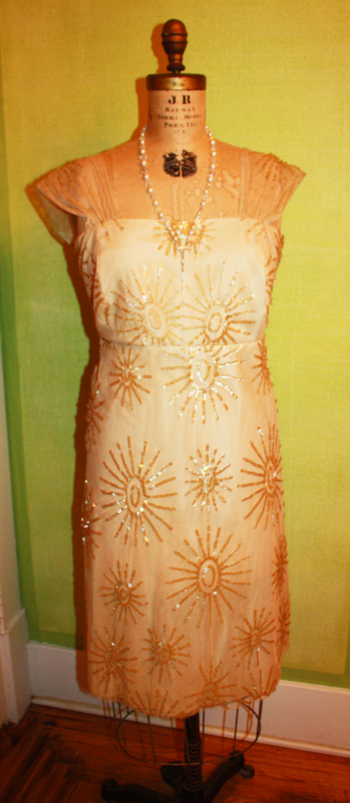 I sliced the bodice down the center front, inserted a center front panel and squared off the neck edge but retained the original beautifully inserted zipper. Isn't the back stunning?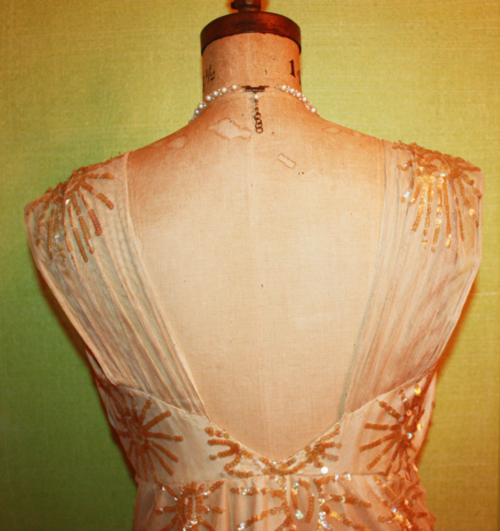 The color is a very pale pink now, probably originally a little brighter but close to this.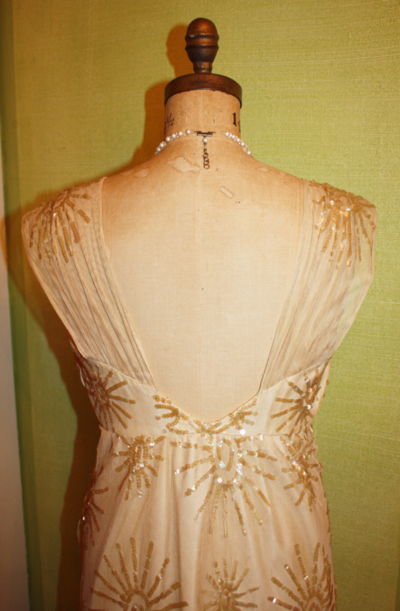 I retained as much of the original sequined design as possible and there is still some repair work to do. I just cut the hems of the net layers, there are some holes in the back.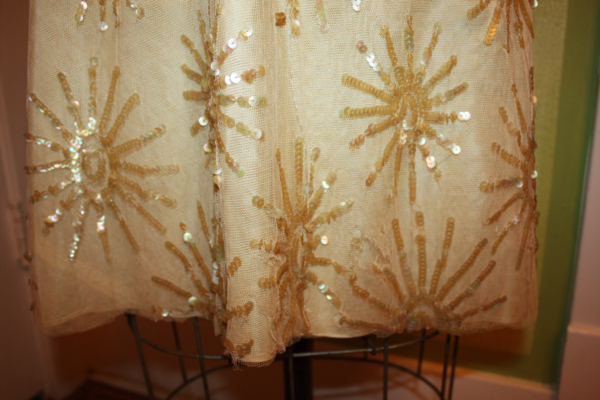 Surprisingly the one part in really good shape are the shoulder straps! The dress hung on them for years but NO holes! So what's the problem? It is SO NOT 20's! Because I decided to use as much of the top as possible it clearly made it more late 50's or early 60's. Put a sash on that seam, more empire than anything, and it would go to a Mad Men party. I made a headband from the scraps, pulled a string of pearls and delicate earrings but I was so disenchanted with it by Tuesday evening that it stayed on the mannequin. It would take a solid 45 minutes to do the right make-up and I didn't have it in me.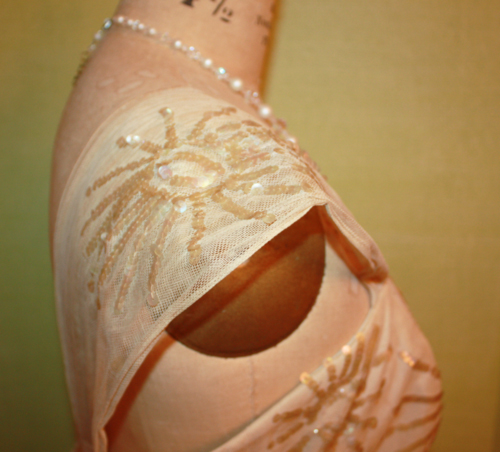 I don't want to say I failed but I'll say it – I failed at making a 20's dress. I know full well HOW to make one, and in a frantic moment looking for jewelry in the garage I actually came across an adorable dress pattern that I'll make one day when I find the right fabric.
But that day is not today. One of these days I may do a photoshoot with this but for now I'll wrap it in some acid free tissue and lay it gently on a shelf. Yes, I DID rescue something that was headed to the landfill so I feel good about that. I felt a little like Molly Ringwald in "Pretty in Pink" cutting into this. The first time I saw that movie (and I was much older than the target market when it came out!) I actually said "Oh!" as she slices Annie Potts' prom dress and not in a good way.
Plus, there is now a sizable mess in my sewing room: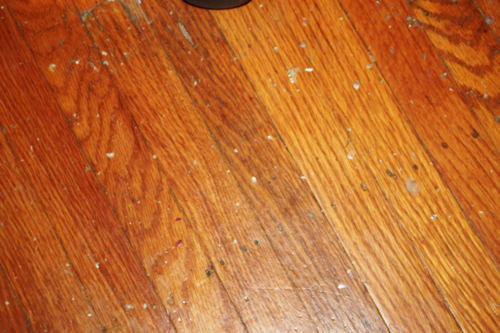 Vintage sequins EVERYWHERE. And what is it like sewing on/through sequins from the 50's? Like sewing on glass. They break, they fly everywhere, they shatter needles. Had I not been wearing my reading glasses I would have put on safety glasses. The cats have them in their fur, the dogs lay in them and then sparkle : ) And the chickens think they're food.
On top of that this week was the week Chloe was finally spayed. It was the right thing to do and I thought it might be hard on her because she's older (we don't know how old yet) and she's had multiple litters. I've been told that the more litters a dog has the harder a spay can be so I was determined to spend as much time with her as possible. Once you've had a front row seat in cancerland you don't take anything for granted. It's not that I thought something "bad" would happen but I wanted to make the most of the "good".
It was rough on her but she's getting better. She was sick for hours after she came home, I tried to hold her and rub her head or back but she'd get up and stumble around, get a drink, be sick and repeat. I've been through this before and it doesn't get easier. At one point I was having flashbacks of Jim when he was so desperately sick, and I ended up sleeping on the couch with both dogs curled up on me. I got waggy tail from her today and she's been able to eat and keep her pain meds down but I actually fell asleep at work sitting at my desk!
I'm going to take some time to clean, organize and take a nap or two. I'm very excited not only about showing everyone how to make a leotard and a pair of underwear in less than half an hour and using NO elastic but also the swimsuit sewalong that ThreeDressesProject is doing! I'd like to try another Mrs. DePew swimsuit, this time in a non-stretch cotton fabric. AND I'm doing furniture. I've got a set of short table legs that were rescued from a trash pile at a theater that need to become a table/ottoman for the new back deck. And photos!! My goodness, photos need to be taken!
AND MOST exciting of all…my daughter leaves in ONE WEEK for the California/Oregon border. She is going to walk the Pacific trail ALL BY HERSELF from Oregon back to the Bay Area. She's been working towards this for a year and has just mailed her restocking packages to various post offices along the way. She's set up a facebook page to update so we can see her progress. My mother is worried about her traveling by herself, she's worried about bears and rogue waves since she's on the coast : ) At least it's peak season, she may meet up with others along the way and has a couple friends that are joining her from time to time. If I can I'll drive up to whatever campground she's made it to on the odd weekend and have dinner/breakfast with her and help her re-stock as necessary. I don't have the words to tell you how proud I am of her : )