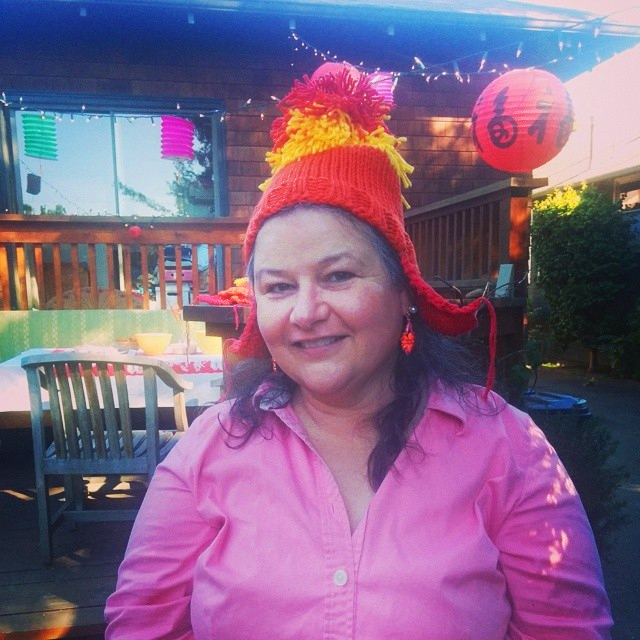 Once upon a time there was a girl named Alana.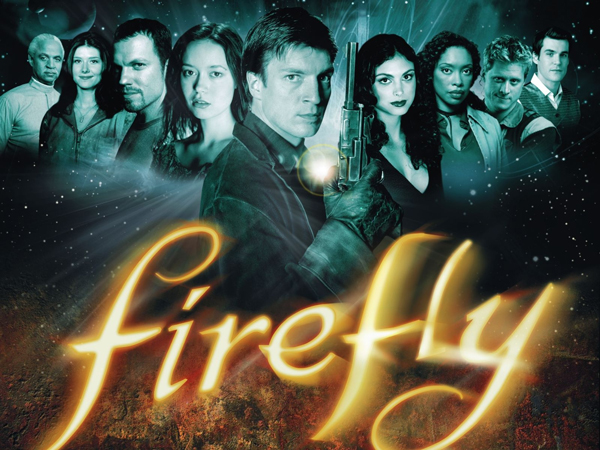 And she loved a show called "Firefly". As in LOVED. So we, her friends, set out to surprise her for her birthday this year.
First we had to watch the show, which isn't hard considering there are 14 episodes and the movie "Serenity". If you want to read a basic synopsis you can go here.
Then we had to debate whether we should surprise her with EVERYTHING or just the theme of the party. We went with the latter because our dear friend hates surprises. I know, but she does so we respect that.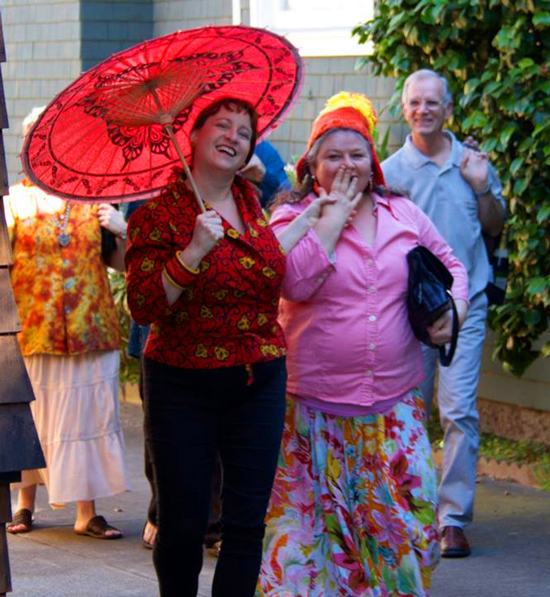 So we planned for several months, and had her hubbie Charles in on the secret, which was REALLY hard for him but he didn't blab! Here we are walking down the driveway, she knows there is a party but not the theme. I greeted her with the 'Jayne' hat ("A man walks down the street wearing a hat like this, you know he's not afraid of anything") and holding a parasol (it was sunny and a reference to Kaylee.)
By the time she saw the people and the lanterns she was shaking, so then we had to show her each and every element. First up is Kaylee kooler. Others have done strawberry punch (strawberries were highly prized on the show) but since Alana is allergic we used Pomegranate Limeade. Yum! The flower lights around the jug are a reference to the flower lights in Kaylee's room.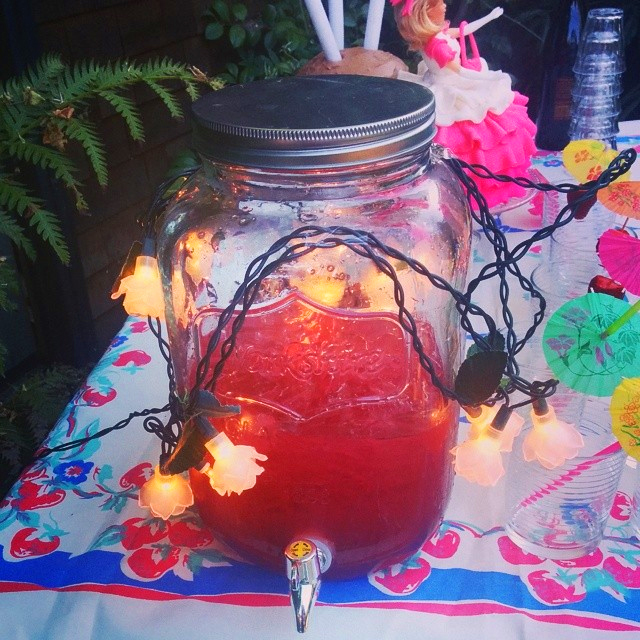 The Caprese salad was a nod to the tomatos Mal was eating in one episode. We thought Caprese was MUCH more interesting than just plain sliced tomatos : )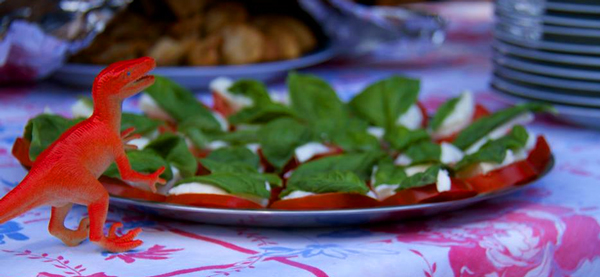 The dinosaurs you see on the tables are a nod to Wash's dinos.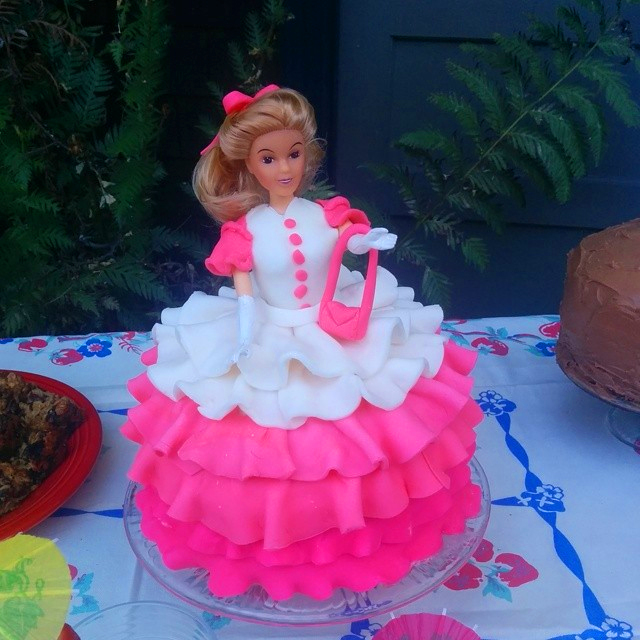 La Piece de Resistance, the Kaylee cake! There is almost 3 pounds of fondant here : ) But I HAD to make this after seeing Kaylee in this dress: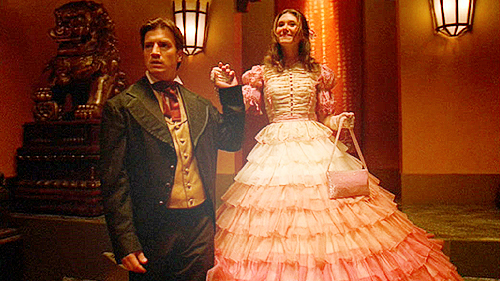 The cake has the same purse!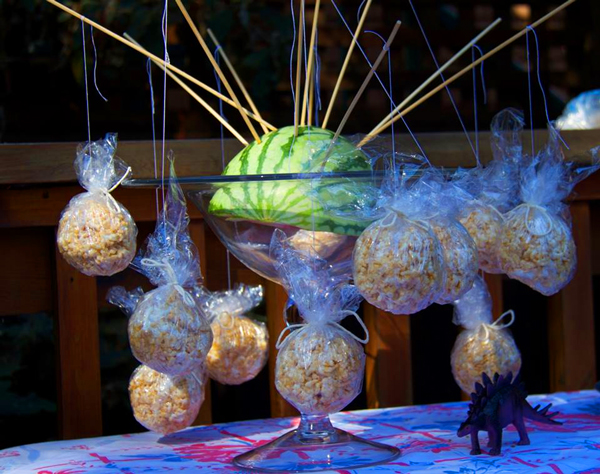 There are Ice Planets. They are problematic.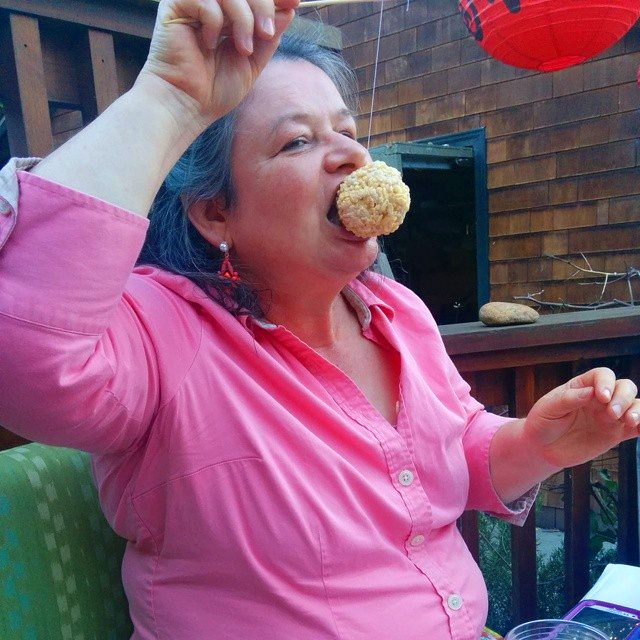 I made rice krispie treat balls instead of popcorn balls. And to make sure the rice krispies stayed on the string I first tied the strings around caramels, then wrapped the molten rice krispies around the caramels. Prize inside like a tootsie pop : )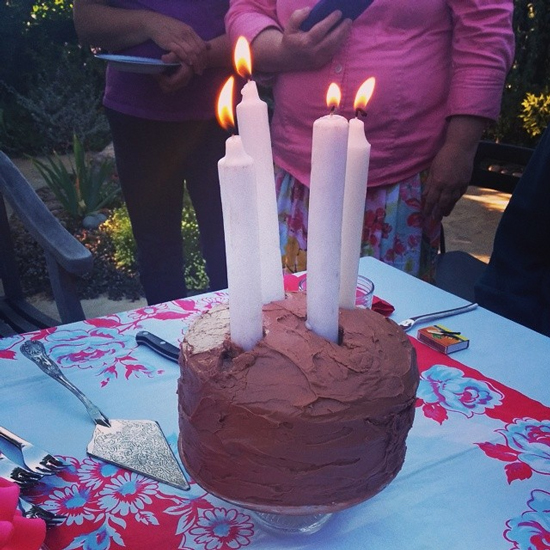 The doctor's "mostly protein" cake, in reality chocolate.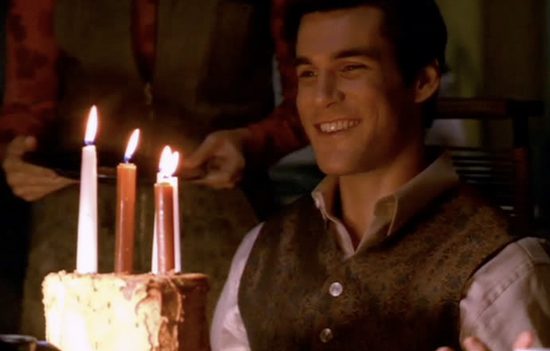 Now you can see why the chunky candles….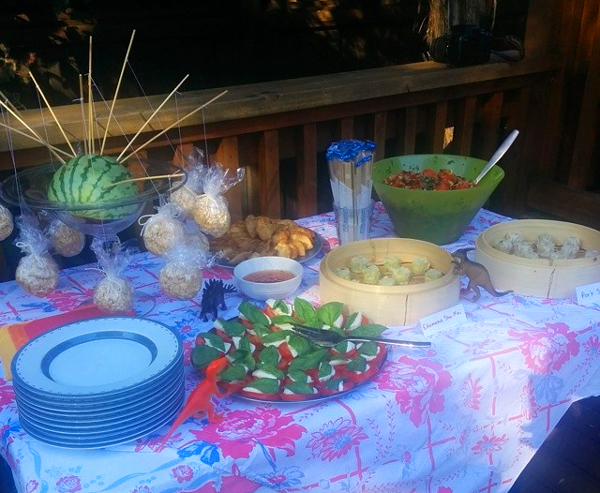 We had shu mai coming out our ears – shrimp, edemame, and pork. Steamed buns and the most amazing watermelon salad that I need to get Vikki's recipe for.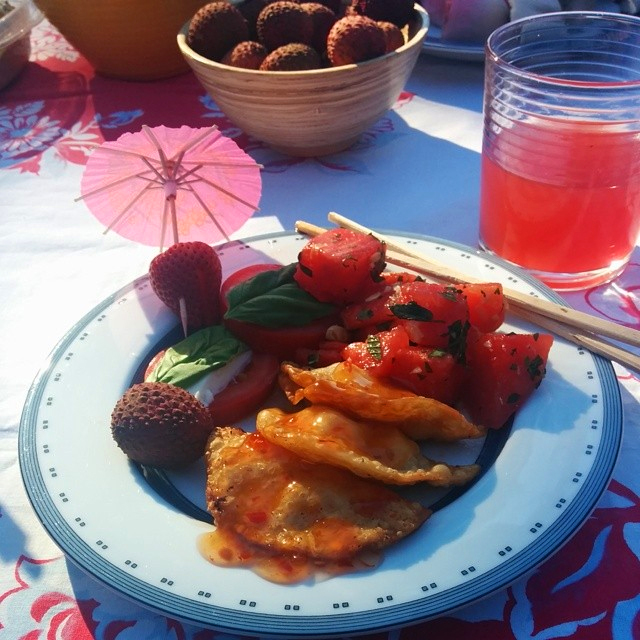 Lychee nuts had to do in place of hodgeberries.
There were parasols everywhere and I did NOT paint any to look exactly like Kaylee's, there are just so many hours in a day.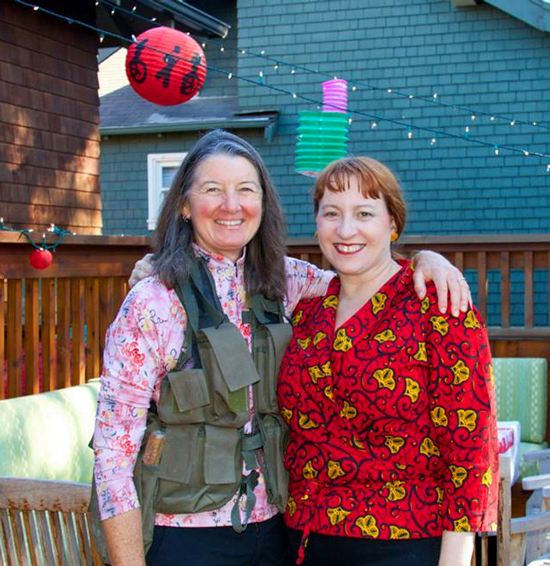 One co-conspirator : ) Vikki dressed like Kaylee, wearing her son's paint ball vest and stuffing it with tools.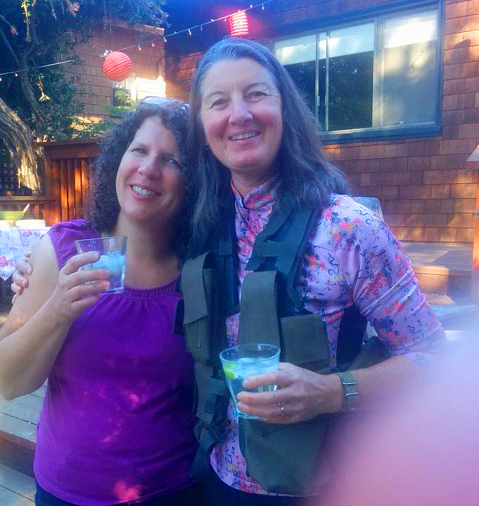 And the other….Sue let us all invade her glorious home and garden : )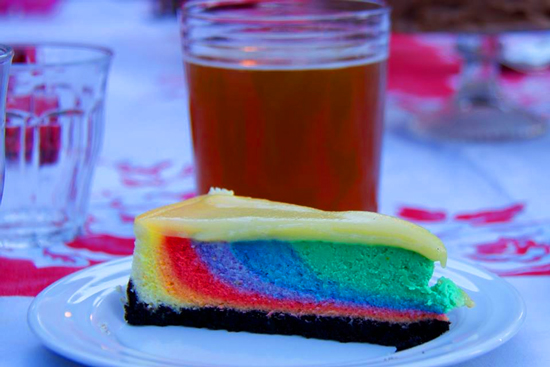 And then Alana's friend Michael showed up with THE most amazing cheesecake…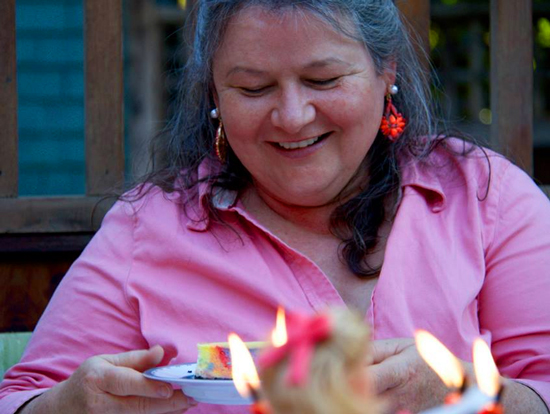 Just amazing.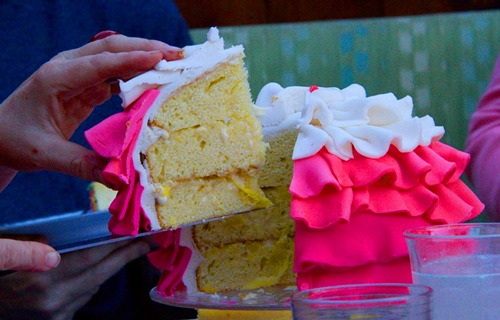 The Kaylee cake cut. It has mango butter cream frosting with sliced mangos between the layers. When Kaylee sees the buffet table at the fancy dress ball Mal has taken her to she says "I wonder if they have mangos…" so it only seemed appropriate.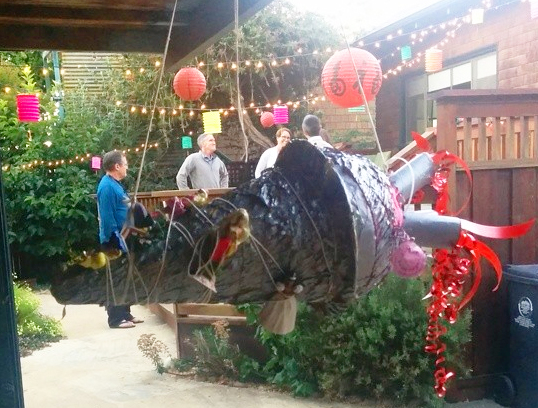 There was a piñata, made to look like a Reever ship. Alana wouldn't let anyone hit it : ) Yes, it was originally an ice cream cone piñata but there is a definite LACK of space ship anything at party stores (what is UP with that??) so I made do with an ice cream cone on its side. LOTS of silver spray paint, tied on a few old dolls of my daughters that I found in the garage and added some t-p tubes at the back and we were good to go. It  needed to be splattered with some red paint (for the blood, ya know…reevers…) but I couldn't find any : ( It is STUFFED with about 5 pounds of candy and  assorted toys but Charlie just slung it over his shoulder like a purse and they took it home to "save it".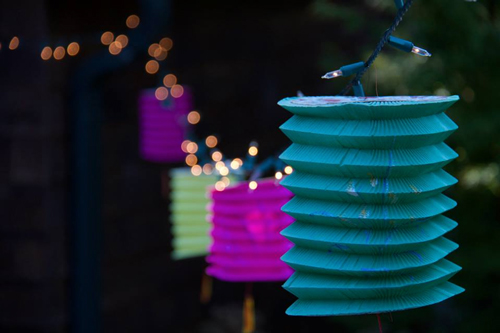 We DID manage to surprise her in all the best ways. Good food, good people and lots of laughter.
Heh, heh, heh… : )
 Thanks to Mark Anenberg for many of these lovely pictures, including the parasols that is now top of my page and the lanterns that grace the background.
A HUGE thank you to the lovely lady who came up with these ideas to begin with – Nikki at Tikkido.com. I just realized that the computer I finalized this post on dropped the final paragraph (that I am now adding) that gave her the credit for HER ideas! Sorry Nikki and THANK YOU!!!