The last two weeks…whew…
So much to blog about, so little energy so I'll start at the top of the list. Robin Williams. He was a fixture here in the Bay Area. He was just a guy, just around town, not hard to spot but we always gave him the gift of just being. No celebrity, just a guy…
I saw him on stage back in the 70's, as his star was beginning to rise and then again a few years later. The first time he was so frenetic I couldn't keep up! My brain literally hurt after watching him on stage. The second time was after some rehab and he told us "Cocaine is gods way of saying you're making too much money." I was a fan for life.
Now he's gone. Mental illness is such a trap, many people have it, and yet it's still stigmatized. Fellow bloggers talk about their struggles, I've had a few. I get situational depression, meaning life starts piling crap on and I'm good for a while and then I start to buckle. When my daughter was very sick some years ago I went along ok until bam! Didn't want to leave the house. Went on anti-depressants for a while, had some (more) talk therapy, things improved, left the anti-depressants behind.
A few years ago Jim got cancer, did OK for a while then bam! One day I wanted to ram the truck against the center divide so back onto anti-depressants. Here's the kicker – different drugs this time. Had to try three different meds before one didn't make me physically ill (one made my eyes track funny so I couldn't stand without tilting, another made me puke, fun times) and the ONLY reason I stuck it out was I didn't want to leave my daughter. By then I was SO OVER the cancer thing and the related garbage, not to mention one hideous doctor that I still wish liver cancer on, that my therapist actually put me on medical leave. It worked, things changed, life improved and I eventually ditched the drugs. Again.
It may happen again. I now have skills. But honestly it's draining, people tell you ALL THE TIME you "don't look sick" so they expect the exact same things from you, as if their reality could be yours. I felt like that Saturday Night Live character, Massive Headwound Harry (did I get that right?), if only people could see how I was bleeding inside.
And so our friend Robin left. I get it. I'm sorry for his family, especially his kids. I'm sorry there are trolls out there that feel it's ok to judge. I am GLAD for my friends and a couple have let me share their memories.
From Courtney: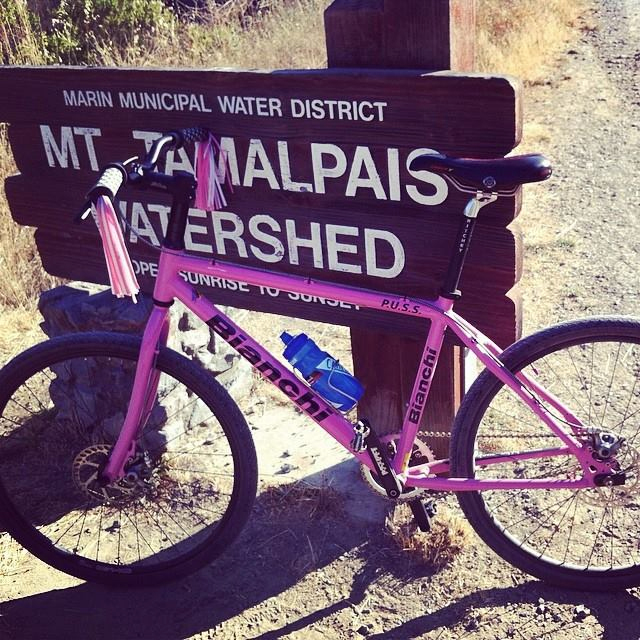 This is her bike. Robin used to tease her about riding it. "Only way I know how to honor Robin; riding the bike he always gave me a hard time on. Riding in honor #churchofbike"
This is posted on a fence in his neighborhood, there are photos like this all over the Bay Area right now: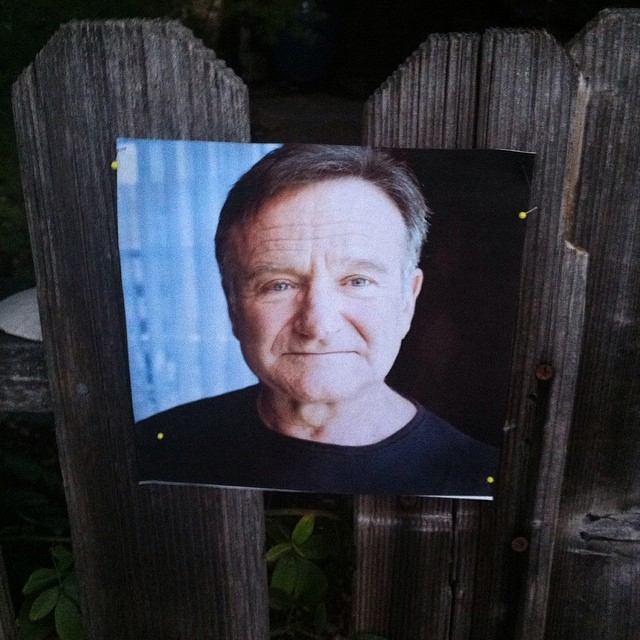 This is from my friend John:
"Just an enormous talent, and such a loss. My outstanding memory of him— Renaissance Pleasure Faire, Novato- 1988… 100 degree day, just got off stage, several us us laying out on hay bails backstage melting, Phyllis Patterson ('Owner-Originator' of the Faire,) flips open the canvas curtain and walks backstage with a stocky built man in peasant costume with a beautiful Commedia dell'arte mask. Mask comes off- And there he was- Robin Williams. Very quiet. We discussed the heat, where he made a crack about being in a bear costume 24.7.. He rested and drank water with us. Then went on his way. When we saw him around fair, still masked, he'd make a "Shhhh" gesture, we'd smile, He'd smile. It was out secret for the day and it was wonderful."
Finally, some  years ago I was lucky enough to do a show with James Monroe Inglehart. He just won a Tony Award for his work in Disney's "Aladdin", he plays the Genie. His heart is bigger than his stage presence, which is HUGE : )  This is their tribute to Robin:
 Source: Disney on Broadway
"You'll have bad times, but it'll always wake you up to the good stuff you weren't paying attention to."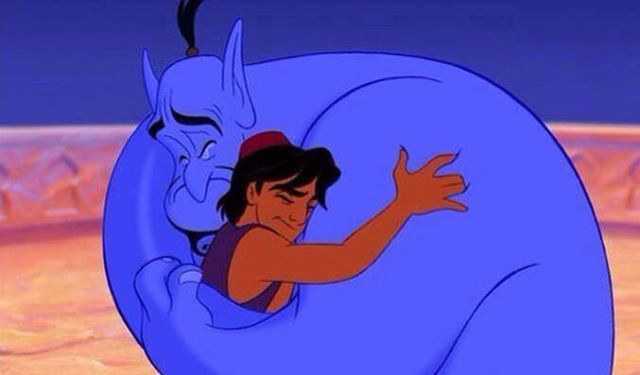 "You're only given one little spark of madness. You mustn't lose it."
Peace and love, Robin.